AKB5000001: Is the Chromebook right for you?
by JR Raphael
Published: February 29, 2020 | Rev. 1.0
Navigation
Part I: Is the Chromebook right for you?
Part II: Which Chromebook should you buy?
Part III: You've got a Chromebook. Now what?
Comments on AKB5000001 Is a Chromebook right for you?
Chrome OS FAQ, Part I: Is a Chromebook right for you?

By JR Raphael
AskWoody Plus readers will recall that, from time to time, we've recommended Google's Chromebooks as a viable alternative for many Windows users.
Whether you're looking to move away from Windows entirely or to complement your primary computer with a low-maintenance secondary system, a Chrome OS–based Chromebook can be a nice addition to your digital life.
To give AskWoody Plus readers an introduction to the Chrome experience, we've put together a three-part question-and-answer series. We'll cover the ins and outs of Chrome OS, starting with the basics of how the operating system works — information you'll need in order to decide whether a Chromebook will fit your specific needs.
Chrome OS has come a long way since its inauspicious debut a decade ago. It may not be your typical operating system, but it surely is a polished and comprehensive computing platform. Let's get into it, shall we?
What's it like to use a Chromebook?
It's a lot like using Windows! But it also has a definite Google spin. You'll see a familiar desktop with wallpaper and a taskbar, aka the shelf. Click the icon at the left end of the shelf (or press the matching keyboard-based Launcher key) to see all available apps or search through your system and the Web simultaneously (see Figure 1). As with Windows, you can even pin frequently used apps and websites to the shelf.
Figure 1. The Chrome OS Launcher is a sort of Google-connected app drawer for the desktop.
The right end of the shelf should look familiar, too. It displays the current time, Internet-connection status, battery level, and the number of pending notifications. Clicking that information area pops up the Quick Settings panel (Figure 2), where you can check active notifications. You can also make fast system adjustments such as screen brightness, Wi-Fi and Bluetooth connections, and Do Not Disturb status.
Figure 2. The Chromebook system Quick Settings panel displays notifications and provides an easy way to adjust basic settings.
You can even press Alt + Tab to move through your open apps — or press the Overview key to see all your open apps in a grid-like arrangement (see Figure 3).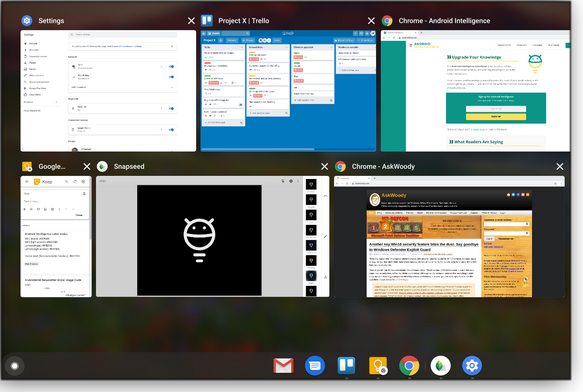 Figure 3. Chrome OS's Overview screen shows, in one place, everything you have open.
Again: With Chrome OS, you'll find a basic set of features and controls that the average Windows user should easily grasp.
So a Chromebook keyboard has special keys?
Yes, sirree! Instead of a row of generic function keys (F1 through F12), Chromebook keyboards come with a series of special-function keys (see Figure 4). Use them for tasks such as moving back one step, refreshing a page, toggling in and out of a full-screen view, and opening that aforementioned Overview mode. The Launcher key sits where you'd expect to find the Caps Lock. And on devices that are actually made by Google — the Pixelbook, Pixel Slate, and Pixelbook Go — you get a dedicated Assistant key, located where the "Windows" key would normally reside.
Figure 4. The Chromebook keyboard, as seen on the Google-made Pixelbook Go
If you've just gotta have Caps Lock or F1 in your life, don't fret; you can quickly remap the Chrome OS–specific keys via the system settings (more info).
But you can't run Windows apps, right?
Righto! No Windows apps here. And that's an issue you'll have to seriously contemplate: are there specific Windows applications you really, truly need? Or can most of the things you do on a PC be accomplished just as effectively with Web-centric equivalents — along with some Android and/or Linux apps (which are now supported on most current Chromebooks) to fill in the gaps?
In truth, many Windows users might be surprised by what they can now do online — with no need for a traditional, local-only app. Consider this: Your local email client can be easily replaced with a Web-based equivalent such as Gmail or Outlook.com. Or, heck, grab a Linux or Android email app (including Microsoft's official Outlook version that works quite well on a Chromebook). Bottom line: You have lots of options.
When it comes to productivity tasks, you can, for example, get most (if not all) of your word-processing needs covered with an online suite such as Google Docs or Microsoft Office Online — or with one of the many Android- or Linux-based alternatives. The same goes for spreadsheets, presentations, and so forth.
And the list goes on. Practically every chat app has a Web, Android, and possibly even Linux option. Most accounting software has both an online and a mobile-app equivalent. And Web-based apps such as Pixlr and the Android-based Snapseed should fill the bill for basic image-editing needs.
On the other hand, Chrome OS isn't gonna cut it if you have specific Windows tools you absolutely require — e.g., custom corporate apps, advanced audio or video editors, heavy-duty local games, and so forth. But these days, those instances are more the exception than the rule.
Do Chromebooks work offline?
They do! This is perhaps the biggest misconception about Chromebooks — the belief that they can't do anything without an active Internet connection. Honestly, in this cloud-focused era, working offline on a typical PC might not be much different from using a Chromebook offline.
With either platform, for instance, you can't retrieve new emails, look at live versions of webpages, or sync files to the cloud while disconnected from the Net.
That said, a Chromebook will let you open and work with local editions of formerly Web-only apps. That includes Gmail, Google Calendar, and Google Docs. You can also use local system apps such as a file manager, calculator, and text editor.
Need some entertainment? You can play downloaded movies and music and even look at webpages saved while the Chromebook was online.
Most Linux and Android apps work perfectly well offline, too. That opens the door to some interesting possibilities that aren't present on traditional computers, such as using the Android-based YouTube app to save videos for offline viewing — a perk that's come in handy for me on countless travel adventures.
Okay … what do I gain going to a Chromebook?
Simplicity! A Chromebook starts up in seconds, gets updates seamlessly and automatically in the background every few weeks, and — with the exception of Linux apps — never requires any annoying installation procedures, manual app updates, driver searches, or other migraine-inducing PC (and Apple Mac) configuration/maintenance tasks.
Malware is also less of a concern. Chrome OS's Linux-based nature and lack of traditional "local" applications makes it less of an exploit target — which explains why there's no antivirus software to speak of. Moreover, every process exists in its own sandboxed compartment. If the system detects anything unusual when it's booting up, it'll automatically reinstall a clean version of the operating system.
To crib a phrase, everything on a Chromebook "just works." For example, if you've used one Chromebook and you sign in to any other Chrome OS device, all your stuff will, within seconds, show up on the new unit — set up just the way you like it. Data, settings, extensions, and applications are continuously and automatically synched, so the physical device you're using is essentially irrelevant. Any Chromebook you sign in to becomes your computer almost instantly.
And if you use the various Google services, things feel even more connected and familiar. Google Drive is integrated into the system file manager, for instance, and the same Google Assistant present on phones and smart speakers is now available on most current Chromebooks — which means you can do things such as set reminders on your computer and then have them pop up on your phone (or anywhere else that's appropriate) when they're due.
In short, Chrome OS takes most of the hassle out of computing and leaves you with only the elements you actually want. It can be a refreshing change from the classic Windows setup — if it fits your needs.
You now have the ammo needed to make that decision. Next week, we'll tackle Part II of this Chrome FAQ. We'll discuss the Chromebook hardware and provide pointers on which specific device you ought to buy. You now have the basics, but our Chrome exploration is just getting started.
2 users thanked author for this post.