Click here to install the Registry key to keep your machine on Windows 10
Windows Registry Editor Version 5.00
[HKEY_LOCAL_MACHINE\SOFTWARE\Policies\Microsoft\Windows\WindowsUpdate]
"TargetReleaseVersion"=dword:00000001
"ProductVersion"="Windows 10"
To reset the values at a later time to allow the install of Windows 11– use this registry key which blanks out the Windows 10 Product version entered above:
Windows Registry Editor Version 5.00
[HKEY_LOCAL_MACHINE\SOFTWARE\Policies\Microsoft\Windows\WindowsUpdate]
"TargetReleaseVersion"=-
"ProductVersion"=-
"TargetReleaseVersionInfo"=-
Click here to download the registry key to reset these values
To use group policy to do the same change (assuming you have Windows 10 professional):
To use Group policy on Windows 10 to stay on Windows 10:
If you have group policy on Windows 10 Professional, drill down to Computer Configuration>Administrative Templates>Windows Components>Windows Update>Windows update for business. Look for "Select the target Feature Update Version." Click to enable it and enter Windows 10 in the box, "Which Windows product would you like to receive feature updates for? E.g. Windows 10." You can then leave the feature release version blank.  If you would like to install Windows 11 at a later date, just go into the group policy and remove Windows 10.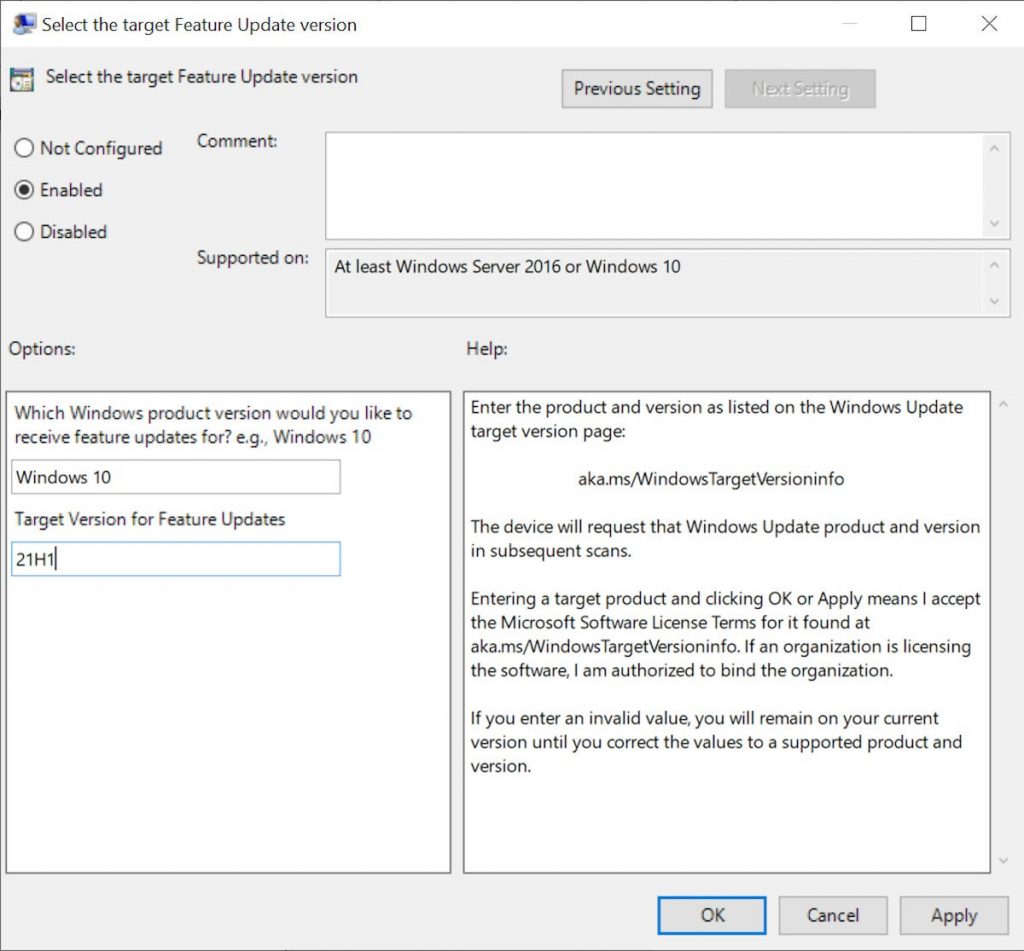 Note:  Steve Gibson has posted up a new GUI program that does similarly:
Susan Bradley Patch Lady/Prudent patcher
20 users thanked author for this post.