I can't backup Windows 10.  I keep getting this.
A shadow copy could not be created.  Please check VSS and SPP applications event logs for more information.  Details: In sufficient storage available to create either shadow copy storage file or other shadow copy data.
Event logs empty.
Sfc scan good, no errors
DISM scan good, no errors
Ran optimization on all drives, status OK
*

Disk management shows plenty of space.
Power shell vssadmin list shadows command shows only 3 shadow copies.
*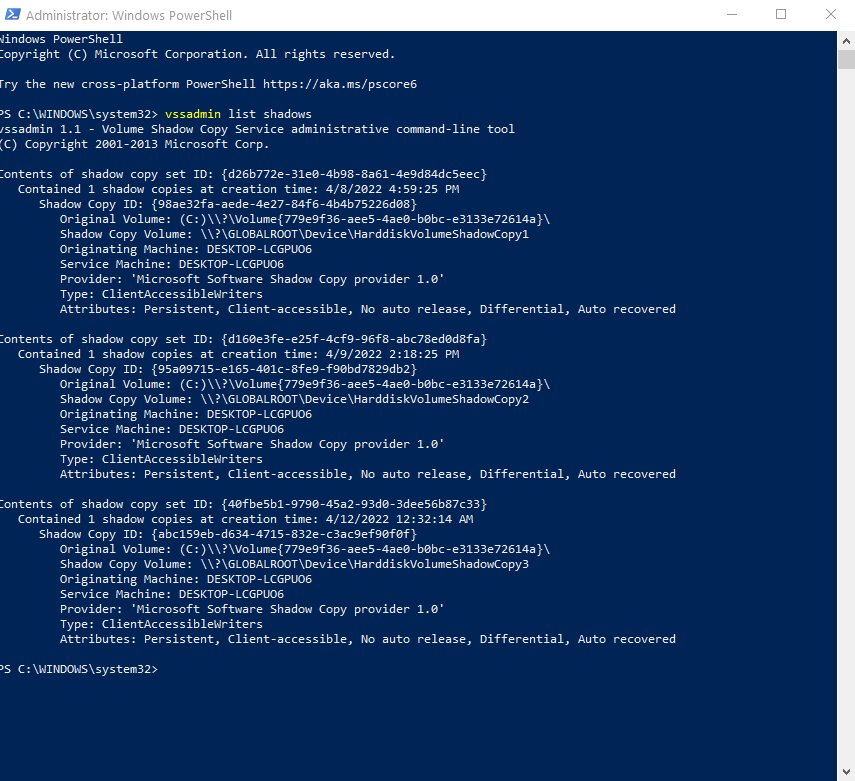 Volume Shadow copy (VSS) set to manual in services
Software Protection (SPP) set to Automatic (Delayed Start, Trigger Start)
History:  My printer preferences suddenly stopped including color settings.  I called HP Smart Friend Support and they could not figure it out. Then he used System restore to restore my computer to earliest point available which was about two weeks back.  No change, still no color printer preferences.
So, I went back and of course, I did not get the same guy.  It did not go well.  He did not like it that updates were paused, said they don't have bugs and I needed to unpause them.  So, all the updates that the restore operation got rid of, loaded again.  He did not seem to get what I was saying.  Was Determined that the "HP Smart" program solves all printer problems so I said show me where HP Smart can open printing preferences on my printer.  He tried. Couldn't and faded away.  Quick Assist shut down first. Then I think he just hung up on phone.
I ran undo restore point as it had accomplished nothing and I thought it would be a good Idea to go back to where computer was to begin with.  It took about 15-20 minutes to set restore point the first time.  But when I tried to undo it, it froze.  I gave up after about 3 hours and did a hard shut down, holding the start button.  (I know, terrible) I restarted using the restore USB I had created when I installed Windows 10 v 21H1.
Then I went to Microsoft Office 2019 support.  This guy was amazing.  He clicked away and got all my email accounts set up and made tweaks I asked for.  He offered to transfer me to team that works with printers ever though it is an HP printer.
That did not go as smoothly.  First guy said there were some bad files and he needed to do a repair installation where all Windows corrupted system files will be rewritten automatically without making any changes on my personal files or applications.  He also installed 21H2 which I wanted.
The new repaired operating system had a new name – Desktop-LCGPU06.  It also had a very strange file in startup – see Ccleaner and Task Manager start up list.

I went back, next guy said and he still could not do anything with printer and said it is not an operating  system problem.  Just tell HP tech that the computer set the printer to print color, but the printer is not supplying the ink as expected.  They will know how to fix it.
So here I am with a clean 21H2 operating system and I thought I would back up the system while it was in such good shape.  And just live with a black and white printer. But I can't run backup.
So back to Microsoft support and weekend crew who did not seem to know much.  The "level two team" was to call me today.  They did not.
I know this was a long story but I wanted you to know what happened and give info on what I have.  Maybe someone here can figure out why a shadow copy cannot be created.
One more thing I tried.  I changed the computer name back to what it was and still is on the external hard drive I back up to, but it had not effect.
All advice appreciated.  Hope I can get help here.
Thanks for reading this long story.
HP Pavilion Desktop TP01-0050 – 64 bit
Windows 10 Home Version 22H2
OS build 19045.3324
Windows Defender and Windows Firewall
Microsoft Office Home and Business 2019
-Version 2308(Build 16731.20170 C2R)