I am preparing to create a new Macrium Reflect Free rescue media USB for my new laptop, and had a few questions that I hope someone can answer.
First – do I need to create a separate rescue USB for each computer on that computer, or can I use the same on on two different computers if both are running Win 10 1909?
I am not sure which of the creation options I should choose. Here's a screenshot of the choices. Should I choose the first – Windows Boot Menu – if I want to create a bootable USB rescue stick? Or should I just choose the USB option with add boot menu selected?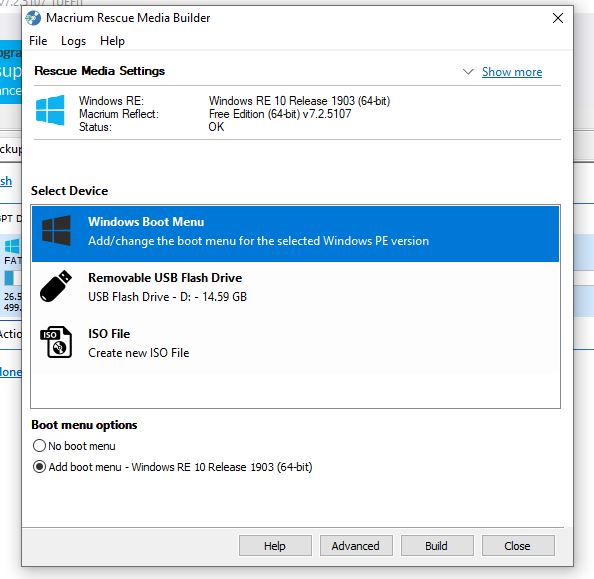 My reason for confusion, is that I initially tried doing this with a 16 gb USB drive and somehow ended up with two "drives" created on that thumb drive – called D and E.
I was confused about it since after I chose the first option, I tried to also choose the USB option and it said that "another programs" was using the thumb drive, so I wasn't confident that it worked. So – at that point I tried to erase the thumb drive to start over, and ended up with a large hidden partition, and only about 1 gb usable space.
Yet – in the Macrium interface, it is listing the thumb drive as 14.59 GB – which would be correct.
Here's what the two "drives" look like:
"Drive D" –
"Drive E" –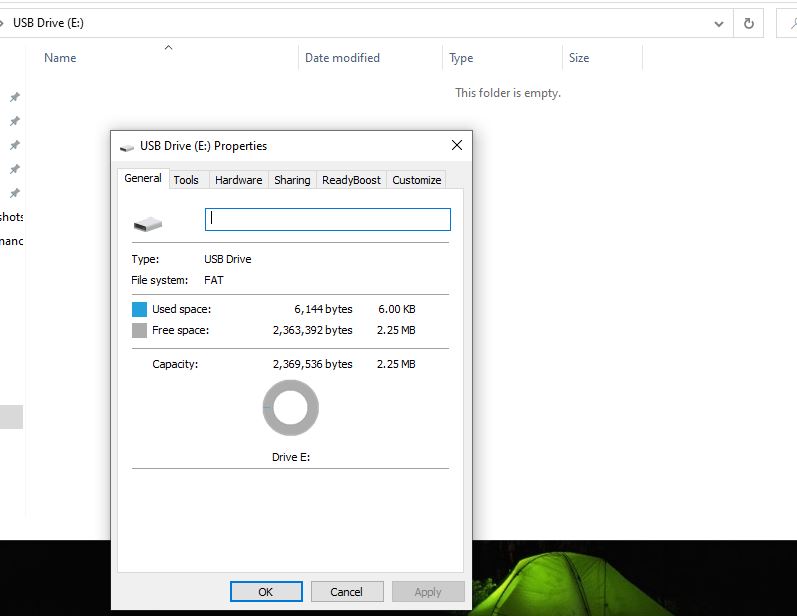 So – once I know which option to choose, can I reuse that same thumb drive – will it overwrite and "correct" my error so that I can then use that thumb drive? Or should I start with a new one?
And if it can't just be overwritten, is there a way to restore it to full capacity so that it is usable?
I am especially interested in being able to do that, since after I ran into these issues, I grabbed a new thumb drive and tried the Rescue USB again, only to realize that I had mistakenly used a 64 gb thumb drive – so if there isn't a way to restore that, is it then a useless drive?
Here's how that 64 gb drive looks now. Is it bootable now? I believe I just chose the USB drive option when I created that one, and can it be restored if I put the rescue media on a smaller drive?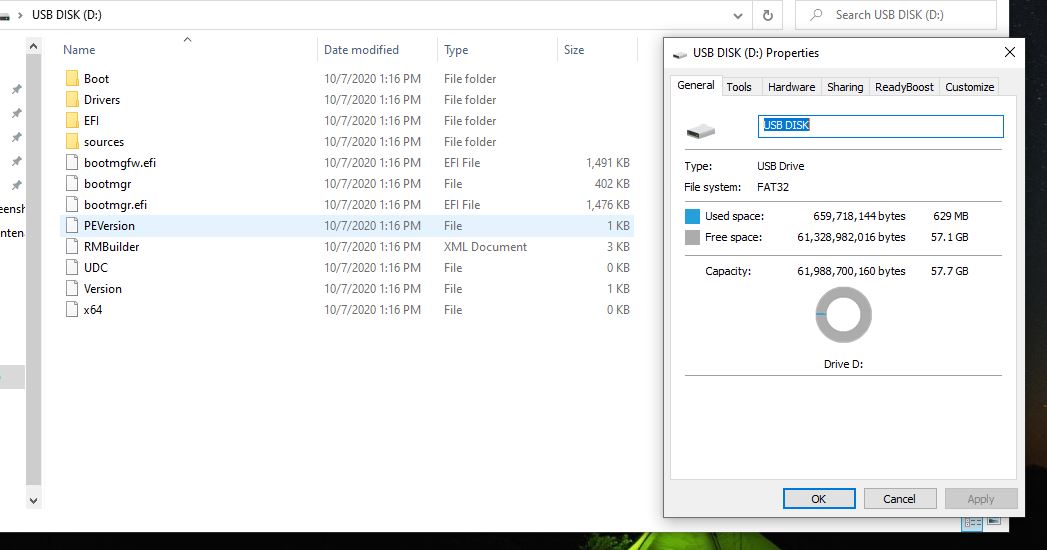 Sort of a convoluted question – and two things to consider – but I appreciate help on both the right choice for the Rescue USB creation option, and the way to restore or reuse the thumb drive.
Thanks for the help! Thought I had this all figured out, but the old Rescue USB that I had created a while back didn't work to allow me to restore Macrium when I ran into a lot of issues in the set-up of this laptop – luckily I did manage to get it to restart and could run Macrium and get it restored.