This started after upgrade to Windows 10 20H2
A pop up in the notification area had a warning that Microsoft had a problem with my account.  "Most likely it was a problem with the password" and I should fix it.
When I clicked on the notification it opened "Shared experiences" and a link to Fix now.  I got suckered on Sunday and clicked on it.
The sign in for my Microsoft Account popped up, I entered my password and suddenly my Local Account on Windows 10 was gone and it was changed to a Microsoft Account on my Windows 10.  Spent hours trying to get my local account back.  Finally had to use system restore.
Several discussions pointed to a link to use a local account instead, but that link was gone.  Once Microsoft took over my Windows 10 local account the way back was removed.
Today they tried again.  Since I can now show a picture of the trap, I thought I would post this.  I had learned here how to open Windows 10 while I was off line so I could have a local account.  I was really angry when I was tricked into losing it.
I only have one device.  My desktop.  I don't need or want Microsoft's generous offer to coordinate everything for me.  I think it is something Microsoft does to collect information, not help me.
I have a Microsoft account.  I used it to buy Office 2019 so I could recover it if anything happened.  That is all I have used it for.
It is happening with the Office apps as well.  It is not happening with Office outlook, but Word and the others have a warning triangle at the top  and I am told to sign in, when I am already signed in and every this is working.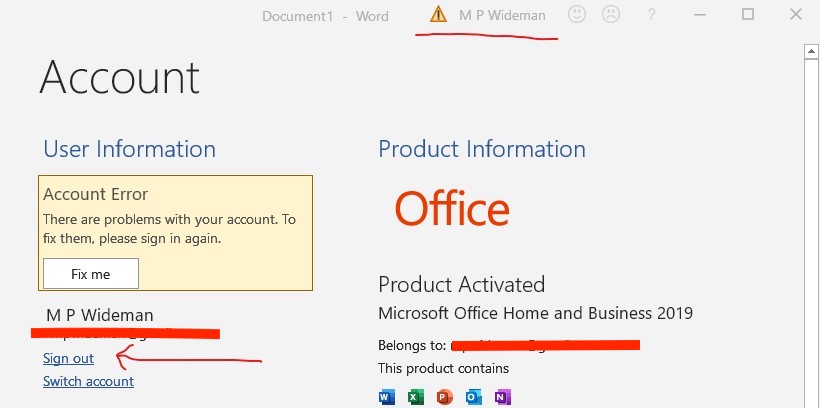 The dropdown from the triangle says sorry can't connect to Microsoft Account.  I don't want to connect to Microsoft Account.
Very annoying and afraid to do anything so ignoring.
Moderator Note: Personal information removed from attachments. Please remove personal information before posting.
HP Pavilion Desktop TP01-0050 – 64 bit
Windows 10 Home Version 22H2
OS build 19045.2965
Windows Defender and Windows Firewall
Microsoft Office Home and Business 2019
-Version 2303(Build 16227.20258 C2R)