After a long time putting it off, I've done the prep work prior to carrying out a clean install.
I've been using a bootable Macrium Reflect 7 Free rescue USB stick to boot devices and save/restore images to/from a bright red external 1TB 2.5″ WD My Passport HDD. It's proved reliable over the years but I wanted something better.
Someone (@Paul T?) mentioned Ventoy a while ago which sounded interesting, basically a method of having a whole bunch of ISOs all available via a boot menu. I tried Ventoy with a load of ISOs on a 250GB SanDisk USB stick and it worked wonderfully. Then I had an idea… why have a bootable USB stick AND an external storage device? Why not just the one that did both jobs?
As luck would have it I had bought 2 x 1TB Samsung 870 QVO SSDs in the sales at an amazing discount. I've been using one ever since, encased in a clear plastic enclosure and it has been invaluable.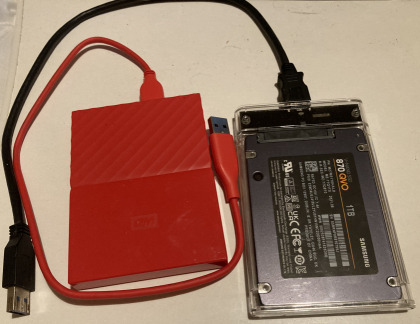 Multibao USB 3.0 to SATA External Caddy – Clear Case
So I bought another clear enclosure and decided to use the other Samsung 870 SSD as the basis for my new 2-in-1 backup/restore device using Macrium Reflect 8 Free running from Ventoy.
At first all went well. From within Macrium Reflect 8 Free I created a 'rescue media' ISO file. Then I used Ventoy's Ventoy2Disk tool to make the Samsung 870 (in its shiny new case) into a bootable USB drive. Then I added a bunch of ISOs to it including the Macrium Reflect rescue ISO (and Linux Mint Cinnamon, etc.)… job done!
Only one slight problem… it didn't work. I had just carried out a clean install and wanted to take a disk image before the laptop rebooted into OOBE. No matter what choices I made in the laptop's 'one-time' boot menu, sometimes I couldn't boot Ventoy and other times I could but couldn't go any further reliably.
I managed to boot Linux Mint to completion once and Macrium Reflect to completion twice… but on the second time of getting Macrium Reflect to run, the disk image backup failed 14 minutes later at 99%.
A clean/decrapified Windows 10 Pro comes in at just over 5GB at OOBE (before Windows Update then dumps several more GBs of additional data), so 14 minutes to backup 5GB was a ridiculously long time, even if it had been successful.
After many, many unsuccessful attempts I gave up, moved all the existing Macrium Reflect 7 backups off the My Passport and used Ventoy to configure it as bootable. I moved the bootable ISOs off the Samsung 870 and onto the My Passport.
Then I tried Macrium Reflect 8 Free from Ventoy again… and it flew like a bird. Four minutes and four seconds later I had my first Macrium Reflect 8 Free disk image of the clean install.
I've been thinking about it throughout the day. I cannot be 100% sure but I suspect Ventoy running on the bootable SSD was thrown by the not one but two sets of electronics it encountered. Not only does the Samsung 870 have a connection interface but so does the Multibao clear plastic case, both with all manner of tiny wee electronic chips on them. The My Passport doesn't. Even though it's also USB3 like the Multibao case, it only has a very simple pin-for-pin plug to connect its USB cable to its My Passport drive controller.
So, after a lot of head scratching, I now have a single pocket-sized USB3 external storage device that is not only bootable with a whole jukebox of ISOs but can also act as a disk backup repository.
3 users thanked author for this post.