Notepad++ is a free source code editor and Notepad replacement
https://notepad-plus-plus.org/
About
Notepad++ is a free (as in "free speech" and also as in "free beer") source code editor and Notepad replacement that supports several languages. Running in the MS Windows environment, its use is governed by GPL License.
Based on the powerful editing component Scintilla, Notepad++ is written in C++ and uses pure Win32 API and STL which ensures a higher execution speed and smaller program size. By optimizing as many routines as possible without losing user friendliness, Notepad++ is trying to reduce the world carbon dioxide emissions. When using less CPU power, the PC can throttle down and reduce power consumption, resulting in a greener environment.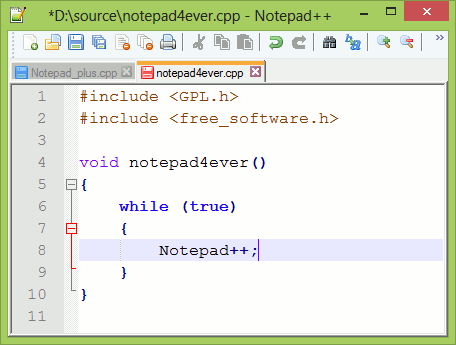 You're encouraged to translate Notepad++ into your native language if there's not already a translation present in the Binary Translations page.
I hope you enjoy Notepad++ as much as I enjoy coding it.
Copyright © Don Ho 2016
HTML • CSS
--------------------------------------
1. Tower Totals: 2xSSD ~512GB, 2xHHD 20 TB, Memory 32GB
SSDs: 6xOS Partitions, 2xW8.1 Main & Test, 2x10.0 Test, Pro, x64
CPU i7 2600 K, SandyBridge/CougarPoint, 4 cores, 8 Threads, 3.4 GHz
Graphics Radeon RX 580, RX 580 ONLY Over Clocked
More perishable
2xMonitors Asus DVI, Sony 55" UHD TV HDMI
1. NUC 5i7 2cores, 4 Thread, Memory 8GB, 3.1 GHz, M2SSD 140GB
1xOS W8.1 Pro, NAS Dependent, Same Sony above.
-----------------
1 user thanked author for this post.