Hi folks. First time ever went to restart my Windows 7  computer and it stayed on a logging off screen for maybe 20 minutes before I used the power switch to shut down, then restart. Several oddities happened from this.
On reboot it had the wrong screen resolution, wrong wall paper and all desktop icons rearranged (last to be expected with different resolution). I changed those and went along my merry way. Fluke?
I do backups daily and yesterday was an incremental. IO happened to notice that while almost all incrementals are between 1-2 GB, this one was 16 GB!!! What could have changed that the backup program felt it needed that much?
Happened to think did  it create a new user? So checked and this is what I see. The first and last are dated at the hard reboot after the logging off failure: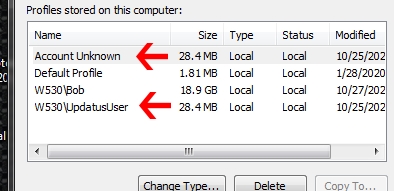 Are those two safe to delete?
What do you think backup found in those 16 GB? Anything to be wary of?
Thanks. This is a little confusing.