I defer Win10 Pro quality and feature updates using group policy (blog). I'm now manually updating a few Windows 10 machines from 1709 to 1803 using media created by the Media Creation Tool. I've discovered an nice mini-feature: if I set Get important updates to "Not right now" during the feature update:

the cumulative updates that are later offered for installation are for LAST month (I'm still the deferral period for quality updates for September):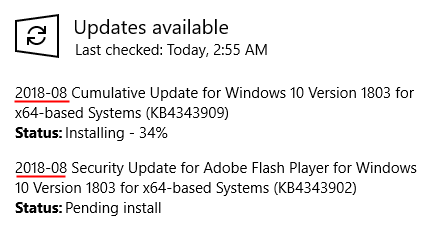 I also just built a Server 2012 R2 machine (Win 8.1 code base) and the only cumulative update offered by Windows Update is for the CURRENT month. If I wasn't ready for that, I'd have to go out to the Catalog, locate, download, and manually install last month's cumulative update.
It's nice that you can install a fresh Win10 and have deferral policies control which cumulative updates are offered.
2 users thanked author for this post.