Hey Y'all,
I've been experimenting with OneDrive and have discovered a couple of neat things you can do when you want to share your files:
You can use the Embed option to create a permanent link to a file and then use that link in a program to download the contents of the file. The results of this is I have rewritten my Get-WinVer.ps1 program to download the data lists necessary so now the program no longer has to be rewritten every month to include the new updates/version changes.
You can also Embed a link to a folder. Thus, anyone with the link can download any file in the folder. The results of this is that I will no longer be cluttering askWoody's servers with new versions of my programs and it will also make it easier to ensure you have the latest version.
Here is the link to the ComputerMentorPgms folder:
https://onedrive.live.com/embed?cid=50B4DFA90B96FF40&resid=50B4DFA90B96FF40%217603&authkey=AKzlqvMyQdAzoZ8
The folder contains .zip files of the latest versions of CMsLocalPCInfoW10 and Get-WinVer programs. It also has a PDF (File Hash Log.pdf) of the MD5 hashes for both the .zip files and the .ps1 files contained within them.
Note: when you use the link you'll just get a picture like this: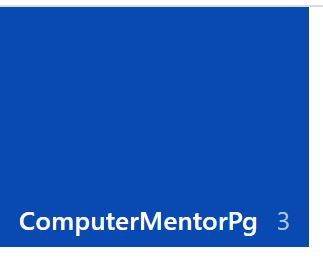 Just click it to get into the folder and view the files.
Of course, I'll be posting other files soon. I'd love to hear what you think? 😎
May the Forces of good computing be with you!

RG

PowerShell & VBA Rule!
Computer Specs
2 users thanked author for this post.