I learned this today, from a "Nature" newsletter with a link to this "Wired" online article:
https://www.wired.com/story/nasa-tries-to-save-hubble-again/?
Excerpts:
"THE HUBBLE SPACE telescope, one of the most famous telescopes of the 20th and 21st centuries, has faltered once again. After a computer hardware problem arose in late October, NASA engineers put Hubble into a coma, suspending its science operations as they carefully attempt to bring its systems back online.
Engineers managed to revive one of its instruments earlier this week, offering hope that they will end the telescope's convalescence as they restart its other systems, one at a time. "I think we are on a path to recovery," says Jim Jeletic, Hubble's deputy project manager."
…..
"Hubble's latest hardware challenges come just a month before its successor, the James Webb Space Telescope, is scheduled to launch into orbit. Like its iconic predecessor, the new telescope will collect troves of spectacular images, though it's designed to probe wavelengths more in the infrared range, allowing it to penetrate dusty parts of galaxies and stellar nebulae. Riess expects it to be similarly popular with astronomers and with the public.
Hubble has easily surpassed its expected lifespan, and the same goes for NASA's Chandra X-ray Observatory, which launched in 1999 and remains operational, although it was designed to last only five years. This is a good sign for Webb, similarly planned for a five-year lifespan. Unlike Hubble, however, it will orbit much farther away, making it inaccessible to astronauts. That means any problems that arise will have to be fixed remotely.
But Hubble helped set the stage for its successor. For example, after Hubble launched, engineers realized that its mirror wasn't curved properly, initially resulting in blurry images. Webb's design allows for engineers to adjust the curvature remotely if an error like that crops up.
Astronomers appreciate the hard work of Hubble's engineers and operators. "Their dedication to keep on rescuing the telescope from all its fits of pique and changes of mood is fantastic. I'm so proud of them backing the scientists who are using the data," says Julianne Dalcanton, an astronomer at the University of Washington who has used Hubble frequently throughout her career, including to map Andromeda, our galactic neighbor. She, Kartaltepe, and other astronomers look forward to a time when both Hubble and Webb are in the sky, taking observations together, especially as they'll learn different things from the telescopes' respective instruments and wavelength coverage.
While Jeletic and his team don't yet know when Hubble will be back online, he expects all systems to eventually be up and running once again. "Some day Hubble will die, like every other spacecraft," he says. "But hopefully that's still a long ways off.""
Hubble at sunset: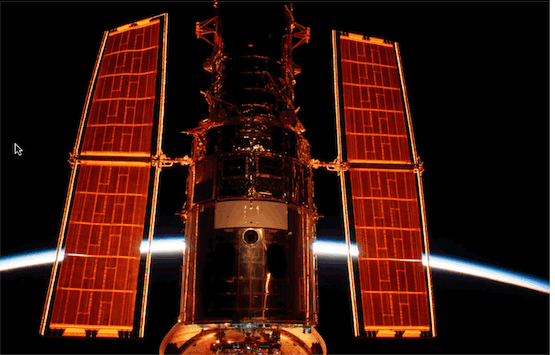 Ex-Windows user (Win. 98, XP, 7); since mid-2017 using also macOS. Presently on Monterey 12.15 & sometimes running also Linux (Mint).
MacBook Pro circa mid-2015, 15" display, with 16GB 1600 GHz DDR3 RAM, 1 TB SSD, a Haswell architecture Intel CPU with 4 Cores and 8 Threads model i7-4870HQ @ 2.50GHz.
Intel Iris Pro GPU with Built-in Bus, VRAM 1.5 GB, Display 2880 x 1800 Retina, 24-Bit color.
macOS Monterey; browsers: Waterfox "Current", Vivaldi and (now and then) Chrome; security apps. Intego AV
1 user thanked author for this post.