On Tuesday (it's Saturday as I write this), it was cold and rainy.  Well, cold by local standards; for much of the US, a day in November would be considerably colder.
I came home in the afternoon, and as I began to unload some stuff from the trunk of my car, I spotted a tiny dead mouse on the concrete of my driveway, only a few inches from my garage door.  I'm a sucker for animals, so it left me a bit sad, but nature is cruel.  I began to pick the little rodent up to dispose of the body, and it kicked its legs a little, making a slow motion running movement, even though it was still curled on its side.  Okay, so it was a not quite dead mouse.
I thought that it must have been injured by a cat or a car, and I began to look for a means to end its suffering.  I found a large metal object that would do the trick, but I didn't want to see the remains, let alone clean them up.  Before I proceeded, I decided to check the little creature to make sure it was wounded.
The mouse was soaked to the skin and felt like an ice cube through the plastic bag I had used to pick it up.  No blood… no apparent broken bones.  Perhaps it was just hypothermic, and warming it up would help.
I didn't want to bring it in the house.  I don't know that the little mouse didn't have a disease of some sort.  Or fleas, which could easily transfer to my cat (who would think of the mouse as a potential meal).  If it recovered, it could get away and either be an unwanted pest or the first legitimate kill for my (indoor) cat.
I got a bit of toilet paper and dried it the best I could, then wrapped it gently in a terrycloth sock.  I filled a water bottle with hot water, and put that in a small bucket, and placed the sock on top of it.  I put the bucket near my front door, sheltered from the rain by my eaves.
I didn't expect her to live.  I'd turned her over in the process of drying her (somewhat), and I think that I'd be able to see some telltale signs of maleness.
A few hours later, I went out to check on her and either dispose of the body or refill the bottle with fresh hot water.  She was alive, and was sitting right side up in the sock, not on her side as she had been found (and as I left her).  She was drier than before, but still damp, her fur still rumpled.  Night was coming, and I didn't know how she would do… so I put a frying pan over the bucket (for which I have no lid) and brought it in.
I rinsed out a single-serving plastic cat food container and left some water in it, and put that in the bucket, and one can of cat food that still had some food left in it, but not enough to make a meal for the cat.  I gave her a long strip of toilet paper to nest and hide in too.
I left her in there for a while, and eventually she was dry.  I could see that she had probably been in the can by the mouse prints of gravy all over the toilet paper, and she had spilled the water.  I know a healthy mouse can jump higher than you would expect, but she was still not very active.  I took a chance and put her in my bathtub, hoping that the kind of powerful jump it would take to leap out would have her back feet slide out from under her, preventing a high enough jump to get out.  I gave her some fresh toilet paper and a couple of toilet paper tubes to chew on or hide in, as well as the cat food can and the water container (refilled).
Throughout this process, she was as tame as a pet mouse.  I could pick her up and handle her without any apparent fear on her part.  She was really cute now that she'd dried!  She was becoming more active, but still was not acting like a wild mouse should.  She moved slowly, and she should not tolerate my handling like she did.
I left her in there overnight, and I checked first thing to make sure she was still in there, and alive.  She was, and was moving around faster now.  I know cat food is not the normal diet for mice, but I didn't have any seeds on hand.  I tried thawing some lima beans and giving those to her, but she didn't seem interested.
I stopped at Petsmart and picked up a metal grating lid for a ten gallon aquarium I already had, unoccupied for more than ten years, some bedding material, a water bottle, and a small bag of seeds.  The intent had been to get her healthy and to let her go, but now I was thinking that maybe I could keep her as a pet.  She was so friendly and unafraid, and I thought that maybe her experience with me helping her would lead her to understand that I am not a threat.
I put her in the aquarium with all of the new stuff, and I sprinkled in some seeds.  She grabbed one in her front paws and immediately began gnawing off the husk.  I left her alone to eat in peace.  My cat had been watching her in there, but not showing any signs that he wanted to attack her… none of the chattering noise that cats often make when looking at birds outside the window or anything like that.  Still, I would not let the cat have access to her aquarium unsupervised (or without the heavy lid, which I doubt he could open).
She continued to get better in the next couple of days, and was devouring the seeds I put in there for her to eat. The urine smell was minimal, thus proving that my thought that this was a female was correct, as male mouse urine smells absolutely awful, and is very strong.
Today, I came to the realization that keeping her as a pet was not a good idea.  She was a wild animal, and she'd seen the big world, unlike pet mice that are born and raised in captivity and who know nothing else.  Then there was the disease thing, and the fact that she was alone, and mice prefer to be with other mice (though males may not accept other males that were introduced after they reached a certain age).
Not long ago, I went in to see how she was doing, and she immediately hid in one of the cardboard toilet paper tubes as I approached the aquarium.  I picked the tube up on one end (the end with her tail sticking out) to encourage her to leave it, and she ran at high speed around the cage before finding a hiding place behind the other cardboard tube.  Now she was acting like a wild mouse.  She was no longer tolerant of my hand, and I didn't want to risk being bitten.  It was time… she'd recovered from her near death experience, and it was time to say goodbye.
I took some pictures before I scooped her into an empty peanut jar (the tall kind, made of plastic), which wasn't easy with her springing up and trying to jump out of the aquarium (though the lid was still on except for the bit where I put my hand in with the jar).  Good.  That's how she should be acting.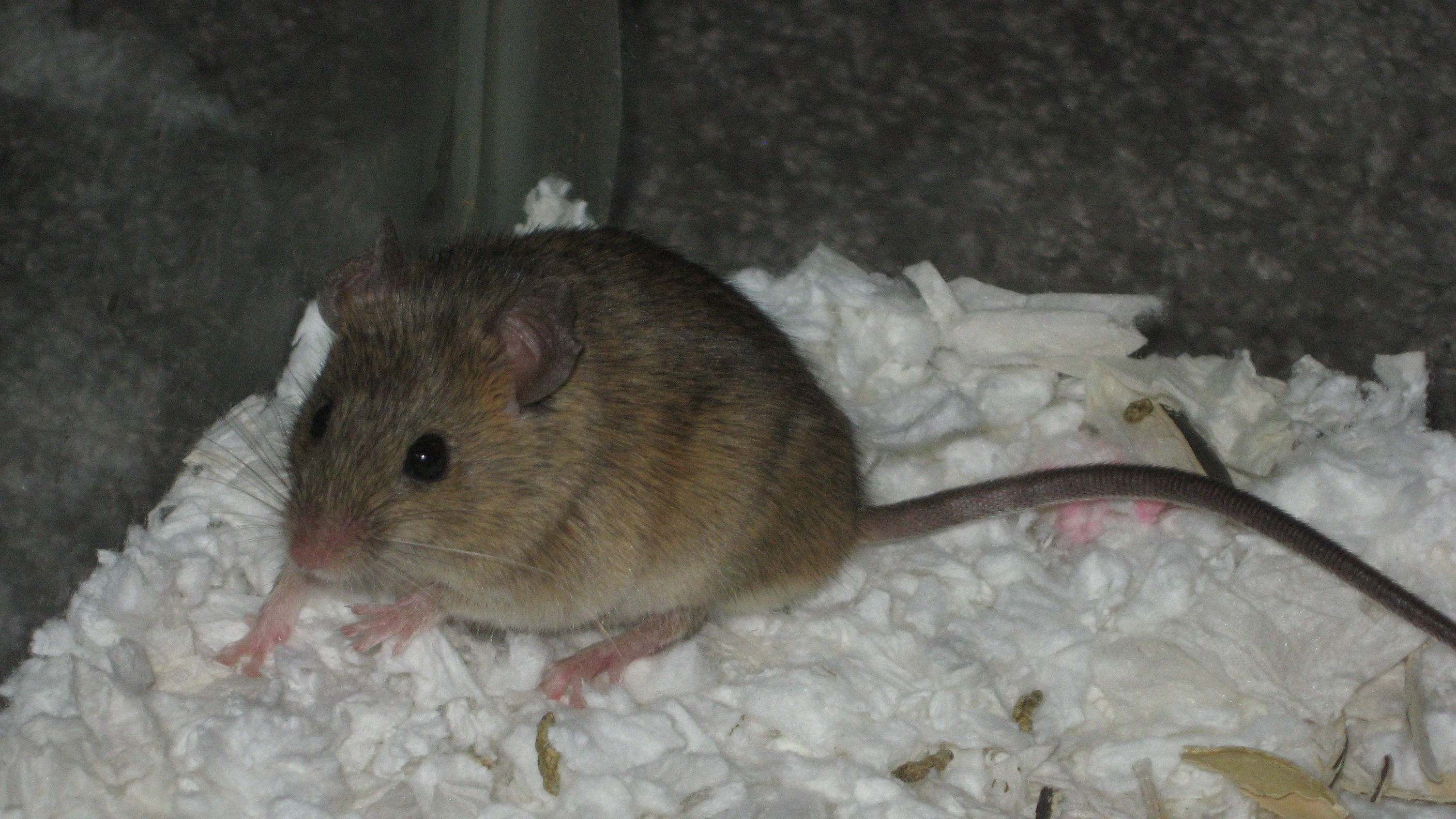 I took her outside and let her go, some distance from the house, with a small pile of seeds at the site.  When I opened the jar, she just sat inside of it, not seeming frightened anymore.  I had to lift the end and encourage her to leave, and when she did, she took off for the nearby brush, at a normal mouse pace, not running at a full sprint.  I wished her well and went back inside, surprisingly sad to see her go.  I mean, I could have gone to the pet shop and had a mouse at any time if I wanted one, but I really didn't, in particular.  So why was I sad to see her go, when I sho/uld be happy that I was able to do a little insignificant act of kindness for a little, insignificant mouse?  Was it that I had already started to think of her as a pet, even though I'd only had her for four days?
Anyway, she's gone, and now I have a lid for my aquarium, a water bottle, two thirds of a bag of seeds, and one and a half containers of bedding material.  I could go buy a pet mouse now, and it would be a better, safer pet than the one I just bid farewell, but I don't think I will.  I didn't really want a pet mouse… it was just something that happened at random.  I'm glad I noticed her when I did, as I am sure she was close to death from hypothermia when I found her… she made no effort to escape my presence, to the point that I thought she was dead until I went to pick her up.  I got some nice pictures, and I will long remember my little mouse friend.
Dell XPS 13/9310, i5-1135G7/16GB, KDE Neon
XPG Xenia 15, i7-9750H/16GB & GTX1660ti, KDE Neon
Acer Swift Go 14, i5-1335U/16GB, KDE Neon (and Win 11 for maintenance)