Hey Y'all,
It's been 5.5 years since I bought a new computer for myself, of course my wife has a newer machine… So, naturally I've been lusting after some new hardware. But there's a problem here. I've been watching LTT videos to see the performance gains that new hardware provides but they are gaming setups and I don't game, I'm a productivity and programming type of guy.
So just for kicks I thought I'd run some benchmarks on my machines: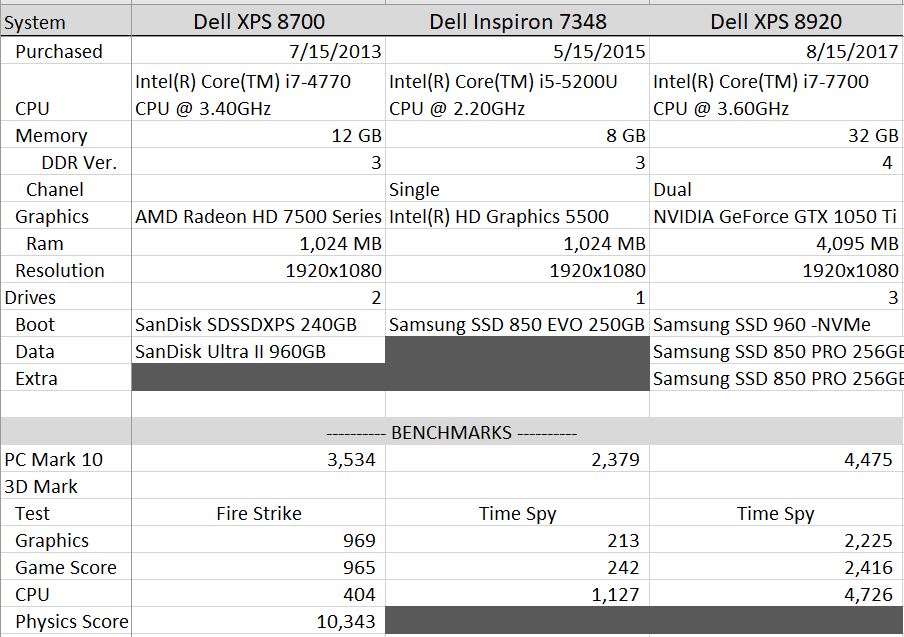 As you can clearly see they stink! What doesn't show in the table is that not one of the 3 machines could break 25 fps in any of the tests.
That said I don't have any particular problem with any of my machines, with maybe the exception of the Laptop. My questions to all you HW guys is:
Will I get any really noticeable speed improvements for my workload by purchasing a new machine?
Do you think I'll get a noticeable improvement in my laptop performance if I upgrade the DRAM?
Do you have any other suggestions as to improving the performance, that I would notice, of any of the machines?
Should I just wait for the clock to run out on Win 10 and upgrade then?
May the Forces of good computing be with you!

RG

PowerShell & VBA Rule!
Computer Specs
1 user thanked author for this post.