I recently upgraded a few machines to Win10 Enterprise in a small WSUS environment. ("Enterprise" because that's what a non-profit gets from TechSoup.) The machines have wired Internet connections and are not metered.
I've noticed that updates often get stuck in a "Pending download" status (especially noticeable with the numerous Defender and Office updates):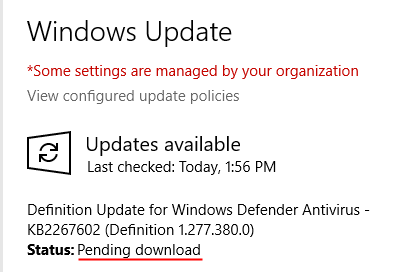 A reboot fixes the issue and allows the updates to download, but obviously one shouldn't have to reboot to start downloading updates.
Reviewing WindowsUpdate.log turns up some inexplicable messages (pulling out a few here but can post full log if it helps):
Skipping regulation refresh since the network is metered
WU operation (DL.UpdateOrchestrator) started; operation # 1519; does use network; is not at background priority
*FAILED* [800706BA] GetConnectivity
Any idea what is going on here? This machine hasn't updated Defender in two days, for example, so I'd really like to get it working. BTW Win7 machines on the same WSUS network do not usually have any problems.