Well its on the eve of another Patch Tuesday, so here's a little tip for Windows 10 Home users to get some control of those updates automatically. Note This was done and checked on Win 10 Home 1803 but no reason why it shouldn't work on any other Version.
First and Foremost Set your Connection to METERED in the Settings GUI SETTINGS->NETWORK & INTERNET->EHTERNET (or WiFi) and set the slider to Metered.
Next your going to created a Scheduled Basic Task WIN KEY scroll down to WINDOWS ADMINISTRATIVE TOOLS select TASK SCHEDULER.
1. When it opens in the right hand Column select CREATE NEW BASIC TASK
2. ENTER NAME I just enter "WUMT check for updates", brief description if you like.
3. TASK TRIGGER you can Select "when I log on" or "When the Computer starts" your choice.
4. ACTION select Start a Programme.
5. See below.


If your running from the desktop like I am you would replace bob with your name, if your running this from somewhere else you would amend the location, if you have changed the name of WUMT in its current location then obviously amend the syntax to reflect this. But must end in .exe. In arguments it must be entered as illus. -update that makes WUMT work on startup rather than manually start.
6. Go to Next page and see below.


7. This should open the Task for the final tweaks Setting run Priviledges and Type of OS Win 10 in this case. Click OK and your done


8. Select your Task from Menu above to Check your Task doesent create any Error's or works before closing, it should start and run as per selection below and that's it.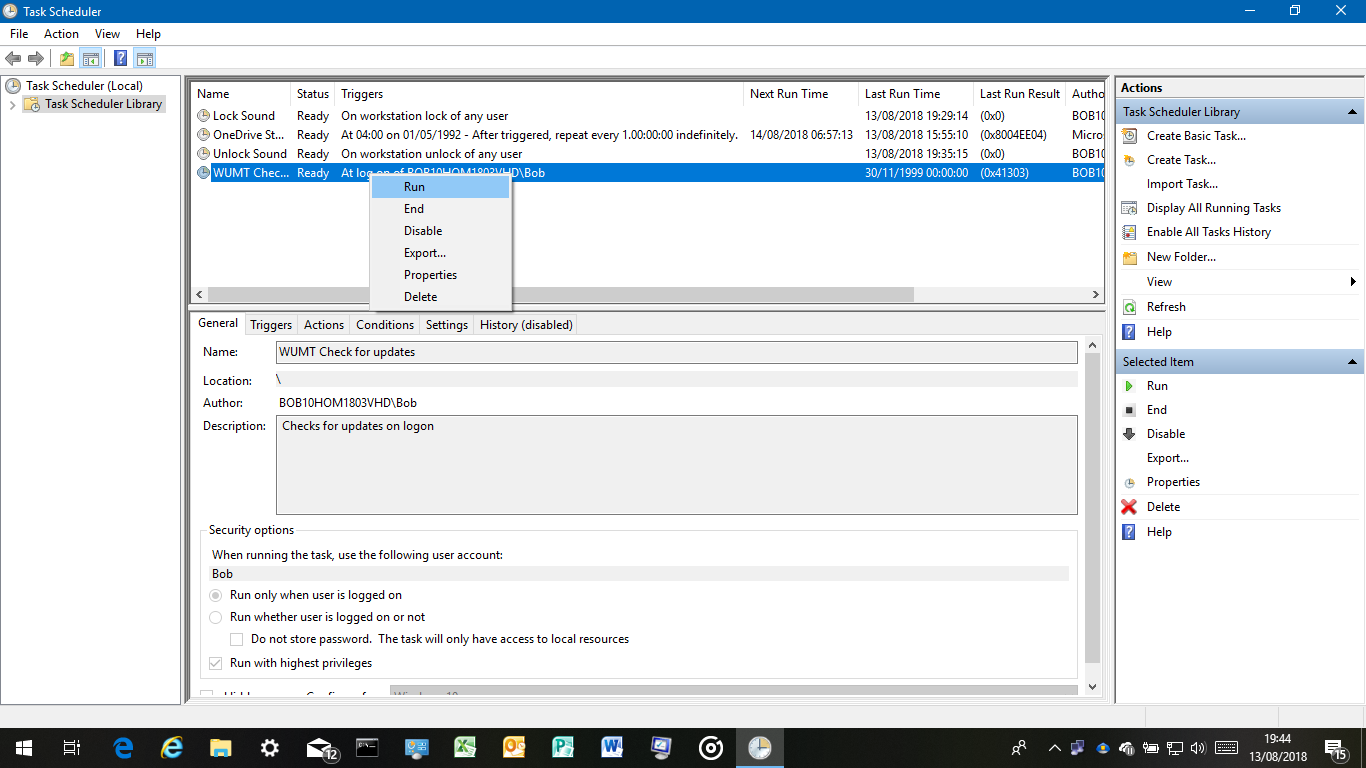 Every thing fine So far? Reboot Log Off however you set it, WUMT should start within seconds on the Desktop in seek updates mode, even before Windows update has "Woke Up" enabling you to Hide them, only Downside is and, you've probably guessed it, is for probably 29 Days of the Month its going to Bug you but that one day a Month it may well save your Bacon 😉
PS almost forgot you can find more info and Download link here about WUMT: https://win10.guru/toolkit-item-windows-update-minitool-wumt/