I have been a Windows user since DOS days (Well, you get the idea)
I have bought Windows computers and I have built Windows computers.
I have been in the Windows 10 Insider program since October 2014, before Win10 was released.
I have had Windows installed on multiple hardware platforms over the years up to and including Windows 8.1.
I bought my first Macs in 2011 and started migrating my Windows installations into Parallels VMs. At this point, I have left Windows installed on hardware behind and now run Win7, 8,1, and 10 only in VMs.
I have dug in to all the past Windows OSs and have kept up with the Win10's changes over the past 6 years.
But I have become SOOO tired of Win10's constant churning, idiotic upgrade cycle, patches to fix patches to fix patches, changing terminology just to confuse its customers, refusal to listen to its Users, and outright deception of its public.
NONE of my i7 processors, minimum 16GB RAM, discrete graphics, minimum 512GB SSDs are worthy of running Microsoft's new Bauble in a VM. Not even my 3-year-old Kaby Lake i7 7700, 32GB RAM, Radon Pro iMac4K. Even if they backtrack and allow the 7th generation Kaby Lake processor. No TPM. No Safe Boot. Probably no other stuff they require.
Yes, they condescended to allow my Win10 Dev channel Insider Preview Build 21390.2025 to upgrade TEMPORARILY to Windows 11 this afternoon.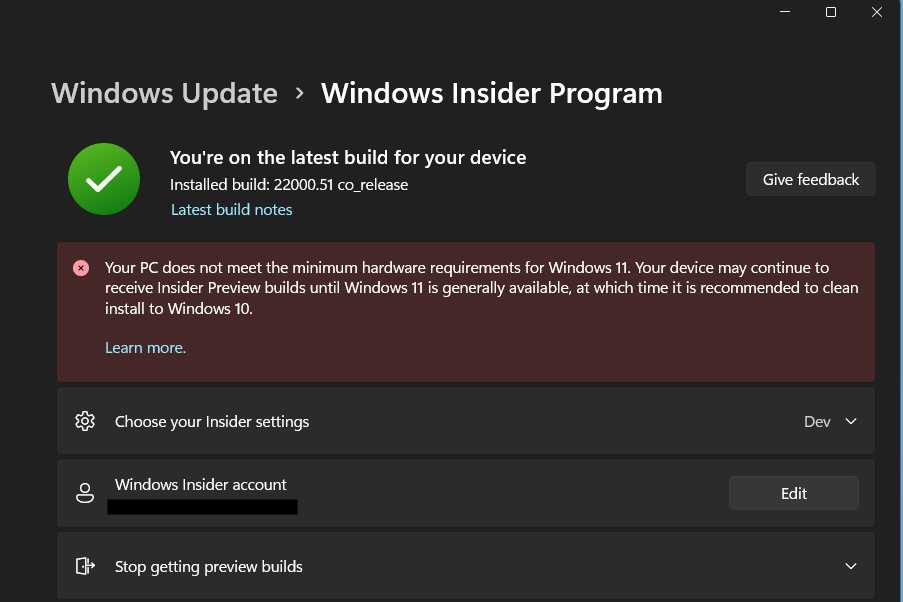 I looked through it.
Everything is the same, even the settings seem not to have changed. It does LOOK different – they got rid of that garish neon blue eye-killing windowed background and the "Live Tiles." The Start Menu now sits in the middle of everything and gets in the way. There are, Oh! My!, ROUND CORNERS (I thought "corner" implied 90 degrees). And rearranged settings/categories to make things more confusing (to me) (AGAIN). Open Shell even seems to run OK (after you answer "Do you want to let this s/w run on your computer" for every third-party program you open. This justifies a new VERSION?
IMHO They've just put more lipstick on the pig.
Anyway, this afternoon, I bought my first M1 MacMini. It has an ARM SoC and won't be running Windows VMs.
I've started archiving my 13 Parallels VMs (in case I ever want to go back to the chaos that Microsoft seems so adept at creating).
I will keep the Win8.1 VM on my laptop (Haswell i7, 16GB RAM) because I need Windows for the Dactronics/Meet Control software necessary to run the scoring for the local Univ. Diving team's meets. The Univ. coach and I will retire about the time Win8.1 runs out)
I will keep a Win8.1 VM on my iMac4K (Kaby Lake i7, 32GB RAM) because I use it as the main (mostly offline) repository for my personal data. Easy full disk image – copy the VM to a backup drive.
Win8.1 doesn't have problems.
I may keep one of my debloated Win10 VMs just to see if it can remain fairly stable.
*************
On the whole though, Windows 11 is rolling in – and I'm rolling out.
Get a Mac. You'll never go back.
(Or Linux will probably do just as well)
Total of 29 users thanked author for this post. Here are last 20 listed.