| | |
| --- | --- |
| | Patch reliability is unclear. Unless you have an immediate, pressing need to install a specific patch, don't do it. |
Build a complete Windows 7 safety net
Windows Secrets Newsletter • 288 • 2011-05-12
---
---
TOP STORY
Build a complete Windows 7 safety net
By Fred Langa
Every copy of Windows 7 includes a complete suite of backup tools. The suite contains everything you need to back up (and restore) your entire system.
What's more, after you've set up your initial backup, future backups happen automatically.
In fact, Windows 7 makes it so easy to set up fully automated backups, it's almost nutty not to do it.
But (you knew there had to be one) Windows 7's backup tools are based on a different philosophy than previous versions of Windows and so do not operate exactly as you might expect. Until you understand what Microsoft is trying to do, the differences can be confusing.

Win7's backup system has three major parts

The first component is designed to protect a system's user data — and nothing else. User data includes each user's locally stored library files plus the contents of the user folders and subfolders, such as AppData, Contacts, Desktop, Documents, Downloads, Favorites, Links, Music, Pictures, Saved Games, Searches, and Videos.
Those folders contain a system's most valuable and rapidly changing data files — after all, your user files include all your documents, spreadsheets, e-mails, and so on. These are the files that need the most careful and frequent backups. As a result, the Windows 7 backup puts most of its emphasis on automatically protecting these files.
But the Windows 7 primary backup applet does not — repeat, does not — back up system folders or program files, even if you specifically select them or if they're inside a folder that's otherwise being backed up. The user-data backup process specifically excludes program files.
Win7 includes a second tool — a system-imaging app — to back up system folders, installed programs, and the like. Microsoft's theory is that these less frequently changing files don't need to be backed up as often as user data. That's not unreasonable.
A system image is the gold standard of backups. It's an exact digital copy of the complete contents and logical structure of your hard drive. You can use a system image to restore a PC to full running order, with all your software set up and ready for immediate use. When you restore a system image, you put your PC back to exactly the way it was at the moment the system image was made.
You need to make a new system image only when your system changes in some major way (a major new software update, or whatever). It's a low-frequency task.
When you run a Win7 backup for the first time, you'll automatically be prompted to make your first system image. It's part of the initial backup process, built-in, and very easy to do.
The third and final component of the Win7 backup system is a bootable System Recovery Disk. With the recovery disk, you can restore your system even if the hard drive is otherwise completely unbootable. Making the System Recovery Disk is automatic; you'll be prompted at the right time.
In a moment, I'll walk you through a complete, three-part, Win7 initial backup.

Windows Vista and XP backup and imaging

Win7's backup tools evolved from Vista's. Many of the techniques described in this article also work on Vista PCs. If you need more information, see Microsoft's Vista backup/restore FAQ or the more general Vista Safety and security page.
XP's tools are completely different, but you can back up and image XP systems, too. Many of the very best XP-maintenance tips, techniques, and free tools — including XP backup and imaging options — are collected for you in the August 12, 2010, Top Story, "Preparing Windows XP for the long haul," and in the November 11, 2010, Top Story, "Windows XP: Looking back, looking forward."

Step one: Setting up your initial backup

Naturally, your backups will consume some disk space and/or blank CDs or DVDs. The exact amount depends entirely on your local setup, but you can use this ballpark guide:
Estimate the size of your initial User Data backup by right-clicking on a username folder — e.g., C:Usersusername. Select Properties and note the size. Your initial backup will be no larger than this amount and will most likely be somewhat smaller (because not everything gets copied). Future backups are smaller still because they'll include only files that have changed since the previous backup.
The system-image tool backs up an entire drive — for example, your full C: drive. But it doesn't back up empty space (what would be the point?), and it compresses what it does back up — typically by 30 percent to 50 percent. If you have a drive containing 50GB of actual data, a system image of that drive would probably end up being 25GB to 35GB in size.
Whatever device you back up to (typically, an external USB hard drive or network-attached drive), make sure it has plenty of free space for future incremental and image backups. (Win7's backup tools will guide you toward storage locations with the right sizes and attributes. More on that below.)
The System Recovery Disc uses just a single CD or DVD.
Once you're ready to get started, simply click the Start orb, type the word backup in the Search programs and files box, and press Enter. This works on any Win7 (or Vista) PC.
If you prefer the all-mouse approach: click the Start orb, open Control Panel, and (if in the Control Panel's default view) select Backup and Restore from the System and Security category.
Whichever way you get there, the Backup or Restore your files applet initially opens a dialog box like that shown in Figure 1. This dialog box gives you centralized access to all of Win7's major backup tools.

Figure 1. Win7's Backup or Restore your files applet gives you integrated access to all of the OS's built-in backup tools.
The first time through, click Set up backup. After a moment, you'll see the dialog box shown in Figure 2, and you'll hear your mechanical drives buzz and chatter. Don't worry; the backup has not started without you! The backup software is merely learning what drives are available for later access.

Figure 2. This somewhat misleading dialog box is not actually starting the backup.
► Choose where your backups will be stored. After a few moments, your system will quiet down and a new dialog box opens to let you select the destination for the backup files you're about to create.
Windows places the word Recommended next to the location it thinks is best, but you're free to select other locations. For more information, see Microsoft's Win7 Help & How-to page, "Where should I save my backup?" On the system shown in Figure 3, Win7 offers to save backups to a D drive, a DVD burner, or an external 1-TB drive. Naturally, your PC's options will be different.

Figure 3. Win7 displays acceptable backup locations and offers its recommendation.
(Note: Windows 7 Pro, Ultimate, and Enterprise also offer a Save on a network … option button, as shown in Figure 3.)
When you've chosen a destination for your backup files, click Next.
► Now choose which files to back up. The What do you want to back up dialog box, shown in Figure 4, lets you accept Windows' defaults for what to back up, or it allows you to make your own selections.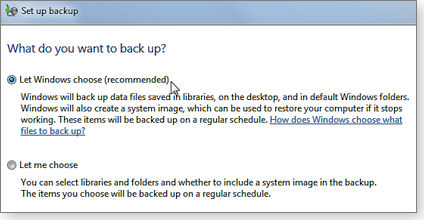 Figure 4. Windows can automatically choose what it thinks should be backed up — or you can make the selections manually.
If you select Let Windows choose, Win7 backs up all user data folders and files, as listed earlier. This is usually a good choice. (See Microsoft's article, "How does Windows choose which files to back up?")
If you select Let me choose, you see the dialog box shown in Figure 5. (This option is most useful when you've set up your system in a nonstandard way, with user files in nondefault locations.)

Figure 5. The Let me choose option lets you manually specify individual folders, libraries, or drives to include in the backup.
But remember that the Windows 7 backup tool does not back up program files or system folders, even if you manually select them. There's a separate tool for that, which we're coming to.
Once you've made your choice, click Next.
► Review your settings; run the backup. Figure 6 shows the review dialog box for a typical Let Windows decide backup. (That's the option I usually choose.) The Let me decide confirmation dialog box looks very similar.

Figure 6. A review dialog box lets you confirm that the backup is set up the way you intend.
Note the Schedule information in the middle of the dialog box shown in Figure 7. By default, Windows uses the settings you're now establishing to perform a weekly backup of your system's user data. You can modify the schedule via the Change schedule link; it opens a separate window, so you won't lose your place on the main backup dialog box.
Similarly, you can explore any warnings displayed at the bottom of the dialog box by clicking on the More information links. They also open secondary windows, so you won't lose your place.
If anything about the backup isn't correct, click the dialog's Cancel button and start over.
When everything is OK, click Save settings and run backup. Now the actual backup begins, as shown in Figures 7 and 8.

Figure 7. The status screen of a backup in progress

Figure 8. The View Details window lets you see what the backup is doing, step by step and file by file.
You can minimize the backup windows and continue to use your PC while the backup runs, but I don't recommend it. Backups are inherently disc- and CPU-intensive and tend to bog a system down. It's usually better to let the backup run when the PC would otherwise be idle.

Step two: Create a full-system image

When the first user-data backup completes, Windows normally offers to create a system image via a dialog box like the one shown in Figure 9, which is the first of several poorly worded dialog boxes; it refers to a backup when it should say image. (Hey, Microsoft! Hire some proofreaders, OK?)

Figure 9. Although it asks, "Where do you want to save the backup?" it's really asking where to store the system image, as the rest of the dialog box's text indicates.
You can accept the default location or choose something different. In planning where to put the image files, note that they're large and usually end up being around 50 percent to 70 percent of the size of the original, uncompressed data.
Once you've selected where the system image will be stored, you'll be asked what to include in the image. (See Figure 10.) This dialog box repeats the backup-for-image error. (Sheesh, Microsoft!)

Figure 10. Select the drive(s) you want to image.
A confirmation dialog box lets you double-check your choices, as you can see in Figure 11. Windows shows you an uncompressed, worst-case, maximum-size estimate for the image files, so you can make sure there's room in the selected destination or that you have a sufficient number of blank CDs or DVDs on hand.

Figure 11. Review your imaging choices in this confirmation dialog box.
Click the Start backup button to start the disc-imaging process. (Fortunately, that's the last language-mangled dialog box in this series.)

Step three: Create a System Repair boot disc

When the system image completes, you'll be offered the option to make a System Repair boot disc, which is the third and final piece of the Windows 7 backup strategy. (See Figure 12.)

Figure 12. It's well worth the short time and extra CD or DVD to create a System Repair disk.
Just follow the prompts; it takes only a couple of minutes, tops.

You already paid for these tools. So use 'em!

Yes, setting up backups takes some time — probably a few hours, the first time through. And yes, the tools aren't elegant.
But they get the job done, all your data will be backed up, your program and system files will be safely and separately backed up, and you'll have a bootable Recovery CD on hand.
From here on out, the Backup Scheduler takes over and safeguards your user data through automatic backups on whatever schedule you authorized.
Breathe a sigh of relief: Your system and data are protected against the disaster you know is coming!
Feedback welcome: Have a question or comment about this story? Post your thoughts, praise, or constructive criticisms in the WS Columns forum.
Fred Langa is a senior editor of the Windows Secrets Newsletter. He was formerly editor of Byte Magazine (1987-91), editorial director of CMP Media (1991-97), and editor of the LangaList e-mail newsletter from its origin in 1997 until its merger with Windows Secrets in November 2006.
---
LOUNGE LIFE
Shakespearean question for us: what's in a name?
By Kathleen Atkins
Whether you're naming your baby, your play, or your domain, you contend with associations.
Lounge member Lounger1000 might have thought he was asking purely practical questions when he broached the topic of his personal .com e-mail address, but forum members immediately picked up nuances to discuss.
See the suggestions and questions Lounger1000's project provokes. More»
The following links are this week's most interesting Lounge threads, including several new questions to which you might be able to provide responses:

☼ starred posts — particularly useful
If you're not already a Lounge member, use the quick registration form to sign up for free. The ability to post comments and take advantage of other Lounge features is available only to registered members.
If you're already registered, you can jump right in to today's discussions in the Lounge.
The Lounge Life column is a digest of the best of the WS Lounge discussion board. Kathleen Atkins is associate editor of Windows Secrets.
---
WACKY WEB WEEK
Future 'rock stars' on the big wall
By Revia Romberg

In this video, we're not watching rock performances of the musical variety, but the kind climbers covet. And although many parents use candy to get their kids to do homework and chores, this dad has his kids climbing the walls for sweets.

With this kind of coaching — and talent — these kids have a future as star free-climbers. Hope their mother is fine with all those tiny hand- and footprints on her walls. Play the video
---
LANGALIST PLUS
Win7 network stuck in 'Public' mode
By Fred Langa

When Win7's network-location setting fails, you may need to sneak in the back way.

A mangled location setting can make a PC think that safe home or work networks are unsafe Public networks — and prevent you from correcting the problem!


The 'Make all future networks public' debacle

Reader Pam's Public network settings are stuck and are blocking her connections.
"I accidentally checked the box that says 'make all future networks public and do not show this again,' not realizing it was for anything other than the hotel network I was accessing. Now I can't connect to my home network anymore. What can I do? Running Windows 7."
Windows 7 automatically adjusts its security settings according to the network locations you choose. So that "do this forever; never ask again" option is indeed dangerous. It's a rabbit hole — once you go in, it can be hard to get back out.
I reproduced Pam's situation on a network in my office so I could grab screen shots such as Figure 1, a normal Win7 Network and Sharing Center (TechNet info) dialog box. In Figure 1, the cursor is next to the network location label (under View your active networks), which in this case is set to Public network.

Figure 1. To change your network location, click the location label (shown above as Public network). But sometimes, the link's not there.
Normally, the network location has a link (blue, clickable text) that lets you reassign the network to a different location: Home, Work, or Public network (more info). But in Pam's case (and in the Figure 1 example), Public network is just plain text; it's not a clickable link. What now?
Here's the back-door fix I use when this happens to me:
Step 1. Exit or suspend any software that uses the network.
Step 2. Open Device Manager. (Click Start, type device manager in the Search programs and files box, and then press Enter.)
Step 3. Expand the tree diagram (see Figure 2) to show all network adapters in your system. Right-click on the first adapter and select the Disable option. Repeat for all network adapters on your system.


Figure 2. Your network-adapter names are probably different, but the process is the same.

Step 4. After each change, Device Manager rescans your hardware. Your monitor may blink as it's probed — don't worry, it's normal. When you're done, all your network adapters will be disabled. Now you're ready to climb back out of the rabbit hole.
Step 5. Still inside Device Manager, re-enable only the adapter that's associated with the stuck public-network setting. (For example, if you're trying to connect to your wireless network, enable the wireless adapter.)

Your system will notice your network reappearing and try to connect. It will probably fail, but that's OK; it's expected.

Step 6. Open the Network and Sharing Center, and in the lower part of the dialog box, select Choose homegroup and sharing options. A dialog box similar to the one in Figure 3 will appear.


Figure 3. When there's no other way to access the dialog box for setting network location, this is the back door.

Step 7. Click the What is a network location? option (above the cursor in Figure 3). That will take you to the standard dialog box for setting your current network location. You should now be able to select your location.

If you want to continue setting up a homegroup, follow the remaining prompts. But a homegroup isn't required, so you also can simply abandon or back out of the homegroup setup — after selecting the correct network location.

Step 8. The last step is to re-enable your remaining adapters, one by one.
You should be good to go — and out of the rabbit hole!

Wanted! Your top personal-privacy tips

Windows Secrets is planning a special issue focused on personal privacy, and I'd like your help.
What do you do to protect your personal privacy? Please send me your tips via tips_mail@langaonline.com (note the underscore). I plan to publish a collection of your best offerings in the special issue.
Thanks for your help!

Laptop laptop audio audio echo echo

Firoz Khan has a problem that's hard on the ears.
"I am using Windows 7 in my laptop. I hear an echo from my microphone and speaker while I talk. Help!"
There are two common causes for echoes on PCs:
The simplest is a form of delayed feedback that can occur when two microphones are active: the one built into the laptop and, perhaps, one in a headset.
You can check via the Windows Sound applet:
Click Start, Control Panel, Hardware and Sound (default Control Panel view), then Sound.
Select the Recording tab and right-click the icon representing your extra, secondary microphone. Select its properties.
On the Microphone Properties page, select the Listen tab. Make sure the Listen to this device box is unchecked (empty). You want this secondary mic to be disabled — not listened to.
The other common cause is enabling of some audio enhancement or effect in your sound system — reverberation, echo, and so on.
You should be able to check this via the same Sound applet, except that in this case you explore the Speakers properties under the Playback tab. Disable any sound effects or other audio processing that may be enabled there.
If this procedure doesn't work, the problem may be hardware- or driver-specific. I suggest you visit your laptop vendor's site to see what help it can provide.

What is this pesky Installiqupdater?

Diana Harris doesn't want this updater to run at every boot.
"I often get a pop-up asking me to install installiqupdater.exe

"Is this malware or a legit program? I searched your newsletters and found nothing on it. I Googled it, but it's not clear whether it belongs (or not) as part of Microsoft's packages."
Installiqupdater.exe is the "Intelligent Installation Manager" from W3i. It's one of those software-installer and distribution packages that offer to install additional downloads — say, an unrelated toolbar — along with whatever software you intended to install.
So though it's not malware, it's not necessarily desirable, either. By all means, remove it if it's causing trouble.
The application should appear in Control Panel's Uninstall or change a program (Win7) or Add or Remove Programs (Win XP) tool as the "InstallIQ Updater" or something very similar. Select it and click Uninstall, and it should soon be gone.
You can also search your system and the Registry, removing any instance of files with installiq as part of their name. (Type *installiq*.* into your search bar.)

Secunia PSI tags Google Chrome as a threat

Arnold Kohn's Chrome installation triggered a security alert.
"I downloaded the latest stable version of Google Chrome &#8212 Version 11.0.696.60. Secunia PSI (Version 2.0) rates this as containing a critical vulnerability, so I have uninstalled Chrome. But I keep thinking this must be a mistake. Please check and advise us."
As far as I can tell, Chrome 11.0.696.60 was fine, as released. (I'm running it myself.) PSI was probably picking up some leftover files from an earlier version. PSI sometimes identifies these orphaned files as zombies.
The simplest solution is to uninstall and then immediately reinstall Chrome. Follow these steps to retain your browsing data through the process:
Uninstall Chrome normally (via Control Panel's Uninstall applet). When the Chrome uninstaller runs, you'll see a dialog box similar to the one shown in Figure 4. Make sure the uninstall applet is not set to delete your browsing data.

Figure 4. Double-check that the Also delete your browsing data? checkbox (circled in red) is empty.
When the uninstall completes, use any browser to grab a fresh copy of Chrome (site). Let Chrome set up normally; it should find and use your preserved data.
And the zombie files will be gone!
Feedback welcome: Have a question or comment about this story? Post your thoughts, praise, or constructive criticisms in the WS Columns forum.
Fred Langa is a senior editor of the Windows Secrets Newsletter. He was formerly editor of Byte Magazine (1987–91), editorial director of CMP Media (1991–97), and editor of the LangaList e-mail newsletter from its origin in 1997 until its merger with Windows Secrets in November 2006.
---
WOODY'S WINDOWS
It's not ready for prime-time computing
By Woody Leonhard

If this were a Jeopardy clue, the answer would be: What is cloud computing? No matter how you define it, this much-ballyhooed technology/service still has many problems — several of which were painfully in evidence this week.

If you're considering moving some or all of your operations to the Cloud, be acutely aware of the ongoing, manifest difficulties.
Ever since my April 28 Top Story on Office 365, friends have been writing to me with predictable admonitions, frequently phrased along these lines: "Come on, Woody, do you really think my company should move everything to the Cloud?"
Well, I'm not moving all of my stuff to the Cloud anytime soon, which should be answer enough. The technology's enticing, and doing the math makes me think that some organizations could save money moving some of their operation to the Cloud. But in general … nah, the Cloud just isn't ready yet.
And several recent high-profile problems amply reinforce that observation.

Massive outages continue to plague even the best

We've seen extended and embarrassing online outages from companies that have enormous resources. If the Sonys and the Microsofts and the Amazons of the world can't keep their own proprietary, high-profit systems going, how can you expect them to keep your little operation alive? Or your big operation, for that matter?
A prominent case in point: The programmers at Sony are so good that, six years ago, they created what could be described as the first mass-distribution rootkit (as detailed in a 2005 Windows Secrets story). But their PlayStation Network and Sony-owned Qriocity network went down this past April 20 and, almost three weeks later, they're still not fully back up and running. A May 5 Sony PlayStation blog hinted it was coming back on stream, but a follow-up blog one day later was considerably more vague about when the system would relaunch. Up? Down? Who knows? For a timeline of this incident, check out the PC World report, "PlayStation network hack timeline."
Sony isn't the only big-name cloud failure in recent months.
As reported in a Jan. 5 InfoWorld story, Hotmail went down and up around the end of last year. When Microsoft finally brought it back online, data from 17,355 e-mail accounts had gone missing. Hotmail customers did get their data back — eventually.
Last week, Windows Phone Marketplace — designed to be a high-profit site, even if there aren't very many Windows Phones out in the wild — went down for around seven hours (according to a Windows Phone blog), apparently an unexpected side effect of "scheduled maintenance" that went on too long. If Microsoft can't keep its own sites up, what does that say about their ability to keep other cloud services running?
Amazon's EC2 service — the Elastic Compute Cloud, which rents server time to many large customers — is supposed to be so redundant and fail-safe that it'll keep running, no matter what. Well, what happened last month, and many large EC2 customers — such as Reddit, foursquare, and Quora — went down, as reported in an April 21 InfoWorld story. Amazon struggled for four days to get its customers' data and database programs back online.
InformationWeek's Jonathan Feldman stated, "the Amazon outage is irrelevant to those of us planning the future of computing at our organizations." His point was that companies that use cloud services need to plan for failures.
I don't buy it. Sure, simple human error caused the outage (and humans brought it back up, though painfully slowly), but this was not an isolated instance and the risk of an outage is still too high. If you're considering moving your systems into the Cloud, you need to think about it — long and carefully. If Amazon's huge EC2 service can go out for four days, whom can we trust?
An interesting side note: Gartner Research VP Lydia Leong has a wonderful blog about the Amazon outage in which she notes that, technically, Amazon didn't break its 99.95 percent uptime service level contract with its EC2 customers. Why? Because the EC2 service was available. The data wasn't. Now there's a major gotcha.

Privacy and data-security problems are rife

More than outages, data security should worry anyone using cloud-computing services. Some of us are starting to lose sleep over it.
Consider this. Sony's PlayStation Network outage was accompanied by an unknown number of data leakages, affecting about 77 million records, according to a CyberInsecure story. Even now, nobody seems to know precisely what data was taken, although Sony insists that credit-card information was encrypted. Oh, with the exception of that outdated database from 2007 that "contained approximately 12,700 non-U.S. customer credit- or debit-card numbers" plus "10,700 direct debit records listing bank account numbers of certain customers in Germany, Austria, Netherlands and Spain," as revealed in a Sony security update.
Ahem!
And it goes on. LastPass, an online password-storage and -retrieval site recommended in my January 27, 2011, Top Story, reported in a recent security notification (Update 2) that it had detected a network-traffic anomaly that may or may not be associated with a data leakage. Just to be safe, the company locked down the service, requiring users who come from new IP addresses to verify their access via e-mail.
LastPass uses a salted encryption (definition) technique for storing master passwords, so they'll be deucedly difficult to crack. But the company is recommending that people change their master passwords just in case. Their response to the anomaly is, in my opinion, a textbook example of how a company should react to a possible data breach — quickly and decisively. Nonetheless, the whole incident gives me second thoughts about storing my passwords online.
If you use a file-sharing site such as RapidShare or Easy-Share to send large files to other people online, you need to know about another possible source of data leakage. As I reported in a recent article, security researchers found it relatively easy to harvest online files by guessing file-sharing URLs. And that means cyber thieves, too, are trolling file-sharing sites and possibly plucking out data in spite of security measures designed to make that difficult.
I haven't heard of any data breaches involving the major online data-storage sites, but it's only a matter of time. Dropbox came under fire last month for a bit of sloppy coding, but it seems reasonably secure. (For another view on this, see the Information Security Insights article, "Dropbox authentication: insecure by design.") Google Docs and Windows Live SkyDrive have been around for a while and are secure — if you guard your password, of course.
But you'd still be well advised to not post anything online that you wouldn't want seen in Google News — or your IRS audit folder.
For now, I will continue to use some cloud products. But I'm not betting the farm on cloud-based services.
Feedback welcome: Have a question or comment about this story? Post your thoughts, praise, or constructive criticisms in the WS Columns forum.
Woody Leonhard is a Windows Secrets senior editor and a senior contributing editor at InfoWorld. His books on Windows and Office include the award-winning Windows 7 All-In-One For Dummies. His many writings cast a critical eye on the latest industry shenanigans.
---
PATCH WATCH
It's PowerPoint déjà vu all over again
By Susan Bradley

We have an especially light Patch Tuesday for May — which is a relief, given the massive batch released in April.

If one of this month's updates looks familiar to you, it should — we're updating PowerPoint again. But I'm also giving the OK sign for Windows SP1.

MS11-036 (2545814)
PowerPoint patches get a second try

This time, Microsoft is giving us a two-for-one update: it fixes April's PowerPoint update (MS11-022, KB 2464588) and patches yet another remote-attack vulnerability. The fix addresses an issue I warned you about last month, in which files could not be opened because of corrupted background images. (Microsoft released hotfix KB 2543241 to fix that problem.)
Office 2004 and 2008 for Macintosh also need updates, but their patches will be released at a later date. PowerPoint 2007 users will see KB 2540162 offered up for the Office Compatibility Pack.
The bad news: if you installed the hotfix in KB2543241 (corrupted images), and you use Microsoft's Windows Software Update Services, WSUS will not detect that you need KB 2545814.
► What to do: Install KB 2535802, KB 2535812 or KB 2535818 for PowerPoint 2002, 2003, or 2007, respectively.

MS11-035 (2524426)
Vulnerability in WINS … what is WINS?

Most of us will never see this update; KB 2524426 is only for Windows 2003 servers with Windows Internet Name Service (WINS) installed.
For admins who are managing Windows Server 2003 systems, here's a special note. On a server without WINS, the patch seems to install correctly. But if you add WINS down the road, the vulnerable files are still vulnerable — you need to install the patch again.
► What to do: Find more information on this issue on MS Support page MS110-35 (2524426).

2533552, 2534366
More prep patches for Windows 7 Service Pack 1

Microsoft released two patches to fix problems with Windows 7's infamous first service pack. Both should be installed before updating to Win7 SP1.
KB 2533552 corrects a flaw that produces a failed SP1 update, leaving users with a cryptic error code (shown in Figure 1) and a difficult recovery. Systems that received SP1 through Windows Software Update Services were hit particularly hard, as noted in a TechNet blog.

Figure 1. When the Win7 SP1 installation failed, users were left with this chilling screen.
KB 2534366 fixes an issue with multiple language packs; some systems would hang at a black screen after SP1 was installed.
► What to do: If you haven't already successfully installed Windows 7 SP1, install both KB 2534366 and KB 2533552 first. And if Win7 SP1 is already installed, accept KB 2533552 for future service packs.

976932
Finally! Thumbs-up for Windows 7's service pack

Yes, it's true; I'm finally ready to give the all-clear for Windows 7 SP1 — but only after you've accepted KB 2533552 and KB 2534366, as noted above. Rather than using Windows Update, I urge you to download and install the SP1 update manually to make sure it's successfully added.
Back up your system before installing SP1, and budget at least an hour to complete the installation. The service pack doesn't add anything new to Windows 7 but in the long run will ensure your system stays supported.
► What to do: Back up your system, install the two preparation patches, and then go to SP1's download page to add KB 976932.

iPhones get a much-needed privacy fix

It started when researchers discovered that iPhones kept an extensive and detailed record of their owners' locations when the phone was in use. And Apple caught a lot of heat for it, because the tracking continued even when the phone's location services were turned off. Each cache held up to a year's worth of location information.
Apple's chagrined response? It was a bug. That prompted Minnesota's Senator Al Franken to hold a hearing on mobile privacy, which you can read about — and watch — on a C-SPAN page. Look for more on personal privacy in an upcoming Windows Secrets special issue.
Apple's fix does three things: reduces the size of the cache, prevents it from being backed up to iTunes, and deletes the cache completely when you turn location services off.
► What to do: Hook your iPhone and/or iPad up to iTunes as soon as possible and install the 4.3.3 update.

MS11-028 (2446709, 2449742)
A second try is good for .NET patches

Shortly after the patches detailed in MS11-028 were released last month, there were reports that the patch had problems with Windows Server 2008, impacting PowerShell, Exchange, and SQL server. This re-released update is for Vista, Windows 7, Windows Server 2008, and 2008 R2.
► What to do: Unfortunately, if you already installed the patches, you'll need to do it again. Those who waited should install KB 2446709 for Win7 systems or KB 2449742 for Vista. XP uses will want KB 2446704.

2509470
Does the three-strikes law apply to patches?

The extended-authentication update for Outlook 2007 in KB 2509470 is back again, for a third time. As you may remember, it had problems with Gmail the first time it was released, and then printing problems appeared after its second release. What's next?
► What to do: Microsoft released a hotfix for the printing problem in MS Support article 2512788, but I recommend keeping KB 2509470 on your hold list until further notice.

Regularly updated problem-patch chart

This table provides the status of problem patches reported in previous Patch Watch columns. Patches listed below as safe to install will be removed from the next updated table. On heavy patch weeks, you'll find the table in the most recent Windows Secrets Lounge Patch Watch column post.
| | | | |
| --- | --- | --- | --- |
| Patch | Released | Description | Status |
| 2446708 | 04-12 | .NET 4 — historic patching issues | Hold |
| 2509470 | 04-12 | Extended Protection for Outlook — patch recalled | Hold |
| 982018 | 04-26 | Advanced Format Disk update | Hold |
| 2492386 | 04-26 | Application compatibility for April | Hold |
| 2506928 | 04-26 | IE 9 and Outlook update | Hold |
| 2512715 | 04-26 | Windows 2008 R2 server core update | Hold |
| 2467023 | 02-08 | Win7 fix; load/unload binaries flaw | Wait |
| 2467174 | 04-12 | Visual C++ redistributable — check LOB impact | Wait |
| 2467175 | 04-12 | Visual C++ 2005 redistributable — check LOB impact | Wait |
| 2511250 | 04-12 | Printing fix for IE 9 — hold back on IE 9 upgrade for now | Wait |
| 2487426 | 02-08 | Win7 fix — running x32 apps in x64 OS (post-SP1 update) | Optional |
| 971029 | 02-22 | Flash-drive patch for Windows XP | Optional |
| 2387530 | 02-22 | Win7 hotfix for configuring Wi-Fi services | Optional |
| 2484033 | 02-22 | XPS document print patch for Windows 7 | Optional |
| 2505438 | 02-22 | Fixes possible performance problems running some apps | Optional |
| 976932 | 02-22 | Windows 7 Service Pack 1 | Install |
| 2446704 | 04-12 | .NET 2 SP2 and 3.5 SP1 — Windows XP and Windows Server 2003 | Install |
| 2446709 | 04-12 | .NET 2/3.5 — KB 2446710 for Win7 SP1 | Install |
| 2449742 | 04-12 | .NET 2.0 SP2 and 3.5 SP1 — Vista SP2 and Server 2008 SP2 | Install |
| 2524426 | 05-10 | WINS — seen only on servers | Install |
| 2533552 | 05-10 | Pre-emptive fix for Win7 SP1 or SP2 | Install |
| 2534366 | 05-10 | Pre-emptive fix for Win7 SP1 | Install |
| 2535818 | 05-10 | PowerPoint — KB2535802 for XP, KB2535812 for 2003 | Install |
| 2540162 | 05-10 | Office 2007 compatibility | Install |
Status recommendations: Skip — patch not needed; Hold — do not install until its problems are resolved; Wait — hold off temporarily while the patch is tested; Optional — not critical, use if wanted; Install — OK to apply.
Feedback welcome: Have a question or comment about this story? Post your thoughts, praise, or constructive criticisms in the WS Columns forum.
The Patch Watch column reveals problems with patches for Windows and major Windows applications. Susan Bradley has been named an MVP (Most Valuable Professional) by Microsoft for her knowledge in the areas of Small Business Server and network security. She's also a partner in a California CPA firm.
---
Publisher: AskWoody LLC (woody@askwoody.com); editor: Tracey Capen (editor@askwoody.com).
Trademarks: Microsoft and Windows are registered trademarks of Microsoft Corporation. AskWoody, Windows Secrets Newsletter, WindowsSecrets.com, WinFind, Windows Gizmos, Security Baseline, Perimeter Scan, Wacky Web Week, the Windows Secrets Logo Design (W, S or road, and Star), and the slogan Everything Microsoft Forgot to Mention all are trademarks and service marks of AskWoody LLC. All other marks are the trademarks or service marks of their respective owners.
Your email subscription:
Copyright © 2023 AskWoody LLC, All rights reserved.
---

Plus Membership
Donations from Plus members keep this site going. You can identify the people who support AskWoody by the Plus badge on their avatars.
AskWoody Plus members not only get access to all of the contents of this site -- including Susan Bradley's frequently updated Patch Watch listing -- they also receive weekly AskWoody Plus Newsletters (formerly Windows Secrets Newsletter) and AskWoody Plus Alerts, emails when there are important breaking developments.
Get Plus!
Search Newsletters
Search Forums
View the Forum
Search for Topics
Recent blog posts
Key Links