AskWoody
News, tips, advice, support for Windows, Office, PCs & more
We're community supported and proud of it!
| | |
| --- | --- |
| | Patch reliability is unclear. Unless you have an immediate, pressing need to install a specific patch, don't do it. |
Dell and HP balk at replacing bad Nvidia chip
Windows Secrets Newsletter • 193 • 2009-04-09
---
---
TOP STORY
Dell and HP balk at replacing bad Nvidia chip
By Michael Lasky
An old urban myth claims that the microprocessors used in PCs and other consumer electronics are designed to fail within days or weeks of their warranty expiration.
For tens of thousands of people who bought Dell and HP notebooks whose motherboards fried — often a few weeks after their warranty expired — there's nothing mythical about it.
The cause of the machines' fried motherboards is an overheating Nvidia graphics chip. The failure rate is so huge that Nvidia had to take a $196 million charge against earnings in the second quarter of its 2008 fiscal year in anticipation of the reimbursements that would result from the faulty GPU (more info).
What's particularly scandalous, though, is how HP and Dell first handled the deluge of complaints from customers with notebooks that failed after their warranties expired. The companies either charged the customers (victims?) for repairs or refused service because the systems were past the warranty period.
Even worse, HP and Dell continued to sell notebooks with the same Nvidia chip long after the companies were aware of the problem. (Ultimately, Nvidia released a new version of the GPU that didn't cause overheating.)
Unwary consumers who purchased the affected notebooks — no doubt based in part on the heady reputations of the vendors — were left in the lurch when their PCs failed, which usually occurred after 18 months or so. The purchasers had no recourse except to yell and scream at clueless tech-support reps.
When the heat from consumer complaints became as hot as the faulty Nvidia chip, HP and Dell relented and published a list of defective model numbers on their Web sites. Dell extended the standard one-year warranty to two years for the systems they identified as having the problem. HP offered a 24-month warranty extension for the specific issue.
However, instead of issuing a recall — as you would expect in such a clear case of a defective part — the vendors instead merely offered a BIOS upgrade. The "patch" for the affected notebooks made their fans run continuously in an attempt to lower the GPU-induced heat, which was cooking the motherboards onto which the chips were soldered.
This "fix" merely extended the time before the motherboards finally burned out while simultaneously devouring the machines' battery life — sort of like putting a Band-Aid on a coronary. Of course, notebook purchasers became further inflamed by the power drain on their systems due to the constantly running fan.
(Unlike Dell and HP, Apple quickly acknowledged the presence of the defective Nvidia chip in some MacBook Pro notebooks and offered repairs or replacements to its customers.)

How to get vendors to respond to your gripes

There ought to be a PC lemon law, like the lemon laws enacted in many states that protect purchasers of defective automobiles. Those laws came about because legions of consumers complained after they got stuck with cars — new and used — that were clunkers. Until such protections are available, you can take the following steps to get redress for your grievances:
Post a description of your gripe on consumer-complaint blogs. People who bought the defective HP and Dell notebooks would have been out of luck if it hadn't been for the rising power of Internet communities and blogs — ironically, some of which were on the vendor's very own sites. These grass-roots efforts demonstrate that consumers are not powerless when they own a lemon PC, even in the absence of a lemon law to back them up.

As the number of postings about the problem on gripe sites rose, HP and Dell could no longer hide from their customers. For example, the site HP Lies was created specifically for consumers to fight back against what the site calls "HP's cover-up of the Nvidia defect." A massive number of people who had bought now-dead HP notebooks that fried due to the overheated Nvidia chip not only spewed their venom at the company but also offered legal and logistical advice to others who shared their misfortune.

Surprisingly, many burned customers discovered the HP Lies site through links on HP's own Business Support Forum. Likewise, news of Dell's offer of a limited warranty enhancement with a list of affected units was reported at Dell's Direct2Dell user-community blog as a response to the thermonuclear anger expressed by unhappy customers at the site.

Take it to court. Many customers went the legal route and filed lawsuits that were consolidated into a class-action complaint against Nvidia, Dell, and HP last September. While less effective in getting a full reimbursement or replacement, lawsuits serve as a wake-up call to corporations and produce corresponding action to mollify the plaintiffs.
Skip low-level tech support and go directly to the top. If you have a PC problem that's been proven to result from a defect, ask to speak to a high-level tech-support representative, who will be more empowered to address your complaint — and likely more knowledgeable about the issue as well.

Be persistent, but keep your cool (which may be more than your PC is doing). Advice at the HP Lies site suggests going the corporate route and obtaining a case manager to get free repairs or a replacement, which standard tech support might not provide.

Buy an extended-service warranty. HP and Dell customers who had extended warranties got no-charge repairs and/or replacements for their Nvidia-murdered systems. Because cheaper components are used in most of today's low-cost computers, chances are those components will fail sooner than in the past. Extended warranties generally offer no- or low-hassle tech support and repairs for up to three years beyond the standard warranty.
PCs may be unreliable and vendors unresponsive to customer complaints, so it pays to know your options.
WS contributing editor Michael Lasky is a former PC World senior editor who currently writes for Laptop Magazine, Wired.com, and other technology news sources.
---
KNOWN ISSUES
WGA blocks some updates on legit Windows PCs
By Dennis O'Reilly
Readers refute Microsoft's assertion that Windows Genuine Advantage isn't required to receive all patches for the operating system.
Even worse, WGA blocks some security patches from being installed on PCs running legal copies of Windows that the Microsoft validator falsely identifies as pirated.
In last week's Known Issues column, Microsoft spokeswoman Jill Lovato claimed there were errors in editorial director Brian Livingston's March 30 news update about the Conficker worm.
We've heard from several readers who provide first-hand evidence that Brian's assertions about Microsoft's dangerously flawed policies for updating Windows are indeed correct. John McCulloch's tale of WGA woe is, sadly, all too typical:
"I would completely disagree with Ms. Lovato's response statement to Brian's Conficker article, where he says:

Microsoft doesn't provide all its patches to unlicensed copies of Windows, leaving the vulnerable machines free to attack us — a self-defeating policy recently described by security expert Bruce Schneier.

"She says:

This is actually not accurate — Microsoft issues security fixes via Windows Update to all Windows systems, regardless of whether or not that system is genuine.

"Microsoft does require, on many occasions, a 'verification' of your license before allowing the download of a patch. This happened to me just a short while ago when I went to acquire the AutoRun patch.

"As I refuse to use Missie [WGA], the online 'verification' failed. I had to download and run GenuineCheck.exe and then copy and paste the code into the window to obtain this patch. This on an HP 2300 series machine with XP Pro and SP3 that's less than a year old!

"In addition, they have twice, to my personal knowledge, blocked the automatic Windows Update operation to other machines where a bulk license was legitimately used — because the retailer went out of business and MS subsequently 'canceled' the bulk license.

"Neither of these cases could happen unless they were 'verifying' that the license was legitimate! I can't remember the message that was sent in a pop-up, but the implication was that the Windows Update system had a 'pirated copy' of the OS! …

"The effect was that the Windows Update machine would not function until the 'update' was completed. This user had been automatically updating for some two years without a problem, which points to the final verbal admission by MS that they had in fact 'canceled' the user's license!

"In one case, this so locked the machine that the family's banking records and online transactions were effectively frozen. It took nearly a week to get MS to reply and finally acknowledge that the user did have a legitimate copy, and to supply a very painful workaround.

"I would also comment that MS's bloat so affects rural users who are still on dial-up that Windows Update cannot be allowed. One does not have hours to download 50MB to 70MB of bloat at 5 or 6 megabytes per hour, even presuming that one can stay connected for that length of time!"
Reader Bob Adams' response to Brian's Conficker story was more concise but just as heartfelt:
"Is there a better newsletter for prepping us for the upcoming Conficker events? I don't think so! Thanks for this authoritative look at the subject. I've taken your advice, downloaded as much as I can, and feel ready. Wow. You guys are good!

"Anyone who isn't a paid subscriber should feel bad and pay up now. It's worth every penny. Free subscribers should become paid subscribers just to say thank you, based on this issue alone."
Bob, we couldn't have said it better ourselves. Thanks back at ya!

More reasons to postpone that upgrade to IE 8

We also received bushels of e-mails from readers who agree with Mark Joseph Edwards' recommendation in his April 2 Top Story that you wait before switching from Internet Explorer 7 to the new version 8. Several people who had already taken the IE 8 plunge explained why they reverted to the earlier release. For Gene Goldenfeld, the problem was a conflict with one of his security apps:
"Soon after installing the public release of IE 8, I noticed that it was very slow to start. I've since discovered that it's not just my XP SP3 machine alone. It seems there's a conflict between IE 8 and some resident (real-time) antispyware applications that centers around these applications' restricted-zones lists and IE 8's SmartScreen security function.

"Spybot Search and Destroy and SpywareBlaster are the ones commonly mentioned, but I use SuperAntiSpyware Pro and my zones list is short. That leaves [as the cause] an add-on conflict, which I didn't check. There are some workarounds proposed until MS fixes the problem, but the easiest one — and the one I chose for now — is to go back to IE 7. That brought IE back up to speed."
Dave Laljee found the source of his IE 8 conflict, but he rolled back to the previous release anyway:
"Saw Mark Joseph Edwards' article in the latest newsletter and thought you'd like to hear another reason for not rushing into IE 8 (though, after uninstalling it, I discovered a workaround). I installed IE 8 the other week, and at first things seemed OK — until attempting to add a C++ function within Visual Studio 2008 Pro using a wizard. This resulted in a script error.

"I quickly uninstalled back to IE 7 and rebooted. The add function, etc., worked fine in VS 2008 again. A week later, I was checking the Visual C++ Team Blog and found this blog post [with the workaround].

That solves the problem, but you would've thought they'd have caught this one before release!"
It seems about the only thing Microsoft is catching lately is some well-deserved flak.
Readers John, Bob, Gene, and Dave will each receive a gift certificate for a book, CD, or DVD of their choice for sending tips we printed. Send us your tips via the Windows Secrets contact page.
The Known Issues column brings you readers' comments on our recent articles. Dennis O'Reilly is technical editor of WindowsSecrets.com.
---
WACKY WEB WEEK
Don't be sheepish, they're a shear delight!
By Katy Abby

Hollywood has spoiled us; it's rare in this day and age to see a truly unusual, impressive feat accomplished and recorded without the use of special effects. When such a daring deed is pulled off by unassuming amateurs, it's even more remarkable.

Take a look as these self-proclaimed "extreme shepherds" take to the hills with their fleecy flock. The results are illuminating! (Thanks to reader Jeff Smith for tipping us off to this pastoral parade.) Play the video
---
LANGALIST PLUS
Recover lost passwords in Word and other apps
By Fred Langa

A PC crash can render your password-protected Office files inaccessible.

Losing any password can be as frustrating as locking your keys inside your car, but for Word and other Office programs, a lost password can be much, much worse.

Encryption complicates password recovery

Peter Croucher's in a jam: his Microsoft Word documents are password-protected, and he doesn't have the password.
"My computer crashed, and when I restored it, my password wouldn't open Word documents. I put in every password I have ever used, but to no avail. I haven't the foggiest idea what [the correct password] is. Is there any way of recovering this password and replacing it, please?"
Maybe, Peter. Let's work it through:
There are many versions of Word in use, and their password-protection schemes vary. (In fact, this holds for all the MS Office tools, not just Word. But the question was about Word, so I'll limit my answer to that program, though the solution applies to others as well.)
Some passwords are meant simply to prevent any further editing of a completed document that is available for anyone to read. Others go way beyond that to make a document completely inaccessible to all but the password holders.
As you might guess, the early versions of Word used a fairly simple password-protection scheme that's now referred to as the Office 97/Office 2000 Compatible Encryption Method. Things got more complex starting with Word 2002/XP and all versions thereafter. For example, the default encryption in Word 2007 doesn't simply password-protect a document; it uses 128-bit AES encryption to scramble it with a passkey/passphrase that's up to 255 characters long (more info).
The older, weaker types of protection aren't that difficult to break. There are numerous tutorials that walk you through the fairly simple process. Two of the best I've found are the Instructables' how-to, "Unprotect MS Word document," and Dave Taylor's article, "Can I crack a password-protected Microsoft Word file?"
The newer forms of encryption can be very tough to crack. In theory, any commercial-level password can be cracked — given sufficient time, money, and motivation. It's also true that even great encryption algorithms can be compromised if the passwords used are too short or too obvious.
In such cases, you really don't have to break the encryption as much as outsmart the person who created the weak password. Several tools make short work of that; the PasswordExperts.com article, "How to crack Microsoft Office passwords," describes the brute-force method and provides links to several Office password-recovery programs.
In your case, Peter, the password is completely unknown. Worse, it's even possible that some software fluke created what amounts to an arbitrary password of unknown length. If this is what you're up against — and AES-level encryption to boot — you're going to have to ask yourself just how important those files are. Recovering them could take more time, money, and motivation than you (or any of us) have.
WS contributing editor Susan Bradley recommends password-recovery tools from Passware and Elcomsoft. Don't simply query a search engine and download the first tool that looks good. While many tools and services are fully on the up-and-up, others aren't.

Change boot-menu order and boot-option names

Bruce has two Windows installations on one PC, and that leads to his questions:
"I have XP (legit copies) on C: and F: drives. I use C: for everyday computing and F: as a digital-audio workstation. Normal (unattended) boot will default to F:. How can I change the default boot to C:?

"Also, when I boot up, I'm given the choice of booting to 'Microsoft Windows XP Professional' or 'Microsoft Windows XP Professional.' Can I rename the two installations for easier identification in the boot process?"
Katy Abby, Windows Secrets' able research director, was first to see Bruce's note, and she pointed him to Microsoft Knowledge Base article 306559, which has a section called Specifying the Default Operating System for Startup. That solved Bruce's first problem. Then he wrote back:
"Changing the boot.ini file worked! But I would still like to change the boot-menu names, if I can."
Bruce, you'll be glad to hear that you can edit the boot.ini file to do that, too.
Click Start, Control Panel, Performance and Maintenance, System. Choose the Advanced tab and click the Settings button in the Startup and Recovery area. In the System Startup area of the new dialog, click the Edit button. A Notepad-like window will open, showing the contents of your boot.ini file.
This file is divided into bracketed words within sections. Below the [operating systems] heading, each Windows installation on your system will be assigned a name in a line that starts something like this:
multi(0)disk(0)rdisk(0)partition(1) WINDOWS="Microsoft Windows XP Professional" ….
All you're interested in are the words between the quotes. Change the words "Microsoft Windows XP Professional" to whatever you want, even something like Bruce's Main System on C:. Leave the original quotation marks and everything else alone. Whatever you enter between the quotes will be displayed on the startup menu.
Figure 1 shows an XP boot menu after the boot.ini file has been edited to insert the phrase "Fred's Main XP Pro setup on C" in place of the original "Microsoft Windows XP Professional." Again, you can make the menu say anything you want.

Figure 1. A simple edit of the boot.ini file changes the default text, "Microsoft Windows XP Professional," to whatever you prefer.
Now your system will boot to C: by default instead of to F: and your boot menu will clearly show you which installation is which.
Don't you love it when something that seems complex turns out to be simple? I sure do!

Laptops with no CD or DVD drive

Marv Halliday wisely read the fine print in some laptop ads he's seen:
"I'm looking to buy a Windows laptop. I noticed that several laptops have a note stating something to this effect: 'This product does not have a fixed optical drive for third-party software installation.' Does this mean that I wouldn't be able to install any software not provided with the machine?"
No, but it does mean you'll need to buy a drive separately if you want to burn or use CDs or DVDs.
In low-end notebooks that ship without a CD or DVD drive, there still may be an empty "bay" or socket for such a drive. If so, you may be able to ask that an optional drive be installed as part of your initial purchase, or you could install one yourself.
In new laptops, optical drives are modular and very easy to slide into place. For example, I recently replaced a dead CD drive in a friend's notebook. The whole job took maybe two minutes and involved just three screws. Easy as pie.
Ultra-portable systems may simply have no room for a drive in the case. Vendors of these systems sometimes offer an external drive that connects via USB or some other interface.
In fact, almost any system can use an external USB optical drive, and it doesn't have to be from the original vendor. Generic optical drives can be amazingly inexpensive; some list for under $20! (Naturally, if you want a sleek case, the highest speeds, and advanced playback and burning abilities, you'll pay more.)

Hey, where did that download file disappear to?

Joyce Herzog's downloads are evaporating on receipt:
"I use Firefox on Vista. Whenever I download [a file], it disappears. I can't find it with Windows Search or Google Desktop. I tell it to download to the desktop, but it goes into a black hole! I can't update any programs that require a download then installation."
There are some exotic reasons why this can happen, but in my experience, the most common cause is that a security tool is either blocking the download or renaming and "quarantining" it as soon as it comes in. Make sure your security tools are all updated and working properly, and check any quarantine or temporary holding folders used by those programs.
If everything's current and seems to be OK, but you still have the download problem, uninstall your security apps one at a time, starting with your antivirus software. After each program is uninstalled, try a new download. At some point, I bet you'll find you can once again download normally. The culprit will be the last tool that you uninstalled. (I'll also bet it's your antivirus software, which is why I suggest starting there.)
Try a fresh install of whatever tool was causing the download trouble. If downloads still don't work, it might be time to switch to a competing security product that meshes better with your system's setup.
Fred Langa is editor-at-large of the Windows Secrets Newsletter. He was formerly editor of Byte Magazine (1987–91), editorial director of CMP Media (1991–97), and editor of the LangaList e-mail newsletter from its origin in 1997 until its merger with Windows Secrets in November 2006.
---
PERIMETER SCAN
Multiple tools required to disinfect a PC
By Ryan Russell

Even the sturdiest, most-comprehensive PC defenses won't stop all malware from finding its way onto your systems.

First, identify the specific pest, and then find the best tool — or tools — to get it off your system for good.

Manual malware removal puts you in charge

In my March 26 Top Story, I described a number of anti-malware tools suggested by readers. Unfortunately, no matter which security programs you run on your PC, there's a good chance some bad stuff will eventually get through. Even when you take the most stringent of precautions, there's always human error, leaving someone with the task of cleaning out Windows. Based on the deluge of feedback I've received from readers (thank you!), that person is often you.
On that day when you're faced with an infection that got past your PC's defenses, you'll probably need to take the bull by the horns yourself. The invader has likely blocked your anti-malware apps' protections and prevented access to security sites.
It's time to turn to your primary security tool: your own gray matter. Whatever nastiness the program perpetrates, it can't outthink you. The player who moves second in the malware game can always win, and that player is you. Note that cleaning out a virus infection may take more time and effort than simply reinstalling Windows, but you've got a shot if you want to take it.

Before you begin, do your malware homework

There are many indicators of a malware infection. You may suddenly be bombarded with pop-ups on a site you know doesn't use them, such as Google or our own WindowsSecrets.com. Or maybe your hard-disk activity or network traffic spikes for no apparent reason. You may discover mystery processes running in Task Manager. (Press Ctrl-Shift-Esc and click the Processes tab to view them.)
The first step in the malware-cleanup process is finding out what the enemy is up to. This intelligence-gathering will help you plan your attack. Enter into a search engine any suspicious IP addresses, process names, file names, directories, or other potential trouble indicators. The links returned should lead to resources that can help you determine what's going on. You can often find specific removal advice in this manner.
But keep this in mind: a particularly clever piece of malware will limit your view of reality from the infected computer. Malware is notorious for blocking security sites, Google and other search engines, update programs, and related services. The solution is to have another computer available, whether it's the one you use at work, a neighbor's, or a machine in a library or school computer lab.
Even if you have a second infected computer — as long as it's infected with some different worm or virus — you'll be able to compare results or get downloads that are inaccessible from its partner. Another handy item is the humble USB flash drive, which you can use to download a cleanup tool on the working system and then run on the infected machine. Just be careful not to use a flash drive that hosts malware of its own!

Disinfection requires a malware-removal arsenal

Once you've completed your research and found references to the appropriate tools for removing the specific piece of malware plaguing your system, you can put together your cleanup toolkit. This is where tool diversity can be critical. The malware in question might kill one program but not another, or one tool may just be better at detecting and removing the interloper on your PC. Some malware fighters are simply more up-to-date with defenses against the latest nasty threat the others haven't yet caught up with.
Collect a variety of tools that can run without requiring a full installation, if possible. Make sure you've downloaded their latest virus signatures and other updates before you use them; you can't count on having their auto-update feature work correctly.
You might even be able to resurrect the anti-malware tool already installed on your PC by manually downloading and applying the latest signatures for it. Nearly every security software vendor lets you download updates for their programs as a separate installer.
Another reason multiple tools are often necessary is because the machine will usually be infected with several different pieces of malware. Once the squatter has moved in, it's going to throw parties and invite all its friends. Several detection and removal tools may be needed to catch all the bad actors. Expect to require multiple passes with the disinfecters to get them all. Disconnect the infected system from the Internet during this process.

The debate continues: Which security tools?

Hopefully, the one thing we can all agree on is that no single security program will ever be adequate for all systems and all situations. Someone could produce the most comprehensive security tool known to humankind, and the bad guys would just focus their energies that much harder on defeating it. If you're with me on that, we can start to talk about the variety of anti-malware tools and their relative merits and utility.
In future articles, I'll report on all the information I've received from readers about the tools you use and your experiences with them. Mixed in will be the results of professional antivirus testing labs as well as information on my personal favorites.
The single most common piece of feedback I got was "I can't believe you didn't mention … " Don't worry, I'm going to do my best to make sure everyone has a say.
The Perimeter Scan column gives you the facts you need to test your systems to prevent weaknesses. Ryan Russell is quality assurance manager at BigFix Inc., a configuration management company. He moderated the vuln-dev mailing list for three years under the alias "Blue Boar." He was the lead author of Hack-Proofing Your Network, 2nd Ed., and the technical editor of the Stealing the Network book series.
---
PATCH WATCH
Update services are a vital security component
By Susan Bradley

Windows may be the primary target of today's malware authors, but it's far from the only one.

Keeping your applications and media players up-to-date is as important as applying the latest patches for your operating system.

Free services identify out-of-date programs

April Fools' Day came and went without the Internet meltdown many so-called security analysts had predicted. The Conficker worm was a bust — or was it? Time will tell, but one positive result of the Conficker hoopla has been a heightened awareness of the importance of keeping our PCs patched.
It seems whenever the mainstream press gets hold of a tech story like Conficker, I cringe. Exhibit A was the segment about the worm on the CBS news magazine 60 Minutes, which provided no answers and left many viewers scratching their heads. (Contrast that report with editorial director Brian Livingston's clear and complete March 30 news update, which offered step-by-step instructions for determining whether your systems are infected and, if so, how to disinfect them.)
The 60 Minutes broadcast showcased a woman whose bank-account funds had been stolen following some fishy online activities by her teenaged children. The segment offered no information on preventing such attacks. Installing antivirus and firewall software is a good start, but just as important is regular use of a free software-update service such as Secunia's Personal Software Inspector program (download page) and Shavlik's Patch Google Gadget add-on for the Google Desktop program (download page).
Both products scan your system to determine whether Windows, your media players, and other applications are updated to the latest versions. On one of my test PCs, the Patch Google Gadget notified me that Adobe Flash 10 and Apple QuickTime 7.5.5 were dangerously out-of-date. (See Figure 1.)

Figure 1. The Shavlik Patch Google Gadget add-on for Google Desktop identifies the out-of-date programs installed on your PC.
Unless you visit a site that uses one of these applications or you launch the players manually, you may not have any indication that security updates are available for them. Vulnerabilities in browser extensions and media players such as Java, Flash, and QuickTime are attacked just as often as those in Windows, so it's extremely important to ensure that all your software is patched.
Note that some users of Secunia's Personal Software Inspector are unable to update to the latest version. If you're experiencing update difficulties, a Secunia Forums post recommends that you use the Firefox browser rather than Internet Explorer to download the latest release of the software-patching tool.
On one of my test boxes, I had to close the Personal Software Inspector and then relaunch it before it would scan my system.

Update Java 6, but skip the MSN Toolbar offer

If your PC has Java 6, you'll be offered Update 13, which fixes several security holes (more info). The Java update will attempt to install the MSN Toolbar as well. If you don't want Microsoft's browser toolbar, uncheck the box before you apply this update. (See Figure 2.)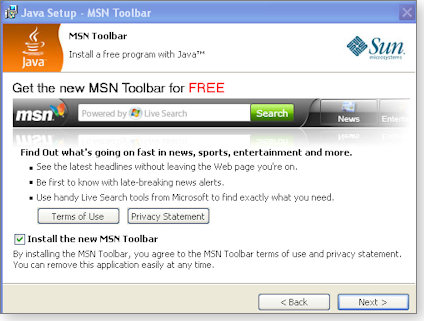 Figure 2. The option to install the MSN Toolbar is prechecked in the Java updater.
These prechecked downloads really get my goat. Security updates should never offer any other programs, period. Unfortunately, many software vendors do side deals with other companies. It makes for strange bedfellows when a patch for a Sun product wants to sneak into a Microsoft toolbar.
Frankly, I wish both Microsoft and Sun would knock off these bogus bundles. These days, you have to be extra-careful whenever you install a program, to avoid tag-alongs whose install option is preselected.
If your system runs Java 5, you should already have or will soon be offered Update 18 or later. If you haven't been prompted to download and install this update, visit the Java download page to load it yourself.

Version 2 of the Firefox browser is insecure

I didn't think I would ever say this, but it's time to uninstall Firefox — if you're using version 2, that is. You need to update to version 3.0.8, because Mozilla stopped supporting the older release as of last December. (See Mozilla's info page). Version 3.0.8 is now the only secure version of the browser.
At the recent CanSecWest security conference, Firefox was one of the browsers that were compromised in a hacker contest. The vulnerability that came to light in that contest has been patched in version 3.0.8, as Mozilla has acknowledged on the organization's security blog.
If the latest Firefox version hasn't already been offered to you, visit the Mozilla Foundation's download page to fetch and install it.

905474
Windows Genuine (pain in the) Advantage

I paid for my copies of Windows — just as most of you have purchased your legal Windows versions. I appreciate Microsoft's desire to weed out illegal copies, but I would prefer to install the Windows Genuine Advantage Notifications application for XP described in Knowledge Base article 905474 just once — and never, ever deal with WGA again.
Unfortunately, Microsoft doesn't see it that way.
I'm no fan of the company's new WGA install routine. When I'm in a patching mood, I want to get all my updates over and done with, quickly and simply. After I thought I'd completed the installation of the new WGA, the WGA screen popped up the next time I rebooted. If I had clicked Cancel in this new window, the WGA notification would have resurfaced the next time I booted the machine, requesting that I install it yet again.
The WGA update's repeat behavior is fully documented on Microsoft's WGA blog. This is the first Windows XP patch from Microsoft that requires an action after a reboot, as far as I'm aware. Personally, I think this is sneaky.
This change in WGA's behavior doesn't leave me feeling very generous toward Microsoft. And the company's description of WGA's advantages for paying customers doesn't make me feel any better about things.
To pass on this WGA patch, launch Windows Update, click the plus sign next to the patch name to expand the description, uncheck the box at the top, and check the "Don't show this update again" option. (See Figure 3.)

Figure 3. Uncheck this Windows Update to say no to the new Windows Genuine Advantage validator.

Microsoft anti-malware tool fixes Facebook bugs

An interesting addition to last month's update to Microsoft's Malicious Software Removal Tool (MSRT) was the ability to detect a virus that entered systems from the Facebook social-network site. Messages enticing Facebook users to watch a video would instead launch the Koobface virus.
Microsoft and Facebook worked together to add Koobface detection to MSRT, as discussed by Jeff Williams in the Facebook blog.
Several people who install the MSRT update each month ask me, "Does this program really do anything?" The fact that you never see MSRT in action is actually a good thing; if you don't see any malware alerts, your PC probably isn't infected. In this case, silence is indeed golden.

Windows XP enters extended support April 14

The clock is ticking for Windows XP. On April 14, the most-widely used operating system on the planet enters what Microsoft calls "extended support." This means the company will release security patches for XP through April 14, 2014. The company's extended-support policies are described on Microsoft's Support Lifecycle Policy FAQ.
After April 14, XP updates that are not security-related will no longer be available for free. Performance enhancements and compatibility patches will be offered only to customers who pay for extended support.
An interesting twist is Microsoft's recent decision to allow OEM computer manufacturers to sell ultra-low-cost PCs running Windows XP Home until June 30, 2010, according to a company (press release). It appears XP will continue to be sold nearly a decade after its debut. Now that's a program with legs!

969144
Office Live update doesn't know when to quit

Some Office Live users report that the Get Started with Office Live window constantly pops up in user profiles after another user on the computer has installed the update. Microsoft KB article 969144 describes the Registry edits that fix the problem.
To decline the optional Office Live add-in, right-click the item in the list of updates and select Hide Update in the drop-down menu that appears.
The Patch Watch column reveals problems with patches for Windows and major Windows applications. Susan Bradley recently received an MVP (Most Valuable Professional) award from Microsoft for her knowledge in the areas of Small Business Server and network security. She's also a partner in a California CPA firm.
---
Publisher: AskWoody LLC (woody@askwoody.com); editor: Tracey Capen (editor@askwoody.com).
Trademarks: Microsoft and Windows are registered trademarks of Microsoft Corporation. AskWoody, Windows Secrets Newsletter, WindowsSecrets.com, WinFind, Windows Gizmos, Security Baseline, Perimeter Scan, Wacky Web Week, the Windows Secrets Logo Design (W, S or road, and Star), and the slogan Everything Microsoft Forgot to Mention all are trademarks and service marks of AskWoody LLC. All other marks are the trademarks or service marks of their respective owners.
Your email subscription:
Copyright © 2021 AskWoody LLC, All rights reserved.
---
Welcome to our unique respite from the madness.
It's easy to post questions about Windows 10, Win8.1, Win7, Surface, Office, or browse through our Forums. Post anonymously or register for greater privileges. Keep it civil, please: Decorous Lounge rules strictly enforced. Questions? Contact Customer Support.

Plus Membership
Donations from Plus members keep this site going. You can identify the people who support AskWoody by the Plus badge on their avatars.
AskWoody Plus members not only get access to all of the contents of this site -- including Susan Bradley's frequently updated Patch Watch listing -- they also receive weekly AskWoody Plus Newsletters (formerly Windows Secrets Newsletter) and AskWoody Plus Alerts, emails when there are important breaking developments. Click here for details and to sign up.
Search Newsletters
Search Forums
Search for Topics
Key Links
Want to Advertise in the free newsletter? Send an email to sb@askwoody.com to ask how.