| | |
| --- | --- |
| | Patch reliability is unclear. Unless you have an immediate, pressing need to install a specific patch, don't do it. |
Free add-ons teach Windows Explorer new tricks
Windows Secrets Newsletter • 156 • 2008-06-12
---
---
INTRODUCTION
Get our free search add-ins for Firefox and IE 7
By Brian Livingston
We're doing our part to make it easy for you to get the technical info you need about Microsoft Windows.
We've developed for your use, absolutely free, two browser search add-ins that let you fetch articles not just from WindowsSecrets.com but also from an expert set of Windows-specific sites on the Web.
I announced on Apr. 17 that we'd built two entirely new search tools for you:
Our Windows Secrets search engine, rebuilt from scratch using in-house code, lets you retrieve anything our site has ever published. Plus, using our advanced-options feature, you can also search articles from Fred Langa's LangaList, which merged with Windows Secrets in 2006.
Our new Google API code, programmed using the search giant's developer toolkit, queries every Web site that Google has determined to be an "authority" on Microsoft Windows. This means you no longer have to wade through sites on vinyl windows — you just get solid high-tech info.
Using our add-ins, you can now run either kind of query from the comfort of your own browser, without having to surf to our search page first.
Figure 1. After you install our search add-ins, you can easily retrieve any Windows Secrets article or use our specially developed Google API code to search every site that's a Windows authority.
__________
Both Internet Explorer 7 and Firefox 2 (and higher) support search add-ins. You can install an add-in that searches just WindowsSecrets.com, one that uses the Google API to search all Windows authority sites, or both.
Figure 1 shows what your search input box might look like after you install both of our browser tools. Our add-ins are the last two items on the drop-down menu shown.
There's no cost for the add-ins, and you can easily install and uninstall these capabilities whenever you like. To install our free tools, visit our plug-ins page.


Both of our browser add-ins, as well as the underlying technology for our Google API project, were coded by our research director, Vickie Stevens (photo, left).
I now use her search toys almost every day to look up an old article or find the latest on some new Windows boo-boo — and everything in between.
I almost always find better-targeted tech information using our Google API tool than I do using the generic version of Google.com itself. I hope you'll enjoy discovering just the right stuff for your informational needs as well.

Meet me in Hong Kong on June 15, free of charge

Our readers in China will be able to attend the first in a series of free seminars that I'm planning in major cities around the world.
I announced on June 5 that Windows Secrets subscribers in the Hong Kong area could join me on June 15 for a private discussion of how you're using Microsoft Windows. The cost of this meeting was originally set at $9 U.S. (about 70 HKD) but — thanks to good fortune on an attractive conference space we found — we can now allow our readers to register absolutely free!
Meeting with Brian Livingston
Sunday, June 15, 2008, 2:00–3:30 p.m.
Excelsior Hotel
281 Gloucester Road (near Causeway Bay Metro station)
Hong Kong, PRC
Business Center, 33rd Floor, room number to be announced
Free of charge with pre-registration
(photo courtesy of the Excelsior)

You'll have to hurry — you must pre-register before 5 p.m. Hong Kong Time June 13 (2 a.m. Pacific Time) to be included. Space is limited, so let me know right away if you'd like to attend.
This meeting is a trial run for gatherings I'd like to hold in coming months in San Francisco, Los Angeles, New York, London, Toronto, Sydney, and elsewhere. I'll let you know about those plans when they're firmed up. Thanks for your support!
Brian Livingston is editorial director of WindowsSecrets.com and the co-author of Windows Vista Secrets and 10 other books.
---
TOP STORY
Free add-ons teach Windows Explorer new tricks
By Scott Dunn

You can choose from dozens of file managers to replace Windows Explorer — some of them are even free — but only the original is so closely integrated into the OS.

Before you give Explorer the boot, check out some first-rate add-ons that turn Windows' tired file browser into the information manager of the future.

It's time to go beyond files and folders

You can find plenty of good replacements for Windows Explorer online. For example, in his Sept. 20, 2007, column, Woody Leonhard recently recommended Xplorer2. But few match the convenience of having a file manager that is built into the operating system.
Rather than trying to find your ideal file manager at the downloads store, I suggest you mend it, not end it. You can give Windows Explorer most of the tools and abilities found in the video preview simply by installing a handful of free or low-cost Explorer extensions.
Give Explorer more file-management muscle

Here are some of my favorite tools for souping up the Explorer you already have.
Give your dialog boxes more reach. The one freeware utility I recommend over all others is FileBox eXtender. Not only does the program enhance Explorer, it also improves common Open and Save As dialog boxes and other interface elements.
FileBox eXtender's pop-up menu lists the last several folder locations you opened. You can also view a list of your favorite files or folders and resize dialog boxes so they always open at your preferred dimensions.
In addition to file management chores, FileBox eXtender adds a stay-on-top button to every window's title bar, as well as a button to "roll up" the window — just like a real window shade — until only its title bar is visible.
Add breadcrumbs to XP's folder paths. If you're using Windows XP, you may need a few add-ons to update that OS's version of Explorer to match Vista's file manager.
An example is Vista's "breadcrumb" style of displaying folder paths. Click any folder name in the path to navigate back to that folder instantly. Click one of the arrows separating folder names to see a pop-up menu of subfolders to navigate the other direction.
Explorer Breadcrumbs from Minimalist lets you add an Explorer toolbar with this same feature to Windows XP, 2003, or 2000.
In Vista, breadcrumbs replace the previous path notation in the address bar (click to the right of the path to see and select the old style). But since Explorer Breadcrumbs simply adds a new toolbar, you can keep both path styles visible in your Explorer windows at once, if you wish.
The program won't nag you, but the developers ask that you register the product for U.S. $8 if you decide to hold onto it.
Keep tabs on your open windows. If your screen is cluttered with Explorer windows, consider replacing them with tabs similar to those in Internet Explorer 7. Giving your windows tabs would let you switch from one folder location to another with a single click or by pressing Ctrl, Tab.
That's the idea behind QTTabBar. It took me a while to figure out how to use the program to create a new tab. (One way is to right-click a tab and choose "Clone this.") Once you get the hang of the tab-creation process, however, the program becomes very handy.
In addition to the tab toolbar, you can show or hide a toolbar for managing the tabs themselves. Since all of that toolbar's features are also found on the context menu for the tabs, you can save space by turning that option off and right-clicking the tabs instead.
QTTabBar also pops up a menu of objects in a folder when you click the tab's icon. The program's Options dialog includes plenty of customization choices.
You can download QTTabBar for free at the moment, but the program's status as freeware is not well documented.
Make new folders faster. Creating a new folder for organizing your data is one of the most common file management chores — so common that Windows has a button for it in common file dialog boxes like Open and Save As. But Explorer makes you dig into a submenu on the context menu or File menu for this common task.
For a quick and easy solution, download and install bxNewFolder. This simple utility adds a New Folder button to Explorer's existing Standard Buttons toolbar, so there's no new toolbar to take up space. Just click it (or press F12) and type a name to create a new folder in the current location.
The Create New Folder dialog box also includes a history of recently used folder names. Press Enter to finish up, or Shift+Enter to finish and open the new folder with one fell swoop.

Maximize your viewing and connectivity options

Add a third folder window to Explorer. I haven't yet found a tool that gives Windows Explorer side-by-side or stacked folder views in a single window. But FolderBox from BAxBEx Software comes close.
FolderBox lets you open a pane in an Explorer or folder window by clicking View, Explorer Bar, FolderBox. This pane, or FolderBox, works like an added folder window within Explorer.
Your new folder window comes with some handy navigation controls as well as buttons for bookmarking up to five of your favorite folder locations. Of course, you can drag and drop files between FolderBox and other parts of the Explorer window for convenient copying and moving. Best of all, the program is free!
Convert your FTP servers into folders. Explorer has My Computer (or Computer in Vista) for accessing your local drives directly and My Network Places (which Vista calls Network) for opening network locations. Wouldn't it be nice to access FTP locations in Explorer just as easily?
That's the idea behind My FTP Places. The program adds an eponymous icon to My Computer, after which any FTP locations you set up appear nested underneath this icon. This lets you copy files to, remove files from, and otherwise manage your FTP sites as if they were folders on your computer.
Unfortunately, integrating FTP with Explorer comes at a price. My FTP Places is free for your first 50 connections, but after that you need to pay a $40 registration fee.
If you don't mind doing your FTP chores from a separate program, there are plenty of free alternatives. One of the most favorably reviewed is the open-source FileZilla.
Size up your folders in a jiffy. The best free Explorer plugin for viewing folder sizes is, appropriately enough, Folder Size. This freebie adds columns to Explorer's Details view that total up the size of each folder in the list.
Folder Size also shows columns that display the number of files and the number of objects (files plus folders) in the selected folder. Although the scans the program performs to collect the size information can take time, the utility's overall performance on my sort-of-new XP machine was good. (Folder Size does not run on Vista systems.)
If you need a more detailed and graphical way of tracking down your disk hogs and don't care about integrating the information into Explorer, TreeSize Free is a no-cost, standalone tool that ferrets out the space hogs on your system.
Of course, there's plenty you can do to tweak your file and folder settings in Explorer itself. In a future column, I'll describe how to add features and customizations to Windows Explorer without having to download or install any add-ons at all.
Scott Dunn is associate editor of the Windows Secrets Newsletter. He has been a contributing editor of PC World since 1992 and currently writes for the Here's How section of that magazine.
---
WACKY WEB WEEK
'Hi, I'm popping corn — can I call you back?'
Microwaves have long been the standard appliance for popping popcorn. But what if you want to avoid those harmful rays that supposedly shrink your head if you stand too close? Or you may be somewhere with no access to a microwave and absolutely need your popcorn fix right this minute.

Luckily, clever people have discovered yet another use for their cellular phones. Okay, so this video has been revealed as a hoax, but real or not, it kind of makes you want to go the hands-free route. Play the video
---
BEST SOFTWARE
Two top defraggers speed your disk accesses
By Scott Spanbauer

Free, easy-to-use disk defragmenters and optimizers let you consolidate scattered files to maximize the performance of Windows XP and Vista.

One program lets you select for yourself which files to reunite and move to the fastest areas of your drive, while the other utility makes the disk-optimization choices for you.

The unbearable slowness of hard disks

One of the best things about buying a new PC is how fast it is. Launching applications and opening files seems instantaneous. Menus fly open, and files save in a flash.
Over time, as you install more programs, create and edit files, remove applications, and replace them with new ones, the computer starts to bog down. After a couple of years of regular use, the thrill is gone and Windows' hourglass icon becomes a constant companion.
As if that weren't enough, applications gradually require more memory and disk space. Windows itself swells as Microsoft grafts on more service packs and security patches. This is just one of those inevitabilities, like death and taxes: as time goes on, software gets bigger and your PC gets slower.
Another reason your computer slows down over time is file fragmentation. When you install the very first applications to an empty hard drive, the disk is free to write the files to a series of logically contiguous sectors across the drive's platter or platters.
Writing files to contiguous sectors when you install an application, copy or save a file, or perform other disk operations requires the least amount of movement of the read-write head between write operations.
The same goes for read operations, such as launching an application or opening a file. If the file's sectors are all more or less in the same neighborhood, disk-intensive tasks go more quickly.

Fragmented files take more time to save and open

Of course, if files always had to be stored on the disk contiguously, the hard disk's controller would have much more work to do. Every time a growing file bumped into an existing file written to sectors just beyond it, the controller would have to copy the entire file to a new location, calling a momentary halt to your productivity.
This also leads to a significant amount of wasted disk space, riddling your drive with a Swiss-cheese array of clusters too small to hold a complete file.
For this reason, disk controllers and file systems work together to write bits and pieces of files to the closest available free sectors. Over time, files become increasingly fragmented across the disk.
The more scattered the files become, the more the read-write head has to travel and the more disk operations slow. As the drive fills up, fewer large areas of free sectors are available, and the problem becomes worse.
Disk-defragmenting utilities consolidate scattered files to free space and boost overall performance. Windows comes with a basic defragger: select All Programs, Accessories, System Tools, Disk Defragmenter to launch it.
In Windows Vista, Disk Defragmenter is set to run by default once per week, so Vista users are already benefiting from some amount of regular defragmentation. Nevertheless, you'll realize a greater improvement in the performance of any Windows system by using a third-party defragger instead.

Fast, free defragger also optimizes your disk

Because Windows already comes with a defragger, there needs to be some concrete benefit to take the time to download, install, and run a third-party tool, even if it's free.
If you use Windows XP, this is an easy call. XP's defragger can take hours to slog through a hard disk, and the program offers few options and little feedback. Often, the percentage-complete readout remains frozen at a particular number for quite a while.
Vista's built-in defragger doesn't even provide this much progress feedback. Instead, it merely states that the operation could take from a few minutes to a few hours. Thanks for the heads-up.
Jeroen Kessels' free JkDefrag gives you three distinct ways to defrag:
• The hands-free Windows-based graphical client displays defrag progress with a color-coded disk map and a very precise percentage-complete readout. (See Figure 1.)
• The command-line utility lets you specify exactly how you want JkDefrag to do its job.
• The screensaver version kicks in automatically when you're away from the computer,
JkDefrag not only defragments files, it boosts performance further by moving frequently accessed files and folders to the fastest areas of the disk.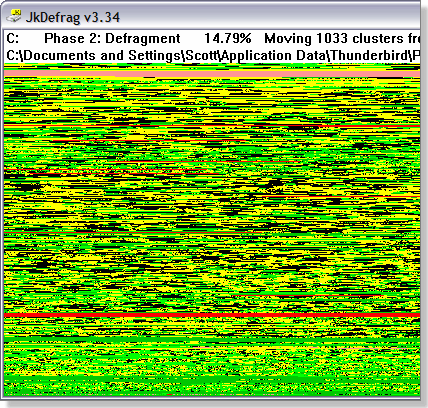 Figure 1. This is your disk on drugs. JkDefrag shows an extremely colorful chart of the fragmentation on your drive as it puts everything into order.
I was happy using the program's default defrag/optimize settings, which let you start defragging and optimizing the drive and forget about it as the utility does its magic.
However, the command-line version of JkDefrag lets truly obsessed optimizers extract every scrap of performance from their disks, and it works even in Windows' Safe Mode, when fewer files are in use and thus unmovable.

'Just defragment my files, please'

If JkDefrag's kitchen-sink approach to disk optimizing seems like overkill to you, Auslogic's Disk Defrag is a faster alternative. The program provides an easy-to-understand display of defrag progress.
You can set Disk Defrag to delete the contents of your temp folders before defragging, but the program offers no other defrag options and doesn't optimize file locations.
The program has a handy pause button that lets you put the defragmentation operation on hold if you need to perform some operation that requires all of your PC's resources. You can also set Disk Defrag to speed the process by using more of the CPU during defragmentation or save on CPU horsepower to minimize interference with the rest of your work.
When it finishes defragging, Disk Defrag gives you some brief stats on the number of files it defragmented and a link to a much more detailed report.
My only complaint about the program is that the same dialog box also reports that it found "junk files" on the system, with a recommendation to scan and remove them with a link. Of course, the link takes you to the Web page of another (not free) Auslogics product. Naturally, you can just ignore this pitch and continue to enjoy Disk Defrag's fast defrags.
Scott Spanbauer frequently writes for PC World, Business 2.0, CIO, Forbes ASAP, and Fortune Small Business. He has contributed to several books and was technical reviewer of PC Hacks.
---
WINDOWS SECRETS
How reliable are antivirus lab tests?
By Mark Joseph Edwards

Several different labs conduct tests that pit antivirus solutions against various sets of malware circulating in the wilds of the Internet.

Now questions are being raised about the effectiveness of the tests in representing real-world PC threats and how accurately they reflect an antivirus program's ability to prevent infections.

Antivirus testing procedures come under fire

In my May 1 column, I described the five antivirus programs that aced Virus Bulletin's PC defense tests. Virus Bulletin is probably the biggest name in the field of such testing; the service's results are highly credible.
Antivirus tests are useful as long as you know the basis of the tests and what it takes to achieve a given score. To conduct its tests, Virus Bulletin uses a set of malware selected from what is called the WildList, which is essentially a set of malware known to be circulating in the wilds of the Internet.
For years, the WildList has been the de facto standard for measuring the effectiveness of antivirus tools. The list dates back to the mid-1990s and is currently maintained by ICSA Labs, which is owned by Cybertrust. Cybertrust was bought by Verizon about a year ago.
Various antivirus labs use the WildList as part of their testing of an antivirus product's ability to detect and remove malware. In 2007, some antivirus makers began to complain that the WildList was no longer sufficient for antivirus tests. Several companies suggest that a more complete set of tests should be run to examine a security suite's entire arsenal of protection.
The issue came up as part of the International Virus Testing Workshop held in May 2007. At that time, Virus Bulletin reported that those in attendance were "virtually unanimous that the WildList is no longer useful as a metric of the ability of a product to protect users."
Nevertheless, the WildList remains the basis for conducting tests against antivirus solutions more than one year later. Why? Probably because the WildList provides a very good baseline to let people know whether a product can defend against a basic set of existing threats. After all, if you're going to put your computer on the Internet, you need to know whether you've got a decent defense against the dangers that actually exist out there.
The WildList is useful even if it's not all-encompassing. Still, one company isn't very happy with ongoing test results, particularly the results from Virus Bulletin.
According to PC World, Trend Micro anti-malware CTO Raimund Genes states that the marketing value of passing Virus Bulletin tests is high because you gain the right to display Virus Bulletin's "VB100" logo alongside a given antivirus product. However, Genes claims the WildList is outdated and competing services such as AV Comparatives are more up-to-date.
Trend Micro states it might cease participating in the tests. Interestingly, as I reported on May 1, Trend Micro was not among the companies that aced Virus Bulletin's tests.
Virus Bulletin's John Hawes defends the use of the WildList for antivirus testing, and several antivirus vendors also continue to find value in using the WildList as part of their testing. In an article published by Virus Bulletin last year, Hawes posed the question: if passing the WildList tests is so easy, then why do so many companies' products fail to do so? Still, Virus Bulletin is reportedly working on making its antivirus testing regimen more comprehensive.
But Virus Bulletin isn't the only game in town. When you're shopping for an antivirus product, consider test results from several labs, such as AV-Comparatives, AV-Test, ICSA Labs (in addition to the WildList), and Westcoast Labs. Keep in mind the versions of the products being tested as well as how and when the tests were conducted.

Apple's Safari browser is vulnerable on Windows

Aviv Raff discovered a significant security problem with the Windows versions of Apple's Safari browser. When the browser's download directory is left at the default location, bad guys can automatically download malware onto your computer. Making matters worse, the malware could then be launched automatically, without requiring any action from you.
Fortunately, there's a simple workaround for this problem: Change the default download location.
The existence of this problem was significant enough that it caused Microsoft to issue an advisory that explains the workaround in detail.
The fact that Microsoft is still investigating this problem leaves open the possibility that the glitch affects programs other than Safari. Therefore, the company may eventually release a security patch for Windows or Internet Explorer (IE is implicated without explanation in Microsoft's advisory).

The fast way to synchronize files between systems

William Edwards (no relation) wrote to ask how to solve a file-transfer problem he faces. William has a telescope imaging camera that takes numerous photos over the course of the night. The resulting image files are written to various folders on one of his computers. He needs to copy those files to another computer on his network automatically.
This kind of automated file synchronization can be done using the free DeltaCopy incremental-backup utility to synch folders on two different PCs. The program is similar to rsync for Linux systems.
The cool thing about DeltaCopy and other rsync-based tools is that they copy only new files and the parts of existing files that have changed since the last synch. You don't have to transfer entire directories or complete files each time you synch folders. This makes for rapid replication.
To use DeltaCopy, install the program on each system and define folders and synchronization schedules. That's all there is to it. The program runs on Windows NT, XP, 2000, and Server 2003 (but not Vista) and uses the Windows Scheduler to synch your folders at designated times.

Making screencasts has never been easier

Screencasts can be incredibly useful tools, especially for delivering step-by-step instructions. Creating screencasts was a mystery to me until I stumbled upon a nifty tool called Wink, which has apparently been around for a while.
Think of Wink as a screen-capture utility that also captures application activity, mouse movements, and audio. The program lets you record activity on your desktop and add narration, pop-up balloons, and other helper content. You can save your recordings in a variety of formats, including Flash (.swf), HTML, PDF, and executable files (.exe).
Wink could save your help-desk and customer-support staff a significant amount of time.
Not only is Wink completely free, there's a public support forum where you can interact with other Wink users and get help when necessary.
If you wonder what other screencast-creation software is available, head over to Digital Inspiration, where you'll find a lengthy list of screen grabbers, many of which come with a hefty price tag, however.
Reader William Edwards receives a gift certificate for a book, CD, or DVD of his choice for sending a question we printed. Send us your questions and tips via the Windows Secrets contact page.
Mark Joseph Edwards is a senior contributing editor of Windows IT Pro Magazine and regularly writes for its Security Matters blog. He's a network engineer, freelance writer, and the author of Internet Security with Windows NT.
---
PATCH WATCH
Windows XP Service Pack 3 gets official fixes
By Susan Bradley

The repeating reboots caused by XP SP3 on non-Intel systems have been quelled, but there's still no rush to install the OS's last service pack.

Symantec's FAQ addresses concerns with both XP SP3 and Vista SP1, while Microsoft's Knowledge Base article avoids singling out AMD processors.

Get help sorting out service pack–related woes

My past few columns have described various problems Windows XP Service Pack 3 causes for some PCs. Weeks after the service pack's initial release, Microsoft and Symantec are finally beginning to report on the problems and offer solutions.
Symantec's XP SP3 FAQ provides links and guidance for installing both that service pack and Vista SP1. The document instructs users to run Live Update to prevent problems before installing the service packs.
If you've already installed either service pack and Device Manager has gone AWOL, wireless connections drop and disappear, or some other glitch has struck your system, Symantec offers a post-install fix called SymRegFix.exe. (Scroll down the FAQ page to find the download link.)
Microsoft has released a patch for machines that use AMD chipsets but had drivers loaded for Intel processors, which caused the interminable reboots. As I read KB 953356, it struck me that the problem is widely referred to as the "AMD rebooting issue," yet in the Knowledge Base article, Microsoft states that the glitch could affect any system that "uses a processor other than an Intel."
Reminds me of a certain rock artist who went by the moniker of "The Artist Formerly Known As…." It would probably be easier for people to find the information through Web search engines if the article stated more clearly exactly which systems it pertains to.

MS08-031 (950759)
Internet Explorer's bimonthly patches arrive

It's time to patch our Web browser. Again.
Even if you use Firefox 2 (or the soon-to-be-released Firefox 3) to surf the Web, you still need to patch Internet Explorer, because the browser built into Windows impacts so many aspects of the other software on your PC.
The vulnerabilities described in Microsoft Security Bulletin MS08-031 (KB 950759) can be used by Web-based malware to attack your system. These days, even such seemingly safe Web locations as help sites can have attacking code embedded in them, so it's wise to patch all your browsers as soon as the fixes become available.
Recently, fellow Small Business Server consultant Philip Elder reported that he stumbled across a site listed among search results that looked to be legitimate but had actually been taken over by bad guys. Let Philip's experience be a lesson to us all not to let our guard down when we use a search engine.
The Opera browser will soon scan for malicious sites using Haute Secure's service. Likewise, Firefox plans to add Google's malware database to the upcoming version 3 of the browser, which would prevent users from downloading dangerous files. Firefox 2 already uses Google's database of bad sites to block people from opening potentially dangerous pages in the browser.
Note that after you patch Internet Explorer, you may need to adjust your third-party firewall program and re-enable your antivirus settings.

Another required patch for the QuickTime player

Whether you use a Macintosh or a Windows PC, I urge you to install Apple's latest security patches for its QuickTime 7.5 media player. QuickTime is being targeted more and more by malware. The most recent vulnerability could allow an attacker to gain control of your system.
The fact sheet states that the fix supports XP SP2, but the update worked just fine on my XP system with SP3 installed.

OpenOffice.org is more open than it should be

If you use OpenOffice.org 2.4 or below, upgrade to 2.4.1 and read the accompanying security bulletin. There are as yet no reports of exploits as a result of this bug, but any file that OpenOffice.org opens could potentially introduce a virus or other malware.
While European Commission antitrust chief Neelie Kroes continues to recommend that more European countries adopt open software standards, I'll continue to suggest that you patch your open programs, regardless.

MS08-030 (951376)
A filling for a Bluetooth cavity

It's ironic that on the day I bought a Bluetooth headset to comply with California's new law requiring hands-free cell-phone use while driving, Microsoft released a bulletin patching the Bluetooth connection in my computer.
Fortunately, the Bluetooth headset attaches only to my cell phone, not to my laptop. If you use Bluetooth to connect to printers, other devices, or the Internet, install MS08-030 (KB 951376) as soon as you can.
If you enable Bluetooth on your computer, anyone in the vicinity can take control of your system. While few PC users run their systems with Bluetooth always on and broadcasting, the risk warrants installing the update.

MS08-033 (951698)
Take the direct route to this DirectX patch

Media files are frequently used for malware attacks. Microsoft Security Bulletin MS08-033 (KB 951698) patches all Windows versions that have both DirectX and Internet Explorer, which is just about all of them.
Anyone who doesn't run a specific version of Windows Server 2008 called ServerCore will need to install this patch as soon as possible.

MS08-032 (950760)
Recognizing a security hole in speech recognition

Microsoft Security Bulletin MS08-032 (KB 950760) describes a patch for a Windows speech-recognition bug that enables a malicious Web site to attack the computer. Internet Explorer was never intended to run the speech control. The update activates an ActiveX "kill bit" that prevents the speech control from being accessed through IE.
The fix also disables the third-party kill bit from BackWeb; the vendor has released a bulletin regarding the issue.

MS08-034 (948745), MS08-035 (953235), MS08-036 (950762)
Servers and workstations need patches, too

Also released this week are two security patches primarily for servers as well as one that impacts workstations only when a certain protocol is installed.
The security patches are for the Windows Internet Name Service (WINS), a server protocol often used with Microsoft Exchange Server, and for Active Directory. MS08-034 (KB 948745) and MS08-035 (KB 953235) describe the fixes, respectively.
Lastly, MS08-036 (KB 950762) addresses a problem with Microsoft Message Queuing. Since this glitch involves only a denial-of-service attack, it is not a major threat because it couldn't take over your system — though it could require you to restart your PC.

Make sure Windows updates as it should

Microsoft support representative Eddie Bowers released on CodePlex a patching "reset" tool to ensure that Windows Update is registered and installed with the latest update engine.
In fact, the utility installs a later version of the update engine that is included in Windows Server Update Service 3.0 Service Pack 1 but is not yet released as an update for all workstations.
If you find that you can't download Windows updates and instead get cryptic messages indicating that Windows Update is not working, this tool may get you back on the update cycle.
The Patch Watch column reveals problems with patches for Windows and major Windows applications. Susan Bradley recently received an MVP (Most Valuable Professional) award from Microsoft for her knowledge in the areas of Small Business Server and network security. She's also a partner in a California CPA firm.
---
Publisher: AskWoody LLC (woody@askwoody.com); editor: Tracey Capen (editor@askwoody.com).
Trademarks: Microsoft and Windows are registered trademarks of Microsoft Corporation. AskWoody, Windows Secrets Newsletter, WindowsSecrets.com, WinFind, Windows Gizmos, Security Baseline, Perimeter Scan, Wacky Web Week, the Windows Secrets Logo Design (W, S or road, and Star), and the slogan Everything Microsoft Forgot to Mention all are trademarks and service marks of AskWoody LLC. All other marks are the trademarks or service marks of their respective owners.
Your email subscription:
Copyright © 2023 AskWoody LLC, All rights reserved.
---

Plus Membership
Donations from Plus members keep this site going. You can identify the people who support AskWoody by the Plus badge on their avatars.
AskWoody Plus members not only get access to all of the contents of this site -- including Susan Bradley's frequently updated Patch Watch listing -- they also receive weekly AskWoody Plus Newsletters (formerly Windows Secrets Newsletter) and AskWoody Plus Alerts, emails when there are important breaking developments.
Get Plus!
Search Newsletters
Search Forums
View the Forum
Search for Topics
Recent blog posts
Key Links