ISSUE 19.08.F • 2022-02-21
In this issue
WINDOWS 11: 11 settings to tweak on a new Windows 11 PC
Additional articles in the PLUS issue
LANGALIST: Wide-ranging reader questions
PUBLIC DEFENDER: How to find out who owns that website you hate
ON SECURITY: Falling for the click
---
ADVERTISEMENT

The new way to learn to play music
Melodics is an app that adapts to your abilities and musical tastes
to help you get better at playing keyboards, pad controllers, and drums.
---
WINDOWS 11
11 settings to tweak on a new Windows 11 PC

By Lance Whitney
There are a bunch of settings you should configure before you fully dive into Windows 11.
Let's assume you're running Windows 11 on a new or upgraded PC. Before you fully start working, playing, and hopping online, there are several key settings and features you should review, configure, or enable. By doing so, you'll feel more at home with Windows 11. Among the settings to check are the Start menu, Taskbar, battery power, universal clipboard, and Windows Hello options.
Much of the advice I offer here applies whether you've just bought a brand-new PC with Windows 11 or upgraded your current PC from Windows 10. Certain features that are the same in both versions will carry over from one to the other. But for any new or redesigned features, such as the Start menu and Taskbar, you'll want to tweak those in the new version of Windows. Either way, here are 11 settings I recommend you visit if you've just jumped ship to Windows 11.
Start menu
Whether you love it or hate it, the new Start menu doesn't offer very many options to tweak. But there are a few key settings you can change to make the menu more hospitable. By default, the new menu displays pinned apps, but you can control what else appears. Go to Settings, Personalization, and then Start. Turn the switches on or off for recently added apps, most used apps, and recently opened apps — depending on what you want to see on the menu (see Figure 1).

Figure 1. Choose which types of apps you want to see on the Start menu.
Next, click the entry for Folders, and you can elect to display icons for Settings, File Explorer, Documents, Downloads, and other folders directly on the Start menu (see Figure 2).

Figure 2. Opt to see specific folders on the Start menu, to access them more quickly.
I wish there were more you could do to enhance the limited Start menu in Windows 11, but as usual, it's Microsoft's way or the highway. If you want something more usable, your best bet is to install a Windows 11 Start menu replacement (see Two solid replacements for the kludgy Windows 11 Start menu, AskWoody 2021-12-13).
Taskbar
The taskbar is another Windows 11 feature with limited customization, but you can perform a few tweaks. Go to Settings, Personalization, and then Taskbar. Under Taskbar items, decide which icons you really need to see, such as Search, Task view, Widgets, and Chat. Next, choose what should appear in the system tray, aka the bottom-right corner of the taskbar. If you're using a touchscreen device or a tablet, you may want to turn on the switches for all three items here — Pen menu, Touch keyboard, and Virtual touchpad. Otherwise, leave them off (see Figure 3).

Figure 3. Decide which items you want to see and access on the taskbar.
Under Taskbar corner overflow, choose the items you always want to see directly in the system tray — as opposed to those that appear only when you click on the little up arrow in the tray. Your best bet is to turn each one on or off (to see what shows up in the system tray) and then stick with the items you really need to be visible at first glance (see Figure 4).

Figure 4. Choose the system tray icons that you want to see without having to click the up arrow.
Finally, select the setting for Taskbar behaviors. If you're more comfortable with the taskbar in its old familiar spot, change the alignment from Center to Left. You can also opt to hide the taskbar so it appears only when you move your mouse cursor to the bottom of the screen. Turn on the switch for "Show badges (unread messages counter) on taskbar apps" to see alerts for any type of activity in certain apps. If you have a multi-display setup, turn on "Show my taskbar on all displays." And enable the switch for "Select the far corner of the taskbar to show the desktop" to display the desktop if you move your mouse cursor to the far-right corner (see Figure 5).

Figure 5. Change the taskbar alignment to "Left" if you prefer it in its familiar location.
Background
I always customize the wallpaper background in Windows to give it a more distinctive look. To do this, go to Settings, Personalization, and then Background. Select a picture you like from among the recent images. For a more personal touch, click the button for "Browse photos" to select one of your own photos or images as your background. Depending on the size and resolution of the image you choose, you can then play with the fit, choosing among fill, fit, stretch, tile, center, or span (see Figure 6).

Figure 6. Select a specific image to give your background a more distinctive appearance.
If you have vision problems, the next option can be helpful. Click the setting for "Contrast themes." Try each of the four themes — Aquatic, Desert, Dusk, and Night sky — to see which one is easiest on your eyes. You can even tweak each theme by selecting one and clicking the Edit button. You can then change the color for specific elements, such as the background, text, hyperlink, and button text (see Figure 7).

Figure 7. Picking one of the contrast themes may help anyone with vision problems.
Colors
I don't spend much time playing with the color scheme in Windows. But if you need to tweak the look of Windows with specific colors, especially if you have vision issues, then that should be your next step. Go to Settings, Personalization, and then Colors. Change the mode to Dark if you find that easier on your eyes. Choose the custom setting to change your default mode for Windows itself as well as for apps (see Figure 8).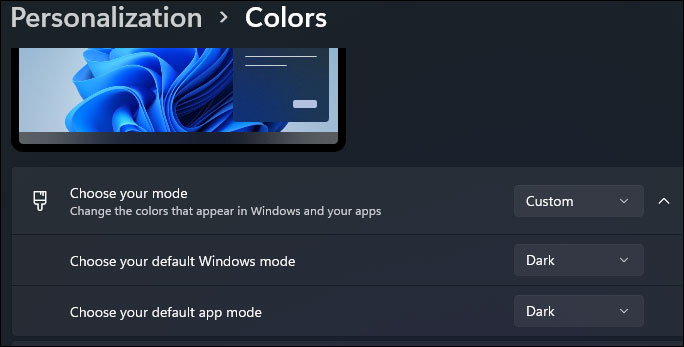 Figure 8. You may prefer a dark theme in Windows 11 to better see everything.
Next, you can make windows and surfaces appear translucent to give them a more pleasing appearance. If you wish, you can experiment with different accent colors. I usually stick with the automatic setting here, but you may prefer a certain color to grace buttons, menus, and other elements — in which case, you would change the setting to Manual and pick your preferred color (see Figure 9).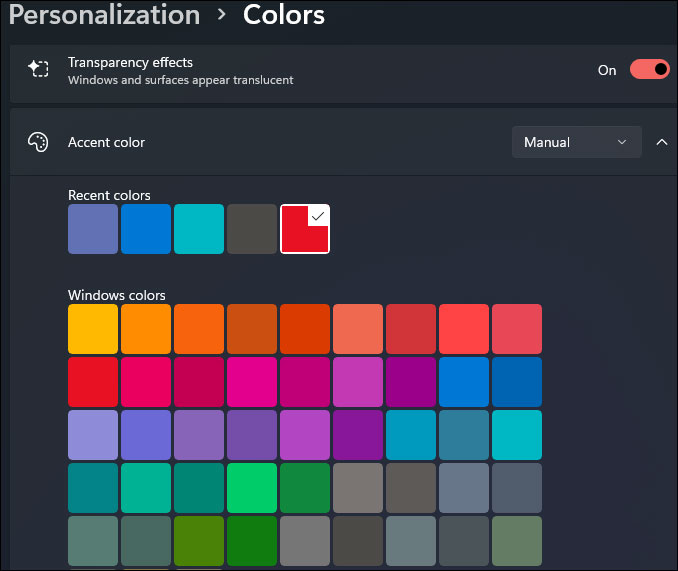 Figure 9. Different accent colors can also help Windows appear visually more pleasing.
Notifications and Focus assist
Getting interrupted by a software update, new email, or other notification can be annoying when you're in the middle of something. But you can control notifications so they don't bother you. Go to Settings, System, and then Notifications. To cut the cord entirely, turn off the switch for Notifications. However, that prevents important notifications from reaching you. Instead, keep them on and just turn off the notifications for specific apps and settings that you don't need or use (see Figure 10).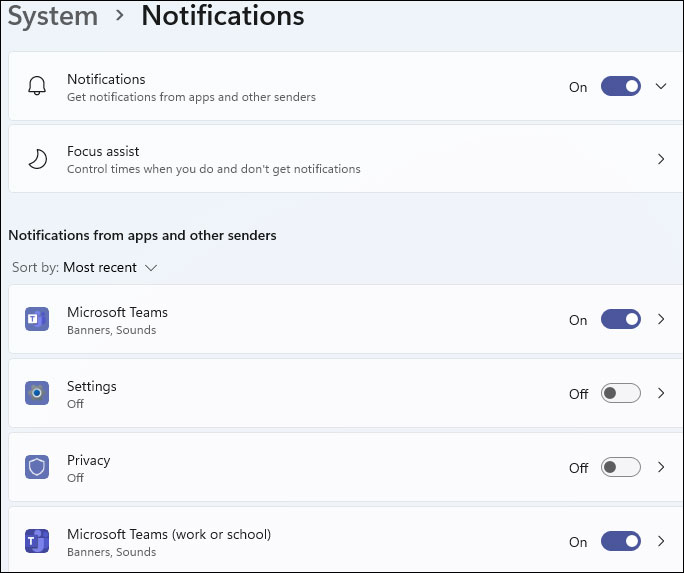 Figure 10. Turn off or tweak notifications so you're not constantly being interrupted by them.
Another option is to disable notifications during certain times or activities. Click the entry for Focus assist. Here, you can opt to see only notifications that you set as priorities or only alarms (such as those for calendar appointments). Scroll down to the Automatic rules section, and choose the times and events when notifications are silenced (see Figure 11).

Figure 11. Focus assist disables notifications during certain times of the day or specific activities.
Power and battery
If you're using a Windows 11 laptop, you'll want to tweak the power settings to preserve your battery charge. First, make sure your PC is running on battery power. Go to Settings, System, and then Power & battery. Click the entry for Screen and sleep. Here, you can set when the screen turns off and when your computer goes to sleep, both under battery power and AC. Depending on your battery capacity and charge, you'll likely want to keep the settings for "On battery power" on the low side and the ones for "When plugged in" on the higher side. Select the entry for Power mode and set it to "Best power efficiency to preserve your battery charge" (see Figure 12).

Figure 12. Lowering the settings for turning off the screen and putting your computer to sleep when in battery mode will help preserve your charge.
Next, click the entry for Battery saver. Select the percentage for "Turn battery saver on automatically at" and set it to at least 20%. Turn on the switch for "Lower screen brightness when using battery saver." Turn on the button for Battery saver to see whether the screen is bright enough for you when in Battery saver mode (see Figure 13).

Figure 13. Battery saver mode will further preserve your charge when it slips below a certain percentage.
Windows Hello
For tighter security and smoother ease of use, create other methods to sign in to Windows beyond a password. Go to Settings, Accounts, and then Sign-in options. If you haven't already done so, click the option for PIN (Windows Hello) and set up a PIN. By default, the PIN must be at least six digits and no more than 127 digits. You can also include letters and symbols.
On a desktop or other PC safely situated in your home or office and not generally accessible by others, a shorter PIN will suffice. But on a laptop that you take with you on trips, create a PIN with at least six or eight digits. If your PC has a fingerprint reader and/or a Windows Hello–supported camera, set up the options for Fingerprint recognition and Facial recognition. Windows will tell you whether either method is available. You can also add a physical security key if you wish (see Figure 14).

Figure 14. Windows 11 offers several authentication methods beyond a password, including PIN, facial recognition, fingerprint scanning, and security key.
Universal clipboard
Introduced in Windows 10, the universal clipboard is a handy way to store a history of text, images, and links that you copy and paste. To set this up, go to Settings, System, and then Clipboard. Turn on the switch for Clipboard history to store every item copied to the clipboard up to 25. To access the same clipboard history across multiple computers, turn on the switch for "Sync across your devices" and set its option for "Automatically sync text that I copy" (see Figure 15).

Figure 15. The universal clipboard stores up to 25 items in the clipboard and will sync those items across multiple devices.
Enable location
Usually, I recommend disabling most of the privacy-related settings in Windows to limit the information Microsoft can track and record about you. But one setting to consider if you have a laptop is Find my device. This feature will help you track down your laptop if it's ever lost or missing. The major drawback is that this option works only if you're signed in to your Windows 11 PC with a Microsoft account, as opposed to a local account.
To set this up, go to Settings, Privacy & security, and then Location. Turn on the switch for Location services. Go back to the previous screen and select the entry for "Find my device." Turn on the switch for Find my device (see Figure 16).

Figure 16. The Find my device feature will help you locate a lost Windows 11 laptop.
If your laptop ever goes missing, sign in to your Microsoft account website. Click the heading at the top for Devices, and then click the link for Find my device. Click on your missing PC to see its last known location in an address and on a map (see Figure 17). I initially had trouble with this feature before it finally kicked in, so you should test it out at your home or office before you try it on the road.

Figure 17. Your Microsoft account page will pinpoint the location of a laptop with Find my device enabled.
Windows Update
Don't forget to check for the latest Windows updates, especially any critical security patches. Go to Settings, Windows Update and then Check for updates. While you're here, why not also configure and control the updates? Click the setting for Advanced options. If you use Microsoft Office or other Microsoft programs, flip on the switch for "Receive updates for other Microsoft products."
Turn on the switch for "Notify me when a restart is required to finish updating." And if you don't want to be interrupted by updates that require a reboot, click the setting for Active hours, set it to either Automatically or Manually, and choose your Start and End times (see Figure 18).

Figure 18. Beyond checking for the latest security updates, you're able to control when and how Windows updates are installed.
Create a recovery drive
Finally, you should create a recovery drive that will boot up your PC and troubleshoot specific problems, should Windows ever fail to boot. To set this up, insert a USB stick with at least 16GB of storage into your computer. Click the Search icon, start typing "recovery drive" in the search field, and then select the result. At the first screen, check the box for "Back up system files to the recovery drive." Select the recovery drive when it appears on the screen. Click Next and then click Create to set up the drive. If Windows ever refuses to boot, insert the recovery drive and use it as your boot device (see Figure 19).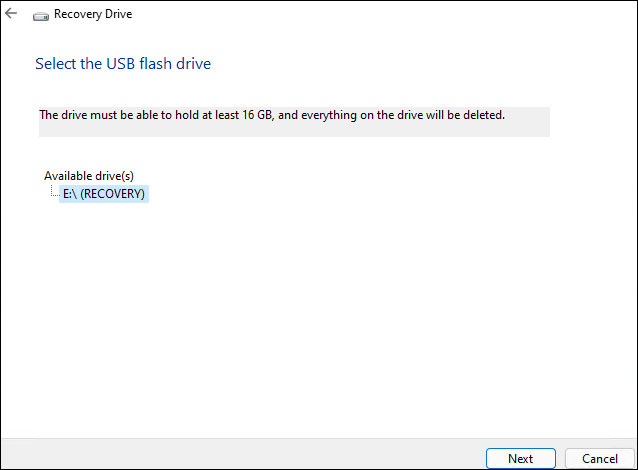 Figure 19. A recovery drive will boot up your computer if Windows 11 ever fails to boot on its own.
Besides getting your new or updated PC off to a good start, going through these settings will give you greater familiarity with Windows 11 settings in general and, hopefully, give you greater confidence in managing your PC.
Join the conversation! Your questions, comments, and feedback
about this topic are always welcome in our forums!
Lance Whitney is a freelance technology reporter and former IT professional. He's written for CNET, TechRepublic, PC Magazine, and other publications. He's authored a book on Windows and another about LinkedIn.
---
ADVERTISEMENT
---
LANGALIST

Wide-ranging reader questions

By Fred Langa

The AskWoody email servers have been busy! This week's column features three interesting questions and tips submitted by your fellow subscribers.

First up: We look at several potential workarounds for OneDrive backup issues.

Second: A reader encounters the one time when an unexpected reboot doesn't necessarily signify trouble.

And last: A malfunctioning copy of File Explorer resists all repair attempts!

PUBLIC DEFENDER

How to find out who owns that website you hate

By Brian Livingston

Sometimes, you really want to look up the email address or phone number of whoever owns a particular website or domain name.

Unfortunately, this is becoming more difficult as various "privacy" services attempt to hide this information from the global WhoIs system. Surprisingly often, these cloaking mechanisms fail to provide website owners with true security and actual privacy — while seriously frustrating the rest of us.

ON SECURITY

Falling for the click

By Susan Bradley

After watching the technology-related advertisements from this year's Super Bowl, my takeaway was that we are a gullible population that will absolutely and utterly click on anything without verification.

For Super Bowl LVI, cryptocurrency companies were a major advertising presence. Coinbase ran an ad with a floating QR code moving around the screen. So many people scanned the QR code that Coinbase couldn't handle the load, crashing the website and the app.
You're welcome to share! Do you know someone who would benefit from the information in this newsletter? Feel free to forward it to them. And encourage them to subscribe via our online signup form — it's completely free!
---
Enjoying the AskWoody newsletter?

Become a PLUS member and get it all!

Don't miss any of our great content about Windows, Microsoft, Office, 365, PCs, hardware, software, privacy, security, safety, useful and safe freeware, and Susan Bradley's popular and sought-after patch advice. PLUS, these exclusive benefits:

Every article, delivered to your inbox
MS-DEFCON Alerts, delivered to your inbox
Access to MS-DEFCON text alerts delivered to your phone
Total access to the archive of nearly two decades of newsletters
No ads
Identification as a Plus member in our popular forums

We're supported by donations — choose any amount for a one-year membership.
---
The AskWoody Newsletters are published by AskWoody Tech LLC, Fresno, CA USA.
Your subscription:
Microsoft and Windows are registered trademarks of Microsoft Corporation. AskWoody, AskWoody.com, Windows Secrets Newsletter, WindowsSecrets.com, WinFind, Windows Gizmos, Security Baseline, Perimeter Scan, Wacky Web Week, the Windows Secrets Logo Design (W, S or road, and Star), and the slogan Everything Microsoft Forgot to Mention all are trademarks and service marks of AskWoody Tech LLC. All other marks are the trademarks or service marks of their respective owners.
Copyright ©2022 AskWoody Tech LLC. All rights reserved.