ISSUE 19.14.F • 2022-04-04
In this issue
WINDOWS 11: 5 free utilities to help you get more out of Windows 11
Additional articles in the PLUS issue
LANGALIST: Tying up loose ends
PUBLIC DEFENDER: Secret Photoshop feature won't open images with certain filenames
PATCH WATCH: Why can't search just search?
---
ADVERTISEMENT

Easy and efficient network management – Auvik Networks

Auvik is easy and efficient network management – Mapping, inventory, config backup, and more. Reduce IT headaches and save time with automated network discovery, documentation, monitoring, and more. Network management and troubleshooting is faster and simpler with Auvik's easy-to-use software. Visualize everything on the network. A single dashboard to show exactly what you're dealing with.
---
WINDOWS 11
5 free utilities to help you get more out of Windows 11

By Lance Whitney
You can squeeze more features and flexibility out of Windows 11 with the right utility programs.
You've just upgraded to Windows 11. And maybe you like certain aspects of it but wish the new OS offered more capabilities. In many ways, Windows 11 is a minor upgrade to Windows 10, with visual changes and some new or redesigned features. But otherwise, it's still the same old Windows with the same limitations and constraints.
One way to make Windows 11 more robust and flexible is through a good utility program. An array of utilities is available that will enhance or improve the OS in both significant and subtle ways. Among the vast number of utilities out there, I've come up with five free ones: Microsoft PowerToys, ThisIsWin11, Files, BeWidgets, and Winaero Tweaker. Let's check them out.
Microsoft PowerToys
Designed for Windows 10 and 11, Microsoft PowerToys serves up a host of tools in one package, all designed to supplement and enhance the way you work in Windows. The current version offers the following 12 toys:
Always on Top — Pin a window on top of other windows.
PowerToys Awake — Quickly prevent your computer from going into sleep mode.
Color Picker — View and copy the hex and RGB codes for any on-screen color.
FancyZones — Create on-screen layouts for positioning open windows.
File Explorer add-ons — View SVG files, Markdown files, and multi-page PDFs in File Explorer Preview.
Image Resizer — Resize one or more images.
Keyboard Manager — Remap keys on your keyboard.
Mouse utilities — Quickly find and see your mouse cursor.
PowerRename — Rename multiple files in one shot.
PowerToys Run — Find and launch an application or file by typing its name.
Shortcut Guide — View a list of all Windows shortcuts.
Video Conference Mute — Quickly mute the video and audio in a virtual meeting.
Among these, my favorites are Color Picker, FancyZones, Mouse utilities, and Video Conference Mute. But any of them is potentially helpful, depending on how you use Windows and different applications. So I suggest taking each tool for a test drive to judge its usefulness for yourself. To grab PowerToys, go to its GitHub page and download the executable file. Be aware that you may bump into the occasional bug with PowerToys, so you'll want to update it each time a new stable version is released (see Figure 1).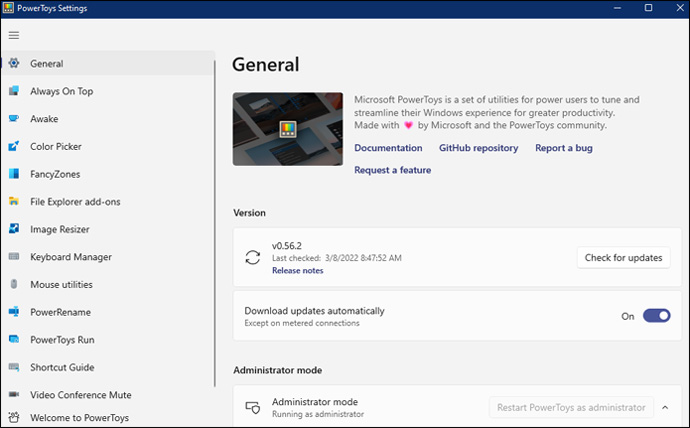 Figure 1. PowerToys offers several useful tools in one package, but make sure to update it regularly.
ThisIsWin11
Touting itself as "the real PowerToys for Windows 11," ThisIsWin11 is geared toward people who like to tweak Windows as fully as possible. The program offers a series of modules and screens through which you're able to customize the Start menu, remove and install apps, adjust File Explorer, enhance your privacy, and even disable features you don't like or need. The idea is to provide all the customizations from one single program so you don't have to hunt through the Windows Settings app to find a specific option.
To snag ThisIsWin11, go to its GitHub page and download the TIW11.zip file. After extracting the ZIP archive, run the ThisIsWin11.exe file directly to launch the program. Upon popping up, ThisIsWin11 offers two ways to use it. A guided tour of Windows 11 allows you to configure certain settings step by step. Otherwise, clicking each icon on the left opens different modules that you must manually configure. I recommend starting with the guided tour to better understand what you're doing and changing (see Figure 2).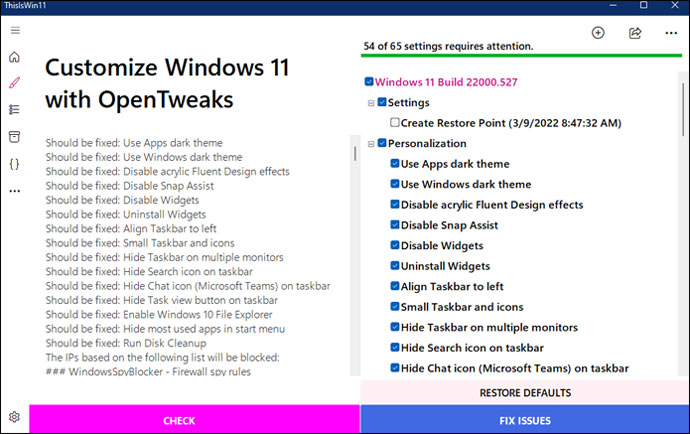 Figure 2. ThisIsWin11 is a powerful utility through which you can tweak a variety of Windows settings and features.
For example, a screen for customizing Windows 11 analyzes your system and suggests a host of tweaks, such as moving the Taskbar to the left, disabling Widgets, reverting to Windows 10 File Explorer, installing Microsoft Windows Subsystem for Android, and running disk cleanup. You can apply all the suggested changes or just selected ones. Another screen lets you remove specific Windows apps such as Skype, Bing News, Xbox, and OneDrive. And a third screen points to a range of apps in the Microsoft Store to consider installing.
If the changes you make don't work out for any reason, you can easily revert to the default settings. And power users are able to download and run customized PowerShell scripts for more advanced functions. ThisIsWin11 is a robust and formidable program; just tread carefully as you use it.
Files
Those of you not happy with Windows 11 File Explorer should check out a utility named Files. An alternative to the built-in File Explorer, this program offers more features and greater flexibility. Download Files directly from the Microsoft Store. Open the app, and you'll discover several helpful enhancements.
On the left sidebar, Files organizes your folders and other locations into specific categories such as Favorites, Drives, Cloud Drives, and Network Drives, so you more easily know where to find them. Even the Recycle Bin appears as a favorite, letting you quickly view and restore deleted files.
You're able to set up tabs to view and switch among different folders and locations, a useful feature that Microsoft should have added to File Explorer long ago and will finally add in an update to Windows 11 later this year. Next, a toolbar displays icons for the usual commands—Cut, Copy, Paste, Rename, Delete. Click the New button to quickly create a new file, folder, or zip archive. Other toolbar icons let you easily select or deselect all files, change the sort options, adjust the layout, and turn on the preview pane (see Figure 3).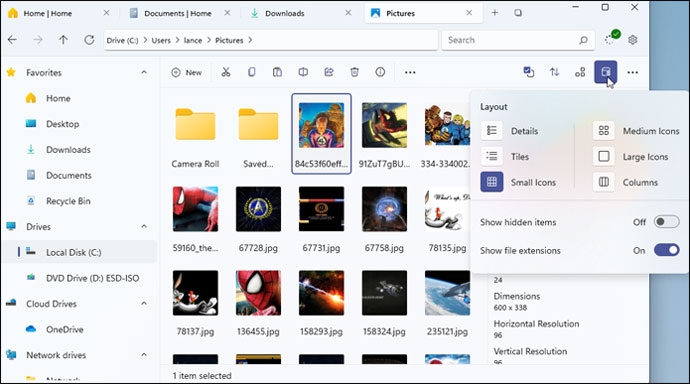 Figure 3. Files offers a variety of features and options that you won't find in File Explorer.
And there's more behind the scenes. Click the Settings icon to tweak the style and functionality of Files. Here, you can change the color of the Files window, apply different themes, and customize the sidebar. Next, you're able to control and customize the behavior of files and folders. Another option lets you easily split the Files interface into two side-by-side windows. Overall, Files is a helpful tool that compensates for many of the limitations in File Explorer.
BeWidgets
Microsoft offers a widgets feature through which you view news stories, weather reports, and other types of information. But you must click a taskbar icon and then scroll through the information you want. A utility known as BeWidgets aims to place useful information right on your desktop.
Download BeWidgets from the Microsoft Store. Open the program, and you'll be prompted to create your first widget — choosing from among time, date, photo library, app shortcut, finances, and weather. Your widget then appears directly on the desktop. You can drag and drop the widget anywhere you like on the screen. Click the Customize button to set a specific location, change the background color, and tweak other aspects of the widget.
The Time widget lets you opt to see the time in 12-hour or 24-hour format and to display seconds. The Calendar widget allows you to choose the date format. With the Photos widget, you select a specific folder to display its photos and set the transition time from one photo to the next. The App shortcut widget lets you select a specific app or URL to launch when you click it. With the Finances widget, you add a ticker symbol for a stock you want to follow. And the Weather widget allows you to add certain cities and view either the current forecast or the one for the next 24 hours (see Figure 4).

Figure 4. With BeWidgets, you can create and customize different widgets that appear right on the desktop.
After arranging your widgets in a specific pattern on the desktop, you're able to save that layout to reuse it in the future. Though BeWidgets won't show you news items and other content accessible through the regular Windows widgets app, this utility still offers a handy way to view certain details without leaving your desktop.
Winaero Tweaker
Designed for any version of Windows from 7 to 11, Winaero Tweaker displays a host of settings that you can enable, disable, or otherwise customize. For Windows 11 specifically, you can revert to the full classic context menus in File Explorer, restore the classic Taskbar, disable background apps, and enable the Ribbon in File Explorer. The program even lets you position the Taskbar on the top, bottom, left, or right of the screen (see Figure 5).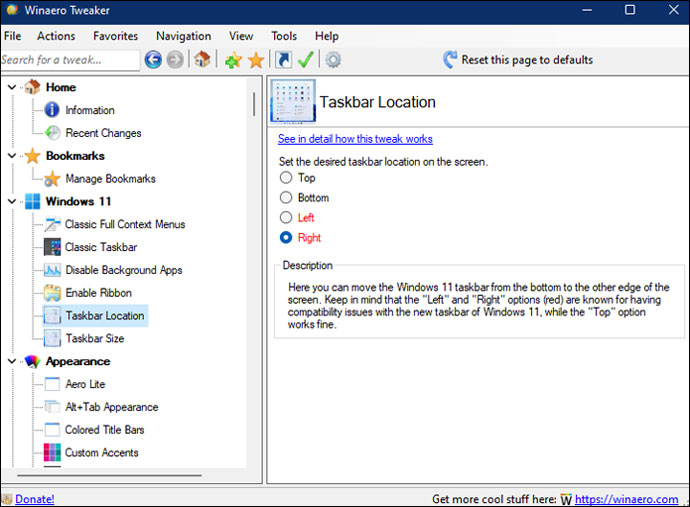 Figure 5. Winaero Tweaker offers a variety of settings aimed at enhancing and improving Windows 11.
The rest of the settings apply to Windows in general and are organized by category. The Appearance category lets you choose color schemes and themes as well as the look for icons, menus, and other items. The Boot and Logon category helps you tweak the lock screen and bootup options. A category for Context Menu gives you control over the commands that appear in the File Explorer context menus. Other categories cover key settings for File Explorer, Privacy, Windows Defender, Network, and User Accounts.
To grab Winaero Tweaker, download it from the program's website. Extract the zip archive and run the setup.exe file to install it. The interface is well organized and easy to navigate. Each setting includes a description to help you understand how and why you might tweak it. For example, the setting for Taskbar location explains that the top and bottom spots are fine; but the left and right spots might cause compatibility issues in Windows 11.
You can see recent changes you've made and disable or adjust them if you do bump into any compatibility problems. The utility also lets you reset all the tweaks you've made back to their default values. If you're happy with the customizations and want to apply them to another computer, simply export and import them. Ideal for beginners and power users alike, Winaero Tweaker is a solid tool for Windows 11.
Beyond the five utilities I've mentioned here, a wide variety of other free programs exists. As just one example, those of you who don't like the new Start menu in Windows 11 can replace it with an alternative, such as Start 11 or StartAllBack. Whether you're happy or unhappy with Windows 11, you can always get more out of it with the right utility programs.
Join the conversation! Your questions, comments, and feedback
about this topic are always welcome in our forums!
Lance Whitney is a freelance technology reporter and former IT professional. He's written for CNET, TechRepublic, PC Magazine, and other publications. He's authored a book on Windows and another about LinkedIn.
---
ADVERTISEMENT

---
Here are the other stories in this week's Plus Newsletter
LANGALIST

Tying up loose ends

By Fred Langa

The last few months have been unusually busy; this column has featured several deep-dive, multi-part installments covering Windows 11, Remote Desktop, and other major topics — along with some truly excellent reader mail spawned by those topics.

But new information keeps pouring in, especially on Windows 11. So here's a nonstandard, "catching-up" column that fleshes out and adds to some previous topics — tying up some of the loose ends and opening some new areas to explore!

PUBLIC DEFENDER

Secret Photoshop feature won't open images with certain filenames

By Brian Livingston

An undocumented feature of Adobe Photoshop, Photoshop Elements, and related programs makes the applications open but fail to load an image — and the apps then close abruptly — if you launch the apps using a filename with specific characters, according to numerous licensed users.

This weird behavior can be seen on releases of the software all the way back to Photoshop version 5 (1998) and through Photoshop 23.2.2.325, which is the current version in Adobe's Creative Cloud 2022.

PATCH WATCH

Why can't search just search?

By Susan Bradley

Microsoft introduces "search highlights," another feature we probably don't want and didn't ask for.

In the April cumulative updates for Windows 10 and Windows 11, Microsoft will be bringing some changes to Windows' desktop search. Unfortunately, it won't fix what we really want fixed. Instead, it will be adding another feature we don't want. The feature, called "search highlights," began to roll out on March 22 to Windows 10 users who had installed the March 2022 preview update (KB5011543).
---
Know anyone who would benefit from this information? Please share!
Forward the email and encourage them to sign up via the online form — our public newsletter is free!
---
Enjoying the newsletter?

Become a PLUS member and get it all!

Don't miss any of our great content about Windows, Microsoft, Office, 365, PCs, hardware, software, privacy, security, safety, useful and safe freeware, important news, analysis, and Susan Bradley's popular and sought-after patch advice.

PLUS, these exclusive benefits:

Every article, delivered to your inbox
MS-DEFCON Alerts, delivered to your inbox
MS-DEFCON Alerts available via TEXT message
Total access to the archive of nearly two decades of newsletters
No ads
Identification as a Plus member in our popular forums

We're supported by donations — choose any amount for a one-year membership.
---
The AskWoody Newsletters are published by AskWoody Tech LLC, Fresno, CA USA.
Your subscription:
Microsoft and Windows are registered trademarks of Microsoft Corporation. AskWoody, AskWoody.com, Windows Secrets Newsletter, WindowsSecrets.com, WinFind, Windows Gizmos, Security Baseline, Perimeter Scan, Wacky Web Week, the Windows Secrets Logo Design (W, S or road, and Star), and the slogan Everything Microsoft Forgot to Mention all are trademarks and service marks of AskWoody Tech LLC. All other marks are the trademarks or service marks of their respective owners.
Copyright ©2022 AskWoody Tech LLC. All rights reserved.