ISSUE 17.44.F • 2020-11-09
The AskWoody Newsletter
FREE EDITION
---
In this issue
ASKWOODY.COM: A changing of the guard at AskWoody.com
REMOTE ACCESS: RemotePC: An excellent tool for accessing and controlling PCs
BEST OF THE LOUNGE: Choosing an Internet-security provider
Additional articles in the PLUS issue
LANGALIST: Windows' built-in Reliability Monitor
ON SECURITY: A few smallish gremlins still infest Win10 20H2 and 2004
SHORTS: Following a trail of utilities
---
ASKWOODY.COM
A changing of the guard at AskWoody.com

By Woody Leonhard
I'm retiring.
But AskWoody marches on — in new but familiar, and highly capable, hands.
I was nudged into retirement by a combination of medical concerns, family obligations … and a screaming desire to turn my attention to interests outside the computer industry.
So it's my great pleasure to announce that Patch Lady Susan Bradley will be taking up leadership of the cause — as major-domo of AskWoody.com, as managing editor of the AskWoody Newsletters, as guiding light of the @AskWoody twitter charge — and, most importantly, as a spiritual advisor to gazillions of disenfranchised Microsoft customers. She also has a new column in Computerworld: Microsoft Patch Lady.
I've known and worked with Susan for decades, and she is as familiar to long-time Windows Secrets subscribers as a favorite old hat. Part of the original Windows Secrets team and a regular contributor to the AskWoody newsletter, she also moderates the patchmanagement.org mailing list and writes pivotal security columns for the CSO website. In her day-job guise, Susan is an IT admin and forensic investigator at a well-known CPA firm.
We've always known Susan for her perspicacious pursuit of patching problems … and their resolution.
What a long and strange trip it's been
Life's changed in extraordinary ways since my first "meatspace" book "Windows 3.1 Programming for Mere Mortals" (Amazon) appeared 28 years ago. Windows has evolved from a rickety infrastructure built on top of a wobbly operating system to a wobbly operating system in its own right.
I don't miss the original bug-ridden incarnations of Windows. But I do miss the fire and vision that drove the unqualified success of Windows XP and Win7. And I'll continue to rail against the flaws that are introduced — and sometimes re-introduced — with every round of updates.
Microsoft has a long history of Windows patching issues. Some things never change, eh?
On a personal note, I'm back in Thailand. We survived two weeks of quarantine and are now free to visit family and friends all over the country. I think of it as an extended vacation, camping out while the U.S. struggles with the pandemic. Eventually, we'll be back in the States, but the "when" is an open question.
Most importantly, rest assured that the "Open for business" sign remains lit at AskWoody. And we're still standing up for the little guy. I'll continue to drop in from time to time — just to contribute my two cents. But the ongoing effort to guide and help all personal-computer users is now in new and much more capable hands.
So long to all AskWoody supporters. I've already been warned by Susan that I must pop in every now and then to offer insights about technology outside of the Redmond bubble — better known as the real world we all actually live in.
And thanks for all the fish!
Questions? Comments? Thinly veiled prognostications of impending doom? Join the discussion about this article on the AskWoody Lounge. Bring your sense of humor.
Eponymous factotum emeritus Woody Leonhard has written lots of books about Windows and Office, scribbled the Woody on Windows columns for Computerworld, and tilted at Microsoft patching windmills.
---
REMOTE ACCESS
RemotePC: An excellent tool for accessing and controlling PCs

By Lance Whitney
I've used a variety of remote-access applications over the years, but one remains my favorite.
iDrive's RemotePC is reasonably priced, easy to use, and filled with helpful features.
The one drawback? Using RemotePC requires a subscription — there's no free edition. But that's okay if you're an individual or small-to-medium business that needs reliable connections among a variety of client and host systems. iDrive currently offers host editions for Windows, Mac, and Linux; clients can run on Windows, Mac, iPhone, iPad, Android, Chromebook — or possibly any device with a browser. (The client is your local device. The host system is the machine you're accessing remotely.)
Note: If you want free remote access, I discussed the basic and easy-to-use Chrome Remote Desktop in the 2020-10-05 AskWoody Plus newsletter. (Our newsletter editor uses it to view and control his PC-based weather station from an iPhone.)
The hallmark of RemotePC is its flexibility. Along with access and control, you can transfer files, use a digital whiteboard, chat with someone on the other end of the link, print remotely, record your remote sessions, and remotely reboot the other machine. An option to host virtual meetings is also included with all RemotePC payment plans.
To safeguard connections, the service provides strong security and encryption — including a personal key for an extra level of authentication. You also receive an email notification the first time a device signs in to remotepc.com with your account credentials. You can also set up two-step verification to further protect your account. iDrive provides daily, around-the-clock support via email, chat, or phone.
Subscriptions start at just U.S. $29.50 per year (Consumer plan; $22.12, for the first year) for a single user accessing up to two systems. The SOHO plan costs $69.50 per year ($52.12 for the first year) and supports an unlimited number of users connecting to as many as ten computers.
As I write this column, iDrive has an attractive limited-time promotion. If you already use a competing remote-control product such as GoToMyPC, LogMeIn, TeamViewer, or Splashtop, you can get RemotePC at $2.95 for the first year of the Consumer plan and $6.95 for the first year of the SOHO plan. (You might be required to show proof that you have a valid account with one of those competing services.) There's also a seven-day free trial.
Setting up the host
To get started, browse to the RemotePC website and sign up for the type of account you want. Next, download and install the program on a host computer (again, the machine you will access remotely).
You'll then be asked to set up the host for always-on remote access. Click the Configure Now button, confirm or change the name of the computer, and then create/confirm a personal key as the host-access password. Next, click the Enable Now button (see Figure 1).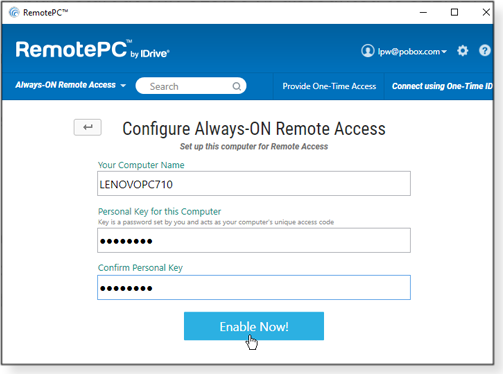 Figure 1. Setting up RemotePC consists of giving the host system a name and an access password.
You can also switch from the always-on remote access to a one-time pass (Figure 2). That's useful if you want to, say, allow a tech-support person temporary entry into your machine. Just give them the generated Access ID and Key.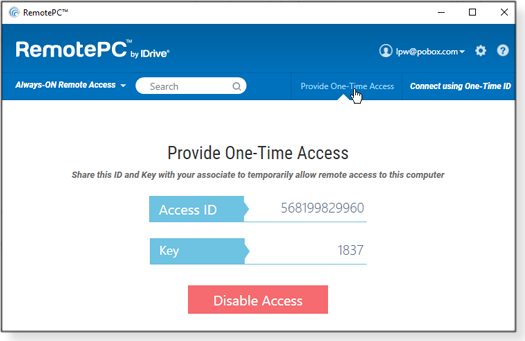 Figure 2. Use the One-Time Access option to allow short-term connections to the host.
RemotePC offers a variety of customization options. To make changes, click the gear icon in the upper-right corner of the app's main window (see Figure 3). The first selection removes the wallpaper on the host PC during a session. That should help improve screen refresh speed. You can also disable the Windows Aero theme and sleep mode, show desktop notifications, and so forth. You'll want to run through these before starting a live session.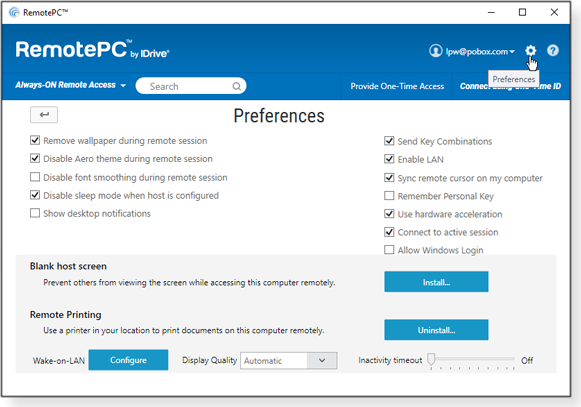 Figure 3. After installing RemotePC on the host, your next stop should be the app's Preferences window.
Repeat the above steps on any other hosts you'll need to access remotely.
Client devices
There are three ways to connect to the remote host system: via the desktop application (Windows, macOS, and Linux), through the RemotePC website, or by using an app for Android/Chromebook or iOS/iPadOS.
The desktop application is the most effective client because it supports all RemotePC features. The website and the mobile apps lack some advanced options but still let you connect to, and fully control, the host computer.
Whatever client edition you choose, start by signing in to your RemotePC account. The main screen will then pop up with a list of host systems associated with your account and currently online. Click the name of the target host, enter your personal key, and then click Connect (or Connect/key, depending on the client). Figure 4 shows the full remote desktop displayed on my local machine.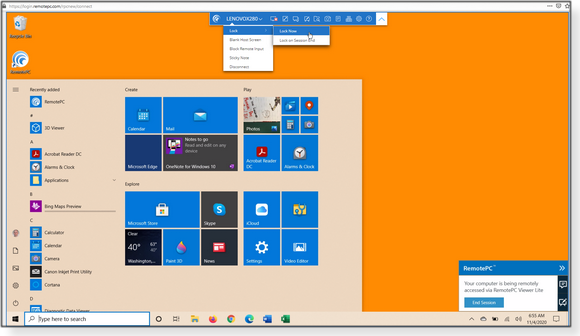 Figure 4. My remote Lenovo desktop is shown in a local browser.
When using the RemotePC Viewer Lite website, click the big dropdown arrow at the top of the browser window to access controls. From there, you can, among other things, lock the session (Figure 5), disconnect, switch to full screen, use the whiteboard, transfer files, take a snapshot, or chat with someone on the remote system.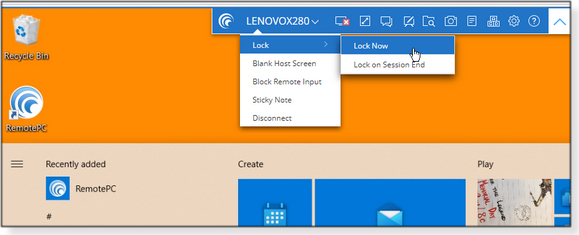 Figure 5. The browser-based session controls on the client device
With the desktop app, the various menu items are in a toolbar at the top of the RemotePC window (Figure 6). From there, you have quick access to all other RemotePC controls.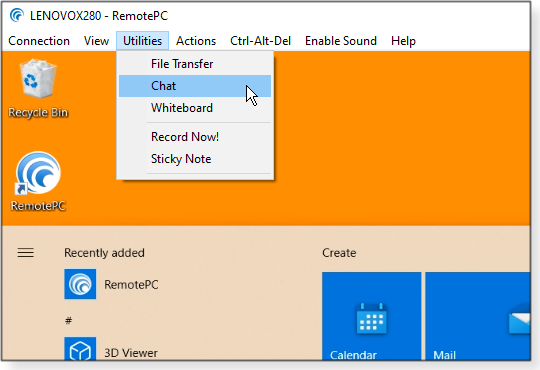 Figure 6. On client devices, use the desktop edition of RemotePC for all session controls and options.
To access a host system from mobile devices such as Android phones, iPhones, and iPads, first download and install the RemotePC client app. Next, open the app and sign in to your RPC account. An introductory Hints screen will explain how to navigate around the remote system by using various gestures.
During an active session, a small sidebar on the right side or on the bottom of the client's display has icons that, when tapped, open a menu of controls (Figure 7).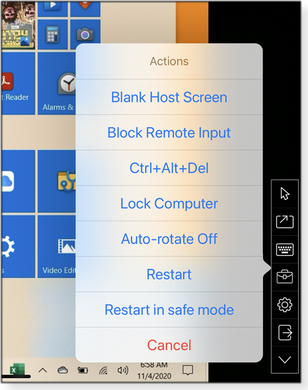 Figure 7. When connecting to a host system from a phone or tablet, RemotePC still offers a robust set of controls.
Many of us are still adapting to working from home. Being productive requires, among many other things, a good set of hardware and software tools. Whether troubleshooting a friend's or relative's computer remotely or grabbing that forgotten file off an office workstation, RemotePC should provide the easy and reliable connections you need.
Questions or comments? Feedback on this article is always welcome in the AskWoody Lounge!
Lance Whitney is a freelance technology reporter and former IT professional. He's written for CNET, TechRepublic, PC Magazine, and other publications. He's authored a book on Windows and another about LinkedIn.
---
Best of the Lounge
Choosing an Internet-security provider
It seems everyone has a strong opinion about what the best anti-malware app/service is. Plus member Kathy Stevens found that out when she asked for input from the Lounge.
So many choices; so hard to decide. Various respondents suggest the simplest solution: Windows' built-in Defender. Join the discussion and add your experience with specific AV products.
---
Using AskWoody
We confess that the AskWoody site's search capabilities could be better. So it's no surprise that newish Plus member bharney asked for the best way to find past stories in the newsletters. Fellow Loungers offered some tips. But another avenue is to look up the newsletter indexes we regularly post online. For the most recent, use this link — or check out the full 2019 index.
---
Windows Updating
Drivers can be one of the casualities of a Windows upgrade. After an upgrade to Win10 2004, Plus member Tom received an unwelcome error message about a USB 3.0 driver. And tests showed that external drives are now operating at USB 2.0 speeds. With no easy solution, the consensus from the lounge is to roll back to Version 1909. Do you have a better answer?
---
Recycling
One of the more annoying aspects of many ink-jet printers is their cartridges. They're expensive and they don't last long, and deciding whether to take the time to recycle them gnaws at your conscience. With the pandemic still in full swing, resident Apple expert Nathan Parker was reluctant to drop off his dead Canon cartridges at a local store. Is there a mail-in solution? Eventually, he found the information he needed on the Canon site. He shares the link with fellow Loungers — and points to another useful website.
---
Windows Updating
Every new release of Windows brings the potential for compatibility issues with third-party apps. Lounger John L thought that an upgrade to Version 20H2 might have broken the popular Windows Update MiniTool, used as a more-powerful substitute for Windows' built-in updating tool. Fellow Loungers confirmed that the newest edition of MiniTool works just fine. But they also recommended an alternative.
---
File Transfer
The file-transfer utility FileZilla is one of those classic apps. But Plus member WSIHipschman is worried that it might now be bundled with malware. That could well open a discussion about the definition of "malware." Is a bundled software offer malicious or simply annoying? As it turns out, you can find a "clean" download file on the FileZilla site. Do you have a favorite FTP tool?
---
Fun Stuff
And you think you've got a problem when Windows refuses to boot! Plus member Latka shares a photo of an extremely unfortunate message on airport information monitors.
---
If you're not already a Lounge member, use the quick registration form to sign up for free.
LANGALIST

Windows' built-in Reliability Monitor

By Fred Langa

This hidden gem of an app usually can pinpoint — in copious detail! — exactly what's causing PC glitches.

Built into every copy of Windows, it's also easy to invoke and use. Plus: Updated information on Performance Monitor's erratic /report option.

---

On Security

A few smallish gremlins still infest Win10 20H2 and 2004

By Susan Bradley

With the release of Windows 10 20H2, May's Version 2004 has moved into an elder-sibling role.

But that doesn't mean that the spring update no longer has growing pains. Currently in the process of upgrading my systems to Version 2004, I've not run into any significant problems. But that's not the case for everyone.

---

Shorts

Following a trail of utilities

By TB Capen

It's always a bit surprising how researching one topic can lead you to others.

In this case, it started with an AskWoody Lounge post about the classic FTP app FileZilla.

A forum member was concerned that the FileZilla download files reportedly contain malware. That's unlikely, but a free version of the app currently does include "sponsoring" software.
---
Publisher: AskWoody LLC (woody@askwoody.com); editor: Tracey Capen (editor@askwoody.com).
Trademarks: Microsoft and Windows are registered trademarks of Microsoft Corporation. AskWoody, Windows Secrets Newsletter, WindowsSecrets.com, WinFind, Windows Gizmos, Security Baseline, Perimeter Scan, Wacky Web Week, the Windows Secrets Logo Design (W, S or road, and Star), and the slogan Everything Microsoft Forgot to Mention all are trademarks and service marks of AskWoody LLC. All other marks are the trademarks or service marks of their respective owners.
Your subscription:
---
Copyright © 2020 AskWoody LLC, All rights reserved.