ISSUE 20.28.F • 2023-07-10 • Text Alerts! • Gift Certificates
You're reading the FREE newsletter

You'll immediately gain access to the longer, better version of the newsletter
when you make a donation and become a Plus Member. You'll receive all the articles shown in the table of contents below, plus access to all our premium content for the next 12 months. And you'll have access to our complete newsletter archive!
Upgrade to Plus membership today and enjoy all the Plus benefits!
In this issue
PUBLIC DEFENDER: A computer museum near you is closing soon
Additional articles in the PLUS issue
HARDWARE: Creative uses for external drives
HARDWARE DIY: TrueNAS and Windows together
ON SECURITY: Traveling with security
---
---
PUBLIC DEFENDER
A computer museum near you is closing soon

By Brian Livingston
You certainly remember your first boyfriend or girlfriend. You might also remember your first cigarette and your first drink (hopefully not while driving your first car). But who's going to remember the pioneering computer technology breakthroughs that have put mainframe power on everyone's desks and in everyone's pockets?
There are discouraging signs that much of our electronic history is going to be lost. Computer museums are trying to preserve the evidence of each historic achievement. But the difficulties of collecting and maintaining working examples of the devices that led the way to today's cyber-paradise are creeping up on us:
The Boston Computer Museum, once one of the largest such institutions with 53,000 square feet of working space, permanently closed in 1999. Most of its artifacts were sent to a new Computer History Museum in Mountain View, California.
The Living Computer Museum in Seattle, Washington, is one of the latest casualties. Funded in 2006 by Microsoft cofounder Paul Allen, the institution changed its name to Living Computers: Museum+Labs in 2016 to expand its appeal to the public. But Allen passed away in 2018 and the facility — deprived of its main benefactor — ceased operations in May 2020.
It isn't just computer museums. One in three museums of all types in the US may close permanently, citing lower attendance after the coronavirus pandemic made many people leery of crowds, according to an article in The Art Newspaper.
But it isn't all doom and gloom. There are glimmers of light from dedicated tech historians who are making sure the innovations of the past remain available for the future to learn from.
The System Source Computer Museum of Maryland is a survivor
Despite all the closures and dire projections for computer museums, at least one repository of our digital history has a solid footing. It's the System Source Computer Museum of Hunt Valley, Maryland (a suburb of Baltimore).

Figure 1. Bob Roswell, founder of the System Source Computer Museum in Maryland, stands in the open side of the museum's C-shaped Cray-1 supercomputer. Photo courtesy of System Source Museum
System Source, a private business, is an IT systems integrator founded by Bob Roswell and Maury Weinstein in 1981 as a ComputerLand store. Having separated from the chain many years ago, today's firm provides equipment and services to businesses, governments, and individuals.
The System Source Computer Museum, a nonprofit organization, was chartered as a tax-exempt charity in 2018 under the name Maryland Technology Museum. (SSCM acts as the trade name for the museum.)
SSCM displays more than 5,000 devices from the collective consciousness's computing past. These priceless artifacts include an original Apple 1, a first-run IBM PC-1, a 12-bit DEC PDP-5 minicomputer (circa 1963), and much more.
When I visited the museum recently, Roswell was particularly proud of its genuine Cray-1 supercomputer. (See Figure 1.) It occupies an entire room, mostly due to its bulbous circular stand. The base doesn't contain electronics, as you might expect. Instead, it holds massive cooling pipes and pumps to keep its high-energy circuit boards from overheating and melting.
Computer museums engage themselves in a constant debate: Should everything in the inventory be on display, or only those artifacts that are currently in good working order?
SSCM has a definite answer. Its Cray-1 is not operational. This is not just because an earlier owner years ago sold the machine's essential circuit boards to collectors on eBay. Even if the goliath's electronics still remained in place, turning on the supercomputer would require 115 kilowatts of power. Imagine 2,000 60-watt incandescent light bulbs flicking on at once. That's far more juice than the museum's building is capable of delivering.
There's a lot more to a museum than just computers
We tend to forget that there were technologies before the Apple 1 and the IBM PC. These earlier inventions were just as revolutionary for their times as desktop computers and smartphones.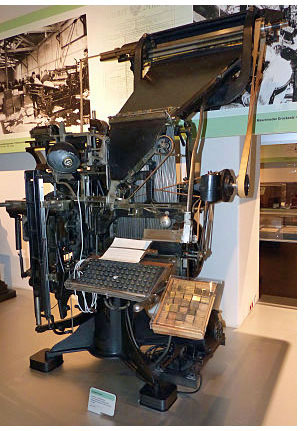 For example, the System Source Computer Museum has a working Mergenthaler Linotype machine. First produced commercially in 1886, the Linotype shown at left is an 1895 model housed at the Technical Museum of Vienna, Austria. (Photo by Wikimedia Commons)
It's hard to imagine that — before the Linotype — all newspapers, magazines, and books were manually typeset by printers' apprentices placing metal letters, one at a time, into fixed frames.
In a radical advance, operators sitting at the machine's 90-character keyboard let the Linotype assemble the individual characters automatically. Molds reflecting each inverted letter were transported into a single line. A molten lead alloy, heated to 620°F (327°C), was then sprayed onto each row of type. This created one line out of the many that would eventually mass-produce a printed publication. Once each line was made, the Linotype auto-magically conveyed the molds back to their original trays to be reused.
Unlike the disabled Cray-1, Roswell proved to me that System Source's Linotype was very much in working order. He did this by typing a sentence on the machine's keyboard and handing me the resulting row of now-cooled lead. (A line o' type, get it?) Fortunately, we weren't sprayed with an errant stream of molten metal, an occupational hazard. Machine operators had to catch these hot sprays in a metal "hell bucket." Such buckets would often melt — go to hell — presenting yet another danger for printers' apprentices. (Wikipedia)
Today, of course, newer technologies such as PostScript and HTML have taken over the publishing world. At this point, a Linotype machine is used to produce only one newspaper in the United States (according to CBS News) and one in Europe (France's Le Démocrate de l'Aisne).
But it was the invention of the Linotype — which made mass printing economical — that laid the groundwork for the wealth of information sources we now enjoy.
In the beginning, there was darkness, and then came the light
The first, early desktop computers are a kind of creation myth for nerds.
Older readers will recall the MITS Altair. It blasted forth on the cover of the January 1975 issue of Popular Electronics magazine as the first do-it-yourself personal computer. It cost mere hundreds of dollars instead of thousands, like Big Business computing machines. This shocking news inspired thousands of new tech companies. You may have heard of one such firm, which was then known as Micro-Soft — formerly Traf-O-Data — whose first product was Altair BASIC.
My own history, for better or worse, reveals me as a hopeless early adopter:
I leased a new Compuwriter I, the first affordable phototypesetting machine. At that point in the 1970s, my new typesetting business was the only service in western Oregon that output sharp-looking type on photographic paper rather than on inky, hot-metal galleys.
This put me in direct competition with the University of Oregon Press. The Linotype in the school's print shop had previously been the primary way for businesses to typeset words locally. Once my doors opened, local advertising agencies (among others) were ecstatic. They flooded my shop with manuscripts taking advantage of curvaceous new fonts that were available only via phototypesetting, such as the then-modernistic Souvenir typeface.
I purchased an Altair imitator in 1977 and put it together as a test. You had to program the device by flipping eight front-panel switches up or down. That produced one byte of an instruction. This step was repeated for your entire codebase. The machine stored its programs and data as beeps on audio tape written via a cassette-tape recorder.
I quickly decided that this cute plaything was completely unsuitable for any serious business purpose. So I set the toy aside and rented time on a DEC minicomputer instead. Once I had adequate computing power, I developed a commercial electronic funds transfer service. My clients were credit unions, who used EFT to automatically collect monthly loan payments (in return for giving consumers a lower interest rate), and YMCAs, who used the service to receive regular membership fees (which gym users often "forgot" to mail in every 30 days).
Due to formative experiences such as these, I still have a soft spot in my heart for the pioneers of the technology industry, such as the early Apples, PCs, Crays, and all the rest.
But I can hardly imagine any 20-somethings being interested today in devices they've never heard of. An Altair? Isn't that a star?
Most older technology breakthroughs eventually fade from the public eye. There aren't many slide-rule museums for math junkies or buggy-whip repositories for horse-drawn carriage enthusiasts.
System Source's Roswell revealed to me in an interview some challenges facing computer museums, as well as some fixes. Many of the solutions require major donors to step up:
We spend about $325,000 per year. Salaries and acquisitions are the biggest expenses. We are averaging about 40 visitors per week, or 2,000 visitors per year. Clearly not a good business plan.
I have the financial resources to support the museum for several years, and my will has provisions to keep it viable for a few years if and when I pass. The plan is to move the museum to a destination — likely Orlando, Florida — where large numbers of people spend leisure time. (74 million visitors per year to Orlando!)
System Source has an optimistic outlook, but many others are living on borrowed time. Find the closest computer museum and go visit it this week. When the place closes its doors for the day, you never know when that might turn out to be the last time the collection will ever open again.
For a list of computer museums in 28 different countries, see a Wikipedia compilation page.
For information on the System Source Computer Museum, see its website.
Do you know something that we all should know? Tell me about it!
Send your story in confidence to publicdefender@askwoody.com.
Join the conversation! Your questions, comments, and feedback
about this topic are always welcome in our forums!
The PUBLIC DEFENDER column is Brian Livingston's campaign to give you consumer protection from tech. If it's irritating you, and it has an "on" switch, he'll take the case! Brian is a successful dot-com entrepreneur, author or co-author of 11 Windows Secrets books, and author of the new fintech book Muscular Portfolios. Get his free monthly newsletter.
---
ADVERTISEMENT
---
Here are the other stories in this week's Plus Newsletter
HARDWARE

Creative uses for external drives

By Peter Deegan

Despite the availability of cloud storage over fast Internet connections and the ever-increasing size of storage built into all devices, external storage devices have many uses.

And even though the very term "external drive" conjures up images of desktop "bricks" containing rotating hard drives, external storage can consist of any storage device that can be connected to a desktop, laptop, or phone and appears to that computer as a disk drive. As we'll see, external drives can connect in many ways, serve many purposes, and be as tiny as a thumbnail.

HARDWARE DIY

TrueNAS and Windows together

By Ben Myers

TrueNAS is installed, so let's put it to work in the world of Windows.

My first article about TrueNAS left everyone on the edges of their seats, excitedly wanting to see how TrueNAS becomes part of a small network to be used as a local repository for our personal information.

Edge of your seat? Okay, probably not. But it was the best place to split a project article in two. I left you hanging at the TrueNAS Dashboard, the starting point for any and all actions needed to make TrueNAS useful.

ON SECURITY

Traveling with security

By Susan Bradley

With the past few terrible years behind us, more and more people are beginning to travel again.

But modern traveling raises technology questions. What to take, how to connect securely to the Internet, and how to do it affordably? Those roaming charges can be expensive!

Here are some tips for those returning to the road, along with a bit of travel advice.
---
Know anyone who would benefit from this information? Please share!
Forward the email and encourage them to sign up via the online form — our public newsletter is free!
---
Enjoying the newsletter?

Become a PLUS member and get it all!

Don't miss any of our great content about Windows, Microsoft, Office, 365, PCs, hardware, software, privacy, security, safety, useful and safe freeware, important news, analysis, and Susan Bradley's popular and sought-after patch advice.

PLUS, these exclusive benefits:

Every article, delivered to your inbox
Four bonus issues per year, with original content
MS-DEFCON Alerts, delivered to your inbox
MS-DEFCON Alerts available via TEXT message
Special Plus Alerts, delivered to your inbox
Access to the complete archive of nearly two decades of newsletters
Identification as a Plus member in our popular forums
No ads

We're supported by donations — choose any amount of $6 or more for a one-year membership.
---
The AskWoody Newsletters are published by AskWoody Tech LLC, Fresno, CA USA.
Your subscription:
Microsoft and Windows are registered trademarks of Microsoft Corporation. AskWoody, AskWoody.com, Windows Secrets Newsletter, WindowsSecrets.com, WinFind, Windows Gizmos, Security Baseline, Perimeter Scan, Wacky Web Week, the Windows Secrets Logo Design (W, S or road, and Star), and the slogan Everything Microsoft Forgot to Mention all are trademarks and service marks of AskWoody Tech LLC. All other marks are the trademarks or service marks of their respective owners.
Copyright ©2023 AskWoody Tech LLC. All rights reserved.