ISSUE 17.41.F • 2020-10-19
The AskWoody Newsletter
FREE EDITION
---
In this issue
LANGALIST: Activation issues after a Win10 reinstall
BEST OF THE LOUNGE: Windows 10 20H2 is in the chute
Additional articles in the PLUS issue
WINDOWS 10: The inevitable OS: Windows 10 at five years
PATCH WATCH: It's the end of the line for Office 2010
WINDOWS 10 2004: Taking another look at Sandbox
ADVERTISEMENT
PC Repair Tool

Take the Pain Out of PC Repair & Tune-up

PC Repair Tool is a free to use online computer repair service which:

Safely revives the life of your PC
Restores peak performance instantly
Tunes-up Windows with essential fresh files

Click here to give your PC a complete check-up!
LANGALIST
Activation issues after a Win10 reinstall

By Fred Langa
Uh-oh: My PC failed activation after a fresh, from-scratch Windows reinstall. What now?
Don't panic! There are a number of easy-to-use solutions and workarounds, including the little-known Software Licensing User Interface that's built into every copy of Windows 10.
Worried about OS activation after a reinstall
AskWoody subscriber Joe LaPointe wanted to scrub the OEM bloatware off his new PC using the techniques he'd read about in "Updated: A textbook-perfect Win10 reinstall" (AskWoody Plus newsletter 2020-10-5) and "A post-reinstall checklist for Windows 10" (2020-10-12).
But Joe had a serious concern: he worried that he might invalidate his OEM-provided Windows license.
"Hi Fred! I read your articles in the AskWoody newsletter with great interest. I just purchased a Dell XPS 13 laptop, and I'm planning to perform a Win10 reinstall to get rid of any crapware and the McAfee security software.

"You mentioned that I probably would not need to have a Win10 activation number to perform the reinstall. However, if I download the latest version of Win10 Pro 64bit, I will most likely need to have an activation number, because I didn't purchase Win10 separately.

"The only activation number I have is the one that came with the laptop — and it's for an OEM version of Win10.

"Will an OEM activation number work for a downloaded version of Win10?"
Yes! Almost surely. Win10 activation/reactivation is designed to be — and is, in my experience — extremely reliable.
OEM PC setups usually activate via a digital license, more formally called the "System Locked Pre-installation" (SLP) key. In most OEM-configured PCs sold today, that key is baked into the system's UEFI firmware, beyond normal user alteration or control. During installation or reinstallation, Windows knows to look for an SLP key and, if one is found, use it for activation.
Separately purchased retail versions of Windows ship with a Certificate of Authenticity Product Key (probably familiar to you as five groups of five alphanumeric characters). This key is used when there's no SLP key present — say, in a home-built PC assembled with parts from various sources.
A formal product key might also be called for when you upgrade to a different edition of Windows — say, from Win10 Home to Pro. (In which case, the original SLP key was tied to the Home edition.)
A new, brand-name Windows PC such as Joe's will have an OEM SLP embedded in the firmware. If you wipe out the original Windows setup and install a fresh, from-scratch copy of the same version/edition of Win10, the original SLP key will still be there, untouched and valid. And the Windows reinstallation routine should automatically look for the key and use it.
Of course, that's not to say that problems can't happen. Ha!
Microsoft's licensing is aimed at thwarting large-scale piracy, not at preventing individuals from legitimately upgrading or reinstalling their operating systems. If you do run into an activation problem, Microsoft provides several readily available workarounds.
For example, Win10 has a built-in activation troubleshooter. Click through Start/Settings/Update & Security/Activation and then select Troubleshoot, as shown in Figure 1. (Note: If your PC is already activated, the Troubleshoot option should not appear.)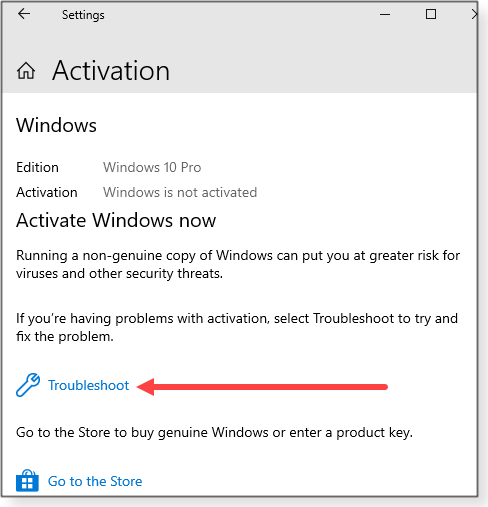 Figure 1. Win10's built-in activation Troubleshooter can resolve many common license-related problems.
Win10 also offers hybrid local/online textual and chatbot help. Simply type get help into the search box, select the Get Help app when it's offered, and then type "activate" into the Find solutions … box. (See Figure 2.)

Figure 2. Win10's built-in Get Help app can assist with troubleshooting.
In addition to offering articles and links, Get Help also has a Contact us button that connects you to a chatbot — a virtual Microsoft agent — that can guide you through various troubleshooting decision trees.
In pre-COVID times, human agents were also available. They're not now (see Figure 3), but they might return at some future point.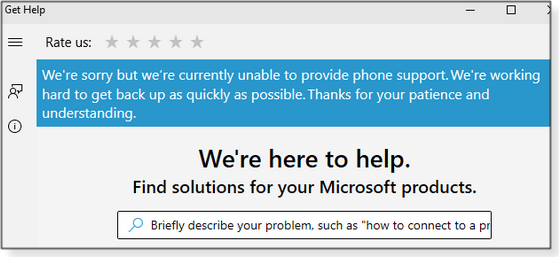 Figure 3. Microsoft has temporarily dropped phone support.
If your problem is beyond what the simpler tools can remedy, there's plenty of in-depth information available online. For example, the "Activate Windows 10" support page offers four different ways to activate, depending on initial conditions:
Reactivation after reinstalling Windows 10;
Reactivating Windows 10 after a major hardware change;
First-time installation and activation on a new device or mainboard;
Activating a refurbished Win10 device.
You'll also find many other online resources listed at the end of this article.
And if none of those applies, or if they don't help, there's still the little-known but extremely reliable by-telephone activation process.
Using the Software Licensing User Interface (SLUI)
By-phone activation involves an ordinary voice call (toll-free in much of the world) and usually takes less than 10 minutes. (Note: This method works everywhere — it covers the entire planet — and works in both Win10 and Win8.1.)
Phone activation via SLUI is easy, but because it's intended as a manual, last-resort option, it's somewhat hidden.
There are several ways to get started, but I prefer the most direct route: simply type this command into the Windows search box.
slui.exe 4
A Windows activate-by-phone dialog window will open (see Figure 4).

Figure 4. Windows' built-in Software Licensing User Interface works from anywhere on the planet — as long as you have a working phone.
Select your country or region and click Next.
Another dialog window will open with a list of the best-available Microsoft licensing-by-phone numbers for your region. You'll also see a 63-digit Installation ID — a series of nine groups of seven numbers that combine to uniquely identify your exact PC and configuration. (See Figure 5. For obvious reasons, I've blurred my PC's unique identifiers.)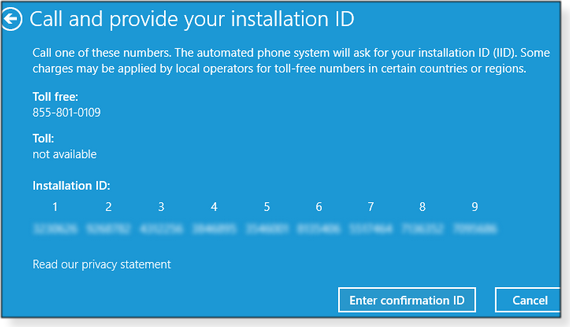 Figure 5. The SLUI window displays a phone number to call and a long numeric identifier (here blurred).
Keeping that window up on your screen, simply dial the indicated phone number, listen to the automated instructions, and follow the given series of steps.
You'll first be asked whether the version of Windows you're trying to activate is already installed elsewhere. Windows licenses are usually one-per-installation, so the correct answer is "No." (It's on the honor system, so please don't cheat.)
Next, the system will ask you to speak or tap into the phone keypad the seven digits in the first Installation ID group. The automated voice will then read back what you've entered, and you'll have multiple chances to re-input any missed digits. When all seven digits of the first group have been correctly sent and confirmed, you'll be instructed to do the same with the second group of digits — and then the third, and so on for all nine groups.
Because you're dealing only with seven digits at any one time, with plenty of feedback and multiple chances to correct errors along the way, it's surprisingly easy to work through the entire long string of numbers.
When you've successfully entered the last digit of the installation ID, click the Enter confirmation ID button at the bottom of the SLUI window and a new dialog window will open. Follow the spoken instructions to enter the new string of confirmation ID numbers that will be slowly read to you, one group of digits at a time.
Take your time and don't worry if you make a mistake; the voice system will offer to repeat things as many times as you may require. You'll also have a final go/no-go check at the end of the process. And, if there's a problem then, you can loop back and re-enter the key anew. So relax! This isn't a high-stress event.
Stay connected to the voice system, following its instructions until your PC reports a successful activation. If there's still a problem, follow the voice prompts for additional options.
But the odds are good that you won't need to go that far. One of the built-in tools and troubleshooters, support articles, or the manual SLUI method, will surely get your PC activated again!
More Windows-activation help:
So don't fear reactivation! It's rarely a problem with Win10 on today's hardware, and there's plenty of help available in those oddball instances where things don't work quite as they should.
Send your questions and topic suggestions to Fred at fred@askwoody.com. Feedback on this article is always welcome in the AskWoody Lounge!
Fred Langa has been writing about tech — and, specifically, about personal computing — for as long as there have been PCs. And he is one of the founding members of the original Windows Secrets newsletter. Check out Langa.com for all of Fred's current projects.
---
Best of the Lounge
Windows 10 20H2 is in the chute
The release of a new Win10 version is always a time of angst — and caution. Da Boss woody notes that we should all know how to block 20H2. To that end, Patch Lady Susan Bradley and Woody have posted instructions for keeping the latest Win10 at bay.
In the related forum post, fellow Loungers provide additional information on this important task.
---
CATEGORY
Troubleshooting file rights and ownership problems in Windows can be really daunting. After moving files from an old PC to a new system, Plus member WSIHipschman could no longer copy or delete them. Responding to the call for help, Lounge members provided tips on registry hacks, inheritance settings, PowerShell commands, and other techniques for taking back file ownership.
---
UPDATING
Better late than never? Forum members note that the patch in question replaces a buggy update designed just for Win8.1 and Win7 — and available only from the Microsoft Update Catalog. If you get your .NET Framework fixes via Windows Update, you're good.
---
NETWORKING
The first thought you might have with this question is … why? All mobile devices come with Wi-Fi support — otherwise they wouldn't be all that mobile. But Lounger Zaphyrus is planning for the future. Fellow Loungers discuss the pros and cons of replacing the wireless card in a laptop versus using an external adapter.
---
APPLE
Resident Apple guru Nathan Parker offers up a tip on using macOS's built-in Preview app to combine multiple PDFs into one document. He also recommends a third-party app for PDF power users.
---
SECURITY
Plus member skeptamistic ran into a problem with an update that blocked Outlook and other Microsoft apps. Reviewing Windows' Firewall settings proved fruitless. Various cures were suggested by other forum members, but the problem was solved by resetting the firewall. Simple fixes are always best.
---
Windows 10
One has to wonder how much unneeded baggage Windows 10 still carries. Case in point: Plus member FL Jack is annoyed to have three different Microsoft browsers installed — all unused. Fellow Loungers offer tips on removing, hiding, and/or disabling the unwanted browsers.
---
If you're not already a Lounge member, use the quick registration form to sign up for free.
WINDOWS 10

The inevitable OS: Windows 10 at five years

By Richard Hay

This past July, Microsoft's flagship operating system, Windows 10, reached its fifth anniversary.

Over the past half-decade, Microsoft has put a lot of work into Win10, aggregated into the current Version 2004, released this past May. (The next release, Version 20H2, is due out this month. But we haven't gotten a good look at it, and it's reportedly a minor upgrade.)

Arguably, Win10's evolution has made it a better OS. But it still gets a mixed reception from users. Some people love it, others hate it — and then there's the mass of users who have simply learned to live with it.

---

PATCH WATCH

It's the end of the line for Office 2010

By Susan Bradley

Microsoft is closing the book on two business workhorses: Office 2010 and Exchange 2010.

From a productivity-app perspective, 2010 was an excellent vintage for all Windows users — from individuals to small businesses to the Enterprise. Whether it was managing email, building massive spreadsheets, or creating complex documents, Office and Exchange gave us an excellent foundation. But as of October 13, Microsoft dropped all support for both platforms.

---

WINDOWS 10 2004

Taking another look at Sandbox

By TB Capen

Back in June of last year, we published a first look at Windows 10's then-new Sandbox feature.

Simply put, Sandbox creates a virtual version of Windows 10 that you can use for software and configuration testing. Whatever happens in Sandbox mostly stays in Sandbox.

Sandbox debuted in Windows 10 1903 to great interest … until reports of issues with the tool started rolling in. Now with Win10 2004, Microsoft has enhanced its virtual machine — and hopefully won't break it again.
---
Publisher: AskWoody LLC (woody@askwoody.com); editor: Tracey Capen (editor@askwoody.com).
Trademarks: Microsoft and Windows are registered trademarks of Microsoft Corporation. AskWoody, Windows Secrets Newsletter, WindowsSecrets.com, WinFind, Windows Gizmos, Security Baseline, Perimeter Scan, Wacky Web Week, the Windows Secrets Logo Design (W, S or road, and Star), and the slogan Everything Microsoft Forgot to Mention all are trademarks and service marks of AskWoody LLC. All other marks are the trademarks or service marks of their respective owners.
Your subscription:
---
Copyright © 2020 AskWoody LLC, All rights reserved.