ISSUE 20.20.F • 2023-05-15 • Text Alerts! • Gift Certificates
You're reading the FREE newsletter

You'll immediately gain access to the longer, better version of the newsletter if you make a donation and become a Plus Member. You'll receive all the articles shown in the table of contents below, plus access to all our premium content for the next 12 months. And you'll have access to our complete newsletter archive!
Upgrade to Plus membership today and enjoy all the Plus benefits!
In this issue
MICROSOFT NEWS: All in on AI
Additional articles in the PLUS issue • Get Plus!
INTERNET: Browser security and privacy — with the right extensions
FREEWARE SPOTLIGHT: Upscayl — Killer robots are good at other things
PATCH WATCH: May's messy updates
---
---
MICROSOFT NEWS
All in on AI

By Will Fastie
On May 4, Microsoft announced the "next wave of AI innovation."
Well, we'll see about that.
There was no parade, nor any hoopla associated with this announcement. The entirety of the presentation was in a single blog post, which might have gone unnoticed had I not received an email from a Microsoft spokesperson telling me about it. That was unusual.
But that's not the news.
Corporate Vice President & Consumer Chief Marketing Officer Yusuf Mehdi's post was rather bland. It included a set of eight videos and the post's description of them. All are in Microsoft's YouTube channel Bing, but only two are available if you simply visit that channel. The other six are unlisted, which means you can only see them if you have the link. But they are all marketing shorts, not detailed explanations.
The reason for the post?
The new Bing is now in open preview and no longer has a waitlist.
That's not a big piece of news, but it does have some significance. Here's one brief excerpt from Mehdi's post:
We're also beginning our journey to a redesigned Microsoft Edge where one in four Bing chats originate. Edge continues to be your copilot for the web, the first to use AI, and the only browser with Bing built-in. As these changes begin to roll out, you'll begin to see a sleeker and enhanced user interface including a streamlined look, rounded corners, organized containers and semi-transparent visual elements.
The bold emphasis in the above quote is as written by Microsoft.
Updates to Edge have been creeping in over time, with the new Bing icon prominently displayed on the toolbar (Figure 1).

Figure 1. Bing icon on Edge toolbar (upper right)
Figure 1 shows the default page for a new tab. Notice the missing URL in the address bar. This default page is also displayed when you don't have sites set to display when Edge is opened.
This is not Bing.com, and it behaves a bit differently. For example, I searched for the late, great Jon Lord and Figure 2 shows what I saw as I was typing.

Figure 2. A search in progress on Bing's default page
Right at the top, Edge is prompting the user to use Bing, described as "Your AI-powered copilot for the Web." I thought Bing was a search engine but, apparently, it's sitting in the right-hand seat. Joking aside, this is the tip of the iceberg in what appears to be a paradigm shift. That becomes more evident as we proceed.
If you click Get Started, you'll be taken to the "Welcome" page shown in Figure 3.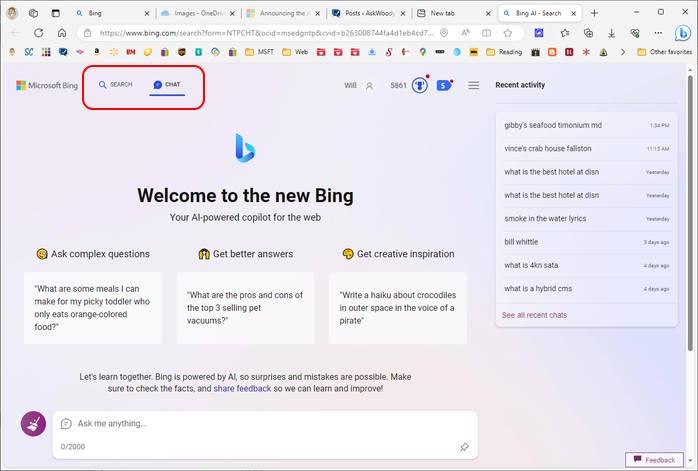 Figure 3. The Bing Chat welcome page
Notice the menu near the top with Search and Chat links. Clicking Search displays a more customary Bing search results page (Figure 4).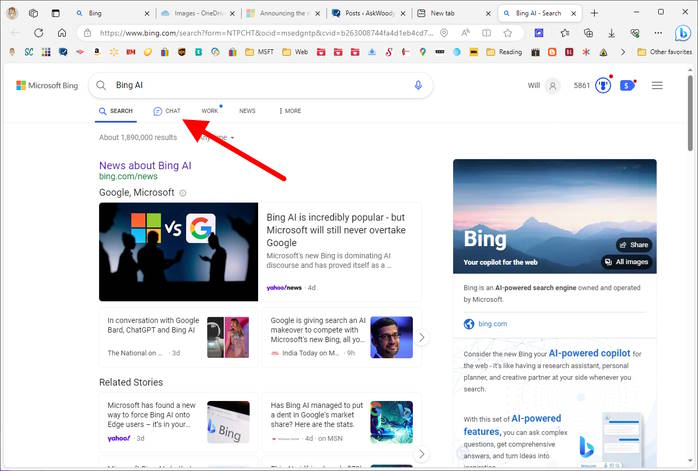 Figure 4. Bing search with new menu
Chat is now an option in Bing.com's search pages. But more than that, it's being pushed hard. In the past, my search for Jon Lord in the upper right corner of the search results would have returned a small Wikipedia panel (Figure 5).

Figure 5. Wikipedia panel returned from a search for Jon Lord
Figure 6 illustrates the result with the new Bing.

Figure 6. The updated Edge returns a new Bing chat panel.
Even though my request was nothing more than a straight search, the result was a panel in the upper right containing Bing AI at work. Clicking the See more button expands the panel to reveal the full chat mechanism.
There are two important points illustrated by the figures above:
By default, these AI-powered features are pushed to you whether you ask for them or not. It's an indication of how aggressive Microsoft is being. Very pushy, if you will.
This is not just something that is happening at Bing.com. Take another look at Figure 2 and notice again that the address bar contains no URL. In other words, that search page is generated by Edge, not by the Bing.com site. This is all integrated. Pushy.
That is the news. Microsoft is not asking whether you want this feature — in Edge, it's just on. At Bing.com, it's just on.
You may think I'm making too big a deal about a feature in a browser employed by a small minority of users and a search engine overwhelmed by Google. Surely this same kind of thing will happen to the other browsers at some point, especially Chrome. For now, the only exemplar is Edge. But I did wonder what would happen if I viewed Bing.com in a different browser (Figure 7).

Figure 7. Bing.com in Firefox
Pushy again. And a bit devious. You can see the wording in the expanded callout in Figure 7, which announces that you can "start exploring" in Edge. Is the implication inherent in this little dialog that clicking the Chat now button will take you to Edge so you can chat? Or will the chat happen in Firefox?
The answer is both. At first, clicking the Chat now button will display a page with the headline "You're only one step away from … ." If you click through, Microsoft will want to install Edge or switch to it if it's already installed. I'd like to show you what that dialog looks like, but because I backed up and started over to try to get the screen capture, Bing decided I wasn't going to use Edge and so reverted to the new Bing.com behavior (Figure 6). I thus lost the opportunity to get a screen capture.
All in
It's worth reading Mehdi's blog post to get a fuller sense of where Microsoft is headed. One thing is abundantly clear — the company continues to move very quickly on all things AI.
Join the conversation! Your questions, comments, and feedback
about this topic are always welcome in our forums!
Will Fastie is editor in chief of the AskWoody Plus Newsletter.
---
ADVERTISEMENT
---
Here are the other stories in this week's Plus Newsletter
INTERNET

Browser security and privacy — with the right extensions

By Lance Whitney

Each browser offers its own settings for security and privacy, but you can often control these options better via third-party extensions.

Managing your online privacy and security is always a challenge, especially as you browse different websites where you shop, bank, invest, and sign in to accounts personal or professional.

FREEWARE SPOTLIGHT

Upscayl — Killer robots are good at other things

By Deanna McElveen

All you hear about these days is the lightning-fast advancements of artificial intelligence. It's as if no one had watched a single science-fiction movie in the past 30 years.

Luckily, until our toasters take us out in our sleep, AI can be pretty useful. When you lack the skills to complete a necessary task, many free software programs that use AI are ready to help.

PATCH WATCH

May's messy updates

By Susan Bradley

Although the May releases for both Windows and Apple have not introduced side effects or hiccups so far, they haven't been as problem-free as they should have been.

Apple released the first of its "rapid response" updates, announced last June and supposedly allowing the company to deploy important security-only software updates without demanding a reboot.
---
Know anyone who would benefit from this information? Please share!
Forward the email and encourage them to sign up via the online form — our public newsletter is free!
---
Enjoying the newsletter?

Become a PLUS member and get it all!

Don't miss any of our great content about Windows, Microsoft, Office, 365, PCs, hardware, software, privacy, security, safety, useful and safe freeware, important news, analysis, and Susan Bradley's popular and sought-after patch advice.

PLUS, these exclusive benefits:

Every article, delivered to your inbox
Four bonus issues per year, with original content
MS-DEFCON Alerts, delivered to your inbox
MS-DEFCON Alerts available via TEXT message
Special Plus Alerts, delivered to your inbox
Access to the complete archive of nearly two decades of newsletters
Identification as a Plus member in our popular forums
No ads

We're supported by donations — choose any amount of $6 or more for a one-year membership.
---
The AskWoody Newsletters are published by AskWoody Tech LLC, Fresno, CA USA.
Your subscription:
Microsoft and Windows are registered trademarks of Microsoft Corporation. AskWoody, AskWoody.com, Windows Secrets Newsletter, WindowsSecrets.com, WinFind, Windows Gizmos, Security Baseline, Perimeter Scan, Wacky Web Week, the Windows Secrets Logo Design (W, S or road, and Star), and the slogan Everything Microsoft Forgot to Mention all are trademarks and service marks of AskWoody Tech LLC. All other marks are the trademarks or service marks of their respective owners.
Copyright ©2023 AskWoody Tech LLC. All rights reserved.