ISSUE 18.23.F • 2021-06-21
In this issue
PUBLIC DEFENDER: Anom: A $2,000 smartphone that let the FBI listen in
Additional articles in the PLUS issue
LANGALIST: Short Takes: Three interesting reader-submitted Q&As
HARDWARE: Why Wi-Fi 6, aka 802.11ax, for Your Wireless?
BEST UTILITIES: Freeware Spotlight — Notes Keeper
ON SECURITY: Getting rid of local administrators
ADVERTISEMENT
Become a PLUS member!

Plus members receive the full newsletter, including all our great content about Windows, Microsoft, Office, 365, PCs, MS-DEFCON Alert notifications, useful and safe freeware, Susan Bradley's sought-after patch advice, and continuous access to the complete archive of nearly two decades of Windows Secrets and AskWoody Newsletters.
---
PUBLIC DEFENDER
Anom: A $2,000 smartphone that let the FBI listen in

By Brian Livingston
Special smartphones that were supposedly the most super-secretive in the world actually resulted in at least 800 arrests, the seizure of eight tons of cocaine, and the recovery of $48 million in currency from organized-crime gangs on June 6 and 7.
The FBI, Europol, Australian Federal Police, and the law-enforcement agencies of several other countries announced on June 8 that they had quietly intercepted 27 million messages from what's being called "WhatsApp for criminals."
How this sting operated holds valuable information for you and any company you work for, even if you aren't planning to join an organized-crime syndicate soon.
The phones criminals thought were safe actually divulged everything
The intercepted material had come from customized smartphones called Anom (short for anonymity). The phones had been "jailbroken" — an ironic term, in this case — with most tracking and app functionality removed. Even the phones' GPS capabilities were disabled, supposedly to prevent a user's location from being revealed. (See Figure 1.)
To appear like an ordinary phone, the stripped-down devices included a typical calculator app. But the cute utility hid a texting service that was advertised as being untraceable by authorities.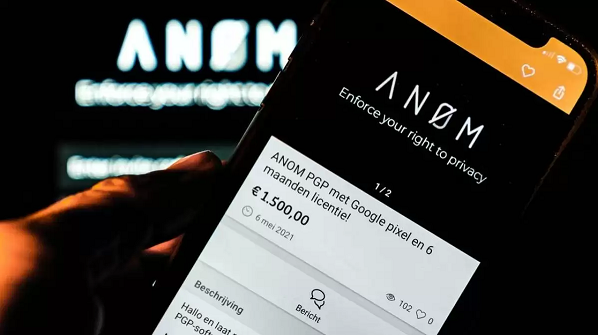 Figure 1. A link to Anom offered the customized phones (in Dutch, in this instance) for 1,500 euros, about $1,817. That included six months of worldwide connectivity, renewable for another $250 or so each month after the initial period.  Source: We the World
Impressed by the device's supposedly unbreakable encryption, thousands of Anom purchasers soon dispensed with code words and cryptic comments. Some of the communicators were so bold as to include photos of drug shipments as proof of delivery. And others casually discussed which functionaries who had outlived their usefulness would be whacked or, in one case, thrown overboard to drown at sea. (See Figure 2.)
Because the FBI and other agencies had set up the Anom system in the first place, all the messages went straight into law-enforcement computers, where they were translated when necessary and acted upon almost in real time.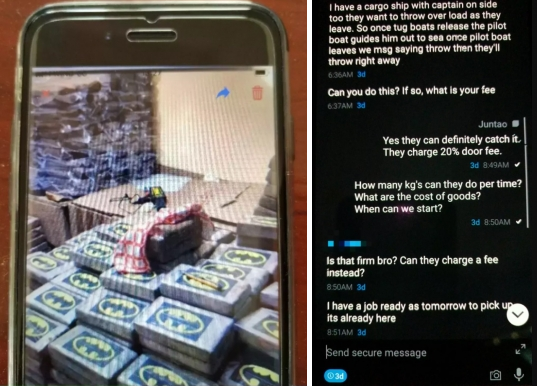 Figure 2. Believing themselves to be free from detection, users sent each other photos of drug deliveries (left) and made arrangements for the murder of inconvenient lackeys (right).  Source: Screen shots from FBI statement
To give criminals a good reason to buy the new "super encryption" phones, authorities in numerous countries coordinated their efforts to shut down pre-existing devices and services that also served organized crime:
Phantom Secure, a device maker based in Canada, went belly-up in 2018 when authorities with court-approved warrants seized its equipment. The group's CEO, Vincent Ramos, and his associates pleaded guilty in a California court. The CEO was given a prison term of nine years, in addition to forfeiting around $80 million in ill-gotten gains.
In July 2020, European police agencies were able to compromise an encrypted app named EncroChat, which led to hundreds of its users being arrested.
Another encrypted-chat organization known as Sky Global was closed by the FBI in March 2021.
The shutdown of each of these messaging networks tended to push organized-crime gangs toward a new device — Anom. What the criminals didn't know is that Anom had been secretly run since 2019 by law-enforcement agencies in the US, UK, Europe, Australia, New Zealand, and other countries.
Instead of learning a valuable lesson — encrypted phones might not be as secure as advertised — criminals simply flowed into Anom. By May 2021, more than 12,000 Anom phones were operating in at least 100 countries around the world.
The Feds even recovered 85% of the bitcoins from scammers
In an unrelated case — but another sign that everything is not as secure for criminals as they may think — the FBI made a major breakthrough in the tracking of bitcoins that had been paid out by a victim of a ransomware attack.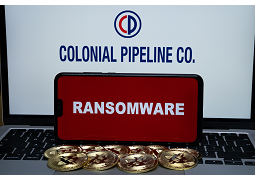 Colonial Pipeline, a distributor of almost half of the gasoline and jet fuel delivered to markets in the eastern United States, announced on May 7 that its computer systems had been locked up by a cyber attack. As filling stations in numerous states quickly began running out of fuel, the company transmitted into a hacker's digital wallet a ransom of 75 bitcoins, worth about $4.3 million at the time.
Remarkably, the FBI reported on June 7 that it had recovered 63.7 (or 85%) of the bitcoins that Colonial had sent to the hackers. The agency had somehow determined the perpetrators' "private key" and simply transferred the cryptocurrency back to the pipeline's owners. In other words, the FBI had hacked the hackers.
What we can take away from these victories over criminals
Anom's busts and Colonial's bitcoins have been widely reported elsewhere, so I won't go into all the fascinating details here. What's important — for individuals as well as company executives who are concerned about security — is to answer some pressing questions:
Why did the agencies reveal Anom instead of quietly continuing it? For one thing, the need to obtain search warrants and conduct raids worldwide meant that the true nature of Anom would immediately become clear in court documents. Equally important was the chilling effect on criminals that the agencies' announcement could create. "The supreme irony here is that the very devices that these criminals were using to hide from law enforcement were actually beacons for law enforcement," said Acting US Attorney Randy Grossman. "We aim to shatter any confidence in the hardened encrypted device industry with our indictment and announcement that this platform was run by the FBI."
Why weren't the criminals more suspicious of Anom? Some potential users were leery, but most of them never read the technical analyses that came out. As early as March 2021, a user named canyouguess67 blogged that Anom devices were "in constant contact" with law-enforcement servers. "I was quite disturbed to see the quantity of IP addresses relating to several organizations within the 5 eyed Governments (Australia, USA, Canada, UK, NZ) who share information with one another," the blogger wrote before his post was deleted, according to a We the World article. But warnings such as these didn't slow Anom's adoption by organized-crime gangs.
How did the FBI recover Colonial's bitcoins if crypto is so anonymous? Bitcoin transactions are recorded in a public ledger known as a blockchain. "Using bitcoin as a payment method, especially for illegal activity such as ransom, is extremely dangerous for the attackers. They can be easily traced and caught, and their money can be seized," says Slava Gomzin, director of cybersecurity for Toshiba Global Commerce Solutions. Why, then, was bitcoin specifically requested by the hackers? "Most are probably located in the hacker-haven countries, such as Russia, China, North Korea, or Iran, that don't have extradition agreements with the West. So they are not afraid of the FBI, not worried about being caught, and simply did not think the law-enforcement agencies would be clever enough to find a way to seize their money." Gomzin believes hackers may switch to monero, a cryptocurrency that conceals from public inspection all details of transactions.
What encryption devices can you trust? You can't fully trust anything. No matter how strong an encryption scheme may be, there's always a possibility that the software or hardware contains a "back door" to allow some agency — or a snoopy insider — to record your communications.
We'll debate for the rest of our lives the correct balance between absolute privacy, in which no wrongdoing can ever be detected, and legitimate court-authorized warrants to permit agencies to collect evidence on suspected criminals.
In the meantime, no matter how much you think you've ensured privacy, you always need to consider the likelihood that someone, somewhere, might be listening in.
| | |
| --- | --- |
| | Do you know something that we all should know? Tell me about it! I'll keep your identity totally confidential or give you credit, as you prefer. Send your story via the Public Defender tips page. |
| | |
| --- | --- |
| | Join the conversation! Your questions, comments, and feedback about this topic are always welcome in the AskWoody Lounge! |
The PUBLIC DEFENDER column is Brian Livingston's campaign to give you consumer protection from tech. If it's irritating you, and it has an "on" switch, he'll take the case! Brian is a successful dot-com entrepreneur, author or co-author of 11 Windows Secrets books, and author of the new book Muscular Portfolios. Get his free monthly newsletter.
LANGALIST

Short takes: Three interesting reader-submitted Q&As

By Fred Langa

In today's first item, a subscriber asks for help after experiencing a bizarre partial keyboard failure, but the diagnosis is complicated by some unusual hardware.

In the second item, a different reader is concerned about what might happen to the data in his PC's BIOS/UEFI during a planned mainboard battery replacement.

And in the third item, a reader wonders about the standby power draw of his device's plug-in battery charger.

HARDWARE

Why Wifi6, aka 802.11ax, for Your Wireless?

By Ben Myers

Now that there is broad availability of routers compatible with the new Wi-Fi 6 standard, it's easy to ask, "What's in it for me?"

There is a myriad of devices that are compatible with the 802.11ac specification, from laptops to cell phones to tablets to Internet of Things (IoT) devices. But the 802.11ac spec is not without limitations.

BEST UTILITIES

Freeware Spotlight — Notes Keeper

By Deanna McElveen

I decided that I wanted a note-taking program for service calls and in-shop repairs, but I wanted it to meet certain criteria. It had to be portable so I could use it from my flash drive. It had to be free because I'm a cheapskate. And I wanted it to have word-processor type features but be super-easy and fast. And, last but not least, I wanted it to allow me to add pictures to my notes.

ON SECURITY

Getting rid of local administrators

By Susan Bradley

Administrator rights are easy to set up but hard to remove.

Once upon a time, we always configured Windows computers with full administrative rights. We thought nothing of it; it was an expected and a normal part of getting a computer system ready to go. We took being an administrator for granted because we needed to install software and run programs that required administrator rights.
---
You're welcome to share! Do you know someone who would benefit from the information in this newsletter? Feel free to forward it to them. And encourage them to subscribe via our online signup form — it's completely free!
---
Like what you see in the
AskWoody FREE newsletter?

Become a PLUS member!

As a Plus member, you'll receive the full newsletter, including all our great content about Windows, Microsoft, Office, 365, PCs, MS-DEFCON Alert notifications, useful and safe freeware, and Susan Bradley's sought-after patch advice. Plus membership also allows continuous access to the complete archive of nearly two decades of Windows Secrets and AskWoody Newsletters.

Naturally, Plus members have all the benefits of free membership, including access to the popular AskWoody forums.

The cost? We're supported by donations — choose any amount for a one-year membership. Every little bit helps.
---
Publisher: AskWoody Tech LLC (sb@askwoody.com); editor: Will Fastie (editor@askwoody.com).
Trademarks: Microsoft and Windows are registered trademarks of Microsoft Corporation. AskWoody, Windows Secrets Newsletter, WindowsSecrets.com, WinFind, Windows Gizmos, Security Baseline, Perimeter Scan, Wacky Web Week, the Windows Secrets Logo Design (W, S or road, and Star), and the slogan Everything Microsoft Forgot to Mention all are trademarks and service marks of AskWoody Tech LLC. All other marks are the trademarks or service marks of their respective owners.
Your subscription:
---
Copyright © 2021 AskWoody Tech LLC, All rights reserved.