ISSUE 18.48.F • 2021-12-13
In this issue
LANGALIST: AskWoody subscribers test Windows 11
Additional articles in the PLUS issue
PUBLIC DEFENDER: Mad at costly Grinch bots? Get yourself a free one.
WINDOWS 11: Two solid replacements for the kludgy Windows 11 Start menu
ON SECURITY: Click-to-run dribbles out changes
---
ADVERTISEMENT
Free new technology grows your money faster
Ever since I started writing my series of Windows Secrets books, I've felt that new technology can change people's lives — for the better.
Now I'm giving away the latest in fintech (financial technology). I'm revealing fintech formulas at no charge — because I'm a journalist, not a Wall Street banker — so your hard-earned money grows faster with no need to pay any old-tech "financial adviser":
• The S&P 500 turned $1,000 into a little over $4,000 since 2007 (the orange line).
• You'd have over $5,000 with simple index funds and free fintech (the blue line).
Get full details in my free newsletter and a free report. Use this link or enter into any browser BRI.LI/NT8. Thanks!  

 Brian Livingston, AskWoody columnist
---
LANGALIST
AskWoody subscribers test Windows 11

By Fred Langa
AskWoody members are experimenting with Windows 11 … and getting mixed results.
Today's examples: One reader got good (albeit confusing) results with Microsoft's free Win11 Virtual PC, but another suffered a much less happy outcome with a for-real installation.
This column provides additional detail regarding the free Win11 VPC and the likely causes (and remedies!) for the second PC's problems.
More on Microsoft's free Windows 11 virtual PC
Virtual PCs — machines entirely emulated in software — are a great way to experiment with a new operating system without risk to your current, actual setup.
In Safely test-drive Win11 Pro … for free! (AskWoody Plus 2021-12-06), you saw how and where to obtain a free, preconfigured Windows 11 Pro/Enterprise virtual machine for VirtualBox, VMware, Hyper-V, or Parallels.
Subscriber Scott Lake tried the VirtualBox version — the same one that I use.
◼ Fred: I was able to install the Windows 11 VM on VirtualBox just fine. I have the latest version of the software and installed the latest Additions.
But I am unable to activate the VM. I get the message "Windows has reported that the hardware of your device has changed. Error code 0xC004F211."
I did change the account after getting the message for the first time to use a valid MS email account.
Any suggestions? Thanks.
Glad you got it working! There's no safer way to try Win11 than in the protective confines of a virtual machine.
But here's the thing with this particular setup: By design and intent, Microsoft's Win11 VM is limited just to general testing purposes, and so comes with some restrictions.
For one thing, the preconfigured Win11 VM is intentionally unable to be activated — it must be used in its as-delivered, inactivated form. It's also set up with a low-security, passwordless, local, admin-level user account.
As Scott found, you can change the latter to improve security. Win11's account types, names, and privilege levels are managed much the same as Win10's. See the Microsoft support pages Windows sign-in options and account protection and Switch from a local account to a Microsoft account.
But even if you set up the Win11 VPC with a real, password-protected Microsoft account, you still won't be able to activate it, by design.
It's actually not a problem in a test setup because all core Windows features and functions — the stuff you really want to test — work the same with or without activation.
But some nonessential elements, services, and add-ons are absent or limited in inactivated Windows.
For example, inactivated Windows downloads only critical updates; many optional updates and some other downloads, services, and apps from Microsoft (that normally are included with activated Windows) will be blocked, and some personalizations and customizations will be prohibited. Again, this has no effect on the core operating system — all the major functions and features work completely normally.
IMO, this modest limitation isn't unreasonable for a giveaway VM that's expressly intended for testing. It's simply not designed to be used in ongoing, customized, personalized, daily use. For that, you need a product key and activation.
This is also why the VM files are time-limited to around two months' use, after which you'll need to start over with a fresh (free) download.
All Win11's core elements — including the new interface changes — work exactly the same in the free VM as in a paid-for, activated setup, so time spent with the VM version will truly let you see and experience what Win11 is all about.
If you're curious about Win11 but don't want to risk your current setup, check out Safely test-drive Win11 Pro … for free! (AskWoody Plus 2021-12-06).
Win10 to Win11 … and back to Win10 again
AskWoody subscriber JJ Hay tried Win11 on his for-real setup and was less than thrilled with the outcome.
◼ Fred, I've been having computer problems for the past week: slow as custard and then dumped me off.
I wiped Drive C: and forced a new Win11 install. Tried it for a day. I hated the layout and got frustrated finding how to do stuff. Worse, I have two HDDs, the first being C: and D: and the second being E: and F:.
Win11 steadfastly refused to recognize the second HDD (E: and F: ), which is a deal-breaker for me.
I then downloaded the very latest iteration of Win10 and am again good as gold!
I'll stay on it 'til the last minute (years away yet) and then probably change to Linux Mint, which in form and function is very similar to Win10.
Nice try, Win11, but no cigar!
Win11 has teething issues, sure, but I think it's way, way premature to write it off.
Your secondary HDD problem, for example, is almost surely due to driver trouble (either with the USB system or the HDD drivers themselves) or incompatibilities with a drive-enhancement app that you've installed (e.g., a boot manager, partitioner, cache, compressor, encryptor, etc.).
In this regard, Win11 is a bit of an anomaly. Windows' basic driver support has been very good for many years now. It's unusual for a new version of Windows to be unable to work correctly with up-to-date drivers and software from the immediately previous Windows version. But Win11 driver trouble did happen to me (with Wi-Fi drivers and SSD disk cache software), and it appears to be happening to you (with your secondary drive).
This condition should be temporary. As long as your hardware is still actively supported by its manufacturer or vendor, any required new updates for Win11 should be forthcoming soon. For example, in my case both HP and ASUS have recently released firmware updates for my PCs. So, check your OEM's support pages over the next days and weeks.
Re: Layout and interface. Yes, alas, some elements of Win11 seemed designed solely for visual appeal, without regard to operational efficiency.
For example, in Windows 11: Not quite ready for prime time (AskWoody Plus 2021-11-22; scroll down to "The return of the Win8 mistake"), I discussed how the new default Taskbar's centered icons shift position as you open and close apps. This turns essential icons — even the Windows flag icon — into moving targets that might not be in the same position for two consecutive uses. It's a tiny speed bump, sure, but one you'll encounter again and again and again. It adds up.
And Win11 context menus now do somewhat the same thing. It's not just that some context menus are now truncated (see Windows 11: Not quite ready for prime time; scroll down to "Win11 File Explorer's context menus are truncated"). Rather, Win11 adds new icons to the context dialog, ones which represent shortcuts to whatever common function Win11 thinks you're likely to want to do next.
That's all fine, but these icons also shift position and can appear either at the top or bottom of the dialog, depending on where you originally clicked.
Figures 1 and 2 show two versions of the exact-same right-click dialog for the exact-same file. The only difference is where on the desktop the file was when I right-clicked it.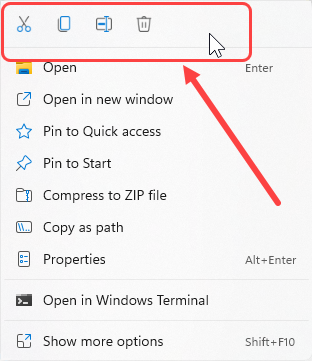 Figure 1. The new Win11 context menu icons sometimes appear at the top of a dialog …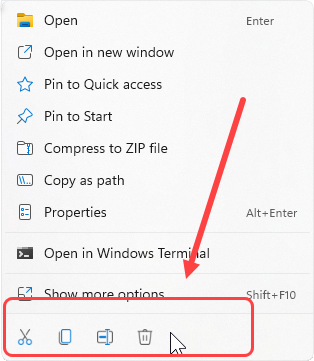 Figure 2. … and sometimes at the bottom of the exact-same dialog.
Again, it's not a huge deal — it takes just fractions of a second to see where the icons have gone — but it's yet another tiny speed bump that Win11 throws into your path. I hope some graphics designer in Redmond is happy, because the old-school UI people are probably tearing their hair out.
But again, annoyances like these do get ironed out — much as the worst elements of the Windows 8.0 interface were rapidly improved in Windows 8.1.
So, it's not that Win11 is bad, or an unworthy successor to Win10, or not worth the upgrade, or any such thing.
It's just that it's not quite done yet and not worth the hassle of the upgrade yet.
When Microsoft, OEMs, and software publishers all finally get on the same page, Win11 will be a fine upgrade for newer, capable PCs.
But not quite yet.
Send your questions and topic suggestions to fred@askwoody.com.
Join the conversation! Your questions, comments, and feedback about this topic are always welcome in the AskWoody Lounge!
Fred Langa has been writing about tech — and, specifically, about personal computing — for as long as there have been PCs. And he is one of the founding members of the original Windows Secrets newsletter. Check out Langa.com for all of Fred's current projects.
---
PUBLIC DEFENDER

Mad at costly Grinch bots? Get yourself a free one.

By Brian Livingston

This year's global supply-chain crunch is making numerous electronic items go in and out of stock at retailers, and the problem has been made worse by "Grinch bots," automated tools that some operators use to snap up whatever hot tech and toys may momentarily become available.

WINDOWS 11

Two solid replacements for the kludgy Windows 11 Start menu

By Lance Whitney

Don't like the Windows 11 Start menu? Both Start 11 and StartAllBack will bring the menu back to more traditional and usable style and functionality.

PATCH WATCH

Click-to-run dribbles out changes

By Susan Bradley

Office patches are handled differently than Windows patches, and they can be very disruptive as a result.

Microsoft always releases security patches for Windows on the second Tuesday of the month, no matter what the actual date. It's the reason that this month's updates haven't yet arrived — today is December 13, and Patch Tuesday is December 14. We won't receive security patches until tomorrow!
You're welcome to share! Do you know someone who would benefit from the information in this newsletter? Feel free to forward it to them. And encourage them to subscribe via our online signup form — it's completely free!
---
Like what you see in the
AskWoody FREE newsletter?

Become a PLUS member!

As a Plus member, you'll receive the full newsletter, including all our great content about Windows, Microsoft, Office, 365, PCs, MS-DEFCON Alert notifications, useful and safe freeware, and Susan Bradley's sought-after patch advice. Plus membership also allows continuous access to the complete archive of nearly two decades of Windows Secrets and AskWoody Newsletters.

Naturally, Plus members have all the benefits of free membership, including access to the popular AskWoody forums.

The cost? We're supported by donations — choose any amount for a one-year membership. Every little bit helps.
---
Publisher: AskWoody Tech LLC (sb@askwoody.com); editor: Will Fastie (editor@askwoody.com).
Trademarks: Microsoft and Windows are registered trademarks of Microsoft Corporation. AskWoody, Windows Secrets Newsletter, WindowsSecrets.com, WinFind, Windows Gizmos, Security Baseline, Perimeter Scan, Wacky Web Week, the Windows Secrets Logo Design (W, S or road, and Star), and the slogan Everything Microsoft Forgot to Mention all are trademarks and service marks of AskWoody Tech LLC. All other marks are the trademarks or service marks of their respective owners.
Your subscription:
---
Copyright © 2021 AskWoody Tech LLC. All rights reserved.