In this issue
PUBLIC DEFENDER: Can DuckDuckGo raise enough money to give Google a scare?
Additional articles in the PLUS issue • Get Plus!
FREEWARE SPOTLIGHT: HDCleaner — Stay out of my store!
HARDWARE: "Which laptop should I buy?"
PATCH WATCH: Tracking the larger Microsoft ecosystem
---
---
PUBLIC DEFENDER
Can DuckDuckGo raise enough money to give Google a scare?

By Brian Livingston
People in a small but dedicated movement known as "degoogling" strive to avoid being tracked by the Google search giant. That's a challenge, because Google's parent company, Alphabet Inc., also compiles data on you through YouTube, the Play Store, and many other subsidiaries.
A major alternative is a privacy-focused search engine with the weird name of DuckDuckGo. (Founder Gabriel Weinberg, soon to become a father, chose the moniker in 2008 after the children's game Duck, Duck, Goose.) DDG, as the search engine is sometimes known, promises not to save searches you enter nor retain any information about you.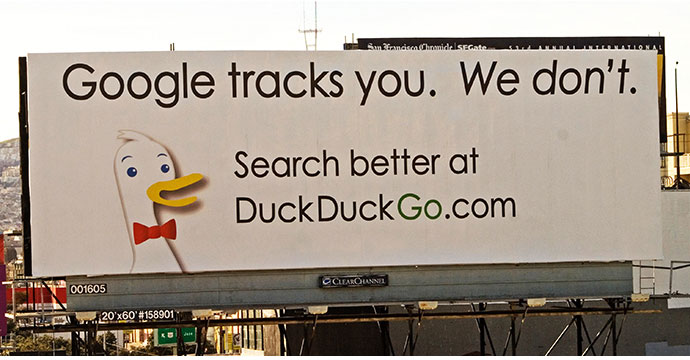 Figure 1. DuckDuckGo sparked growth in the number of search-engine queries it received per day thanks to this billboard, erected in 2011 where drivers pouring off the San Francisco Bay Bridge would see it. Source: Wired article
Maintaining your privacy is an attractive proposition. But it raises the question, "If DuckDuckGo doesn't sell information about you, can it make enough money to compete with Google — or even stay in existence?"
The short answer is, "Yes, it can," but the reasons might surprise you.
This is one duck that can really fly
In 2010 — close to the search-engine startup's first year — people conducted an average of only 45,000 searches per day using DuckDuckGo. By May 2022, searches had grown to 98.7 million per day, according to the company's traffic page. (See Figure 2.)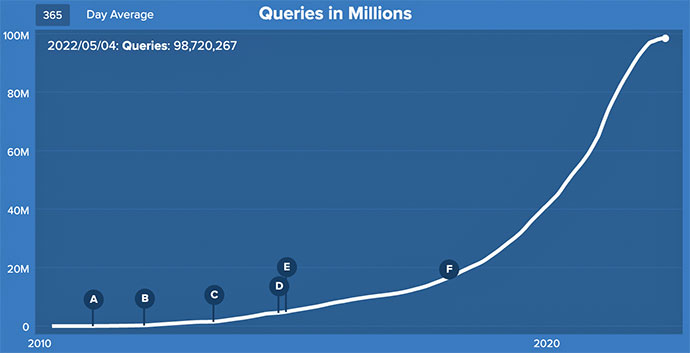 Figure 2. After its billboard in 2011 (A), DuckDuckGo grew due to Google weakening its privacy policy (B), Edward Snowden revealing secret US mass-surveillance programs (C), Safari and Firefox including DDG as a built-in search option (D and E), and the release of DDG's Privacy Beyond Search extension for browsers (F). Source: DuckDuckGo chart via FourWeekMBA article
Privacy is a nice feature to have, but many Web surfers don't consider it as important to them as a search engine's results. Fortunately, DuckDuckGo offers more than just keeping your usage safe from prying eyes:
No filter bubble. Google and many other websites skew your results, based on what they think you want to see. Eric Schmidt, then-CEO and executive chairman of Google and Alphabet, once told Wall Street Journal editors, "We know roughly who you are, roughly what you care about, roughly who your friends are." He added, "It will be very hard for people to watch or consume something that has not in some sense been tailored for them." Calling this a "filter bubble" was popularized in a Ted Talk by Eli Pariser, who says it winds up feeding you "information junk food." DuckDuckGo doesn't filter its results based on who it thinks you are, and it selects ads to display based only on the search terms you've just entered.
No tracking technology. Besides amassing a dossier on each user of its sites, Google promotes website add-ins such as the so-called Accelerated Mobile Pages (AMP). The attorneys general of 16 US states filed a lawsuit in 2020 asserting that Google imposes an excruciating one-second delay on websites that don't adopt its technique. Worse, Google manages to divert 40% of AMP ad revenues to itself — at the expense of participating websites. DuckDuckGo actually shows the original content from the website, preventing Google's AMP baggage from loading. (I explained AMP in my May 9, 2022, column.)
Ranking websites on privacy. DuckDuckGo's Privacy Beyond Search browser extension rates websites you visit with A through F grades based on their privacy policies. DDG partners with third parties to read websites' legal language so you don't have to. (Spoiler: Not many big websites earn an A rating.)
Detailed comparisons of the pros and cons of Google, DuckDuckGo, Bing, and other search engines can be found in reviews by Slant, Traject, and Search Engine Journal.
Growth is great, but DDG still owns only a fraction of the market
It's nice to see a scrappy startup have DuckDuckGo's fast uptake. That doesn't mean everyone's abandoned Google, though.
As of September 2022, almost 90% of the visitors to Wikipedia from search-engine results pages came from Google, according to statistics published by the nonprofit encyclopedia. That implies DuckDuckGo's small share might not attract enough paying advertisers to support DDG's servers and its 100+ paid employees.
Surprisingly, though, DuckDuckGo now represents more than 4% of Wikipedia's search-engine referrals. That beats the Web crawlers promoted by such software giants as Microsoft and Yahoo, not to mention every other search site. (See Figure 3.)


Figure 3. Based on the number of people in the US who visit Wikipedia from various search engines, Google controls almost 90% of the search traffic. But DuckDuckGo now ranks as the second-largest, beating Microsoft's heavily promoted Bing service. Source: Wikipedia search engine referrals page
For a look at global statistics, I recommend Cloudflare's 3Q2022 report on Internet traffic. Cloudflare's content-distribution service is used by some 25 million websites in the world, more than 10% of all domains. This gives the company a broad overview of how many people are going where.
In September 2022, omitting bot traffic, Cloudflare computed that 92.5% of all search-engine traffic worldwide originated from Google. It attributed 2.6% to Yandex (the search engine of a huge conglomerate based in Russia), 2.1% to Bing (Microsoft's crawler), and 0.8% to DuckDuckGo. All other search engines — including Yahoo, Brave, Startpage, and every other contender — split the remaining 2% of traffic.
That makes DDG a small player globally. But I sure wish I had 0.8% of worldwide search-engine traffic! It makes DuckDuckGo a factor that Google and other search engines must contend with. (For one thing, whatever its size, DuckDuckGo has a great ability to embarrass Google by publicizing the corporation's privacy guarantees or lack thereof.)
For an insightful comparison of Wikipedia's and Cloudflare's data-collection methods — with a few cute swipes regarding statistical deficiencies at other market-share firms — DuckDuckGo published in July 2022 a fascinating blog post.
The numbers seem to pencil out
With its consumer-first, privacy-always reputation — but a small global market share — do we need to worry that DuckDuckGo's lack of dominance in the search-engine space will cause it to go out of business?
Hardly. The for-profit company has raised total capital of $172 million, most of that in just the past four years, according to Crunchbase, which tracks venture funding. (See Figure 4.)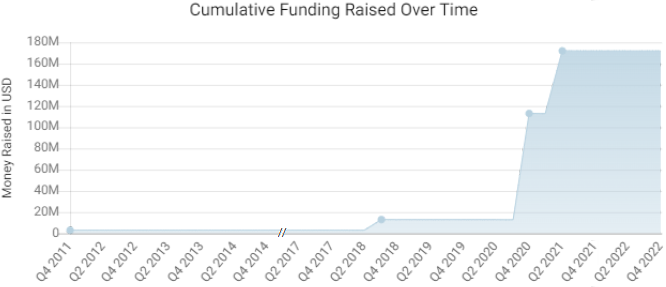 Figure 4. After its beginnings in 2008, DuckDuckGo operated on small infusions of cash in 2011, then raised a total of $172 million in capital. The largest hauls occurred in 2018, 2020, and 2021. Source: Crunchbase's DuckDuckGo financials page
You might recognize some of the names that provided much-needed seed funding back in 2011. They include Tim Berners-Lee, who is credited with inventing the World Wide Web; Mitch Kapor, a founder in 1982 of the Lotus 1‑2‑3 spreadsheet; and his spouse, Freada Kapor Klein, a venture capitalist in her own right.
Do you think they might have seen the need for an alternative to Google?
But what about cash flow? Is a search engine with a market share in the single digits able to attract results-page advertisers in large enough numbers to keep the lights on — especially when the crawler can't say which users are left-handed and red-haired?
Not to worry. DuckDuckGo, a private company whose financials are not public, had annual revenue in 2020 of at least $64 million, according to an Entrepreneur 360 estimate. DDG not only earns money from advertisers, it also sells T-shirts and other swag. Another source of income is the small commission it receives when a Web surfer buys something at eBay or Amazon after visiting a link.
The analysis says DuckDuckGo earns roughly one-quarter of one US cent ($0.0027) from advertisers for each search query that users perform. I guess that adds up, eh?
That's not likely to put Google out of business. Alphabet Inc. published a global revenue figure in 2021 of more than $256 billion, according to a Statista page.
But the Mountain View giant's money is spread around. It's spent in attempts to develop self-driving cars (Waymo), smartwatches (Fitbit), thermostats (Nest), navigation (Waze), and many other things.
This is not to imply that Alphabet is blowing its money. I'm just saying that DuckDuckGo has a solid business model and doesn't need Google's, um, mountain of cash. You shouldn't worry that DDG will go dark on you tomorrow.
If you'd like to try the upstart privacy protector yourself, it's one of the first search results that come up when you enter the term duck into Google. It might be the last search you'll ever perform there (heh-heh).
If you're interested in degoogling in general, a short history with plenty of links to more information is maintained on a Wikipedia page.
In my next column, I'll cover the foibles of some other search engines. Until then — stay safe out there.
Do you know something that we all should know? Tell me about it!
Send your story in confidence to publicdefender@askwoody.com.
Join the conversation! Your questions, comments, and feedback
about this topic are always welcome in our forums!
The PUBLIC DEFENDER column is Brian Livingston's campaign to give you consumer protection from tech. If it's irritating you, and it has an "on" switch, he'll take the case! Brian is a successful dot-com entrepreneur, author or co-author of 11 Windows Secrets books, and author of the new fintech book Muscular Portfolios. Get his free monthly newsletter.
---
ADVERTISEMENT
---
Here are the other stories in this week's Plus Newsletter
FREEWARE SPOTLIGHT

HDCleaner — Stay out of my store!

By Deanna McElveen

Today's featured program is a way for you to stay out of my computer store and clean up your own darned computer.

It's not that I don't like to see a new customer walk in the door. I just know that people remember when you help them, and they will return the favor someday. You know, regular civilized-society stuff.

HARDWARE

"Which laptop should I buy?"

By Will Fastie

During idle chitchat at my podiatrist's office recently, my involvement with computing came out and the nurse immediately asked me which laptop she should buy.

Family, friends, and clients have asked me this question for decades. I thought I had a pat answer, but I found myself fumbling this time. Afterward, it occurred to me that my thinking had not completely evolved with the market. Here's my new, updated answer.

PATCH WATCH

Tracking the larger Microsoft ecosystem

By Susan Bradley

With Microsoft 365 making inroads onto platforms other than Windows, it's increasingly important to track versioning and patches elsewhere.

For example, it's not enough to talk about Microsoft 365 as if it existed only on Windows PCs. We know our readers have more than one device, including phones and tablets. So while my focus with Patch Watch will continue to center on Windows, you'll hear more from me about the broader Microsoft universe.
---
Know anyone who would benefit from this information? Please share!
Forward the email and encourage them to sign up via the online form — our public newsletter is free!
---
Enjoying the newsletter?

Become a PLUS member and get it all!

Don't miss any of our great content about Windows, Microsoft, Office, 365, PCs, hardware, software, privacy, security, safety, useful and safe freeware, important news, analysis, and Susan Bradley's popular and sought-after patch advice.

PLUS, these exclusive benefits:

Every article, delivered to your inbox
MS-DEFCON Alerts, delivered to your inbox
MS-DEFCON Alerts available via TEXT message
Total access to the archive of nearly two decades of newsletters
No ads
Identification as a Plus member in our popular forums

We're supported by donations — choose any amount for a one-year membership.
---
The AskWoody Newsletters are published by AskWoody Tech LLC, Fresno, CA USA.
Your subscription:
Microsoft and Windows are registered trademarks of Microsoft Corporation. AskWoody, AskWoody.com, Windows Secrets Newsletter, WindowsSecrets.com, WinFind, Windows Gizmos, Security Baseline, Perimeter Scan, Wacky Web Week, the Windows Secrets Logo Design (W, S or road, and Star), and the slogan Everything Microsoft Forgot to Mention all are trademarks and service marks of AskWoody Tech LLC. All other marks are the trademarks or service marks of their respective owners.
Copyright ©2022 AskWoody Tech LLC. All rights reserved.