ISSUE 17.28.F • 2020-07-20
The AskWoody Newsletter
FREE EDITION
---
In this issue
BEST UTILITIES: Freeware Spotlight — Antivirus Removal Tool
Additional articles in the PLUS issue
LANGALIST: Sometimes, Wi-Fi just won't fly
PATCH WATCH: July's Outlook Click-to-Run update lays an egg
SMALL BUSINESS: Six steps for securing your WordPress site
ADVERTISEMENT
RoboForm Everywhere

Get RoboForm Everywhere & You'll Never Need to Remember or Type Your Passwords Again

AskWoody Plus Newsletter Subscribers Exclusive: Get 50% off a new RoboForm Everywhere subscription with this link (exp. 7/31/20).

RoboForm is an award-winning password manager, password generator, online form filler, and secure repository where you can safely store sensitive information like credit cards and billing data. Best of all, with RoboForm, you have access to your passwords and saved data on all your devices.

Say goodbye to writing down passwords on scraps of paper or in a password book, and say hello to RoboForm.
Best Utilities
Freeware Spotlight — Antivirus Removal Tool

By Deanna McElveen
One of the lesser-known causes of poor PC performance is the detritus left behind by uninstalled anti-malware programs.
Our shop regularly receives PCs whose owners have removed antivirus programs properly — but services and processes for those apps are still running!
Most anti-malware vendors offer free tools for cleaning out leftover bits and pieces. But why should we have to take this extra step? Why not include a complete uninstall process right from the start? It's really annoying!
As you probably know, I love independent software developers who make things easier for us geeks. One of those talented coders — who goes by the name "Alex C" — has given us the indispensable Windows Repair Toolbox. I can't imagine not having WRT in my diagnostic toolkit (on a flash drive, of course).
Now Alex gives us the Antivirus Removal Tool, a free utility that you can also run from a flash drive. It has the 29 most common antivirus-removal tools built into one utility. Here's the list:
Adaware
Avast
AVG
Avira
BigFix
Bitdefender
Comodo
Dr.Web

Emsisoft
eScan
ESET
F-Secure
G DATA
K7 Computing
Kaspersky
Malwarebytes

Max Secure
McAfee
Microsoft Security Essentials
Norton
Panda
Symantec Endpoint Protection
Trend Micro
Total Defense

TrustPort
VIPRE
Webroot
WinPatrol
ZoneAlarm
Now here's the cool part! You don't need to know which antivirus apps were previously installed — Antivirus Removal Tool (ART) will find them for you.
Grab a copy from our OlderGeeks website and unzip it to your PC or flash drive. Right-click the executable and run as an administrator (that's important).
When ART opens, you'll see four simple sections on the single ART window:
1) Find current AV applications: The utility automatically scans for working anti-malware applications and displays those it finds (see Figure 1).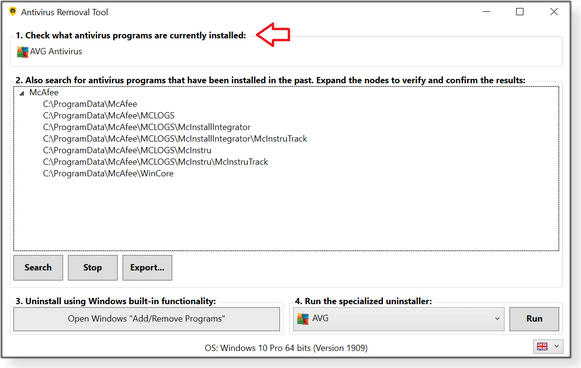 Figure 1. Antivirus Removal Tool shows that AVG Antivirus is running on my system.
2) Find the leftovers: Click the Search button; ART scours the system for remnants of previously installed AV products and then lists what it discovers (see Figure 2).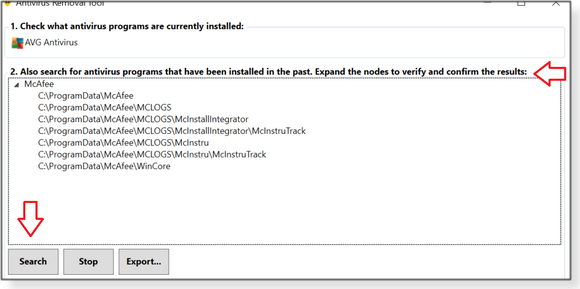 Figure 2. In this example, ART found pieces of McAfee AV scattered about.
3) Try the traditional Windows method: If ART locates pieces of "uninstalled" AV apps, you then have two choices for removing them. Clicking the Open Windows "Add/Remove Programs" button in Section 3 (see Figure 3) lets you try Windows' built-in uninstall system. But since it probably didn't do a complete job previously, what are the odds it'll do better the second time around? 😂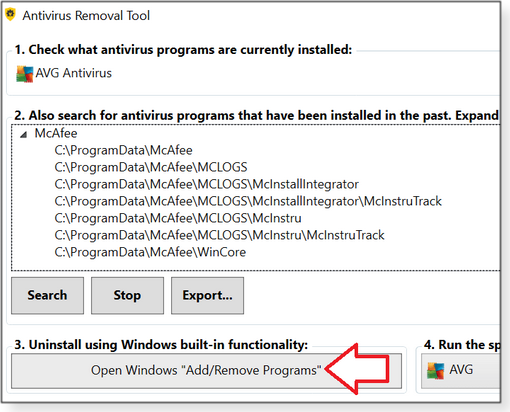 Figure 3. Click the "Open Windows … " button if you want to try to remove an anti-malware app with Windows.
4) Use the right tool for the job: If there are pieces of an AV app left on the system, you're better off trying one of the custom removal tools listed in Section 4, Run the specialized uninstaller (see Figure 4). ART should automatically select the right cleaner. But if it doesn't, simply click the dropdown box and pick the appropriate tool from a list of AV products.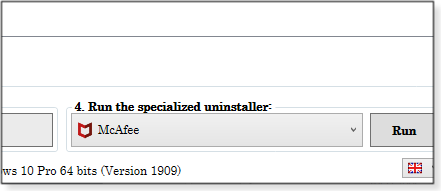 Figure 4. Section 4 lets you select a more robust uninstaller tool.

Figure 5. A partial list of anti-malware products that ART can scrub from a PC
To complete a cleaning, click the Run button and follow any prompts. Figure 6 shows the working tool for removing the McAfee product.

Figure 6. ART launched McAfee's specialized cleaning tool.
The program comes in eight languages (English, French, German, Italian, Portuguese, Russian, Simplified Chinese, and Spanish). And as always, ART is free of charge and free of junkware. And it's portable. Everything we love!
Happy Computing!
Questions or comments? Feedback on this article is always welcome in the AskWoody Lounge!
Deanna and Randy McElveen are celebrating over 20 years in the computer business, ten years running OlderGeeks.com, and more than 26 years of putting up with each other. Their computer store is in a small town in the Missouri Ozarks. Believing that happy customers are always the best advertisement, they hope to do it for another 20 years.
LANGALIST

Sometimes, Wi-Fi just won't fly

By Fred Langa

Steel-framed walls in the Langas' new apartment made Wi-Fi connections ludicrously slow and unusable in the home office.

The router's "SON" (self-organizing network) features didn't help. But a hardware end-run — gigabit-speed powerline network adapters and a 5G smartphone-powered hotspot — got the office communicating again.

---

PATCH WATCH

July's Outlook Click-to-Run update lays an egg

By Susan Bradley

Yes, it's a bit macabre, but I affectionately call the day after Patch Tuesday "dead-body Wednesday."

I coined that term because Wednesday morning is when we get to see whether our systems survived the updates installed the night before. (These are, of course, my test platforms; I would never subject my production machines to immediate/automatic updating.)

There's always some anticipation as to which Windows or Office component will be wounded by an update. This time around, it was Outlook's turn to be placed on the life-support list.

---

SMALL BUSINESS

Six steps for securing your WordPress site

By Nathan Segal

There's a good reason WordPress is the foundation for many small-business websites: it's comprehensive, flexible, and relatively easy to use.

But poor security practices also make these sites popular targets for malicious hackers. Fortunately, there are tools for protecting your WordPress-based assets.

To make sure I have WordPress security set up correctly, I spoke with FortiPress creator Brandon Zundel, a WordPress security expert. Here are his suggestions.
---
Publisher: AskWoody LLC (woody@askwoody.com); editor: Tracey Capen (editor@askwoody.com).
Trademarks: Microsoft and Windows are registered trademarks of Microsoft Corporation. AskWoody, Windows Secrets Newsletter, WindowsSecrets.com, WinFind, Windows Gizmos, Security Baseline, Perimeter Scan, Wacky Web Week, the Windows Secrets Logo Design (W, S or road, and Star), and the slogan Everything Microsoft Forgot to Mention all are trademarks and service marks of AskWoody LLC. All other marks are the trademarks or service marks of their respective owners.
Your subscription:
---
Copyright © 2020 AskWoody LLC, All rights reserved.