ISSUE 18.49.F • 2021-12-20
In this issue
BEST UTILITIES: Freeware Spotlight — Free alternatives to Quicken
Additional articles in the PLUS issue
LANGALIST: More subscriber experiences with Windows 11
MICROSOFT 365: Microsoft's calling confusion: Teams, Meet Now, or Skype?
PATCH WATCH: End of the road for 2004
---
ADVERTISEMENT
WinX DVD Ripper Rips any DVD Movies to MP4 Videos on PC

Do you want access to your DVD library anywhere, at any time? WinX DVD Ripper Platinum can help ripping DVD to MP4 video quickly and flawlessly, allowing you to watch your DVDs on your laptop, smartphone, tablet, and more, whenever you like.
---
BEST UTILITIES
Freeware Spotlight — Free alternatives to Quicken

By Deanna McElveen
Let's be honest here. If your finances are tight or in a shambles, the last thing you need to deal with is figuring out how to pay for an expensive program to fix said finances.
This week, I'm going to give you more bang for your buck by featuring four totally free alternatives to Intuit's Quicken software. Try each of them until you find the one that's right for you. It's not as if you'll need to sit on hold for an hour to get a refund if you don't like one!
The first on my list is my favorite. I know that, from a literary standpoint, I should put it at the bottom of the list — to keep you reading — but I'm an impatient gal.
Eqonomize!
Eqonomize! by the Eqonomize Project (I'm not yelling; it's punctuated that way) is an open-source attempt to give the world a personal finance manager.
Eqonomize! has a simplified layout (I'm impatient AND simple). Everything about your finances is displayed right in front of you, with six tabs across the top for Accounts & Categories, Expenses, Incomes, Transfers, Securities, and Schedule (Figure 1).
(Just a quick note here: I'm using stock images in this article so I can show you what the programs look like without showing you how much I spend on black licorice and pet sweaters.)


Figure 1. A tabbed interface makes everything about your finances easy to access. Source: Eqonomize!
It's a snap to use. Under Accounts & Categories (Figure 2), you add your accounts such as bank, credit cards, expenses, etc. You can create categories for each type of expense, with identifying icons. I just love how simplified it is. I wish I could have used this for a few organizations I was involved with years ago.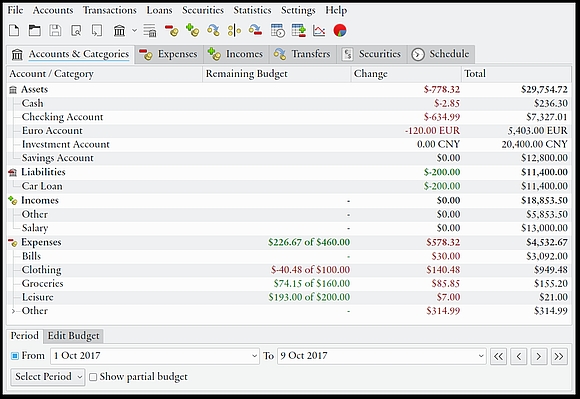 Figure 2. Start off with Accounts & Categories by adding expenses and income accounts. Source: Eqonomize!
Under the Expenses tab, add everything you pay out (Figure 3). At the bottom of this window, add something you paid. They could not have made it easier for you — just fill in the blanks. I firmly believe that a fast-loading personal accounting program, where you can add an expense in 30 seconds, is important. It encourages adding every expense as soon as possible, rather than letting them pile up in your brain because you don't want to take the time to add them.

Figure 3. Expenses is the place to add your day-to-day expenditures. Source: Eqonomize!
Just as you added expenses under the Expenses tab, you will do the same with Incomes (money in), Transfers (moving funds from one account to another), and Securities (Investments).
The Schedule tab lets you add those automatic payments in or out so you don't have to add your Cheese of the Month payment every month. The program will let you know when you have a scheduled item hitting that day.
Ya like charts? Eqonomize! has charts. See a quick assessment of your monthly progress on a line, bar, or pie chart (Figure 4) — which you can print and post on your fridge, if you're really proud of yourself.

Figure 4. Keep the green lines lower than the blue ones, and you should be fine. Source: Eqonomize!
There is so much more to this amazing program. Go to OlderGeeks.com – Eqonomize! and grab your copy. There is a Windows version and a Linux version. There's also a wonderful online manual here.
GnuCash
The next freebie on our list is GnuCash. The year was 1997, and "Titanic" was premiering on the big screen (I won't spoil the ending for you). It was also the year an open-source project called GnuCash first appeared on the scene.
If you read the manual for Eqonomize!, you can probably just hop right into GnuCash. With an even simpler layout (Figure 5), most of its extras are in the dropdown menus at the top.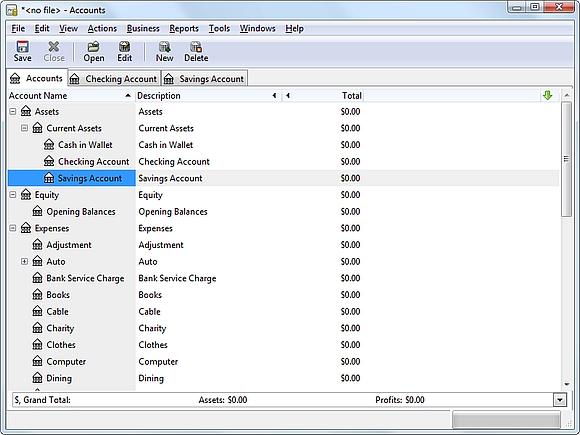 Figure 5. GnuCash also has a simplified, tabbed layout. Source: The GnuCash Project
GnuCash has quite the feature list. Among other things, the program supports:
Double-entry accounting
Bank/liability/expense accounts
Stock/bond/mutual Fund accounts
Small-business accounting (customers, vendors, jobs, invoices, accounts payable/receivable)
Reports, graphs
Scheduled transactions
Financial calculations
Online banking
GnuCash has the ability to import QIF (Quicken Interchange Format), OFX (Open Financial Exchange), and HBCI (Home Banking Computer Interface) information as well.
In Figure 6, you can see GnuCash's built-in assistant for importing QIF information.

Figure 6. Moving from a paid program to a free one like GnuCash needn't be difficult. Source: The GnuCash Project
GnuCash makes getting started easy. A simple pop-up on first launch (Figure 7) asks whether you want to start creating your financial accounts, import QIF files, or start the tutorial. Regarding the tutorial link, OlderGeeks is hosting the portable version of GnuCash by portableapps.com, and apparently the Open the new user tutorial link does not work. No worries! Get to it here: Tutorial and Concepts Guide.

Figure 7. GnuCash makes it easy to jump in and get started. Source: The GnuCash Project
Download the portable version of GnuCash at OlderGeeks.com – GnuCash
HomeBank
Another great money-tracking tool is HomeBank. If you want something a little more polished, HomeBank is a good choice for you. Translated into 56 languages (Figure 8), HomeBank by French developer Maxime Doyen was first created in 1985 as a small BASIC application on his Amstrad CPC6128 to manage his finances. HomeBank, its current name, went on to be released on an Amiga 1200 with version 1.0 in 1998. And this concludes your history lesson.
I'll be honest — if I had not already piled all my stuff into Eqonomize!, I would probably be using HomeBank instead. It has had enough development time to become packed with great features such as:
Importing from Intuit Quicken, Microsoft Money, and others
Import bank account statements (OFX/QFX, QIF, CSV)
Detecting duplicate transactions when importing
Multiple currencies, with online update
Automatic check numbering
Automatic category/payee assigning
Account types: bank, cash, asset, credit card, liability
Scheduled transactions
Transaction templates
Category splitting
Internal transferring
Monthly or yearly budgets
Reports with charts
Vehicle cost

Figure 8. HomeBank excels at different currencies and languages. The pound sterling is shown here.  Source: Maxime Doyen
HomeBank lets you decide how you want to install it (Figure 9) — either normally into your program files folder or as a portable application.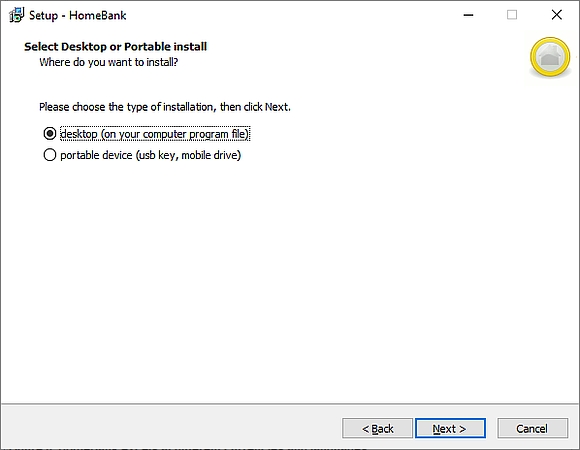 Figure 9. Upon installing HomeBank, you can choose regular or portable mode. Source: Maxime Doyen
HomeBank's biggest claim to fame is its filtering and reporting. It provides the tools to zero in on the exact information you want to see in clean, 2-D graphics. Colors are nice, but they are just eye candy if they don't serve a purpose. HomeBank uses colored graphics to alert you to where you are getting off track (Figure 10).

Figure 10. Money fine? You get green. Money on the edge? Orange. Money not so good? Bright red! Source: Maxime Doyen
Grab a copy from OlderGeeks.com – HomeBank if you're taking a liking to this one. The Help menu will get you started.
Money Manager Ex
Money Manager EX is an open-source personal-finance program for Windows and MacOS. Started by a team of developers from Australia, Poland, Italy, the UK, and Russia, this project probably would never have happened without instant, worldwide communication among dedicated programmers. Download a copy from OlderGeeks.com.
Money Manager EX doesn't mess around. It is a direct, full-featured, and complete package to replace the commercial product you are using now. Its list of features is a mile long, but I'll list the high points:
Uses a wizard to simply create accounts
Provides multiple currencies for each account
Divides and highlights transactions with different statuses
Uses repeating transactions
Allows you to undervalue or increase asset worth by a specific rate per year
Sets up a budget for a year and/or a month
Attaches invoices, receipts, contracts, etc. to every element type
Creates reports with custom SQL queries, LUA functions and HTML + JS frontend
Import sdata from QIF and CSV
Exporst data to QIF, CSV and HTML
Is available in 30 languages
Provides documentation in eight languages
Navigation is done with a left-pane list, unlike the other programs on my list. You can collapse or expand the various categories with simple, Windows-like "+" and "-" controls (Figure 11).

Figure 11. The main window of Money Manager EX keeps important aspects of your finances in view. Source: moneymanagerex.org
Click the green plus "+" at the top, and transactions can be added faster than you can actually spend the money. Just select date, status, type, amount, account, payee, category, etc., and then click OK (Figure 12).

Figure 12. Adding a new transaction is as easy as filling out the pop-up window. Source: moneymanagerex.org
What really put Money Manager EX on this list is its ability to attach files to any type of entry. You can view the list of attachments for an item with a right-click. In the image below (Figure 13), a bank account called "BankAccount4" has four attachments. They are all PDF files in this example, but they could easily be any type of file.
Adding a virtual highlighter also helped it make the list. Who doesn't like making their software look like their high school biology folder?

Figure 13. Adding attachments is a big plus. Having a highlighter is another nice touch. Source: moneymanagerex.org
I hope one of these is just the thing you need as we all navigate this expensive time of the year.
Bonus software — MazeBuilder
Well, you know this had to happen, because who wants to leave it at 13 figures?
MazeBuilder (at OlderGeeks.com) is a free, portable program that creates random mazes of various sizes and then solves the mazes — if you want it to. Keep the maze unsolved, and save it as a bitmapped (BMP) image for printing. Place several at the kids' table for your holiday meal!

Figure 14. I used to make my kids' mazes using graph paper. This is far easier!
Happy computing, and happy holidays!
Our entire philosophy at OlderGeeks is built on being a safe download site
offering software you can trust. We use every program we consider, checking it carefully for bundleware or other sneaky stuff. Every downloadable is checked with VirusTotal and Malwarebytes. If a program is updated, we do the same checks again. We reject more programs than we accept, always stressing quality and safety over padding our collection. Every program mentioned in this article meets our rigorous standards. We're as trustworthy as Grandma's apple pie!
| | |
| --- | --- |
| | Join the conversation! Your questions, comments, and feedback about this topic are always welcome in the AskWoody Lounge! |
Deanna and Randy McElveen are celebrating over a decade running OlderGeeks.com, over two decades in the computer business, and even more than that putting up with each other. Their computer store is in a small town in the Missouri Ozarks. Believing that happy customers are always the best advertisement, they hope to squeeze in a couple more decades doing the same.
---
ADVERTISEMENT

The new way to learn to play music
Melodics is an app that adapts to your abilities and musical tastes
to help you get better at playing keyboards, pad controllers, and drums.
---
LANGALIST

More subscriber experiences with Windows 11

By Fred Langa

AskWoody readers are dipping their toes into Win11's chilly (but warming!) waters, and that means there are more and more real-world cases we can all learn from!

In today's column, you'll read the Win11 experiences of four different subscribers, learn of some corrections and amendments to previous information, and see where Win11 stands as of today.

MICROSOFT 365

Microsoft's calling confusion: Teams, Meet Now, or Skype?

By Peter Deegan

Microsoft has a split personality when it comes to video and audio calling. There's Skype, Skype for Business, Teams calling/meetings, and "Meet Now" in Windows 11.

All three can do the same basic thing — computer-to-computer video/audio calls and meetings. What's the difference, which one to use, and what's the future of all these overlapping Microsoft options?

PATCH WATCH

End of the road for 2004

By Susan Bradley

This is the very, very last patching month for Windows 10 release 2004.

If you are still on 2004, even if you are using the Education or Enterprise editions, you will receive no updates in January or thereafter. Updates for Windows 10 1909 for Education or Enterprise editions expire on May 10, 2022.
You're welcome to share! Do you know someone who would benefit from the information in this newsletter? Feel free to forward it to them. And encourage them to subscribe via our online signup form — it's completely free!
---
Like what you see in the
AskWoody FREE newsletter?

Become a PLUS member!

As a Plus member, you'll receive the full newsletter, including all our great content about Windows, Microsoft, Office, 365, PCs, MS-DEFCON Alert notifications, useful and safe freeware, and Susan Bradley's sought-after patch advice. Plus membership also allows continuous access to the complete archive of nearly two decades of Windows Secrets and AskWoody Newsletters.

Naturally, Plus members have all the benefits of free membership, including access to the popular AskWoody forums.

The cost? We're supported by donations — choose any amount for a one-year membership. Every little bit helps.
---
Publisher: AskWoody Tech LLC (sb@askwoody.com); editor: Will Fastie (editor@askwoody.com).
Trademarks: Microsoft and Windows are registered trademarks of Microsoft Corporation. AskWoody, Windows Secrets Newsletter, WindowsSecrets.com, WinFind, Windows Gizmos, Security Baseline, Perimeter Scan, Wacky Web Week, the Windows Secrets Logo Design (W, S or road, and Star), and the slogan Everything Microsoft Forgot to Mention all are trademarks and service marks of AskWoody Tech LLC. All other marks are the trademarks or service marks of their respective owners.
Your subscription:
---
Copyright © 2021 AskWoody Tech LLC. All rights reserved.