ISSUE 17.37.F • 2020-09-21
The AskWoody Newsletter
FREE EDITION
---
In this issue
BEST UTILITIES: Freeware Spotlight — Open-Shell
BEST OF THE LOUNGE: Moving to Win10: Upgrade or new PC?
Additional articles in the PLUS issue
LANGALIST: More fixes for a regularly repeating Wi-Fi outage
WINDOWS 10: Kicking the Win10 2004 tires
SMALL-BUSINESS WEBSITES: Web presence: Working with search engines
ADVERTISEMENT
RoboForm Everywhere

Get RoboForm Everywhere & You'll Never Need to Remember or Type Your Passwords Again

AskWoody Plus Newsletter Subscribers Exclusive: Get 50% off a new RoboForm Everywhere subscription with this link (exp. 10/31/20).

RoboForm is an award-winning password manager, password generator, online form filler, and secure repository where you can safely store sensitive information like credit cards and billing data. Best of all, with RoboForm, you have access to your passwords and saved data on all your devices.

Say goodbye to writing down passwords on scraps of paper or in a password book, and say hello to RoboForm.
Best Utilities
Freeware Spotlight — Open-Shell

By Deanna McElveen
December 3, 2017 — a sad day.
That was when ace developer Ivo Beltchev announced the end of future development on Classic Shell (more info), the wildly popular freeware program that made the Start menus in Win8 and Win10 look and work like the familiar and comfortable Windows 7 menu.
Sure, there were plenty of similar shell apps to choose from, but most were encumbered with some sort of bundleware. Not Classic Shell; it delivered just what users were looking for — and nothing more. Many of our customers are still using Classic Shell, but it becomes more problematic with every new build of Windows 10.
Luckily for all Classic Shell users, a group of talented developers has created the Open-Shell project. They dusted off Classic Shell, rubbed in some polish, and rolled it out as Open-Shell-Menu (aka Open-Shell).
As always, if you want to follow along with this review, grab a copy from our OlderGeeks.com page. Next, double-click the downloaded OpenShellSetup_4_4_152.exe file … and you're ready to run through the installation process.
For this demonstration, I decided to install it on Hubby's computer. My machine has lots of custom tweaks, but his is rather vanilla and boring. 😀
Open-Shell does fail one of our usual requirements: it's not portable. It can't be, because it has to make basic changes to Windows. But it's a great app and it's safe, so we're happy to give it a pass on portability.
The installation starts with a simple welcome screen, shown in Figure 1.

Figure 1. Open-Shell has a quick and simple installation wizard.
Once you're past accepting the license agreement, you'll be presented with some choices, shown in Figure 2.

Figure 2. The Custom Setup window offers three options.
By default, all three "subfeatures" are installed. But you choose only one or two of them, as described in a moment. These options include:
Classic Explorer: In Windows 10, this feature adds more usability to File Explorer plus a nifty toolbar.
Open-Shell Menu: The entire reason we're here, this option gives you the classic Win7 Start menu.
Classic IE: For the dozen of you still using Internet Explorer … just stop! But if you must stick with IE, this feature lets you customize parts of the browser. We're going to skip this option by clicking the down arrow and selecting Entire feature will be unavailable (see Figure 3).

Figure 3. We recommend skipping the Classic IE component of Open-Shell.
When you're done configuring the initial setup, click Next. On the next screen, click Install — you'll then likely run into the User Account Control challenge. Click Yes. When the Completed the Open-Shell Setup Wizard window opens, click Finish — and you're done!
The first time you click the Windows Start icon, Open-Shell might pop up this settings screen (Figure 4). Here, you can pick from three styles; we will, of course, go with Windows 7.

Figure 4. Open-Shell starts you off with three start-menu styles.
Well, look who has the classic Win7 Start on their overpriced Minecraft machine! (See Figure 5.) Want to temporarily switch back to the standard Win10 start menu? Simply click Start Menu (Windows) at the top-left corner of the Open-Shell window. (Note: If the left column of the start menu is mostly empty, enter "recently" into the search box and follow the links to "Show recently opened items in jump list on Start or the taskbar … .")

Figure 5. This Windows 10 machine now has the classic, and arguably more functional, Win7-style Start menu.
If you loved the pre-Win10 versions of Windows, Open-Shell's expanding menus means there's nothing new to learn and everything is just a click or two away. For example, clicking Control Panel instantly lists all of its controls (see Figure 6). Right below Control Panel is the standard Win10 Settings button.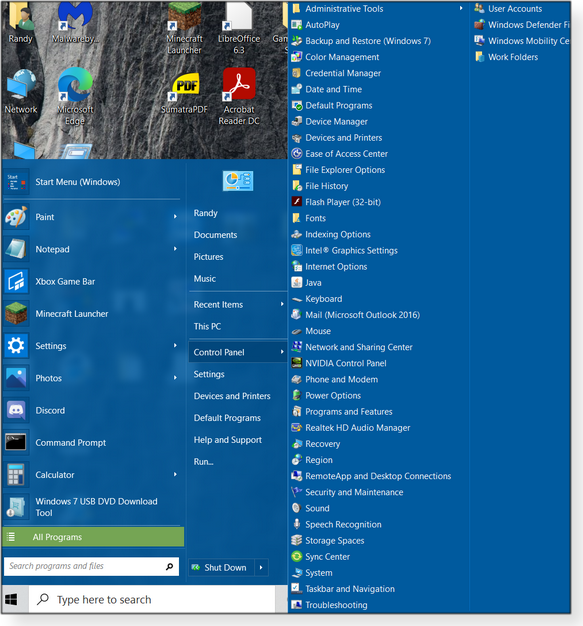 Figure 6. Almost every Windows setting can be just a click or two away.
Want to change your default apps? Open-Shell has a button for that (Figure 7) — though in Windows 10, you'll end up in the same place as navigating through "Settings."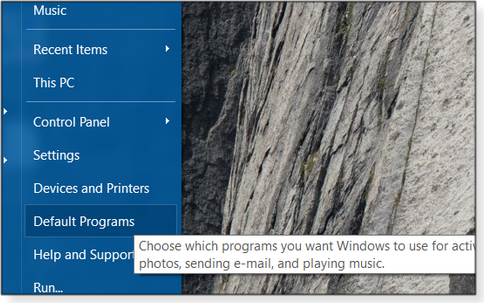 Figure 7. The Default Programs menu item routes you through Control Panel.
I'm sure many Win7 users, like me, miss how the start menu handled listing all programs. Open-Shell brings this comfortable layout back (see Figure 8).

Figure 8. Click All Programs to instantly pop up all installed apps. Click Back to make them disappear.
Here's one of my favorites: Shut Down and Log off are together again! (See Figure 9.)

Figure 9. Open-Shell's Shut Down menu item includes Switch user and Log off commands.
My husband can still use Cortana search — but why would he, when there's the Win7-style search box right above it? (See Figure 10.)

Figure 10. Don't like Win10 searches? Use Open-Shell's.
Let's look at some more settings. Right-click the Windows Start icon and select Settings.
You've seen this opening screen before. The Start Menu Style tab (see Figure 4, again) lets you select — or reselect — one of the three menu styles. I've described the Windows 7 style, but give the other two a try to see whether you like them better. This tab also lets you change the start-menu icon. Make it a picture of your cat!
On the next tab, Basic Settings (Figure 11), you can play with many more settings for customizing the start menu and File Explorer.

Figure 11. The Basic Settings tab lets you define keyboard shortcuts for launching either the Open-Shell or the standard Windows start menus.
On the Skin tab (Figure 12), you have some cool options for dressing up your start menu.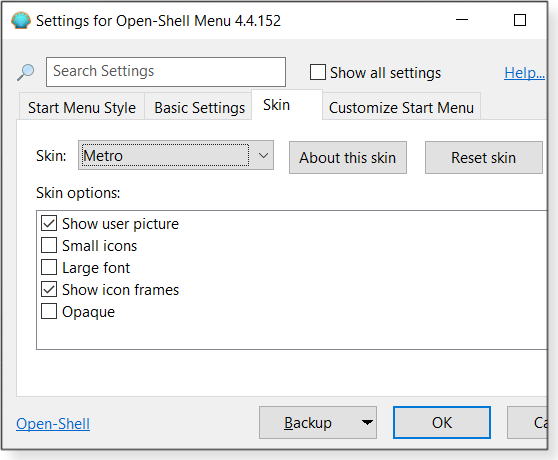 Figure 12. Use the Skin tab to make the start menu fit your personal style.
You'll want to spend some time working through the Customize Start Menu tab (Figure 13). Here, you can select from a long list of menu items and choose whether they are shown as a link, as a menu, or not at all.

Figure 13. The Customize Start Menu tab lets you fine-tune the start menu.
By now, you've probably noticed the Backup button. Use it to save and reload one or more menu setups.
Open-Shell is a polished and solid program that lets you take control over one of the most important features in Windows. It's free; give it a try.
Happy Computing!
Questions or comments? Feedback on this article is always welcome in the AskWoody Lounge!
Deanna and Randy McElveen are celebrating over 20 years in the computer business, ten years running OlderGeeks.com, and more than 26 years of putting up with each other. Their computer store is in a small town in the Missouri Ozarks. Believing that happy customers are always the best advertisement, they hope to do it for another 20 years.
---
Best of the Lounge
Moving to Win10: Upgrade or new PC?
For many PC users, Windows 7 still works just fine — until you discover that one of your key apps is no longer supported on the aged OS.
Plus member ECWS wanted to run TurboTax 2020, but it required upgrading to Windows 10. ECWS turned to the forum for suggestions on whether to go virtual PC, get new hardware with Win10 installed, or upgrade a system currently running Windows 7. The consensus from fellow Loungers? Do a "clean install" upgrade — but make a full backup first!
---
Windows 2004
For most Windows users, an upgrade to a new release is relatively trouble-free. But there are reports that an unlucky few are running into a password flaw that prevents signing in after installing Version 2004. Have you run into this problem? Da Boss Woody and other forum members would like to hear from you.
---
In memoriam
AskWoody strives to stay out of politics. But some events just need to be noted for their gravity. Thus, Woody marked the passing of U.S. Supreme Court Justice Ruth Bader Ginsburg — and fellow Loungers added their thoughts.
---
ENTERTAINMENT
Sometimes we need a bit of a change in our digital lives. Thus on a slow day for Plus member OscarCP, thoughts of inspirational music came to mind. What better place to start a conversation about classical music — and offer YouTube links to some excellent examples.
---
OFFICE
Patch Lady Susan Bradley posted a note from a reader about a mysterious Office flip-flop. Apparently, a retail edition of the suite suddenly switched to Microsoft 365 — then, a few weeks later, Office suddenly switched back to its original form. Forum members offer their conjectures, but ultimately, we will probably never know the why.
---
Antivirus
Nothing stirs up a discussion more vigorously than the topic of anti-malware applications. Plus member Linda2019 found that out after asking a seemingly simple question: Is Windows Defender enough?
---
Your digital life
Lounger Lars220 ran across a survey with a simple — but possibly troubling — question: What would you give up to keep your smartphone? Fellow forum members chime in with their opinions. The short take? You either love 'em or hate 'em.
---
If you're not already a Lounge member, use the quick registration form to sign up for free.
LANGALIST

More fixes for a regularly repeating Wi-Fi outage

By Fred Langa

In my previous column, I discussed techniques for curing an annoying and recurring Wi-Fi failure that appeared on a set schedule.

In this follow-up, I'll dig into two other possible causes of regular Wi-Fi hiccups: router reboots and IP-address refreshing.

---

Windows 10

Kicking the Win10 2004 tires

By TB Capen

The newest Windows is trickling out to a PC near you — or maybe not.

The mystery with Version 2004 is why it's been offered to some systems but not others. That was the case on three of my PCs. So to get a look at the newest Windows, I forced an upgrade. Here's what I found.

---

Small-Business Websites

Web presence: Working with search engines

By Will Fastie

Leveraging Web-based services is an essential part of building an effective online presence — and search engines are a top priority.

In my previous installment, I stated that this article would focus on social networks, which are also important for your online business persona. I'd intended to include some information on search engines, but during the research and writing process, I realized there was more to say about search.

One of the buzz words constantly thrown about when discussing online searches is "search-engine optimization." I'll state right from the start that I'm dubious about the value of current SEO practices — and practitioners.
---
Publisher: AskWoody LLC (woody@askwoody.com); editor: Tracey Capen (editor@askwoody.com).
Trademarks: Microsoft and Windows are registered trademarks of Microsoft Corporation. AskWoody, Windows Secrets Newsletter, WindowsSecrets.com, WinFind, Windows Gizmos, Security Baseline, Perimeter Scan, Wacky Web Week, the Windows Secrets Logo Design (W, S or road, and Star), and the slogan Everything Microsoft Forgot to Mention all are trademarks and service marks of AskWoody LLC. All other marks are the trademarks or service marks of their respective owners.
Your subscription:
---
Copyright © 2020 AskWoody LLC, All rights reserved.