ISSUE 17.45.F • 2020-11-16
The AskWoody Newsletter
FREE EDITION
---
In this issue
BEST UTILITIES: Freeware Spotlight — PingStatus
BEST OF THE LOUNGE: Replies to 'A changing of the guard at AskWoody.com'
Additional articles in the PLUS issue
LANGALIST: Why does Windows still generate registry junk?
PATCH WATCH: RIP Office 2010? Not so fast!
SMALL-BUSINESS COMPUTING: Business cyber inaurance: A sea change
ADVERTISEMENT
RoboForm Everywhere

Get RoboForm Everywhere & You'll Never Need to Remember or Type Your Passwords Again

AskWoody Plus Newsletter Subscribers Exclusive: Get 60% off a new RoboForm Everywhere subscription with this link (exp. 11/30/20).

RoboForm is an award-winning password manager, password generator, online form filler, and secure repository where you can safely store sensitive information like credit cards and billing data. Best of all, with RoboForm, you have access to your passwords and saved data on all your devices.

Say goodbye to writing down passwords on scraps of paper or in a password book, and say hello to RoboForm.
Best Utilities
Freeware Spotlight — PingStatus

By Deanna McElveen
In our neck of the woods, high-speed and reliable Internet connections can be a rare commodity.
It's not uncommon to report Internet issues to your provider via the phone, only to have a tech show up while everything is running fine.
If this sounds familiar, then Bakidok's PingStatus is the tool for you.
This free and portable utility monitors your Internet connection or local network connection through the use of network pings (more info).
Before we start a walk-through, grab a copy of the app from its OlderGeeks.com page. Fire up the downloaded PingStatus.exe file; if Windows pops up a warning, simply click the "Run" option to let the app load. (You know our downloads are safe.)
You now have the PingStatus main window open — but nothing is happening, yet. Start by looking for the grid of boxes at the top of the window, under the "Ping request information" header. These slots are where you create and save ping targets. Note that the upper-left box has a small dash (Figure 1). The utility's author created a starting target — google.com — for us. It's a fast and reliable target for testing Internet connections. If PingStatus records lost packets or failures, they're most likely caused by your connection, not Google's.

Figure 1. The grid in the upper part of the PingStatus window is where you keep targeted IP addresses.
Once you've entered a URL or IP address, simply click either play icon to start monitoring.
As shown in Figure 2, my connection to Google seems pretty good! The different ping levels are color-coded, and their respective speed thresholds are shown in the lower-right corner of the PingStatus window. The lower the ms (milliseconds) number, the faster the ping packet traveled to google.com and back.

Figure 2. The default ping target is Google. Oddly, the app has two play and two pause icons.
You can tweak the Ping levels settings to suit your needs. If everything is red, and you already know your connection is horrible, you might want to increase these numbers to get a better sense of a connection's stability. If your connection is stupid fast, then lower the numbers for a more detailed analysis.
After you've let the monitoring run for a bit, look under Detailed stats for the number of lost packets (Figure 3). Below those stats are your overall speed maximums, minimums, and averages. In this case, PingStatus recorded a maximum ping speed of 135ms. But the average is only around 30ms, so I'm not concerned. If the graph shows a high number of spikes, or the stats show large numbers of lost packets, there are problems with your connection.

Figure 3. In this monitoring session, my connection to Google looks solid: no lost packets, relatively few spikes of slow pings, and low averages.
Let's try another target. Click the pause symbol for the Google connection. (You could let it continue running.) Next, click an empty box at the top of PingStatus and, under Statistics, enter the target's URL or IP address. For this example, I'm monitoring one of my security cameras (Figure 4). You can add any local address, such as another computer, a router, an access point, or some other device on your network.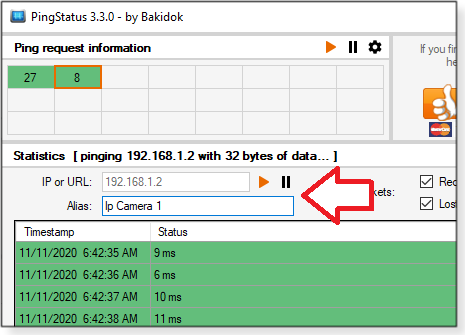 Figure 4. Ping targets can be any IP address you have access to: remote or local.
What about my own website? Again, I simply click an empty box and enter the IP address or URL. We get pretty heavy traffic on the site in the mornings, so the ping is a little slower than normal (Figure 5).

Figure 5. Pinging OlderGeeks.com in the morning showed consistent but not exceptionally fast speeds.
If you've set up multiple connections, you can start or pause monitoring for each connection separately. Simply select the box for a specific connection (Figure 6) and click either the play or pause icons. (One small gripe: Both icons are shown simultaneously; you must check the Statistics table or the digits in the boxes to see whether a connection is being actively monitored.)

Figure 6. In this example, I've selected my security camera. I can pause it and continue monitoring the other two connections.
The program also lets you choose to monitor either received or lost packets — or both (the default). Keep Auto-scroll checked (Figure 7) to have PingStatus always display the latest stats. Click Clean table to clear recorded ping data for the selected connection.

Figure 7. Uncheck Auto-scroll if you want to examine a set of recorded stats but keep monitoring active. (It will not pause the graph.)
PingStatus options: Clicking the small gear opens the Options window for both specific connections and the app (Figure 8). To save a specific set of program settings and ping targets, check the box "Save the application settings … ."

Figure 8. PingStatus includes settings for both specific connections and the utility as a whole.
Other options include starting the PingStatus minimized, starting pinging as soon as the app is opened (a good idea if you add the program to Startup), and saving a log to the log.txt folder. (If you're an ISP tech, tape a note to your forehead reminding you to enable logging. 😀)
You can also adjust the threshold for calling a connection a failure, set the maximum graph values, define the buffer size, and adjust the timeout settings for sent ping packets.
When you're done changing settings, click the Accept button.
So that's it! PingStatus is a simple but excellent network diagnostics tool. It's definitely getting copied to my flash drive–based toolkit! Hope you find it useful, too.
Happy computing!
Questions or comments? Feedback on this article is always welcome in the AskWoody Lounge!
Deanna and Randy McElveen are celebrating over 20 years in the computer business, ten years running OlderGeeks.com, and more than 26 years of putting up with each other. Their computer store is in a small town in the Missouri Ozarks. Believing that happy customers are always the best advertisement, they hope to do it for another 20 years.
---
Best of the Lounge
Replies to 'A changing of the guard at AskWoody.com'
A week ago, our own eponymous factotum emeritus and site namesake Woody Leonhard formally announced his retirement from AskWoody.com. As he stated, the site and newsletter he has captained for past 16 years will be left "in new but familiar, and highly capable, hands." And those hands belong to none other than veteran contributor Susan Bradley.
In the Lounge, the news was met with shock — and an outpouring of thanks, congratulations, and best wishes from the legends of AskWoody members. Do you have a favorite story about Woody?
---
UPGRADES
Lounger WSBJB wants to update to a newer Windows version via the ISO-installer technique. Are there potential problems with that plan? And upgrade to which version of Win10? Fellow forum members provide tips for safely completing the task. Not surprisingly, one respondent suggests the "if it ain't broke, don't fix it" theory. But there are more forces at play here.
---
SOFTWARE
Da Boss Susan Bradley offers a link to Microsoft's post on the removal of Adobe's infamous media player. This isn't exactly breaking news. Adobe announced the scheduled end of life for Flash three years ago. Still, some Lounge member have concerns and questions about this end of an era.
---
WEB BROWSING
Plus member Slowpoke47 takes security seriously. All Google-related services and apps are banned. Linux Mint Mate is the OS of record. Still, almost all websites download some form of information and/or tracking cookies. Slowpoke47 would really like to know what information is gleaned by these hidden bits of code. The answer is, of course, "It's complicated."
---
APPLE
Plus member Alex5723 posts a warning from the Carbon Copy Cloner developers: The app will have problems with a security feature in the just-released Big Sur OS. Is it now fixed? An age-old bit of advice still rings true: wait a few weeks or months before updating to a new OS version.
---
LINUX
We've discussed the pros and cons of Microcode patches for Windows PCs in our Patch Watch column. But Plus member Charlie points out that Intel also offers these updates for systems running Linux. Are they worth installing? What are the performance costs? Fellow Loungers offer their observations.
---
FUN STUFF
We may assume the Holy Grail for most golfers is a hole in one. MVP Microfix posts a YouTube link to what might just be the ultimate shot of all time. Luck? Skill? Undoubtedly, both.
---
If you're not already a Lounge member, use the quick registration form to sign up for free.
LANGALIST

Why does Windows still generate registry junk?

By Fred Langa

And why does Win10 still not have a built-in tool for deleting dead, empty, obsolete, or useless registry data?

Win10 has capable options for removing file-related debris on drives. But to thoroughly clean the registry, you need a third-party tool.

Plus: Test your security smarts with this free online quiz!

---

PATCH WATCH

RIP Office 2010? Not so fast!

By Susan Bradley

Well … we thought we'd seen the last of Office Version 2010.

But Microsoft surprised us by pushing out a batch of November updates for its suite of productivity apps. Note that this isn't a completely novel event. Microsoft has dribbled out patches for other products that have reached their end of service.

Going forward, Office 2010 will become more dangerous to use — especially when it comes to email phishing attacks.

---

SMALL-BUSINESS COMPUTING

Business cyber insurance: A sea change

By Amy Babinchak

For IT businesses — and by extension, their clients — adapting to a rapidly shifting technology environment has been a challenge.

Not the least of those changes is insuring for data-related privacy and security losses.

Not that long ago, insuring my business was relatively simple. We were covered primarily for liability and errors/omissions. Today, the array of events covered by my policy is mind-boggling — much of it focused on data security and privacy. Here's a sample:
---
Publisher: AskWoody LLC (woody@askwoody.com); editor: Tracey Capen (editor@askwoody.com).
Trademarks: Microsoft and Windows are registered trademarks of Microsoft Corporation. AskWoody, Windows Secrets Newsletter, WindowsSecrets.com, WinFind, Windows Gizmos, Security Baseline, Perimeter Scan, Wacky Web Week, the Windows Secrets Logo Design (W, S or road, and Star), and the slogan Everything Microsoft Forgot to Mention all are trademarks and service marks of AskWoody LLC. All other marks are the trademarks or service marks of their respective owners.
Your subscription:
---
Copyright © 2020 AskWoody LLC, All rights reserved.