ISSUE 17.46.F • 2020-11-23
The AskWoody Newsletter
FREE EDITION
---
In this issue
SOCIAL NETWORKING: Gathering for the holidays — via tech
BEST OF THE LOUNGE: WSUS survey results
Additional articles in the PLUS issue
LANGALIST: Recovering from a failed Win10 Reset
UTILITIES: Askwoody Ultimate Utilities List — Fall edition
REMOTE ACCESS: Windows 10 Quick Assist: Fast, simple, and free
Keep AskWoody kickin'

Like what you see in the AskWoody FREE newsletter?

The AskWoody.com technology-news site and companion advice and help forums are 100 percent free, too! We try to answer every tech question, on every topic, without bias.

Stop by AskWoody.com and register for a free account. If you've already registered, simply enter your username and password.

We do things differently at AskWoody, as you'll soon see. No advertising. No tracking. No cookies. No hassles. Instead, we ask for donations to keep the site rolling. Look on the right side of the homepage to learn about our support system — AskWoody Plus members.

Don't hesitate to forward this FREE Newsletter to your friends, and encourage them to sign up. It's an old-fashioned approach to the latest tech help on the web.
FROM THE EDITOR
Happy Thanksgiving
To all who will celebrate the holiday. As I suspect will be the case for many of you, my family gathering will be quite small this year. But we'll connect to friends and family over the Internet. I hope you all remain safe.
Due to the holiday, the November 30 issue will be a short one. Thanks for your support.
— TB Capen, editor
---
SOCIAL NETWORKING
Gathering for the holidays — via tech

By Susan Bradley
It's that time of year again!
I love the end-of-year holidays. Right now, Hallmark Christmas movies are playing on my television while we sort through decorations on the living-room floor. (Like over-eager kids, we like to start the season early!)
This is the season when we'd normally be crowding together in kitchens and living rooms to share edible treats, swap gossip, and watch sports and holiday movies on the tube. But, of course, this year is unlike any other we've experienced.
To stay connected with friends and family, we've had to become more creative. And much of that creativity relies on technology: Zoom meetups, FaceTiming, social media, and the old reliable … phones.
In short, tech lets us stay together while staying apart.
Giving the gift of free tech support
For all us geeks, there's the other tradition that's part of family get-togethers: providing free tech support — making sure our less-tech-savvy relatives are using updated and backed-up digital devices. Fortunately, you can take care of that chore relatively easily via remote device-to-device connections. We've recently covered a few tools for remote-control sessions. See, for example:
"How to use Chrome Remote Desktop" – AskWoody Plus Newsletter 2020-10-05
"RemotePC: An excellent tool for accessing and controlling PCs" – 2020-11-09.
"Windows 10 Quick Assist: Fast, simple, and free" – in this issue.
As long as a computer can get online, there are scads of additional apps for seeing what ails a machine — from the comfort of your home office. An option I often recommend is Copilot, an online service that supports both Windows and Apple systems. It's quick and simple, and you can get a one-day subscription for as little as U.S. $5 (get one free day pass for signing up). Another popular tool is TeamViewer; it offers a free personal-use option (although it'll constantly nag you to upgrade).
When I'm doing an informal check of a relative's misbehaving system, I start by having the user sit at the remote machine and do a full shut-down and restart. Or I might reboot the machine via the remote-control app. It's amazing how often this simple step clears up the bad behavior.
As a standard procedure, I also trigger a full Microsoft Defender scan of the system in order to eliminate any malware. (See this How-To Geek article.) If the device still has problems, I'll open Control Panel/Programs and Features and sort the list of installed applications by date. Often, the problem can be traced to a recently added app. I can use the remote connection to uninstall any suspect software and see whether the system works better.
In a few cases, I've gone so far as to remotely run an in-place reinstall of Windows 10 — without impacting user files. (See this TenForums tutorial.)
Remote support for smartphones?
Although there are numerous apps for controlling a PC from a smartphone (Chrome Remote Desktop, for example), going the other direction — remotely controlling the phone — isn't so easy. Fortunately, you can take some simpler steps first. For example, restarting mobile devices will often put them to rights. But surprisingly, many folks don't know how to fully shut down and restart their phones! While you have them on the phone or in a Zoom meeting, show them how it's done.
If the errant phone is still functional, have its owner take screenshots and then email or text-message them to you. (You'll probably also have to tell them how to take the screen captures.)
Alternatively, if they have another phone or an iPad in the house, have them use it to let you remotely view the problematic device's screen. I often can't diagnose a remote system simply from the owner's verbal description of the problem — there's a translation problem between geek speak and non–geek speak. But when I can see exactly what's happening on the screen, the issue becomes instantly clear — or, at least, clearer.
Again, controlling a smartphone or iPad over the Internet isn't easy. Most options, such as the paid versions of TeamViewer and Splashtop, let you see the device's screen remotely — but you can't control it. The LogMeIn Rescue service lists "remote control," but it's expensive, and I've never tried it.
Will virtual gatherings become a tradition?
Even before the pandemic, most of us had family or friends who couldn't attend our holiday confabs. Fortunately, we've become comfortable with using Zoom or FaceTime, even when it means crowding around an Android or iPhone. (Our AskWoody editor FaceTimes with his new grandson at least once a week.)
And there are other ways to enhance the holiday spirit. Do you have an old family recipe that gets pulled out this time of year? Set up a virtual meeting for a group cooking and baking event. Those recipes often include tips and tricks that were never fully written down on that yellowing index card (Figure 1). But you can easily share those secrets while connected virtually.

Figure 1. My well-used recipe card for old-fashioned buns. Click here for the full recipe.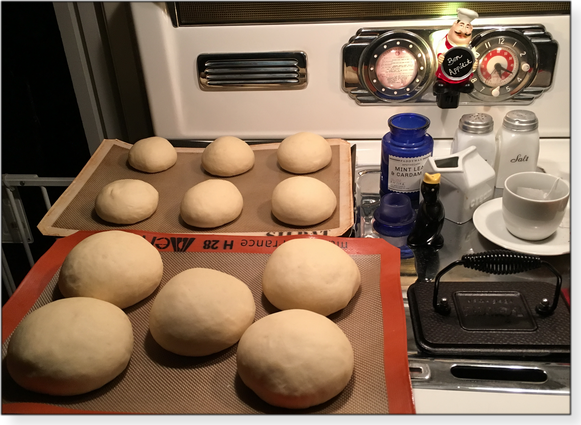 Figure 2. Holiday baking: buns ready for the oven
If you use Zoom, keep in mind its limitations and restrictions. Facing a deluge of early criticism, the service beefed up its security. In order to prevent the infamous Zoom-bombing, all users must now enter a password to join a session. Moreover, the free edition has a 40-minute time limit. So you might need to set up multiple invitations for that virtual bake-off.
Also, check with your IT department; some businesses are letting employees use the company videoconferencing platform for longer and uninterrupted personal meetings during the holiday season.
Earlier this year, I joined a private virtual meeting on how to make fresh pasta — taught by a chef in Italy. A friend signed in from her home; I did likewise from mine; and our instructor, Massimo, connected with us from his kitchen. Yes, time zones were a challenge, but he made pasta for his dinner, and we made ours for lunch. We had a great time sharing and learning new kitchen skills. All things considered, it will easily be one of the shining highlights of the year.
For many of us in the U.S., Thanksgiving means food, talk … and watching lots of sports and movies on the tube. This year, I'm planning an extended and, of course, virtual gathering with friends from across the country. That might include setting up a group TV-watching party through Amazon Prime for movies. (You can also go "low tech" and just share via group texting.)
Sharing holiday memories
Do you have a particularly interesting bit of family holiday history or lore? You can share it through the U.S. Library of Congress's StoryCorps website. The service lets you record a conversation between yourself and a loved one. The audio and a still photo for each interview are stored in the American Folklife Center archives.
Recently, I listened to a radio broadcast about the generosity of Scott Macaulay. For many years, he has invited as many as 100 strangers to his Thanksgiving table. Sadly, the tradition was put on hold this year, but he had excellent advice for us all. "I would say, call everybody and anybody that you can think of to tell them, 'I love you.' Don't talk with your mouth full, you know — we don't want turkey spraying all over the computer screen or the phone. But connect with as many people that you think might be alone or would appreciate a call and tell them you're thinking of them."
I'm going to take Scott's advice and "brighten my own corner." And I hope you will, too. Use the technology you have at hand to stay close to friends and family — even when the holiday season is just a memory. I plan to pick some of the treats from my mom's recipe cards and do more "virtual group" cooking.
Also, thanks to all of you for supporting AskWoody through this difficult year. You brighten the corners of our website.
Questions or comments? Feedback on this article is always welcome in the AskWoody Lounge!
In real life, Susan Bradley is a Microsoft Security MVP and IT wrangler at a California accounting firm, where she manages a fleet of servers, virtual machines, workstations, iPhones, and other digital devices. She also does forensic investigations of computer systems for the firm.
---
Best of the Lounge
WSUS survey results
Da Boss Susan Bradley recently posted a survey for IT pros that asked about their experiences with Windows Server Update Services.
The results are in! If you want to get an early look, Susan's post includes links to two spreadsheets with the unvarnished data.
---
HARDWARE
Plus member glnz doesn't use a password on a home PC. But a newly purchased HP OfficeJet is more security-conscious. The question for the forum? How to get around an annoying password requirement. Fellow members offer various suggestions, but the solution was found in Windows SMB settings.
---
SECURITY
Vowing to be more proactive about backups, Plus member MikeyD215 purchased a 5TB external drive. So what's the best way to image three systems to one drive? Do you need to create three separate partitions? With the right software, the job is easier than you might think.
---
Apple
Da Boss Susan Bradley warns of issues with Apple's latest macOS operating system. The upshot? It doesn't matter whose OS it is, never install the first iteration of a new release. Wait until it's had the initial kinks worked out.
---
SECURITY
With more folks working from home, data security becomes a critical consideration. Plus member Towson_Steve is planning for a day when an associate might need to access confidential client information from a home office. Is there a relatively simple yet secure solution? VPN? Remote access? Fellow members stress that two-factor authentication must be part of the answer.
---
UPDATING
For systems with unusual applications, moving to a new Windows 10 release can be a shot in the dark. Lounger WSmmi16 questioned the length of time a Version 2004 upgrade took. "It depends," was the simple answer. But in the same thread, WSduanehall told of a post-upgrade device-driver issue, and Da Boss PKCano provided a tip on how to prevent driver updating in Windows Update.
---
Fun stuff
Lounger astronautdan is searching for a really old screen saver that featured cavorting dinosaurs. So far, the search has proved fruitless. MVP Microfix suggested the online Wayback Machine archive. Do you have another source?
---
If you're not already a Lounge member, use the quick registration form to sign up for free.
LANGALIST

Recovering from a failed Win10 Reset

By Fred Langa

Win10's cloud-based Resets are usually the fastest and easiest way to return a PC to a known-good, baseline state.

Major Reset failures are rare, but the worst-case scenarios can leave a PC completely unbootable. Here's what to do when a reset misadventure strikes.

Plus: What's with those weird two-headed USB connectors?

---

UTILITIES

AskWoody Ultimate Utilities List — Fall edition

By TB Capen

Playing with new utilities for Windows PCs can be fun.

Many are free, and they show an inventive range of solutions to common — and not-so-common — problems and tasks.

And let's face it: there are some apps built into Windows that are still rather … underwhelming. Photos? Groove Music? Mail? No thanks.

The topic of essential utilities came up recently when I upgraded a relatively old ThinkPad.

---

REMOTE ACCESS

Windows 10 Quick Assist: Fast, simple, and free

By Will Fastie

There are many options for remotely controlling another PC. For Windows 10 users, it's quick and easy.

Almost two decades before the Internet made connectivity commonplace, programs emerged that allowed two computers to be linked, primarily via a direct PC-to-PC connection. Long-time PC users will recall, for example, Traveling Software's ground-breaking software and cable.

The rise of the Internet that made remote PC-to-PC access feasible. And Microsoft has ushered in a simpler and more secure solution: Quick Assist.
---
Publisher: AskWoody LLC (woody@askwoody.com); editor: Tracey Capen (editor@askwoody.com).
Trademarks: Microsoft and Windows are registered trademarks of Microsoft Corporation. AskWoody, Windows Secrets Newsletter, WindowsSecrets.com, WinFind, Windows Gizmos, Security Baseline, Perimeter Scan, Wacky Web Week, the Windows Secrets Logo Design (W, S or road, and Star), and the slogan Everything Microsoft Forgot to Mention all are trademarks and service marks of AskWoody LLC. All other marks are the trademarks or service marks of their respective owners.
Your subscription:
---
Copyright © 2020 AskWoody LLC, All rights reserved.