ISSUE 19.22.F • 2022-05-30
In this issue
FREEWARE SPOTLIGHT: Hasleo Windows ISO Downloader — easily get Windows from Microsoft
Additional articles in the PLUS issue • Get Plus!
SILICON: With its Radeon graphics technology, AMD is a powerhouse
ON SECURITY: Why is email authentication changing?
---
---
FREEWARE SPOTLIGHT
Hasleo Windows ISO Downloader — easily get Windows from Microsoft

By Deanna McElveen
There was a time when getting your hands on an ISO of Windows to fix your computer meant borrowing one from a friend or visiting pirated software sites.
These days, Microsoft lets you stay on the good side of the Internet neighborhood by allowing you to download copies. You can go through the steps on Microsoft's website to get Windows, or you can do it the easy way.
Hasleo Software has been around for years, making some of my favorite commercial tools, but they also have a few free ones. Hasleo Windows ISO Downloader is their free, portable program to download Windows 8.1, Windows 10, or Windows 11 straight from Microsoft's official servers.
The program is a total breeze to use, but I do need to point out a couple of things right off the bat. First of all, Hasleo did not include any way to control the speed of the downloads. It will use up all your Internet speed during download — all of it. This means that you won't be streaming episodes of Ally McBeal during the downloading, no matter how fast you think your Internet connection is. Second thing: Microsoft's servers can get slow, causing the program to 1) make you wait on loading screens as you make your choices, or 2) simply time out. Keep trying. Once you finally hit the download button, things are very fast.
Okay, let's get into it. Go grab your copy of Hasleo Windows ISO Downloader from OlderGeeks.com and extract it with a right-click.
Once it is extracted, you will see two folders: x64 for Windows 64-bit versions and x86 for Windows 32-bit versions (see Figure 1). You are not choosing which versions of Windows you want to download. You are simply choosing the folder that is compatible with your version of Windows. You probably have 64-bit Windows, but you can check by right-clicking on "My Computer" (or "This PC" or "Computer") and choosing properties on Windows 7 machines. For newer versions of Windows, simply right-click on the Start Button and choose System.
Go ahead and open the correct folder.

Figure 1. Choose the correct folder for your current version of Windows.
Once your folder is open, run the WinISODownloader.exe file (see Figure 2).

Figure 2. Run the .exe file to start the program.
As with most spankin'-new software, you're going to get a SmartScreen notification (see Figure 3). We've confirmed the program to be perfectly safe, so click on More info.

Figure 3. Click More info to continue with starting the program.
Then just click Run anyway to get things going (see Figure 4).
Note: SmartScreen is there to protect you. Don't just willy-nilly click on Run anyway every time you download something from the Internet. Do your homework first. See what others are saying about the software, and use services such as VirusTotal to check your downloads.

Figure 4. Always make sure it's safe to click Run anyway.
Okay, finally we have Hasleo Windows ISO Downloader open.  Now it's just a matter of making four easy choices. Click the dropdown arrow to make the first choice (see Figure 5).

Figure 5. The one-and-only dialog the program needs.
In the dropdown menu (see Figure 6), choose whether to download the ISO (disk image) for Windows 8.1, Windows 10, or Windows 11.
Once you make your choice, you will see a loading box for a few seconds (or maybe many seconds).

Figure 6. Choose Windows 8.1, 10, or 11 here.
Next, you can select the edition (see Figure 7). At this time, the only version of Windows for which more than one choice is available is Windows 8.1.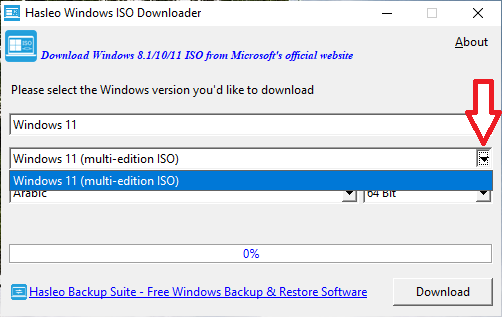 Figure 7. Choose your edition, if you have a choice.
Now select which language you want the Windows ISO to use (see Figure 8).

Figure 8. Choose your desired language.
Finally, you will choose whether you want the Windows ISO to be 64-bit or 32-bit (you don't have a choice for Windows 11). In almost all cases, you should choose 64-bit here (see Figure 9). If you are going to use this ISO to upgrade your current version of Windows, then you must match the value to that. You can change this only with a clean install of Windows.
Note: Although the upgrade will probably activate, you may need to purchase a license for Windows from Microsoft if it doesn't.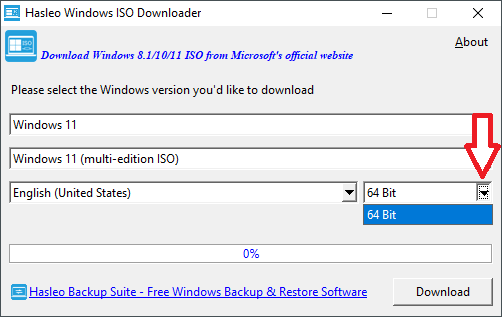 Figure 9. You probably want 64-bit.
Okay, we are all set! Click that Download button at the bottom (see Figure 10), and give it a few seconds. (Note: Pause Ally McBeal.)

Figure 10. Just click it already!
An Explorer window will now pop up, so you can give the file a name and choose where you want to download it (see Figure 11).
These files are huge. Make sure you have plenty of storage space on your computer. And if you have a slow Internet connection or restricted monthly usage, you may not want to do any of this.

Figure 11. Give your file a name and a home.
And we have downloading! The progress bar at the bottom (see Figure 12) lets you know how things are going.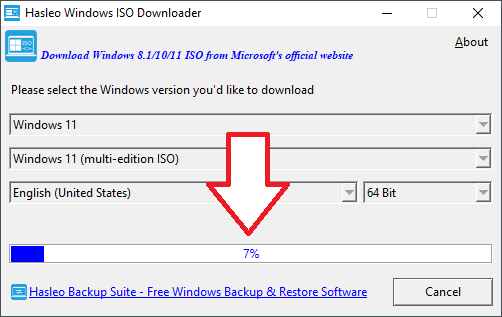 Figure 12. … And we wait …
Done! The program will pop up a box to let you know when the download completes (see Figure 13).

Figure 13. The operation completed successfully.
"Okay, Deanna. Now I have this giant ISO file. How am I suppose to use it?"
Well, you can either create a bootable USB flash drive, or you can burn a DVD disk (but no one does that anymore).
The best way is to download and use Rufus from OlderGeeks.com to create a bootable USB flash drive.
Using Rufus is a snap (see Figure 14). Just select your USB flash drive from the Device dropdown, then click SELECT to browse for and select the ISO file you downloaded. All you have to do now is click the START button and wait while your bootable flash drive is created.

Figure 14. Rufus is simply the bee's knees for making bootable drives!
If you bought too many blank DVDs during the Bush Jr. administration and need to use them up, just right-click on the ISO file you downloaded (see Figure 15). Then hover your mouse over Send To. Once the menu pops up, choose your DVD writer drive. Windows will ask you to insert a blank DVD to start writing the disk.

Figure 15. DVDs also make great drink coasters.
Now you can start building your collection of Windows disks and flash drives — great things to keep on hand if you repair computers for customers (ahem) or just family. Thanks, Hasleo!
Bonus software time!
Still like to play with trains, trucks, and buses?
OpenLoco is a free, open-source, reimplementation of Chris Sawyer's Locomotion game. It's a construction and management game that simulates running a transport company.
Get OpenLoco at OlderGeeks.com. Have fun!

Figure 16. Free games are the best games!
Happy computing!
| | |
| --- | --- |
| | Our entire philosophy at OlderGeeks is built on being a safe download site offering software you can trust. We use every program we consider, checking it carefully for bundleware or other sneaky stuff. Every downloadable is checked with VirusTotal and Malwarebytes. If a program is updated, we do the same checks again. We reject more programs than we accept, always stressing quality and safety over padding our collection. Every program mentioned in this article meets our rigorous standards. We're as trustworthy as Grandma's apple pie! |
Join the conversation! Your questions, comments, and feedback
about this topic are always welcome in our forums!
Deanna and Randy McElveen are celebrating more than a decade of running OlderGeeks.com, over two decades in the computer business, and even more than that putting up with each other. Their computer store is in a small town in the Missouri Ozarks. Believing that happy customers are always the best advertisement, they hope to squeeze in a couple more decades doing the same.
---
---
Here are the other stories in this week's Plus Newsletter
SILICON

With its Radeon graphics technology, AMD is a powerhouse

By Brian Livingston

At today's breakneck pace of technological change, the semiconductor industry's product cycles run faster than a one-legged man at a butt-kicking contest. This month, the scrappy multinational chip company AMD tried to kick some butt by claiming that its newest GPUs (graphics processing units) deliver far better price/performance ratios than Nvidia's.

he predictable result was a good ol' pissing match between the two archrivals. But this takes nothing away from the fact that both AMD and Nvidia — as well as the industry's Old Faithful, Intel — are permanently changing our expectations about how fast our machines can compute for a given fistful of dollars.

ON SECURITY

Why is email authentication changing?Why is email authentication changing?

By Susan Bradley

Throughout the lifetime of Internet-based email, we've been told over and over that it was dying, or soon to be dead.

Then why are we still on a dead platform? Why aren't we using some new, whiz-bang thing that was touted as so much better than email? There have been some proposed ideas, but they died off.

I have a rather simple theory: Email comes to you — you don't have to go find it. And it's ubiquitous, too. No matter what device you're using, what vendor it comes from, or what operating system it runs, email works.
---
Know anyone who would benefit from this information? Please share!
Forward the email and encourage them to sign up via the online form — our public newsletter is free!
---
Enjoying the newsletter?

Become a PLUS member and get it all!

Don't miss any of our great content about Windows, Microsoft, Office, 365, PCs, hardware, software, privacy, security, safety, useful and safe freeware, important news, analysis, and Susan Bradley's popular and sought-after patch advice.

PLUS, these exclusive benefits:

Every article, delivered to your inbox
MS-DEFCON Alerts, delivered to your inbox
MS-DEFCON Alerts available via TEXT message
Total access to the archive of nearly two decades of newsletters
No ads
Identification as a Plus member in our popular forums

We're supported by donations — choose any amount for a one-year membership.
---
The AskWoody Newsletters are published by AskWoody Tech LLC, Fresno, CA USA.
Your subscription:
Microsoft and Windows are registered trademarks of Microsoft Corporation. AskWoody, AskWoody.com, Windows Secrets Newsletter, WindowsSecrets.com, WinFind, Windows Gizmos, Security Baseline, Perimeter Scan, Wacky Web Week, the Windows Secrets Logo Design (W, S or road, and Star), and the slogan Everything Microsoft Forgot to Mention all are trademarks and service marks of AskWoody Tech LLC. All other marks are the trademarks or service marks of their respective owners.
Copyright ©2022 AskWoody Tech LLC. All rights reserved.