ISSUE 20.31.F • 2023-07-31 • Text Alerts! • Gift Certificates
You're reading the FREE newsletter

You'll immediately gain access to the longer, better version of the newsletter when you make a donation and become a Plus Member. You'll receive all the articles shown in the table of contents below, plus access to all our premium content for the next 12 months. And you'll have access to our complete newsletter archive!
Upgrade to Plus membership today and enjoy all the Plus benefits!
In this issue
FREEWARE SPOTLIGHT: HiBit System Information — Meet your computer
Additional articles in the PLUS issue
BEN'S WORKSHOP: BitLocker, Windows 11 security, and you
LEGAL BRIEF: A dozen problems with privacy
ON SECURITY: My day on jury duty
---
---
FREEWARE SPOTLIGHT
HiBit System Information — Meet your computer

By Deanna McElveen
A modern Windows PC has hundreds of hardware components and even more software programs to control it all. You don't need to use a screwdriver to find out what you have.
HiBit System Information is a free and portable utility that gives you everything you ever wanted to know about your computer in a neat, easy-to-navigate, tabbed interface. Because it's portable, you can put it on a flash drive and go around snooping in everyone's computers. With permission, of course.
Go yank down a copy of HiBit System Information from OlderGeeks.com, and let's go over it together.
Once you have it downloaded, just right-click the ZIP file and choose Extract. From the newly created folder, run the file HiBitSysInfo-Portable.exe to launch the program.
The first time you use it on a newer version of Windows (it runs on Windows Vista/7/8/10/11), you're gonna get a Microsoft Defender SmartScreen warning (see Figure 1). This is because Microsoft does not recognize the program. Microsoft would recognize the program if the developer paid a few hundred bucks a year for a code-signing certificate — a bit like paying Michael Corleone to "protect" your shoe store.
One note here: There are four out of 71 hits on VirusTotal for the .exe file. These are from the usual find-a-virus-in-every-file-to-appear-relevant culprits. The program is perfectly safe. We've been hosting and using HiBit Software's files for years. They are clean.
Okay, moving along. Click More info if you want to continue.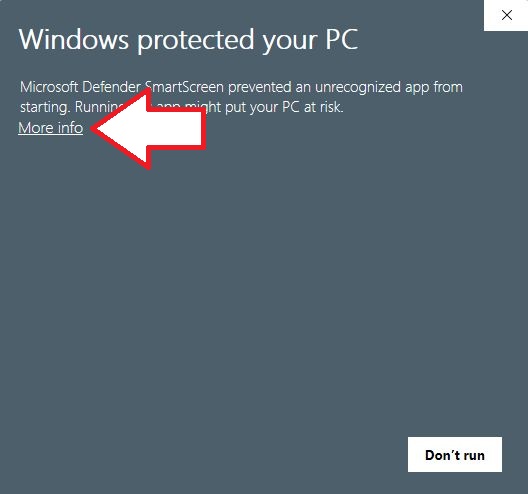 Figure 1. It's safe to bypass SmartScreen's warning.
On the next screen, Microsoft is gonna pretend to not know the name of the publisher, even though the publisher has been writing great software for 13 years. Click Run anyway to continue running the program (see Figure 2).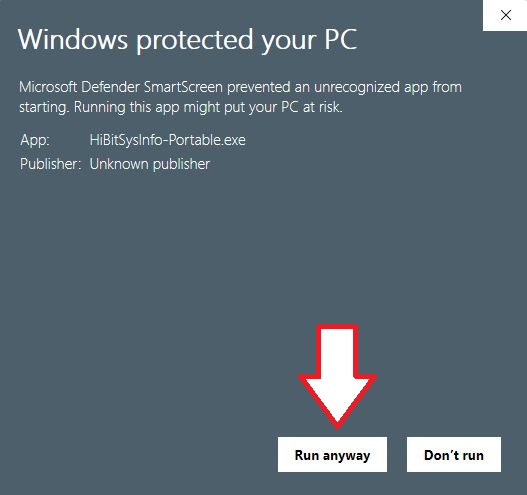 Figure 2. Click Run anyway to continue.
After this, Windows will ask whether you want to allow this program to make changes to your computer. The only changes offered are creating reports and saving them to your computer. Choose to allow.
Once HiBit System Information launches, you will be looking at a blank window while the program gathers information about your computer. After this completes, you will be on the first of three tabs. The first is the Summary tab (see Figure 3), which gives you a quick rundown of the computer's specifications.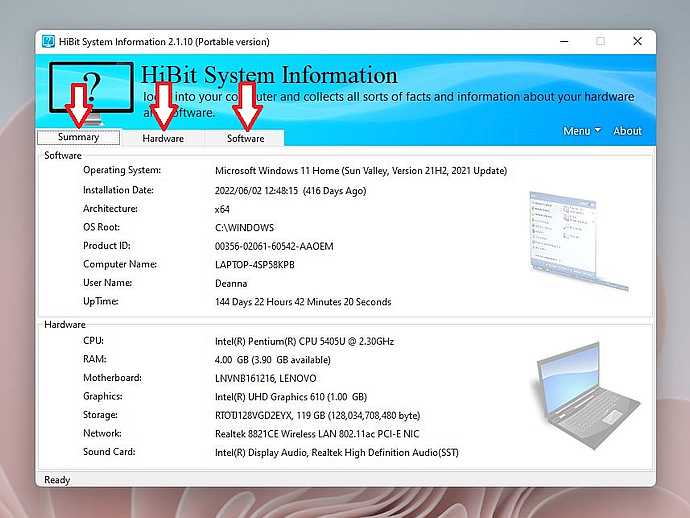 Figure 3. The Summary tab gives you a quick view of the computer's specs.
(Don't make fun of my wimpy Windows 11 laptop's hardware. I use it only for making these articles.)
The Hardware tab (see Figure 4) presents 10 tabs to look deeply into your computer's hardware. Let's go over those tabs.
The CPU tab shows the complete specs of your computer's processor(s). Need to know what socket your computer uses for a future CPU upgrade? This is where to find it.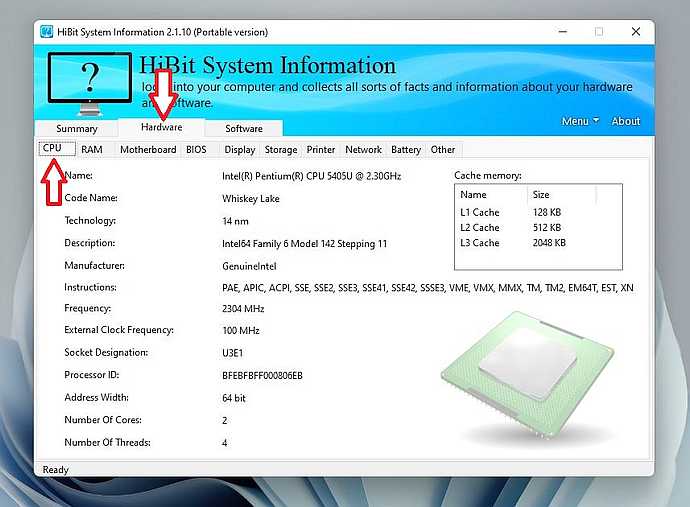 Figure 4. The CPU tab shows all the information available for your computer's processor.
Most laptops these days do not have a handy-dandy door on the bottom to check your RAM configuration. The RAM tab (see Figure 5) not only shows me that my lame-o laptop has only a 4GB stick of RAM, but it also shows me that I have only one slot for RAM. At least I can swap out the 4GB stick for an 8GB.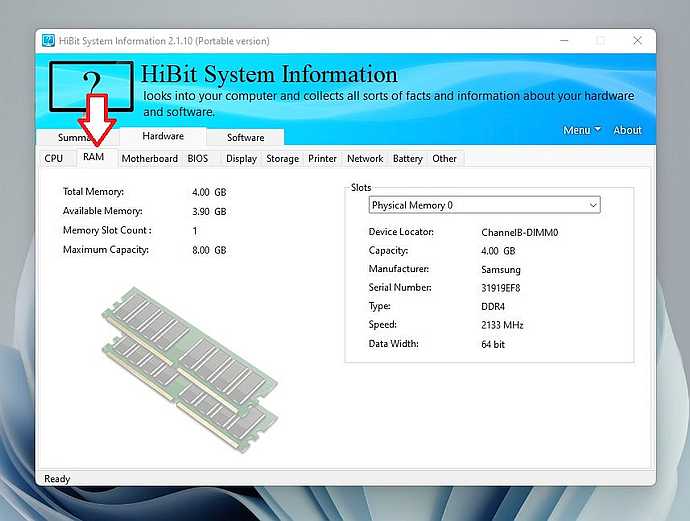 Figure 5. Easily find out how much RAM you have and what you can add.
If this were a desktop computer instead of a laptop, the Motherboard tab (see Figure 6) would be a great way to find out how many (and which) ports are on the back of your computer without disturbing the cobwebs in your desk. It's also an easy way to see how many internal expansion slots are inside your computer without breaking the illusion that your house isn't dusty by opening it.

Figure 6. The Motherboard tab helps identify your board and its slots and ports.
Nothing is more annoying than having to boot into your BIOS setup to see what BIOS version you have for a possible update. The BIOS tab (see Figure 7) gives you the version, the date, and all the tech your BIOS supports.

Figure 7. The BIOS tab provides all the information about your computer's BIOS.
Need to quickly find out whether your graphics card meets the requirements of that fancy new video game? The Display tab (see Figure 8) is where you need to look. This tab also gives you information about your monitor — if it's not a boring, generic one like my laptop has.

Figure 8. Find out everything about your graphics, even the age and version of its driver.
The Storage tab (see Figure 9) is great! Not only can you hop around to each of your computer's drives, using the drop down box, but you can also check their S.M.A.R.T. status. There are two sub-tabs, Disk Drive and Logical Disks. Click Logical Disks to view the volumes of each hard disk.

Figure 9. The Storage tab lets you view drives, volumes, and S.M.A.R.T. info.
I have not used a home printer in eight years. My children got tired of my printing out memes and sending them via USPS. If you do have an installed printer, the Printer tab (see Figure 10) will tell you everything you need to know about it. this can be very handy if it's a network printer and you need the host name or IP address to connect another computer to it.

Figure 10. The Printer tab gives you information about any connected printers.
Use the Network tab (see Figure 11) to grab your IP address, MAC address, the specs of your network adapters, and more. This includes Ethernet or Wi-Fi adapters.
Need to know the IP address of your router so you can log in to its settings? Look under Gateway.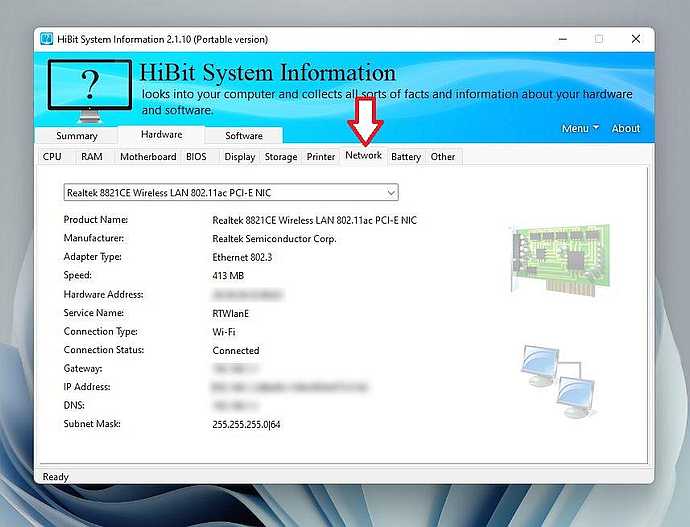 Figure 11. Everything about your network connection(s) at a glance
How long is your battery going to last before it croaks? The Battery tab (see Figure 12) shows your Battery Health and its Wear Level, along with a ton of info you may never need.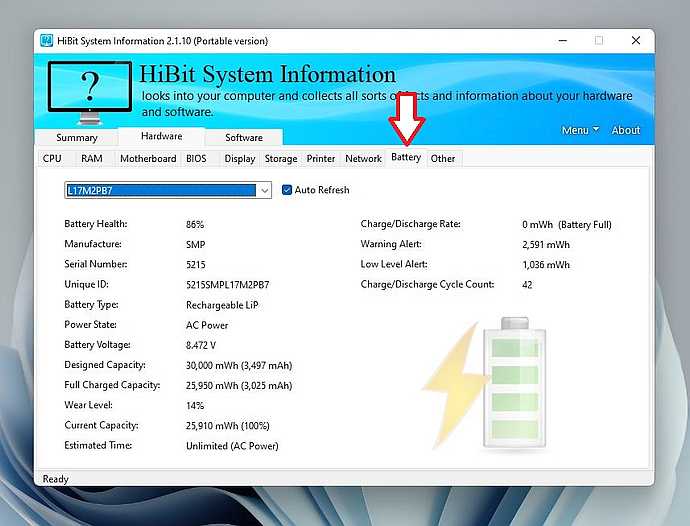 Figure 12. Don't just wonder how much longer your battery will live. Use the Battery tab.
The other items in your computer don't have enough info to justify having their own tabs, so they all get shoved into the Other tab (see Figure 13). If you need a bit of information about your sound device, mouse, keyboard, or other attached I/O devices, this is where to look.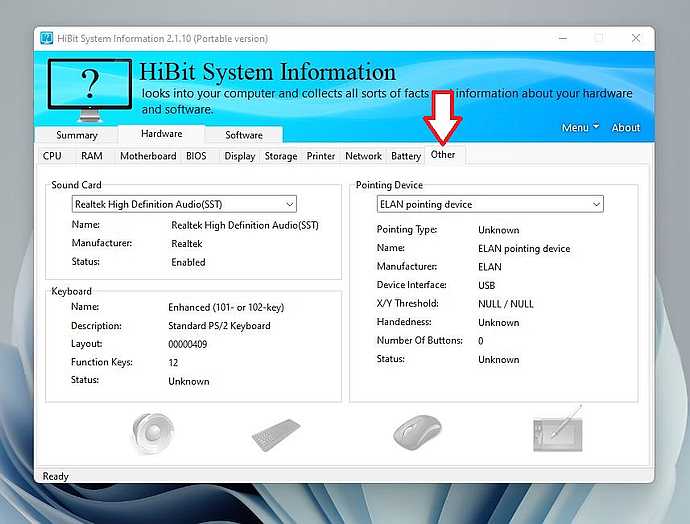 Figure 13. The Other tab includes hardware that doesn't need its own tab.
That does it for the Hardware tab. Let's move along to the Software tab (see Figure 14) and its first sub-tab: called Operating System.
Need to know the full version and build of your copy of Microsoft Windows? The date it was installed? When it was last rebooted? Whether it's 32- or 64-bit? Which hard drive it's on and much more? The Operating System tab has what you need.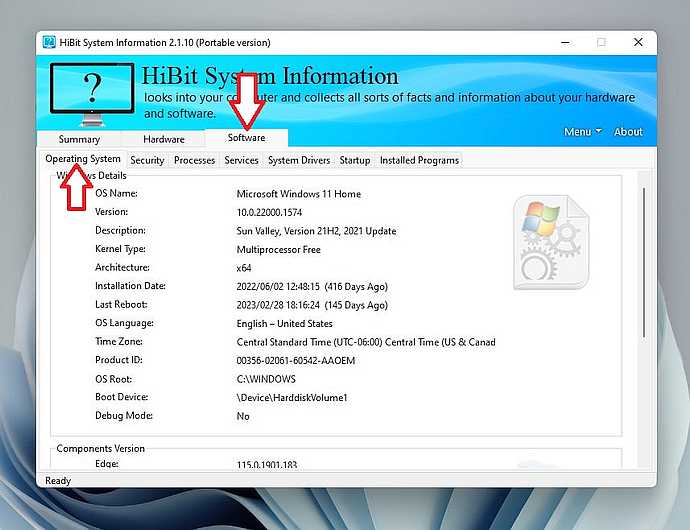 Figure 14. The Operating System tab gives you all the info you need about Windows.
The Security tab (see Figure 15) provides information about your installed antivirus program(s) and firewall.

Figure 15. The Security tab gives info on installed security software.
I may have found a small glitch here. On my Windows 11 laptop, HiBit does not show that Windows Firewall is enabled nor provide any information about it. Does the program show only third-party firewalls? That would be odd, because it shows the built-in Windows Defender antivirus.
The Processes tab (see Figure 16) not only shows you all the running processes on your computer, but it also lets you right-click and choose to terminate a process. That's pretty handy.

Figure 16. Right-click a process to terminate it under the Processes tab.
Need to know where the file resides for this process? Simply double left-click it to open an Explorer window to its location (see Figure 17).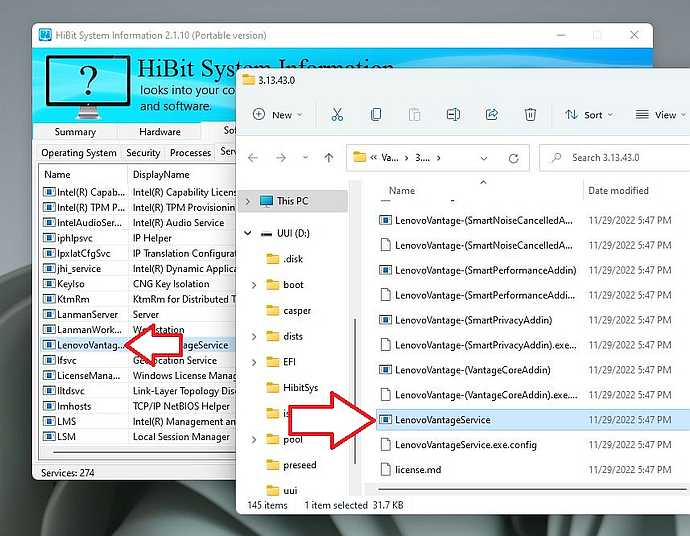 Figure 17. Double left-click to view the file location for a process.
The Services tab (see Figure 18) gives you all the information about the services installed on your computer. Need to delete one (only if you know what you're doing)? Right-click it and choose Delete.

Figure 18. You can use the Services tab to easily remove a service.
Next is the System Drivers tab (see Figure 19). This is a great way to remove a troublesome device driver with a simple right-click. (Again, do this only if you know what you're doing and what you're deleting. This is a very easy way to make your computer stop booting if you choose the wrong driver.)

Figure 19. Yes, you can delete device drivers. But should you?
Just as before, you can double left-click any driver to see where its file is (see Figure 20).

Figure 20. Double left-click to view a driver's file location.
The Startup and Installed Programs tabs (see Figure 21) let you right-click and remove an item from startup or right-click and uninstall a program — depending on which tab you are using.
It would be nice if there were an option for just disabling a startup entry instead of completely removing it. Maybe in a later version.

Figure 21. The Startup and Installed Programs tabs allow you to control your installed software.
Are you dark and foreboding? Use the Menu button (see Figure 22) of HiBit System Information to turn on the dark theme, refresh the computer specs, export a report of your system to an HTML file, check for program updates, or clean up the configuration (saved system info) file and exit the program. If you choose the latter, you will have to wait for the program to gather your system info again.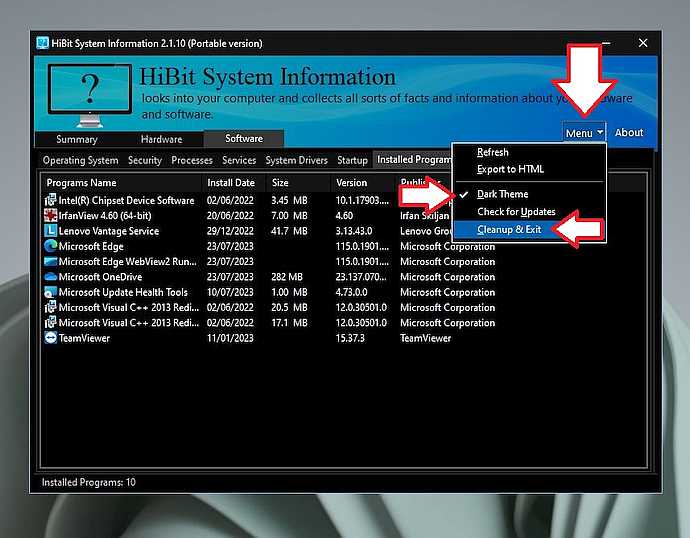 Figure 22. If you wear black lipstick and read Poe, a dark theme is available.
Yep, a very handy program — and one I would have paid for. (Shhh.)
Also check out HiBit Uninstaller at OlderGeeks.com. It's pretty awesome, too.
Bonus Software!
Want to live in a perfect world where every icon on your desktop is a picture of your cat in a different pose and with a different bonnet? The free program WinIcon Maker lets you create icons from images — with tons of extras.

Figure 23. Aww! It's an OlderGeeks.com icon.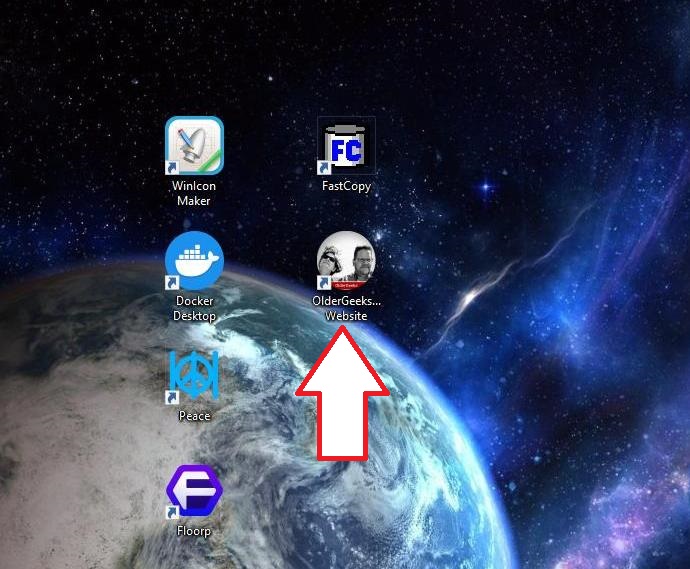 Figure 24. Made a shortcut to our website and changed the icon to the newly minted one. Easy!
Grab your very own copy of WinIcon Maker from Oldergeeks.com and have fun!
Happy computing!
| | |
| --- | --- |
| | Our entire philosophy at OlderGeeks is built on being a safe download site offering software you can trust. We use every program we consider, checking it carefully for bundleware or other sneaky stuff. Every downloadable is checked with VirusTotal and Malwarebytes. If a program is updated, we do the same checks again. We reject more programs than we accept, always stressing quality and safety over padding our collection. Every program mentioned in this article meets our rigorous standards. We're as trustworthy as Grandma's apple pie! |
Join the conversation! Your questions, comments, and feedback
about this topic are always welcome in our forums!
Deanna and Randy McElveen are celebrating more than a decade of running OlderGeeks.com, over two decades in the computer business, and even more than that putting up with each other. Their computer store is in a small town in the Missouri Ozarks. Believing that happy customers are always the best advertisement, they hope to squeeze in a couple more decades doing the same.
---
ADVERTISEMENT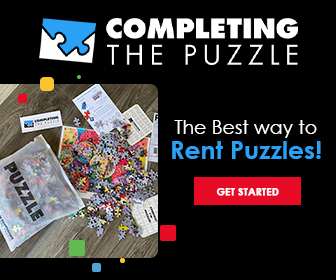 ---
Here are the other stories in this week's Plus Newsletter
BEN'S WORKSHOP

BitLocker, Windows 11 security, and you

By Ben Myers

BitLocker, a major part of a more secure Windows 11, is treated differently by the Windows Out-of-Box Experience (OOBE) setup than by an install and setup using the standard Windows 11 installation image downloaded directly from the Microsoft website.

This is a significant difference, so let's explore these two ways to install Windows 11, adding useful background and facts plus analysis of what Microsoft keeps close to the vest. (OOBE is an abbreviation coined by Microsoft.)

LEGAL BRIEF

A dozen problems with privacy

By Max Stul Oppenheimer, Esq.

The right to privacy appears to be on a roll.

Here are a few examples from just the last few months involving Meta, Twitter, Amazon, and Ring.

Meta was fined $1.3 billion for violating European Union privacy rules (it stored data in that notorious data piracy haven — the United States). Meta is appealing the fine.

ON SECURITY

My day on jury duty

By Susan Bradley

The last time I was called upon to perform my fundamental American civic duty was years ago. It hasn't changed much, except for technology.

There were bar codes, large displays that broadcast PowerPoint slides, and a YouTube video that explained jury service. That video went so far as to explain who sat where in the courtroom. (I thought that was obvious, but apparently I have watched way too many Perry Mason episodes.)
---
Know anyone who would benefit from this information? Please share!
Forward the email and encourage them to sign up via the online form — our public newsletter is free!
---
Enjoying the newsletter?

Become a PLUS member and get it all!

Don't miss any of our great content about Windows, Microsoft, Office, 365, PCs, hardware, software, privacy, security, safety, useful and safe freeware, important news, analysis, and Susan Bradley's popular and sought-after patch advice.

PLUS, these exclusive benefits:

Every article, delivered to your inbox
Four bonus issues per year, with original content
MS-DEFCON Alerts, delivered to your inbox
MS-DEFCON Alerts available via TEXT message
Special Plus Alerts, delivered to your inbox
Access to the complete archive of nearly two decades of newsletters
Identification as a Plus member in our popular forums
No ads

We're supported by donations — choose any amount of $6 or more for a one-year membership.
---
The AskWoody Newsletters are published by AskWoody Tech LLC, Fresno, CA USA.
Your subscription:
Microsoft and Windows are registered trademarks of Microsoft Corporation. AskWoody, AskWoody.com, Windows Secrets Newsletter, WindowsSecrets.com, WinFind, Windows Gizmos, Security Baseline, Perimeter Scan, Wacky Web Week, the Windows Secrets Logo Design (W, S or road, and Star), and the slogan Everything Microsoft Forgot to Mention all are trademarks and service marks of AskWoody Tech LLC. All other marks are the trademarks or service marks of their respective owners.
Copyright ©2023 AskWoody Tech LLC. All rights reserved.