ISSUE 17.49.F • 2020-12-14
The AskWoody Newsletter
FREE EDITION
---
In this issue
APPLE NEWS: How Apple silicon might hurt Windows
BEST OF THE LOUNGE: Is this the end, the final straw for Firefox?
Additional articles in the PLUS issue
LANGALIST: What's hijacking this PC's broadband connection?
PATCH WATCH: Yet more Office 2010 updates?!
OFFICE: Record and transcribe conversations directly into MS Word
ADVERTISEMENT
WinX HD Video Converter Deluxe

Video Converter, Downloader, Resizer & Editor

The best video converter & downloader you need to preserve perfect video quality with High Quality Engine. Learn more >

Convert 4K/HD videos to MP4, MKV, FLV, HEVC, MP3, etc.
Export videos for playable on PC, iDevices, Android and more.
Download videos from YouTube and 1000+ sites in batch.
Resize videos, edit, cut, crop, merge video, add subtitle.
Up to 47X real-time faster speed with GPU acceleration.

Download and try WinX HD Video Converter Deluxe for free now!
APPLE NEWS
How Apple silicon might hurt Windows

By Will Fastie
With the introduction of its M1 chip on Macs, Apple might well have triggered one of the greatest disruptions in the PC industry since the '90s.
Just the other day, I was catching up with an old friend, Jeffrey Tarter, founder of the influential SoftLetter publication. While we were reminiscing, Jeff opined that he had become bored by tech.
I knew instantly what he meant; we'd both come up through the exciting birth and maturation of the PC industry — a time when it seemed as though something new and revolutionary was appearing every 12 minutes. We lamented that the once exceptional pace of innovation seemed to have been lost somewhere along the way.
Until recently, that is.
Apple changes CPUs — again

This past November, Apple introduced three new updates of its mainstream macOS computers: MacBook Air, MacBook Pro (13-inch), and Mac mini. Nothing unusual there — until you know what they have in common.
All three lines have been enhanced with Apple's new system on a chip (SoC) — the M1 — that's based on the ARM instruction set (currently used in Apple's mobile devices).
I've been an Apple skeptic and critic for a very long time. But while watching November's Apple press event, I was transfixed by the description of the M1. Here's the company's summation:
"Packed with an astonishing 16 billion transistors, the new M1 chip integrates the CPU, GPU, Neural Engine, I/O, and so much more onto a single tiny chip. Combined with the new macOS Big Sur, M1 delivers category-smashing speed, mind-bending graphics, and power efficiency and battery life that defy belief."
That seemed like a bold statement —
even for Apple. Increased performance and longer battery life? Computer manufacturers will typically claim one or the other. But both? Rarely. My skepticism only deepened.
However, on paper, Apple's claims seemed to make sense. To appreciate why, we need to understand the "system on a chip" concept. It all comes down to how quickly you can move ones and zeros around processing components and memory. While we might not be able to make electromagnetic waves — and thus data — move significantly faster across circuits, we can speed things up considerably by shortening the distance signals need to travel. SoCs are today's epitome of that strategy.
I got into the business back when minicomputers were king. The Data General Nova systems I worked with had a main board that measured about 15 inches square — and held just the CPU. Memory was on another equally sized board plugged into the computer's chassis, and I/O boards occupied other slots. The distance between the CPU and the main memory was several feet.
Then microcomputers reduced those component distances to inches or less.
Following Moore's Law of packing ever more transistors onto a chip, Intel combined processing and much of the ancillary electronics into a single integrated circuit (IC). Next came multiple processors (cores) on a chip, further reducing the distances data had to travel. For a while, input/output (I/O) control and graphics (GPUs) remained on a separate chip. But eventually, GPU cores were moved to the main IC chip. This not only enhanced performance, it also reduced power consumption and heat.
Going to the next level: The SoC concept isn't new: lots of mobile and Internet of Things (IoT) devices rely on the technology. But the M1 is the first application of SoC on mainstream personal computers — and it has done so in a radical way.
Apple has packed almost all computing components onto the one M1 package. Processing components include eight CPU cores, eight GPU cores, and a 16-core Apple neural engine. Amazingly, the M1 also contains either 8GB or 16GB of system memory (DRAM). No social distancing requirements here — most components are just microns apart.
Figure 1 shows the M1's schematic layout on the left and an image of the SoC package on the right. The DRAM is not on the processor die but is tightly tied to it (the two dark structures on the far right).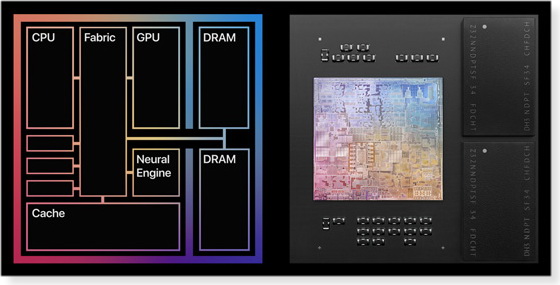 Figure 1. The M1 packs 16 billion transistors onto a die that's only about 119 square millimeters. Click here to enlarge the right half of the image. Source: Courtesy of Apple Inc.; used with permission.
Figure 2 shows the major areas of the M1 SoC. The unlabeled area in the bottom right could be the fabric that ties everything together.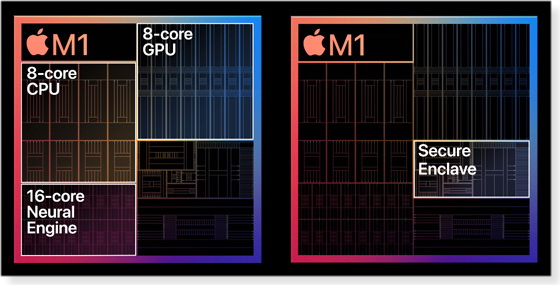 Figure 2. These images make the general organization of the main chip more obvious. Source: Apple Inc.
Does Intel or AMD or Qualcomm have anything like it? I don't think so.
Are Apple's claims true?
Watching the reactions of the Apple followers whose opinions I trust has been extremely interesting. Apple is no stranger to outsized claims, but the impression I got from the experts was one of cautious optimism.
That turned into genuine surprise and excitement when these folks got their hands on the new Macs. Based on independent tests, Apple's claims proved generally valid. You'll notice I didn't say "true," because Apple has a reputation for hedging. It's famous for adding the preface "up to" for almost every spec. Nevertheless, the experts are impressed.
The analyst I most trust is YouTube star Marques Brownlee. Although he's thoroughly immersed in all things Apple, I've never seen him pull a punch.
Surprisingly, the M1's launch was atypical for Apple, and that affected the early reports. The new machines were announced before they were offered to big-name reviewers. So Brownlee and others first discussed the announcement, then tested the M1-based machines about a week later. That resulted in a different kind of analysis, exemplified by Brownlee's two videos. Start with his Apple M1 Chip: Let's Talk video and then check out his Apple M1 Mac Review: Time to Recalibrate!.
What does this mean for Intel?
I've followed the development of Intel chips since the '70s — before its 8080 architecture even existed. But the M1 represents the first disruptive threat to Intel (and, by extension, AMD) I've seen.
For the moment, Apple's planned processor migration shouldn't have a huge impact on Intel. The move to M1 on all Macs is in its early stages. Even if every Mac sold today used Apple silicon, it would put only a small dent in Intel's overall sales, due to the vastly larger market for Windows PCs.
That said, Intel has had some problems fabricating denser chips. The Apple M1 is based on 5 nanometer (nm) fabrication, but, as reported in a recent PCMag article, Intel is still having issues with 7nm development.
In short, Apple's success with 5nm is a game changer.
Moreover, Apple is sitting on a huge pile of cash, which means it can throw billions into M-series R&D without making a significant dent in its balance sheet. Intel is not in the same position. Despite its long dominance in the personal computer market, it's not nearly the size of Apple.
What will be the effect on Microsoft and Windows?
As with Intel, the M1 doesn't present an immediate problem for Microsoft, either. But the first M-series processor is just the opening salvo. We can surely expect M2, M3, and so on, as Apple expands its portfolio of devices. (Reportedly, the insanely expensive Mac Pro will stay on Intel for now.)
We could, for example, see M-series SoCs in iPads at some point, increasing Apple's competitive position in the general-purpose PC market. And that could chip away at Microsoft's Windows dominance.
Yes, Windows still occupies the high ground — especially in business environments. But Microsoft, under CEO Satya Nadella, has successfully followed an IBM-like strategy. It's moving away from low-margin products and building out popular "services" (think Microsoft 365 and Azure) that generate steady and recurring revenue and that promise substantial growth. (IBM got out of the low-margin PC business well before it became low-margin.)
Windows is becoming one of those businesses with diminishing profits; when was the last time you paid for it? More importantly, Microsoft has become OS-agnostic. Microsoft 365 (née Office 365) runs on a wide range of platforms — including Apple. Microsoft doesn't care whether Word and Excel are running on an Intel-based Mac, an ARM-based computer, or an AMD-powered PC.
To drive that point home, Apple has M1-enhanced one of its most interesting marketing ploys from the past: the always underrated Mac mini (see Figure 3).


Figure 3. Apple's new Mac mini is another shot across Microsoft's bow. Image courtesy Apple Inc.
The Mac mini has been in the Apple portfolio for such a long time that most of us have probably forgotten its original intent. Relatively inexpensive (for an Apple computer), it shipped bare of peripherals: no display, keyboard, or mouse. The model I purchased in 2007 did include a DVD slot, but even that vanished in later models. At the time, I was exactly the user Apple was targeting with this machine — a long-time Windows user with spare I/O devices. I used a KVM (keyboard/video/mouse) switch, so with the tap of a key, I was in business.
The M1 processor makes the mini much more interesting to users like me, as Apple probably surmised. Had Apple wanted to target its existing market with the new CPU, it would likely have settled on just the two MacBook models. By throwing the mini into the mix, Apple is repeating its 2006 strategy: saying "Hello!" to the Windows/Intel (Wintel) world — but this time with force.
The M1-based Mac mini should be a tantalizing machine for many PC users, all the more so because it's fairly cheap. In fact, all three M1 machines are aggressively priced, which Apple CEO Tim Cook attributed to the lower cost of using its own silicon.
But with all due respect to Mr. Cook, I'm not buying that. I think the first round of M1 systems are effectively loss leaders, designed to drum up interest in this forthcoming generation of devices from Apple. (Okay, I doubt these computers are being sold at a loss; let's just say I think the margin is thinner than Apple would usually accept.)
Here's something else that might attract Windows users.
In a December 1 YouTube video that generated a fair bit of media attention, Martin Nobel demonstrated running a virtual copy of Windows 10 on the Mac mini M1. Interestingly, he used the ARM edition of the OS, not the Intel version.
The surprise? Win10 was running natively, not in emulation. He tested a few Win10 apps (such as the new Edge) plus some x86, emulated Windows 7 games. Most ran fast and smooth. But the test that drew the most attention was comparing Windows-based Geekbench 5 on the virtual Win10 (again, ARM edition) against the Microsoft Surface Pro X. The benchmark ran approximately 61 percent faster on the M1 Mac mini.
That performance difference isn't a minor disturbance; it's a tectonic shift.
What does it all mean?
Those who know me will tell you that I'm no Apple fanboy — and never a Jobs acolyte. I bought the Mac mini back in 2007 in order to test webpage rendering on Apple Safari. I did not find it otherwise compelling.
That's not the case with the new M1 models — especially the mini. This is the first time I've been sincerely interested in an Apple machine. And that's quite a shaker for me.
I think Apple has landed the first blow in what will be an evolving battle with Wintel, one that could make Apple a much bigger player in the personal-computer world. Certainly, it's more interesting than the next iPhone.
Will I actually buy one? For my wife — maybe. I remain tied to demanding, Windows-only Web-development tools and thus need to see the second or third generation of M-series SoCs before I can make that plunge. But for millions of folks needing a utilitarian, mid-range personal computer, I think things are looking up for Apple.
Questions or comments? Feedback on this article is always welcome in the AskWoody Lounge!
Will Fastie is a Web developer specializing in self-service websites for small businesses. Trained in computer science at Johns Hopkins University, he has held positions as a transaction processing systems programmer, magazine editor, newsletter publisher, Wall Street analyst, CTO and systems consultant.
---
Best of the Lounge
Is this the end, the final straw for Firefox?
Many computer users have a love/hate relationship with Mozilla's powerful Firefox browser. It has a wealth of cool features. But it can also be a bit … burdensome, taxing, weighty?
Baffling is the word Plus member Cyril Souchon might choose. You'd think that Gmail would not be an issue with Firefox. But Cyril was at wits' end with a Gmail error message stating "We're sorry, but your account is temporarily unavailable." Was it time to bail on Firefox? The question was put to the Lounge.
Most fellow forum members report no conflicts between the browser and Gmail. But an anonymous guest suggests clearing the FF cache.
---
Linux
Da Boss Susan Bradley reported that this open-source Linux platform was being shut down. Will that cause a stir in the industry? Is there an easy replacement? Forum members offer their thoughts on this — for some — unwelcome news. To add to the confusion, the official announcement stated the CentOS Project was shifting direction from CentOS Linux to CentOS Stream.
---
MAINTENANCE
After a catastrophic SSD failure, Lounger Kathy Stevens turned to the arduous task of restoring her system through various methods. When all was safely recovered, Kathy wondered whether cloning drives was more practical than backing them up. Not surprisingly, forum members had a lot to say on this topic.
---
MALWARE
Plus member Alex5723 alerts us to the persistent and troubling Adrozek malware. If you're infected, Microsoft reportedly recommends reinstalling the compromised browser.
---
THE WEB
Have you been online, and a website insists you're in an entirely different ZIP code or city? Plus member jburk07 was mystified by that behavior on the Southwest Airlines site. Fellow Loungers offered insights, but the bottom line is that there's no good solution. But the real question is this: Do you want websites to know where you live?
---
Outside the box
Plus member Ascaris reports that the U.S. National Weather Service has a vastly improved website for weather-radar information. For those of us who keep an eye on which way the wind blows, that's excellent news.
---
Fun Stuff
There's nothing that generates strong opinions like "The best … ." And that's especially true with sci-fi fans. Plus member OscarCP started this thread a year ago, and it's still getting attention. What's your vote for the ultimate SF adventure? It's a really tough call.
---
If you're not already a Lounge member, use the quick registration form to sign up for free.
LANGALIST

What's hijacking this PC's broadband connection?

By Fred Langa

A subscriber's PC auto-connects to an unwanted, unknown, and very slow network — and nothing will set it right.

That included running Norton AV, resetting the network, changing ISPs, swapping routers, and even using different PCs — but no luck. So the machine's owner suspected an active hack. Is it?

Plus: What's the best tool for definitively checking any single file for malware?

---

PATCH WATCH

Yet more Office 2010 updates?!

By Susan Bradley

Well … we thought we'd seen the last of Office 2010.

Last month (November), I was surprised to see updates for the then newly obsolete suite. (It reached its official end of support this past October 13.) But here we are again: Microsoft has released another round of updates for Version 2010.

Years ago, Office 2007 received a similar reprieve of additional updates for several months after its end of life. So we might see additional updates for Version 2010 in coming months.

---

OFFICE

Record and transcribe conversations directly into MS Word

By Lance Whitney

So you recorded the audio from that important video meeting, and now you want to turn it into text.

There's no need to buy an expensive speech-to-text app. If you're an Office 365 subscriber, Word for the Web now offers a quick and convenient option — Transcribe — for converting both live and pre-recorded conversations into a text-based record.
---
Publisher: AskWoody LLC (woody@askwoody.com); editor: Tracey Capen (editor@askwoody.com).
Trademarks: Microsoft and Windows are registered trademarks of Microsoft Corporation. AskWoody, Windows Secrets Newsletter, WindowsSecrets.com, WinFind, Windows Gizmos, Security Baseline, Perimeter Scan, Wacky Web Week, the Windows Secrets Logo Design (W, S or road, and Star), and the slogan Everything Microsoft Forgot to Mention all are trademarks and service marks of AskWoody LLC. All other marks are the trademarks or service marks of their respective owners.
Your email subscription:
---
Copyright © 2020 AskWoody LLC, All rights reserved.