ISSUE 20.24.F • 2023-06-12 • Text Alerts! • Gift Certificates
You're reading the FREE newsletter

You'll immediately gain access to the longer, better version of the newsletter if you make a donation and become a Plus Member. You'll receive all the articles shown in the table of contents below, plus access to all our premium content for the next 12 months. And you'll have access to our complete newsletter archive!
Upgrade to Plus membership today and enjoy all the Plus benefits!
In this issue
ONEDRIVE: How to resolve synchronization problems in OneDrive
Additional articles in the PLUS issue
FREEWARE SPOTLIGHT: AltSnap — A little bit of Linux in Windows
HARDWARE DIY: Storage Spaces or Intel Rapid Storage?
ON SECURITY: Email for the modern world
APPLE NEWS: The last shoe drops
---
---
ONEDRIVE
How to resolve synchronization problems in OneDrive

By Lance Whitney
Sometimes OneDrive fails to properly sync your files. Here's how to deal with these annoying issues.
I use Microsoft OneDrive to back up and sync my documents, photos, and other files. For me, it's still the most seamless way to ensure that my files are not only backed up to the cloud but also synced and accessible across all my computers and mobile devices.
However, OneDrive can be glitchy.
Sometimes files fail to sync properly. Sometimes they're accidentally deleted. Sometimes they get synced and saved as duplicate copies. And that's when you need to step in to try to set things right. Here are some of the most common syncing ailments with OneDrive and how to fix them.
File not syncing online
You're working with a document or other file on your computer, but it's not syncing to OneDrive online. There are a few reasons why you may bump into this problem.
File is open — First, OneDrive doesn't automatically sync a file that's open. Normally, the service has to wait for a file to be saved and closed before the synchronization is completed. In this case, close the file and wait a few seconds to see if it now gets synced. To confirm, click the OneDrive icon in the System Tray and make sure the status says, "Your files are synced."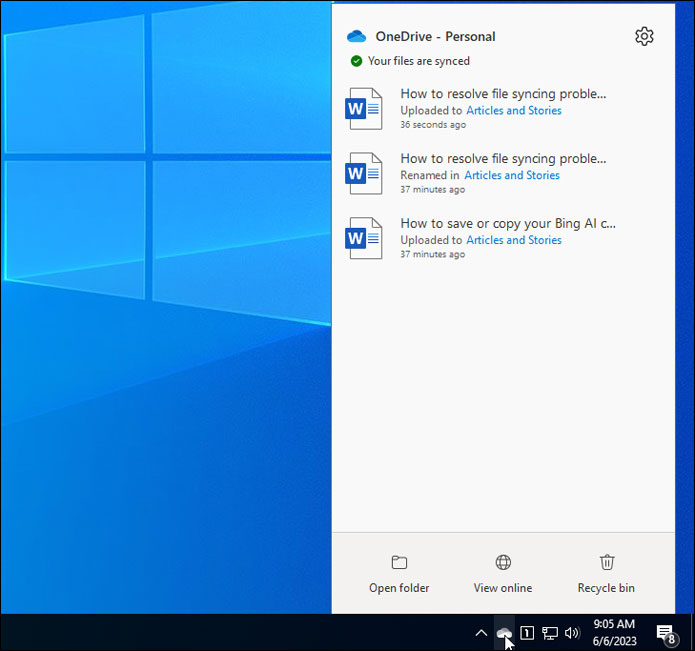 Figure 1. Try saving and closing an open document or other file to see if it fully syncs.
Signed out of OneDrive — Second, your files may not be syncing because you're not signed in to your OneDrive account. In this event, you'll see a vertical line across the OneDrive System Tray icon (see Figure 2, lower right). Click the icon and then click the Sign in button. Enter the email address of the Microsoft account you use for OneDrive. Confirm your OneDrive folder, and follow the remaining steps until your OneDrive account is again active.

Figure 2. If OneDrive isn't syncing, you may need to sign back in to your account.
Syncing has been paused — Third, maybe your files aren't syncing because you accidentally paused the process. In this case, the OneDrive System Tray icon will sport a tiny pause button on it. To resume syncing, click the System Tray icon, select the Gear icon at the top of the window, and then click Resume Syncing (Figure 3).

Figure 3. Resume syncing.
On occasion, syncing stops but the pause notice shown in Figure 3 is not present. A possible solution is to manually toggle the sync state. This can be done from the same Settings menu; click Pause syncing and then Resume syncing.
Microsoft's fault — And fourth, maybe the problem is Microsoft's fault (Figure 4). Yes, I know, it always seems to be Microsoft's fault. But here I mean that if your OneDrive files aren't syncing, perhaps the OneDrive service is down. Before you tear out your hair troubleshooting the problem on your end, check Microsoft's Service Health status page. This lists all the company's key services with a green checkmark or red X for each one, to indicate whether it's functioning.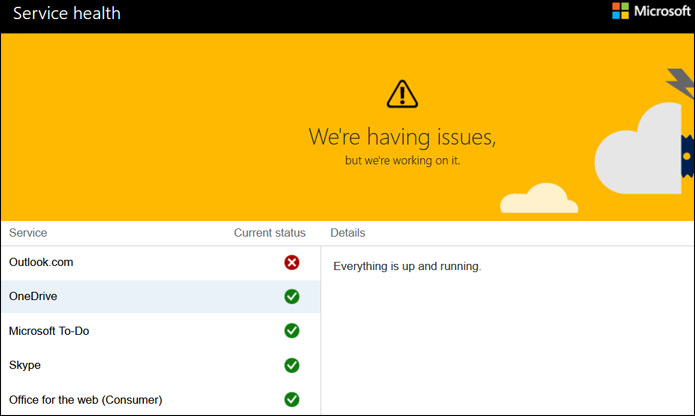 Figure 4. Check Microsoft's Service Health status page to see if OneDrive is up or down.
A file is not syncing everywhere
One of the benefits of OneDrive is that your files are not only backed up to the cloud but synchronized across every computer and device where you're signed in. Sometimes, though, certain files are syncing on one computer but not on another.
On the computer where specific files are not being synced, make sure you're signed in and that syncing isn't on pause. If neither of those accounts for the problem, then it could be something simple. Maybe OneDrive is trying to sync dozens or hundreds of files, and the specific file you want hasn't yet been synced (Figure 5). To check, click the OneDrive System Tray icon. The status window may show a large queue of files due to be synced. If so, just sit tight and wait for the desired file to be synced.

Figure 5. A file may not be syncing because it's waiting in a long line.
Microsoft Office files aren't syncing properly
OneDrive provides an option that lets Microsoft Office or Microsoft 365 handle the syncing. But this option can cause conflicts. You may receive an error message telling you that an upload has been blocked, or your Office documents may simply fail to sync properly. If so, your best bet is to turn off this option. Click the OneDrive System Tray icon and select the Gear icon. In the Sync and backup section, click the entry for Advanced settings and then uncheck the box for File collaboration (Figure 6).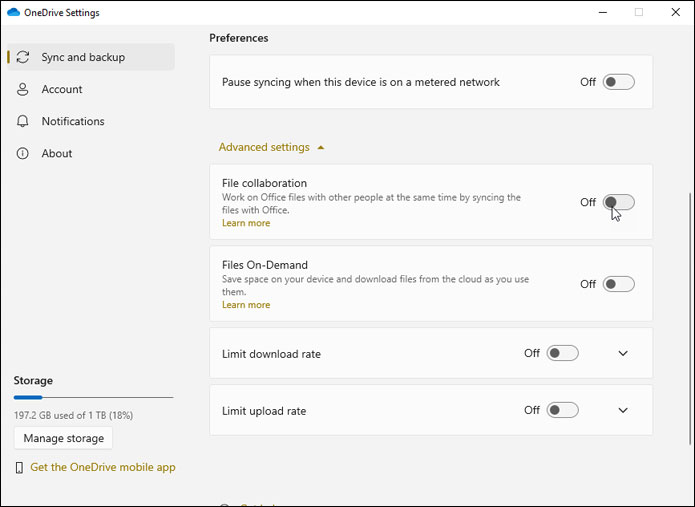 Figure 6. If Office documents aren't syncing properly, uncheck the box for File collaboration.
Backup and syncing fail because OneDrive is full
The amount of storage space you get with OneDrive varies. If you subscribe to one of the Microsoft 365 products, then your storage will land at 100GB, 1TB, or 6TB (1 TB per person). If not, then your space is capped at 5GB, which may run out if you're trying to sync too many large files. Normally, you'll receive a notification from Microsoft if your OneDrive storage is running low and files are unable to be backed up (Figure 7).

Figure 7. If your OneDrive storage is full, you'll either have to remove files or grab more space through a Microsoft 365 subscription.
What can you do if you're running out of space? Click the OneDrive System Tray icon and select View online. Go through your OneDrive folders and files and try to delete any you no longer need. One handy tool built into Windows 10 and 11 is Storage Sense, which can help you remove files from OneDrive. For this, go to Settings | System | Storage and click the graph for OneDrive.
If you need more space and can't free up files, Microsoft places you in a bind. To push more people into Microsoft 365 subscriptions, the company no longer offers a standalone OneDrive subscription, at least not for personal accounts. Instead, Microsoft steers you to its Office suite. In this case, a subscription to Microsoft 365 Basic offers 100GB of OneDrive space as well as access to the Office applications for the price of US$1.99 a month or $19.99 a year.
Syncing fails because your hard drive is full
Today's hard drives have ample space to store plenty of files. But maybe you have an older computer or an older drive with a small amount of storage; or you're dealing with large files, such as video. If you're running low, the files set to be synced from OneDrive to your PC may not have enough space. Here, at least, you have a couple of options. (See Figure 8.)
Click the OneDrive System Tray icon and select the Gear icon. Go to the Sync and backup section. Under Advanced settings, turn on the switch for Files On-Demand or click the button for Free up disk space. This will remove all OneDrive files from your PC, keep them in the cloud, and download them selectively only when you need a specific one.

Figure 8. Running low on hard-disk space? Set your OneDrive files to be downloaded only on demand.
As another option, select the Account category under Settings and click the Choose folders button (Figure 9). Deselect any folders you don't need on your existing computer and then click OK. Those files will still be accessible in OneDrive online and on other computers that may have more storage.

Figure 9. Another solution to low disk space is to turn off syncing for specific folders in OneDrive.
Files are missing
You look for a file that normally gets synced through OneDrive, but you can't find it. Maybe you accidentally deleted it, or maybe some glitch caused it to disappear. But you can turn to OneDrive for help.
Naturally, you'll first want to check your computer for the file, including the Windows recycle bin. But if you still come up empty, OneDrive offers its own recycle bin, which hangs on to deleted files for 30 days.
To check, click the OneDrive System Tray icon and select View online. Sign in to your OneDrive online storage area. At the website, click the category on the left for Recycle bin. The page shows all recently deleted files for you to browse. Searching for a file by name? Type all or part of its name in the Search field at the top. If you find the file you want, click its checkbox. Then right-click it and click Restore from the pop-up menu, or click Restore at the top of the screen.

Figure 10. Looking for a missing file? Check OneDrive's own Recycle bin.
Duplicate files
You open File Explorer to view a folder of OneDrive files and discover two files with the same name; however, one is appended with the name of one of your computers. Normally, OneDrive syncs the latest version of a file based on recent changes and the last modified date and time. However, sometimes OneDrive gets confused if the same file is open on more than one device or it isn't saved with the latest changes. In that case, OneDrive saves both of the last two copies of the file — one with its regular filename and a second with the name of the computer appended. (See Figure 11.)
To respond to this problem, look at both versions of the file in File Explorer to see which one has the most recent date and time. That's likely the one you want to keep. To be sure, open both files in their associated application. Decide which one is the best choice, based on the content you need to retain. Close both files. Delete whichever file you no longer want, and then make sure the remaining file doesn't have the computer name appended to it.
This glitch can pop up randomly, so it's hard to completely prevent it from happening. To try to avoid this dilemma, though, make sure a file is open only on one device at a time. Also be sure to save the file as often as possible so that it incorporates the latest changes. And remember that open files don't immediately get synced by OneDrive. For that reason, you may want to periodically close the file, allow the latest changes to be synced, and then re-open it to resume your work.

Figure 11. To prevent duplicate files, make sure a file is open on only one PC or device at a time.
Though OneDrive can be a helpful and effective way to back up and sync your files, it does sometimes cause trouble. But you can correct and even prevent many common OneDrive glitches by knowing how and where to resolve them.
Join the conversation! Your questions, comments, and feedback
about this topic are always welcome in our forums!
Lance Whitney is a freelance technology reporter and former IT professional. He's written for CNET, TechRepublic, PC Magazine, and other publications. He's authored a book on Windows and another about LinkedIn.
---
ADVERTISEMENT
---
Here are the other stories in this week's Plus Newsletter
FREEWARE SPOTLIGHT

AltSnap — A little bit of Linux in Windows

By Deanna McElveen

If you are a dual operating system user, specifically Linux and Windows, you know how frustrating it is to hold down the Alt key in Windows to move or resize a window — and nothing happens.

If you have never used Linux, today's free software will make you Linux-curious.

hardware diy

Storage Spaces or Intel Rapid Storage?

By Will Fastie

My plan to use Storage Spaces on Opal hit a speed bump.

In my recent article Windows Storage Spaces (2023-05-22), I described my experiment with Opal, in which I decided to replace the RAID array created by Intel Rapid Storage with the same type of array created by Storage Spaces. My reaction was generally positive, although I did complain about the UI.

My opinion has changed. I'll be reverting to Intel Rapid Storage.

ON SECURITY

Email for the modern world

By Susan Bradley

When we go online, we begin with a basic tool that started us all on the technology journey years and years ago — an email address.

Some people consider email addresses temporary, changing them often as they switch ISPs or other services. But others, perhaps a vast majority, consider them a matter of identity.

Having dealt with clients, friends, and family for decades, I have some recommendations regarding the general use of an email address — including using it for authentication.

APPLE NEWS

The last shoe drops

By Will Fastie

Three major announcements from Apple during WWDC 2023 close the loop for Apple silicon.

No, I'm not talking about Apple Vision Pro, Apple's new "spatial" computer.

The big news is that Apple's product lineup no longer includes Macs with Intel silicon.
---
Know anyone who would benefit from this information? Please share!
Forward the email and encourage them to sign up via the online form — our public newsletter is free!
---
Enjoying the newsletter?

Become a PLUS member and get it all!

Don't miss any of our great content about Windows, Microsoft, Office, 365, PCs, hardware, software, privacy, security, safety, useful and safe freeware, important news, analysis, and Susan Bradley's popular and sought-after patch advice.

PLUS, these exclusive benefits:

Every article, delivered to your inbox
Four bonus issues per year, with original content
MS-DEFCON Alerts, delivered to your inbox
MS-DEFCON Alerts available via TEXT message
Special Plus Alerts, delivered to your inbox
Access to the complete archive of nearly two decades of newsletters
Identification as a Plus member in our popular forums
No ads

We're supported by donations — choose any amount of $6 or more for a one-year membership.
---
The AskWoody Newsletters are published by AskWoody Tech LLC, Fresno, CA USA.
Your subscription:
Microsoft and Windows are registered trademarks of Microsoft Corporation. AskWoody, AskWoody.com, Windows Secrets Newsletter, WindowsSecrets.com, WinFind, Windows Gizmos, Security Baseline, Perimeter Scan, Wacky Web Week, the Windows Secrets Logo Design (W, S or road, and Star), and the slogan Everything Microsoft Forgot to Mention all are trademarks and service marks of AskWoody Tech LLC. All other marks are the trademarks or service marks of their respective owners.
Copyright ©2023 AskWoody Tech LLC. All rights reserved.