ISSUE 17.33.F • 2020-08-24
The AskWoody Newsletter
FREE EDITION
---
In this issue
DISTANCE LEARNING: How to transfer school apps from Chromebook to Windows
BEST OF THE LOUNGE: When will I get pushed onto Windows 10 2004?
Additional articles in the PLUS issue
LANGALIST: Annoyed that Win10 Version 2004 won't install
PATCHING SURVEY Patching survey: Business — 2020
HARDWARE: Docking stations: Combining the best of laptops and desktops
ADVERTISEMENT
FastMove

Migrate Data Between PCs the Easy Way with FastMove for Only $9.95!

Need to move all your software, user profiles, settings and files to a new computer? FastMove will do it for you automatically! Grab your copy today with an exclusive 90% discount and seamlessly transfer accounts, settings, apps, files, and more!
DISTANCE LEARNING
How to transfer school apps from Chromebook to Windows

By Woody and Andy Leonhard
Over the past few months, I assume many of you have become the local support center for an extended family of kids, all of whom are trying mightily to get into the swing of online learning.
My fifth-grade son, Andy, is in a school district that spent USD $6 million this year on new Chromebooks. Here's what he says:
"You get a Chromebook administered by the district along with supplies. The district mainly uses Zoom for communications. But what I quickly discovered is that the Chrome's sound output, camera quality, and screen are inferior to our Windows-based home PCs."
In addition to using Zoom, the school district has a customized webpage — its online "Dashboard" — that's based on the ClassLink application. That app draws on resources from Google Classroom and Schoology — along with assists from Gmail (limited to the local school district), Freckle, Khan Academy, and dozens of other less-used options. School work can hop from one app to another, held together by Google Docs and Slides and customized sign-ins for services the district pays for — subscriptions, platforms, and the like.
Fortunately, your school district probably doesn't require the use of a Chromebook. Ours doesn't. So our weekend project was to migrate Andy's entire distance-schooling environment — applications, data, procedures … the whole ball of wax — from the school-supplied Dell Chromebook (with a leisurely Celeron N3060) to his trusty and comparatively beefy two-year-old, $600 Costco Special Windows PC.
Your school's distance-learning setup is likely to be somewhat different from ours, but if you want to make the same change, the following steps should help.
Step 1: Create a new local account on the PC
You'll want a fresh account on the PC that's dedicated to school work. Using an admin-level account (usually the account you created when you first set up the PC), click Start/Settings/Accounts. In the left column, click Family & other users. Under Other users, click the plus sign next to Add someone else to this PC. You'll then see the Microsoft account dialog box, shown in Figure 1.

Figure 1. When setting up a new account on a PC, Windows will first ask how you'll sign in.
Note! You don't want to set up a "Microsoft" account — which is to say an account that's registered and tracked by the company. You should create a local account that's tied to just this one machine. (There are many reasons why you want to do this — too many to go into here. Trust me on this one.)
To bypass setting up an MS account, click "I don't have this person's sign-in information." In the next screen, click the "Add a user without a Microsoft account" link. You'll then see a form that looks like Figure 2. Give the new account a username — in this example, I've entered "Wilson" (in homage to the movie Castaway).

Figure 2. This screen lets you enter the credentials for a new local account.
Unless your student has meddlesome siblings, you don't need a password. So just leave those boxes blank. Click Next, and the new account will immediately show up under Other users.
Step 2. Build out the new account
Start by rebooting the computer.
When the Windows lock screen appears, choose the new account (e.g., "Wilson") — Windows will grind through its usual "Hi" mumbo jumbo. When prompted, pick your security settings, turning off anything you don't like — such as Advertising ID and Tailored Experiences. At the end of the process, click Accept.
The new account's desktop will appear. If a copy of the Chrome browser isn't already installed, open MS Edge and enter https://www.google.com/chrome to download and install Google's browser. (And while you're at it, check whether you have the new Chromium-based Edge. If not, download it, too.)
Step 3. Get your sign-in information from the Chromebook
Localities will differ, but it's a good bet that your student's Chromebook is managed by the local school district. If that's the case, be of good cheer: you're almost done.
Have your student sign in to the Chromebook, and take note of his or her username and password. (See Figure 3.)

Figure 3. A sample of the local school district's online sign-in page (blurred to literally protect the innocent).
Note that the username should actually be an email address. If the address you need isn't immediately clear when signing in to the Chromebook, have your student enter the assigned username/password and then open a Google app — Gmail, for example. Next, in the upper-right corner of the app, click on their picture/avatar. And if that doesn't work, click the three vertical dots in the upper-right corner and choose Settings. The "You and Google" box will show your student's full identity.
Bottom line: One way or another, you'll need to know your student's district-assigned username and password before you switch over to the PC.
Step 4. Use the sign-in information on the PC
Open the Chrome browser. If you see the "Welcome to Chrome" screen, click the "Already a Chrome user? Sign in" link at the bottom of the window. When the Sign in to Chrome box opens, enter the username you acquired from the Chromebook. (See Figure 4.)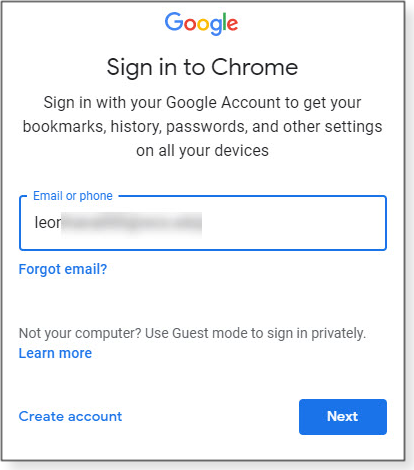 Figure 4. Google's generic sign-in dialog box
Click Next and enter the password. That'll get you signed in to the account provided by the school district. Google might pop up the message "We would like to confirm that the referenced account is yours." If so, just click Continue. You could see a warning that your account is being managed by the school. That's good! In fact, that's exactly what you want to see. Click Link data. If you're asked whether you want to sync, click Yes — that will synchronize your Windows PC with the Chromebook.
Step 5. Find the distance-learning entry point
Our school district's Chromebooks are preconfigured to go directly to the custom ClassLink site. If your district has a default go-to location, you can replicate that action on your PC. For example, with ClassLink, enter launchpad.classlink.com into Chrome's address bar, then find your school … and you're on your way. Save the district's ClassLink URL as the browser's default home page. Again, your area might have a somewhat different sign-in procedure, but you can probably suss out the correct URL by looking at the fully connected Chromebook.
If you've put the moving pieces together properly, your student should see — and be able to interact with — all of the school's programs from the home PC (or Mac).

Figure 5. Our school district's online-learning dashboard running on a Windows-based Chrome browser
The trick to this transition is using the Windows-based Chrome browser just as your student would on the Chromebook. Still, keep the Chromebook handy, just in case. And if you have any questions, comments, or observations, please post them on AskWoody.
Do keep this in mind: Along with that PC's big (touch?) screen, full audio, and nice keyboard, you also get the usual Windows stuff … the occasional hour-long updates, mysterious freezes, inexplicable error messages, reboots when you least expect them, and short battery life (assuming your student is using a notebook that's not connected to power). Who knows — you might well end up moving back to the Chromebook!
The road ahead
I know these times are tough. My family is fortunate to live in a school district that lets parents choose whether to send their kids to school or keep them at home. I hope you have the same flexibility.
Teachers — who are supposed to, you know, teach — are suddenly being set up as admins for 25-node (give or take) distributed networks. Things go bump in the night. Things go bump in the middle of class. One bumpy thing bumps into another. It will not take much for the whole house of cards to come tumbling down.
You and I are used to that. We've worked with PCs long enough to know that nothing digital — and especially anything with "computer" in its name — rarely works right the first time and sometimes never works right. If we're lucky, things sort themselves out sooner or later.
Unfortunately for our schools, "later" is too late. That said, be patient with your teacher/admins; they deserve a lot of credit and all the help you can muster.
Questions? Comments? Thinly veiled prognostications of impending doom? Join the discussion about this article on the AskWoody Lounge. Bring your sense of humor.
Eponymous factotum Woody Leonhard writes lots of books about Windows and Office, creates the Woody on Windows columns for Computerworld, and raises copious red flags in sporadic AskWoody Plus Alerts.
---
Best of the Lounge
When will I get pushed onto Windows 10 2004?
For most Win10 users, the process Microsoft imposes for upgrading to new releases is murky at best. Lounger R is quite happy with Version 1903 and wants to know how long the upgrade to Version 2004 can be put off — and when does the deferral period start?
Da Boss PKCano provides the needed answers and points to AskWoody resources that describe how to upgrade to Version 1909 first.
---
NETWORKING
Troubleshooting network-sharing issues in Windows can be truly daunting. Plus member weendoggy has one machine that sees only itself in File Exlorer and another system that sees both. Da Boss PKCano suggested turning on the SMB-1 setting, but weendoggy had already gone down that road. With a bit more tweaking, network sharing suddenly started working again — and then didn't. Do you have advice on making local PC-to-PC connections more reliable?
---
PATCHING
We're well into this month's patching cycle, and in a long series of posts, Loungers are reporting their experiences with the latest fixes. As usual, the early days of keeping Windows patched are somewhat chaotic — and generate lots of questions. Fortunately, there's also plenty of excellent information on patching issues that turn up every month.
---
WINDOWS 2004
Plus member Tex265 is using Group Policy to delay Feature updates. But recently the annoying "The Windows 10 May 2020 Update is on its way" message in Windows Update suddenly and mysteriously disappeared. (That somewhat deceptive message really means that the latest release is not ready for your machine.) Tex265 would like to know why it vanished. Fellow Loungers offer theories — and a few possible solutions. Bottom line: The machine is probably still not eligible for Win10 2004.
---
HARDWARE
Da Boss Woody reports on a tweet that claims Microsoft will add a new key to its keyboards. Wild speculation? An inside scoop? We don't know, but fellow Loungers add their thoughts — both informative and humorous — on this critical piece of hardware.
---
UPGRADERS
Anonymous recently upgraded from Windows 7 to Windows 10. The question for the forum: What's a good backup utility for the newer OS? Sure, Win10 has its own backup tools, but fellow Loungers offer their votes for good third-party apps. What's your favorite?
---
SMARTPHONES
Plus member Alex5723 informs us that Verizon is offering a free iPhone SE. However, fellow Loungers are quick to point out that nothing is ever "free" — especially with cell providers. What's your experience with these come-ons?
---
If you're not already a Lounge member, use the quick registration form to sign up for free.
LANGALIST

Annoyed that Win10 Version 2004 won't install

By Fred Langa

An AskWoody reader is losing patience waiting for Windows Update to green-light the newest Windows 10.

Here's what could be blocking the update — and how to easily work around most such issues.

Plus: A brave subscriber wants to swap just the physical platters inside his dead hard drive.

---

PATCHING SURVEY

Patching survey: Business — 2020

By Susan Bradley

What do IT pros and consultants think about the current status of Microsoft updating?

Based on our just-concluded survey, the folks in Redmond could do a lot better at keeping business PCs stable and secure.

In this first article of a two-part series, I focus on the business perspective on Windows and Office patching. Next week, I'll show the results of our consumer input.

This is not a highly scientific survey, but we think the results provide valuable insight into how well Microsoft's current system of product updating is working for those on the receiving end.

---

HARDWARE

Docking stations: Combining the best of laptops and desktops

By Lincoln Spector

Do you know anyone who uses a desktop PC anymore? Not sure I do. Laptops have plenty of power, and you can take them anywhere.

But they also have limitations. For example, most portables' keyboards still feel somewhat cramped and slow, compared to a good standalone model. Moreover, laptop screens are relatively small and there's only one. In fact, most of today's ultra-portable machines have just one or two ports.

The solution? Buy a multi-port docking station.
---
Publisher: AskWoody LLC (woody@askwoody.com); editor: Tracey Capen (editor@askwoody.com).
Trademarks: Microsoft and Windows are registered trademarks of Microsoft Corporation. AskWoody, Windows Secrets Newsletter, WindowsSecrets.com, WinFind, Windows Gizmos, Security Baseline, Perimeter Scan, Wacky Web Week, the Windows Secrets Logo Design (W, S or road, and Star), and the slogan Everything Microsoft Forgot to Mention all are trademarks and service marks of AskWoody LLC. All other marks are the trademarks or service marks of their respective owners.
Your subscription:
---
Copyright © 2020 AskWoody LLC, All rights reserved.