ISSUE 20.37.F • 2023-09-11 • Text Alerts! • Gift Certificates
You're reading the FREE newsletter

You'll immediately gain access to the longer, better version of the newsletter when you make a donation and become a Plus Member. You'll receive all the articles shown in the table of contents below, plus access to all our premium content for the next 12 months. And you'll have access to our complete newsletter archive!
Upgrade to Plus membership today and enjoy all the Plus benefits!
In this issue
WINDOWS 11: How to upgrade your Windows 10 PC to Windows 11
Additional articles in the PLUS issue
ONENOTE: Moving from Evernote to OneNote
FREEWARE SPOTLIGHT: Essential Office — Fewer bells, fewer whistles
ON SECURITY: The death of a hard drive
---
ADVERTISEMENT

The Nokbox

Estate Planning & Organization

If something were to happen to you tomorrow, would your next of kin be prepared to manage all of your assets, finances, and wishes?

They will if you have a Nokbox: a Next of Kin box.
---
WINDOWS 11
How to upgrade your Windows 10 PC to Windows 11

By Lance Whitney
Can you switch your computer from Windows 10 to Windows 11 without any major hiccups? Here's how the upgrade played out for me.
I recently decided to move my Windows 10 Lenovo laptop to Windows 11. Lately, for both personal and professional reasons, I've been relying more on features that are exclusive to Windows 11 — including Phone Link support for the iPhone, the new Photos app, AI integration, support for Android apps, smarter voice dictation, and screen recording in the Snipping Tool.
Microsoft has been aiming most of its new and improved features at Windows 11. The company has even stated that there would be no more feature updates for Windows 10. The eight-year-old OS will still receive the usual bug fixes and security patches until its official end-of-support date in October 2025, but nothing more.
There are still elements of Windows 11 that I don't like, notably the kludgy Start menu and the inflexible Taskbar. But I use Start menu alternatives and other tools to get past these obstacles. So my Start menu and Taskbar remain relatively consistent and user-friendly, no matter which version of Windows I run.
If you're comfortable with Windows 10 and don't need or want the latest Windows 11–only features, then you can stay put. But I've continually had to switch from my main Windows 10 laptop to my spare Windows 11 laptop every time I need to use one of the new features. If you're thinking of moving your Windows 10 PC to Windows 11, here's how my upgrade went — and what you can do to ensure a successful switch.
Make sure your PC is compatible
Your first step is to make sure that the Windows 10 PC you want to upgrade is compatible with Windows 11. The new version of Windows imposes stricter requirements than its predecessor, including TPM (Trusted Platform Module) 2.0 and Secure Boot. One way to check for these items is to boot into the BIOS. As you power up your PC, you typically must press a specific button (usually F1, F8, or Del) to access the BIOS screen. Once there, check the setting for security chip or something similar, and make sure it indicates TPM 2.0 and that it's turned on (Figure 1).

Figure 1: Make sure TPM 2.0 is available and enabled.
Next, look for a setting for Secure Boot and ensure that it's enabled as well (Figure 2).

Figure 2: Make sure Secure Boot is enabled.
After booting back into Windows 10, you'll need to install and run the PC Health Check tool to make sure your PC will support Windows 11. Browse to Microsoft's support page How to use the PC Health Check app. Scroll to the section How to open PC Health Check and click the link to download the tool. Install the downloaded MSI file and then launch the app. At the main PC health at a glance screen, click the Check now button, and the tool will tell you whether your PC meets Windows 11 requirements (Figure 3).

Figure 3: Microsoft's PC Health Check tool will tell you whether your computer qualifies for Windows 11.
Click See all results to view more information, including details on Secure Boot, TPM, processor type, total memory, and total disk space. When finished, close the app (Figure 4).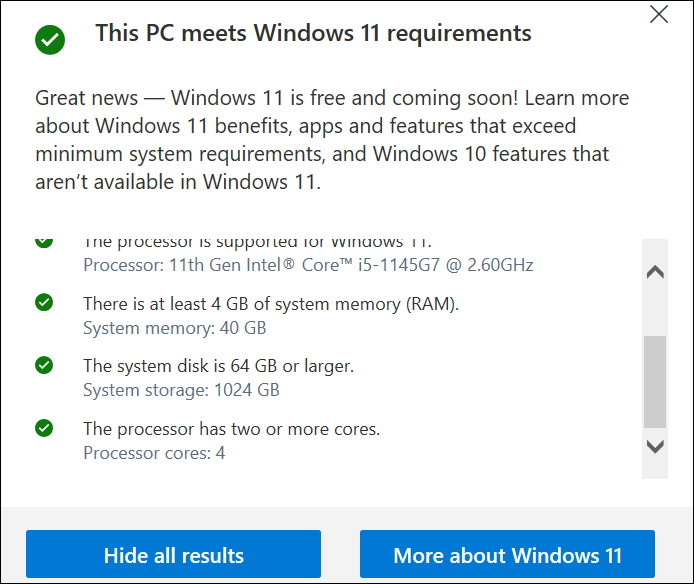 Figure 4: The PC Health Check tool will provide specific details on your Windows 11 compatibility.
Review your software programs
Next, you'll want to review all the applications installed on your Windows 10 PC, just to have an inventory of them. Based on all the reports I've read, you shouldn't run into any compatibility issues. The programs that run under Windows 10 should run the same or similarly under Windows 11. But to be on the safe side, make sure you have the original installation files (or know where to get them) for any applications that you might need to reinstall.
In my case, my main Windows 10 laptop was home to a variety of different programs including Microsoft 365, Adobe Photoshop, Snagit, Oracle VM VirtualBox, VMware Workstation Player, Slack, Zoom, iTunes, Norton Security, RoboForm, Revo Uninstaller Pro, VLC Media Player, Start 10, Microsoft PowerToys, and all the major and some minor browsers. Since I'd already been running many of these programs on my spare Windows 11 laptop, I was confident they would transition to the new OS without much trouble (Figure 5).

Figure 5: I was confident that all my applications in Windows 10 would run in Windows 11.
Review your documents and other files
Upgrading from Windows 10 to Windows 11 shouldn't affect any of your personal photos, documents, and other files. But before performing any major upgrade to your PC, make sure you have recent backups of all your personal files. I use OneDrive to back up my files to the cloud and sync them with other computers. Windows 10 offers a File History feature and other tools to back up your files to another drive or device (Figure 6).

Figure 6: File History is one tool you can use to back up your personal files.
Know what you'll lose
Though you'll gain several new and improved features with Windows 11, you'll lose access to certain Windows 10 items that have been deprecated in the new version. In my article Windows 11 says good-bye to these familiar features, I discuss the features that are excluded and must be manually downloaded, or that are completely unavailable. These include Cortana, the Math Input Panel, the Timeline, and the familiar Windows 10 Start menu and Taskbar.
Among these, the only ones of concern to me are the Start menu and Taskbar. But as I said, I use Start menu replacements, so I can compensate for Microsoft's gaffes in these areas. If you're not a fan of the Windows 11 Start menu or Taskbar, consider switching to a third-party tool.
Update Windows 10
Before you jump ship to Windows 11, install the latest updates and patches for Windows 10. Go to Settings | Update & security | Windows Update. Click the Check for updates button. Allow any available updates to install, and then reboot your PC if required. After signing back in to Windows, return to Windows Update to check for any further updates. On my PC, I had another update waiting, forcing me to install it and then reboot again (Figure 7).

Figure 7: Install the latest updates for Windows 10.
Update to Windows 11
Now it's finally time to kick off the big update. After signing back in, return to the Windows Update screen. If your computer is ready for the upgrade, you should see a notice telling you that your PC can run Windows 11. Click the link for See if it's ready to install. Another notice should then pop up at the top of the screen, telling you that Windows 11 is ready. Click the Download and install button to forge ahead (Figure 8).

Figure 8: Download Windows 11 from the Windows Update screen.
Upgrading to Windows 11 from the Windows Update screen is the quickest and most reliable method. However, if you know your PC qualifies for Windows 11 but don't see the upgrade here, head to Microsoft's Download Windows 11 page. Click the button to download the Windows 11 Installation Assistant to directly upgrade your current computer (Figure 9).

Figure 9: You can use the Windows 11 Installation Assistant to update your PC.
Windows 11 will now start downloading and then segue to the installation. During this process, you may be notified about any apps that need your attention. In my case, I was told that Stardock's Start 10, my Start menu replacement, would need to be updated (Figure 10).

Figure 10: The Windows 11 installation should alert you to any incompatible applications.
Clicking the link Learn More or update instead took me to a Microsoft webpage explaining the issue and instructing me to uninstall the current version of Start 10 or upgrade to a compatible version. I chose to upgrade Start 10 to Start 11. I then had to reboot my PC, after which the Windows 11 installation automatically resumed.
After the update is ready to install, you'll be prompted to restart your PC. Click the Restart now button to reboot immediately. After your PC reboots, the update is applied. And if all went well, your PC will now be home to Windows 11 (Figure 11).

Figure 11: After rebooting, Windows 11 should be your new operating system.
At this point, you'll want to nose around your new OS. Make sure all your applications run correctly and that your documents and other files are accessible. You should also review the personalization settings to find ones that need to be set or reset.
In my case, I ran into a couple of minor issues that I had to adjust. Using the Print Screen key to activate the Snagit screen-capture program conflicted with the Windows 11 Snipping Tool. At first, I assigned a different hotkey. But then I decided to uninstall and reinstall Snagit, which resolved the conflict more effectively. I also discovered that certain options in Start 11 didn't work properly. Uninstalling and then reinstalling the utility fixed all the problems.
Overall, the ride from Windows 10 to Windows 11 went smoothly for me. Taking the necessary steps before, during, and after was key in ensuring a relatively hiccup-free changeover. If you plan to update your Windows 10 PC to Windows 11, following the right steps should help you avoid any major issues and switch to the new OS without much effort.
Join the conversation! Your questions, comments, and feedback
about this topic are always welcome in our forums!
Lance Whitney is a freelance technology reporter and former IT professional. He's written for CNET, TechRepublic, PC Magazine, and other publications. He's authored a book on Windows and another about LinkedIn.
---
ADVERTISEMENT
---
Here are the other stories in this week's Plus Newsletter
ONENOTE

Moving from Evernote to OneNote

By Mary Branscombe

Microsoft no longer has a tool to help you move from Evernote to OneNote, but there are two utilities that can make it less painful.

When OneNote was first introduced back in the days of the original Tablet PC, it wasn't the only app to help you keep track of your notes. Evernote — originally named for its approach of an endless scrolling piece of digital paper, like a toilet-paper roll or till receipt — launched around the same time.

In light of the recent layoffs of almost everyone who worked on Evernote after the company was bought by Bending Spoons, that name might now look a little ironic.

FREEWARE SPOTLIGHT

Essential Office — Fewer bells, fewer whistles

By Deanna McElveen

My husband bought me a smart watch a few years ago. I use it the same way I used my old Timex — to tell me the time.

I work with a lot of customers who purchase expensive office suites, such as Microsoft Office, only to be overwhelmed by the features. I have just as many customers whom I have steered toward free office suites such as LibreOffice. But even these can be daunting if you just want to write a Christmas letter, keep track of your members' lodge dues, or make a chart of duties for volunteers at a town festival.

ON SECURITY

The death of a hard drive

By Susan Bradley

I got a call. "Susan? Can you help me with my laptop? It won't boot up, and it's making a weird noise."

"Sure," I said to the friend on the other end of the phone call.

But when my friend brought the laptop and I turned it on, I went from feeling certain I would tame the tech (after all, it's me) to knowing it wasn't looking good and that I might not be able to help after all.
---
Know anyone who would benefit from this information? Please share!
Forward the email and encourage them to sign up via the online form — our public newsletter is free!
---
Enjoying the newsletter?

Become a PLUS member and get it all!

Don't miss any of our great content about Windows, Microsoft, Office, 365, PCs, hardware, software, privacy, security, safety, useful and safe freeware, important news, analysis, and Susan Bradley's popular and sought-after patch advice.

PLUS, these exclusive benefits:

Every article, delivered to your inbox
Four bonus issues per year, with original content
MS-DEFCON Alerts, delivered to your inbox
MS-DEFCON Alerts available via TEXT message
Special Plus Alerts, delivered to your inbox
Access to the complete archive of nearly two decades of newsletters
Identification as a Plus member in our popular forums
No ads

We're supported by donations — choose any amount of $6 or more for a one-year membership.
---
The AskWoody Newsletters are published by AskWoody Tech LLC, Fresno, CA USA.
Your subscription:
Microsoft and Windows are registered trademarks of Microsoft Corporation. AskWoody, AskWoody.com, Windows Secrets Newsletter, WindowsSecrets.com, WinFind, Windows Gizmos, Security Baseline, Perimeter Scan, Wacky Web Week, the Windows Secrets Logo Design (W, S or road, and Star), and the slogan Everything Microsoft Forgot to Mention all are trademarks and service marks of AskWoody Tech LLC. All other marks are the trademarks or service marks of their respective owners.
Copyright ©2023 AskWoody Tech LLC. All rights reserved.