ISSUE 20.14.F • 2023-04-03 • Text Alerts! • Gift Certificates
You're reading the FREE newsletter

You'll immediately gain access to the longer, better version of the newsletter if you make a donation and become a Plus Member. You'll receive all the articles shown in the table of contents below, plus access to all our premium content for the next 12 months. And you'll have access to our complete newsletter archive!
Upgrade to Plus membership today and enjoy all the Plus benefits!
In this issue
MICROSOFT 365: Inside the overpacked Microsoft 365 app
FROM THE FORUMS: Ten top forum topics — Newsletter and blog
Additional articles in the PLUS issue • Get Plus!
PUBLIC DEFENDER: How to get the most out of Google Bard and Bing Chat
HARDWARE: Large or small? Old or new? Borrowed and blue?
PATCH WATCH: Firmware and drivers
---
ADVERTISEMENT
---
MICROSOFT 365
Inside the overpacked Microsoft 365 app

By Peter Deegan
The Microsoft 365 app — formerly known as the Office 365 app — is what I call the Office "all-in-one" app.
It's available for Apple (iPhone/iPad) and Android devices and combines the Word, Excel, and PowerPoint mobile apps into a single app — with elements of OneDrive, the Lens app, and many other Microsoft features thrown in for good measure. Anyone can use the app, though there are some extras for Microsoft 365 customers.
Because the "all-new" Microsoft 365 mobile app is being pushed heavily, let's take a closer look.
You can open and edit Word, Excel, and PowerPoint documents; view PDFs; make notes; scan in documents using the device camera; convert images to text; and record and transcribe voice audio.
More is being added. Microsoft Feed is due this month for commercial customers. Teams is promised. Microsoft Designer is sure to be included later in the year.
Outlook, OneNote, and Teams mobile are the only core Microsoft apps not included in the Microsoft 365 app. To Do, Lists, Whiteboard, and other apps also work separately.
Microsoft boasts that its 365 app is like its Office.com gateway site, as if that were a good thing. One day Microsoft will explain why the same interface for a large screen with mouse and keyboard is also good for a small touchscreen. Wasn't losing over $8 billion on Nokia and Windows Phone enough of a lesson?
Open or create document from Home
Naturally, the Microsoft 365 app can open existing Office documents and create new ones, plus it can export PDFs. The Home pane has all that, along with lists of recently opened documents, documents shared with you, and pinned docs. You can search for file names and content. Click the Create (+) button at bottom right to see the Quick Capture and new document options.

Figure 1. Home pane with Create / Quick Capture options
The Word, Excel, and PowerPoint features are the same as in their standalone app counterparts. The Microsoft 365 app features seem much the same for Apple and Android devices, but there are minor differences; sometimes a new feature in one app hasn't yet reached the other platform.
Scanning documents
Modern device cameras are good enough to double as document scanners. The Microsoft 365 app includes a scanner with OCR to convert the image into editable text or an Excel table.
From the Create / Quick Capture menu (Figure 1), choose Scan.

Figure 2. Camera / Scan in the Microsoft 365 app
Scan works not only with new photos but also with pictures already saved on the device.
I prefer the separate Microsoft Lens app for its faster access — it opens at the camera, ready to take shots. It also has more and clearer options for capturing from documents, whiteboards, and business cards. Anything made by Lens is available to other Microsoft apps.
PDF support
Microsoft has really gone to town with PDF support in the Microsoft 365 app. There are options to:
Sign a PDF — means a handwritten signature on the screen which can be saved for reuse.
Scan to PDF — take a photo and put it straight into a PDF with OCR text.
Convert pictures to PDF — select a photo and drop it into a PDF.
Convert documents to PDF — convert any Office doc into a PDF.
Convert PDF to Word — convert almost any PDF into an editable Word doc.
PDFs can be viewed easily within the app. BNut to get all the PDF powers (bookmarks, attachments, etc.), you'll need a better PDF-viewing app.
Two Apps panes
There are two "Apps" panes in the Microsoft 365 app. This is a misnomer because no apps are listed. Instead, the first pane lists some features of the Microsoft 365 app that don't fit into the usual Open or New categories.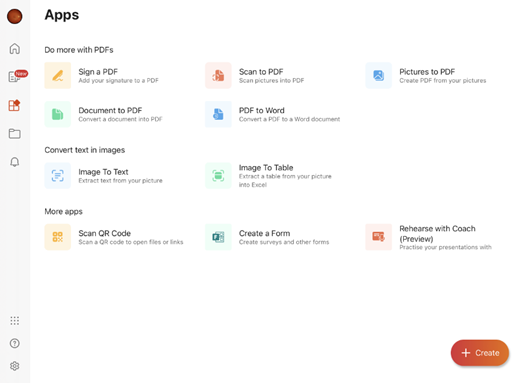 Figure 3. Apps pane
There's a separate "Microsoft Apps" pane which has a list of the many apps released by the company, with options to either Open (if already installed) or Get (to install on the device).
Notes
A very limited "Notes" feature is available only in the Microsoft 365 app. It supports nothing more than plain text and camera images.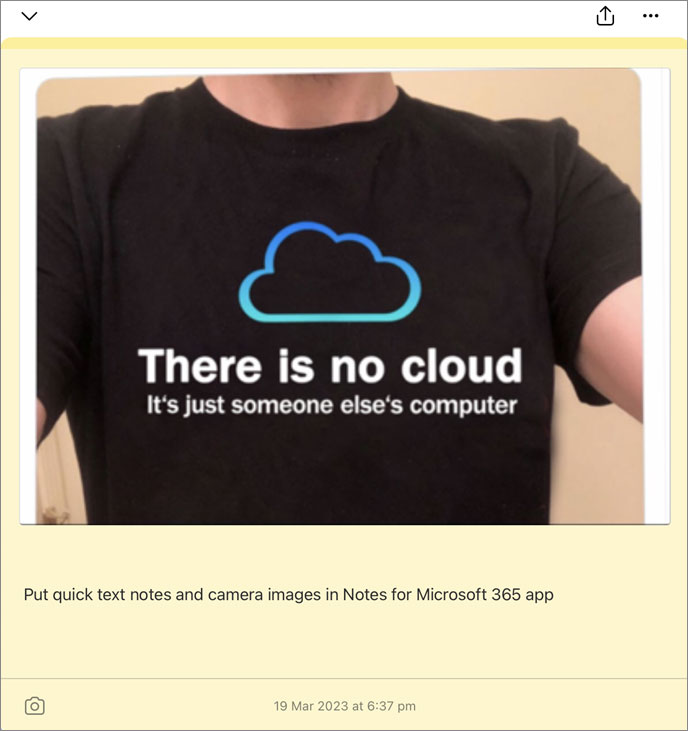 Figure 4. Notes in the Microsoft 365 app
These notes synchronize to your other Microsoft 365 apps on other mobile devices, but don't appear on any desktop app — not even Office.com in a browser.
Voice
The Voice notes feature is good, but I wish it could be started much faster instead of digging into the Microsoft 365 app menus. I also wish it were available on iPad, not just iPhone. For fast personal-voice reminders, there are better options. For recording meetings, speeches, or longer personal notes, voice with transcription is ideal. Not only will Voice record audio notes, it will also transcribe into plain text as you speak (Internet connection required). If the device is offline, Voice will still record. However, no transcript is available until the audio is uploaded to OneDrive.

Figure 5. Playback of voice note with synced transcript highlighting
Play the audio alongside the transcript, highlighting sentences as you hear them. The transcript text can be edited to correct the inevitable "speech to text" mistakes.
Forms
Forms can be made or edited from the Microsoft 365 app. On a small screen, as with many Office tasks, it's good only for small changes.

Figure 6. Forms editing view
Microsoft Feed or Activity
At the upper right of the Home page is a bell icon that opens an Activity pane to show alerts and notifications. For Microsoft 365 business accounts, there's also Microsoft Feed — a list of updates and changes in your organization's documents.

Figure 7. Microsoft Feed
Storage Accounts — more than just OneDrive
The "usual suspects" are present — Microsoft's own OneDrive, OneDrive for Business, and SharePoint (including Teams files). Storage also supports around 15 other cloud providers including Dropbox, Box, and Egnyte.
Other providers not listed might be available if their app is installed and is syncing files to the device. In the Microsoft 365 app, look at Open | Other Locations. For iPhone/iPad, use the iOS Files app to see what else is available. I found iCloud, Acrobat PDF viewer, and Resilio Sync on my iPhone.
Offline and pinned files
In Microsoft 365, OneDrive and other mobile apps have the essential "Make Available Offline" option in the file properties. That ensures the file is kept synchronized with cloud storage and is always available, even if the Internet isn't on. Check the settings for mobile devices, as synchronization usually happens only when connected via Wi-Fi.

Figure 8. Make Available Offline and Pin
On the same pane is Pin, which is synchronized across your Pinned lists for Microsoft apps.
Multiple accounts
Add multiple Microsoft accounts to the Microsoft 365 app, and quickly switch between them. Click on the personal icon/initials in the upper-left area of the app.

Figure 9. Switching Microsoft accounts in the Microsoft 365 app
Other Microsoft apps to consider
The Microsoft 365 app has a lot of features but doesn't cover everything that Microsoft offers in apps. In other cases, the stand-alone apps are easier to work with.
OneDrive — This app is essential for anyone with a Microsoft 365 account. It lets you access OneDrive, synchronize entire folders (not just individual files), and access photos.
Lens — Converts live photos or images into text or tables. Also converts business cards and whiteboards. Some of this is possible in the Microsoft 365 app, but Lens does more and has a clearer interface.
Authenticator — I prefer the multi-device Authy for all two-factor authentication, but the Microsoft Authenticator has very quick login confirmation options — so I use it for Microsoft accounts.
Too much on a small screen
The Microsoft 365 app has too many things packed into a single app. The menus are crowded and confusing. It works a little better on an iPad or tablet, where there's more screen space to see options. Sometimes you're better served by the standalone app than using Microsoft 365, as I've just mentioned with respect to OneDrive and, especially, Lens.
The Microsoft 365 app does have a few redeeming features, such as the ability to open a second document of the same type (Word, Excel, or PowerPoint) alongside the main app. Signing a PDF is a nice touch if you need it.
The Microsoft 365 app uses less space, so it's handy for devices with limited storage — compared to installing the full Word, Excel, PowerPoint, and other mobile apps.
Having lots of features in one app might sound great at M3 (Microsoft Marketing Meeting). But out here in the real world having separate apps works much better.
By all means, try the Microsoft 365 app. Just don't be surprised if you prefer the separate apps, which do the same jobs on less cluttered screens and with the ability to switch rapidly among apps.
Join the conversation! Your questions, comments, and feedback
about this topic are always welcome in our forums!
Peter Deegan is the author of Windows 11 for Microsoft Office Users, Microsoft 365 for Windows: Straight Talk, Eye-Catching Signs with Word, Christmas Cheer with Office, and others. He is the co-founder and editor in chief of the Office Watch site and newsletters since they started in 1996.
---
FROM THE FORUMS
Ten top forum topics — Newsletter and blog

As you all know, a forum topic is associated with every post on our blog (the site's home page) and every article published in our newsletter.
Almost every one of those topics generates some interest, so almost all have at least a few replies from the readership. The replies may be compliments on our articles, complaints about what we have written, disagreement with our conclusions, corrections of errors, further information about the topic, or in-depth commentary about specific points.
We appreciate the activity in the forums. Even if you don't think there is anything to add, you might find the additional information provided in the forums useful.
In the first quarter of this year, we published roughly 55 newsletter articles and another 45 blog posts. From those 100 items, here are the ten most heavily discussed forum topics.
By the way, a recent improvement at our site allows us to prevent a post or article from automatically creating a forum topic. For example, most "From the forums" posts will not have a topic; instead, they will mention other topics, as this note does. So while the vast majority of our content will have associated forums topics, it's not quite accurate to say "every" one will.
Don't forget to log in before posting!
---
ADVERTISEMENT
---
Here are the other stories in this week's Plus Newsletter
PUBLIC DEFENDER

How to get the most out of Google Bard and Bing Chat

By Brian Livingston

Whether you like it or not, generative artificial intelligence — gen AI — is making its way into Google's search engine, Gmail, and Docs. Its Redmond competitor is building OpenAI's GPT-4 into Microsoft 365, Outlook, Word, Excel, PowerPoint, and more.

Other tech companies don't want to go down the tubes like buggy whips, slide rules, and Silicon Valley Bank. So they're all racing against the two software giants to bolt gen AI into their apps and gadgets.

HARDWARE

Large or small? Old or new? Borrowed and blue?

By Ben Myers

Decade-long trends in computer hardware make for more expansive and perplexing choices.

So you need to buy another computer, or two, or more? What do you buy — large or small, mainstream brand, traditional or custom, new or used?

Running a cradle-to-grave computer business including the repair and resale of gently used computers, I originally expected to portray the various tradeoffs between buying new and buying used computers. Then I realized that the trends that have swept over the computer industry in the past decade can, and do, have great influence over what to buy. Trends first, new vs. used later.

PATCH WATCH

Firmware and drivers

By Susan Bradley

Why are drivers and firmware so important?

Once upon a time, you would set up a computer and any display adapter driver or firmware would be automatically installed to match the hardware. More than likely, you would not install new drivers for a long, long time.

But now with both Windows 10 and 11, I annually review drivers and firmware as the Windows feature releases come out.
---
Know anyone who would benefit from this information? Please share!
Forward the email and encourage them to sign up via the online form — our public newsletter is free!
---
Enjoying the newsletter?

Become a PLUS member and get it all!

Don't miss any of our great content about Windows, Microsoft, Office, 365, PCs, hardware, software, privacy, security, safety, useful and safe freeware, important news, analysis, and Susan Bradley's popular and sought-after patch advice.

PLUS, these exclusive benefits:

Every article, delivered to your inbox
Four bonus issues per year, with original content
MS-DEFCON Alerts, delivered to your inbox
MS-DEFCON Alerts available via TEXT message
Special Plus Alerts, delivered to your inbox
Access to the complete archive of nearly two decades of newsletters
Identification as a Plus member in our popular forums
No ads

We're supported by donations — choose any amount of $6 or more for a one-year membership.
---
The AskWoody Newsletters are published by AskWoody Tech LLC, Fresno, CA USA.
Your subscription:
Microsoft and Windows are registered trademarks of Microsoft Corporation. AskWoody, AskWoody.com, Windows Secrets Newsletter, WindowsSecrets.com, WinFind, Windows Gizmos, Security Baseline, Perimeter Scan, Wacky Web Week, the Windows Secrets Logo Design (W, S or road, and Star), and the slogan Everything Microsoft Forgot to Mention all are trademarks and service marks of AskWoody Tech LLC. All other marks are the trademarks or service marks of their respective owners.
Copyright ©2023 AskWoody Tech LLC. All rights reserved.