ISSUE 19.13.F • 2022-03-28
In this issue
MICROSOFT 365: License and registration, please
Additional articles in the PLUS issue
ON SECURITY: Check your defenses
LANGALIST: Registry backups: Yea or nay?
FREEWARE SPOTLIGHT: WA2L/WinTools — hot-rodding Windows!
PATCH WATCH: How Windows feature releases have changed
ADVERTISEMENT

All-in-One 4K Video Tool – WinX HD Video Converter

WinX HD Video Converter Deluxe can meet various demands in video creation and playback. This versatile video tool integrates a cutting-edge video format converter, a 4K video downloader, a powerful video compressor and a handy video editor. By utilizing GPU acceleration tech, it delivers No.1 fast speed, no quality loss.

Now you can get this all-in-one video tool at only $9.95, the lowest price ever. Offer ends soon on April 3. Don't miss out.
MICROSOFT 365
License and registration, please

By Peter Deegan
Knowing exactly which version of Office you have is important, but many people forget or don't know — because it was installed by someone else, it's been on their system for years, or their record-keeping leaves something to be desired.
True story: I recently met someone who swore blind they had bought a "Microsoft subscription." But my quick check of the machine revealed they had Office 2019, the result of having been misled by a computer salesperson.
First, I'll talk about the single-purchase, perpetual-license Microsoft Office, from the latest Office 2021 back to Office 2013. Then I'll tell you how to find the hidden details for Microsoft 365 subscriptions.
Since Office 2013, the main software details have been on the File | Account pane (Figure 1).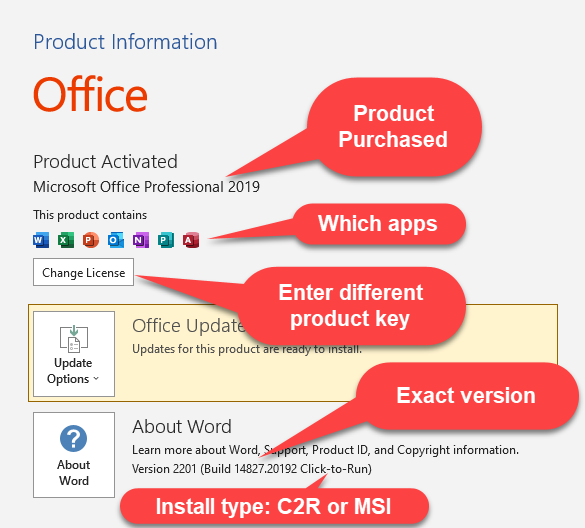 Figure 1. Office File | Account page
Product purchased: Home and Student, Home and Business, Professional, etc.
This product contains: Icons for each app in the product; hover the mouse over each icon to see the name.
Change license: Click that button to change the product key.
Exact version and build: The current version and build number; important to see whether the software is up to date or has a new/changed feature.
Install type: Click-to-Run (C2R) is the most common type these days. Some older Office editions have .MSI installations.
About dialog
The About button (named "About Word" in the example shown in Figure 1) opens a traditional About dialog, with lots of copyright info. But at the top are some useful, if not crucial, details (Figure 2).

Figure 2. Top of File | Account | About dialog
MSO: This means MicroSoft Office. Some online resources suggest "Microsoft Online," in that it is related to cloud services or Click-to-Run. However, "MSO" has been on the Help dialog since at least Office 2010, long before either the cloud or Click-to-Run existed.
OEM: If these letters are in the bold product details line, your product has special license conditions (see below).
Bitness: Shows whether Office is 32-bit or 64-bit. If there's nothing, it'll be 32-bit software.
Product ID: Microsoft's official product code for your edition
Session ID: A special code that Microsoft Support might ask for when troubleshooting a cloud service issue
Retail, volume, or OEM license
There are three ways to buy Microsoft Office. It's all the same software with the same features, but the license rules are different
Retail: Bought from a store or directly from Microsoft. This includes Home Use Program purchases.
Volume: Part of a volume license agreement bought by an organization.
OEM: An Original Equipment Manufacturer license. This is what you get when Office is bought with a new computer. The software is usually preinstalled and just needs activation.
The OEM difference
OEM licenses for Microsoft Office cannot be moved to another computer, unlike retail or volume purchases that can be transferred. That's why Office is a little cheaper when bought with a new computer.
Most people don't realize the OEM difference until they try to move their Office license to another computer. That can happen many years later, when the details of the original purchase are long forgotten — a good reason to keep all purchase documents.
OEM versions of Office might have those three letters on the File | Account | About screen but usually do not. The most reliable, and sometimes only, way to tell is by running the following command from the command line:
cscript ospp.vbs /dstatus
Figure 3 shows an example. The program displays some of the same details I've mentioned above, plus some important extras for all Windows Office versions back to 2010.

Figure 3. ospp.vbs example of Microsoft Office license details
License Name: Look for the letters OEM on that line.
License Description: Either Retail or Volume. OEM might also appear here.
Last 5 characters of installed product key: Handy if you're trying to match a collection of keys with right machine
Make sure you run the command from the main Office program folder. For Office 2019, Office 2021, and Office 365, that's either
c:\Program Files\Microsoft Office\Office16\
for 64-bit (x64) systems, or
c:\Program Files (x86)\Microsoft Office\Office16\
for 32-bit (x86) systems.
For earlier versions of Office, try changing "Office16" to "Office15," or look in the Program Files folders for the exact name.
Microsoft Office 365 details
Microsoft 365 subscriptions are a different story. There are some other points not immediately displayed on the app screens, such as subscription expiry date and owner of the Microsoft 365 plan.
Who owns the Microsoft 365 Family plan?
If you're sharing a Microsoft 365 Family plan, how can you check who owns the plan? That's an important detail if you're having trouble, need to drop out of the plan, or change your main email address / Microsoft account login.
If you go to File | Account in any Office app and look under Product Information, you'll see a line beginning with "Belongs to:." But that has only the email address of the user's Microsoft account. It makes no distinction between direct subscription ownership or sharing a Family plan.
Subscription expiry date
Despite its importance, the expiry date of your Microsoft 365 plan isn't shown anywhere within an Office app, not even under the File tab. You must check the renewal date from Office.com.
To see those important Microsoft 365 plan details, go to your Services & subscriptions page for your Microsoft account (Figure 4). For the owner of a Family or Personal plan, you'll see the plan, expiry date, and next charge. The Family plan information will also include sharing details, which the owner can manage.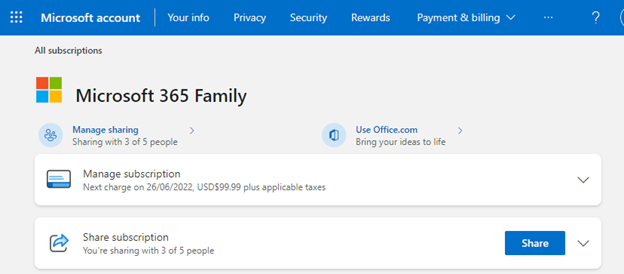 Figure 4. Microsoft 365 subscription details for plan owner
If you're sharing a Family plan, you'll see the line beginning with "Shared and managed by …." (Figure 5).


Figure 5. Microsoft 365 subscription details for sharer of a Family plan
A coming update to Windows 11 will show some subscription details in Settings | Accounts | Your Microsoft account. (See Figure 6).

Figure 6. Upcoming Windows 11 Accounts page
Tip: Add a calendar item to remind you well before expiry, so you can check for sales and discounts — hopefully saving on Microsoft's high renewal price.
Office for Mac
All the above has been about Office for Windows. There's a lot less direct help in Office for Mac. As usual, Microsoft treats Mac products as poor cousins.
In any Office app (Word, Excel, etc.), go to the menu bar and click on App | About to see the version, build, and product name (Figure 7).

Figure 7. License details for Office for Mac
Office for Mac perpetual licenses (2021, 2019, etc.) can be moved to another Mac. There's no such thing as an OEM version of Office for Mac — they are all retail or volume license sales that can go to another computer. In other words, while Dell will sell you a PC with an Office license, Apple won't.
Microsoft Support end dates
An important detail not shown in any Office software is the end date for Microsoft Support. That's vital info for nonsubscription versions of Office.
Microsoft's support policy is confusing. The company talks about a "Fixed Lifecycle Policy," but it's not fixed at all. The support life of Office depends on Microsoft's corporate needs. In theory, any perpetual-license Office gets 10 years of support with both security- and nonsecurity-bug fixes. This breaks down to five years of "mainstream" support, which may include new or update features, and another five years of "extended" support. Support life starts from the release date of the product, not the customer's purchase date.
In practice, Microsoft sets whatever support length suits them. Sometimes Office for Mac gets significantly less support time than its Windows counterpart.
Microsoft Office 365 support is available as long as you have a paid subscription.
Office 2021/LTSC (Windows & Mac) has only five years of support, until October 13, 2026.
Office 2019 for Windows support was shortened to seven years, ending October 14, 2025.
Office 2019 for Mac gets even less, with no extended support and updates ending on October 14, 2023.
Office 2016 for Windows is in extended support until October 14, 2025.
Office 2013 for Windows is in extended support until April 11, 2023.
All other versions of Office won't get any patches or other support.
In addition, Office for Mac (including Office 365 for Mac) is supported only on the latest version of macOS and the previous two releases.
It takes some digging to get all this important information about your Office product, whether 365 or purchased versions. Microsoft has done a fair job getting some of this information in the Account panel within the products, but more is needed.
Join the conversation! Your questions, comments, and feedback
about this topic are always welcome in our forums!
Peter Deegan is the author of Windows 10 for Microsoft Office Users, Microsoft 365 for Windows: Straight Talk, Eye-Catching Signs with Word, Christmas Cheer with Office, and others. He is the co-founder and editor in chief of the Office Watch site and newsletters since they started in 1996.
ADVERTISEMENT
Here are the other stories in this week's Plus Newsletter
ON SECURITY

Check your defenses

By Susan Bradley

On March 21, the US president issued a warning about the possibility of Russian cyberattacks against American businesses, an outgrowth of the conflict with Ukraine.

As part of the administration's briefing on the topic, the White House issued a fact sheet, "Act Now to Protect Against Potential Cyberattacks." The short document contains a list of recommendations, along with the exhortation: "We urge companies to execute the following steps with urgency."

Here are some of those recommendations.

LANGALIST

Registry backups: Yea or nay?

By Fred Langa

Windows has had the ability to separately back up and restore its Registry — the essential internal database of software settings — since Windows 98. But do Registry backups still make sense in the era of Windows 10/11?

Plus: A subscriber seeks clarification of the difference between a Windows Recovery Disk and the Windows Recovery Environment.

And: A subscriber asks for help tracking down a long-forgotten family photo that was unexpectedly displayed by the Windows lock screen slideshow!

FREEWARE SPOTLIGHT

WA2L/WinTools — hot-rodding Windows!

By Deanna McElveen

Hot-rod enthusiasts like to have cars with features that the factory models don't have. Geeks like us like to have computers that can do things that a stock install of Windows doesn't normally allow.

The open-source toolbox WA2L/WinTools, by Swiss developer and fellow geek Christian Walther, will give you the ability to customize Windows and make it do way more for you. It won't let you airbrush flames on the hood or add wheelie bars, but it will let you make Windows work the way you want it to work.

PATCH WATCH

How Windows feature releases have changed

By Susan Bradley

I am often asked why I recommend 21H2 when there are other releases of Windows still under support. The concern stems from the not unreasonable sense that a feature update is massively disruptive and from the reasonable desire to put off that pain as long as possible.

But after so many years of updates that represented total swaps of Windows for a new version (remember service packs?), Windows 10 has brought welcome changes.
Know anyone who would benefit from this information? Please share!
Forward the email and encourage them to subscribe via the online signup form — our public newsletter is free!
Enjoying the newsletter?

Become a PLUS member and get it all!

Don't miss any of our great content about Windows, Microsoft, Office, 365, PCs, hardware, software, privacy, security, safety, useful and safe freeware, important news, analysis, and Susan Bradley's popular and sought-after patch advice.

PLUS, these exclusive benefits:

Every article, delivered to your inbox
MS-DEFCON Alerts, delivered to your inbox
MS-DEFCON Alerts available via TEXT message
Total access to the archive of nearly two decades of newsletters
No ads
Identification as a Plus member in our popular forums

We're supported by donations — choose any amount for a one-year membership.
The AskWoody Newsletters are published by AskWoody Tech LLC, Fresno, CA USA.
Your subscription:
Microsoft and Windows are registered trademarks of Microsoft Corporation. AskWoody, AskWoody.com, Windows Secrets Newsletter, WindowsSecrets.com, WinFind, Windows Gizmos, Security Baseline, Perimeter Scan, Wacky Web Week, the Windows Secrets Logo Design (W, S or road, and Star), and the slogan Everything Microsoft Forgot to Mention all are trademarks and service marks of AskWoody Tech LLC. All other marks are the trademarks or service marks of their respective owners.
Copyright ©2022 AskWoody Tech LLC. All rights reserved.