ISSUE 20.32.F • 2023-08-07 • Text Alerts! • Gift Certificates
You're reading the FREE newsletter

You'll immediately gain access to the longer, better version of the newsletter when you make a donation and become a Plus Member. You'll receive all the articles shown in the table of contents below, plus access to all our premium content for the next 12 months. And you'll have access to our complete newsletter archive!
Upgrade to Plus membership today and enjoy all the Plus benefits!
In this issue
MICROSOFT: Make the most of Microsoft Rewards
Additional articles in the PLUS issue
PUBLIC DEFENDER: How can an e-cigarette know the age of its user?
MICROSOFT 365: What the &$@!*& is Microsoft Loop?
PATCH WATCH: Wrapping up July's updates
---
---
MICROSOFT
Make the most of Microsoft Rewards

By Mary Branscombe
Microsoft will give you points for using Bing, and more!
Welcome to this first of a two-part series on how to earn rewards points, where to spend or donate them, and how to maximize your earnings.
You can view the Rewards program as a bit of a bribe to use Microsoft's search engine and browser, or you can see it as getting your share of the advertising money Microsoft earns on Bing and MSN. Every search engine makes money, but only Microsoft shares it with users through what's now called Microsoft Rewards.
Sign up using a Microsoft account, do the browsing, searching, and daily tasks you'd do anyway, and then earn points to spend in the Microsoft Store or on your groceries. Or donate to your favorite causes.
There are multiple ways to earn reward points. This time, I'm focusing on Bing and Edge. Even if you're already earning rewards, check out all the ways you can get more points. And do share any tricks you've found — in the forums!
Begin with Bing
Since 2010, you've been able to get rewards points for using the Bing search engine (the Bing Rewards name changed in 2016 as Microsoft added more ways to earn points), and there are multiple ways to do this. You get points for individual searches — up to 30 a day on a desktop browser — as long as you earn 500 points a month. That's the very achievable Rewards Level 2 status, which also gives you discounts when redeeming points. How many points you earn for a search varies in the different countries where Microsoft Rewards is available. In the US, it's five points per search or up to 150 points per day (see Figure 1). In the UK, it's three points per search or 90 points per day.

Figure 1. Searches on Bing turn into points in Microsoft Rewards; here, I'm keeping track in the Rewards menu on the New Tab page in Edge.
Looking at the news stories on the bottom of the Bing front page or exploring the cast of your favorite movie will accumulate your daily points quite quickly, even if you're not using Bing as your main search engine. Searching from the Windows desktop (in Windows 10 or 11) counts, too — but using Bing Chat doesn't earn points.
If you use Microsoft Search in Bing at work (which shows results for your company's intranet as well as from the Web) you still earn points for those searches. And while you need a personal Microsoft account to get Microsoft Rewards, searching from work when you're signed in with an organization account doesn't stop you from earning Bing points: you can link your personal account to your work account without letting your company view your personal search history or see what's in your Rewards account.
You can earn more points for searching Bing on a smartphone — up to 20 searches a day — by opening Bing in the browser if it's not your default search engine, by using the Bing or Start app, or by using the Microsoft Launcher on Android.
If you have a mobile browser that lets you choose whether to see the desktop or mobile version of a site, as Edge does, you'll need to have that set to mobile to get the mobile search points. You can flip it to desktop if you want to get the desktop searches on your phone, too. Occasionally, there are promotions that give you extra bonuses for mobile searches or for installing and using the Bing app, but there's no predictable schedule for when these appear.
Besides the searches, you can earn points every day for completing various activities found in the Earn tab of the Rewards Dashboard (see Figure 2).

Figure 2. The Rewards Dashboard tracks your points and tasks; it's also where you go to redeem points for vouchers and donations.
You can see the same list of activities when you click the medal icon next to your name at the top of any page on Bing. Recently redesigned, it (see Figure 3) appears more like the Windows 11 widget bar and adds in some overly large reminders that you can earn and redeem points that actually don't take you to the dashboard. Keep scrolling to see your daily tasks, and go right to the bottom of the menu to get a link to the dashboard.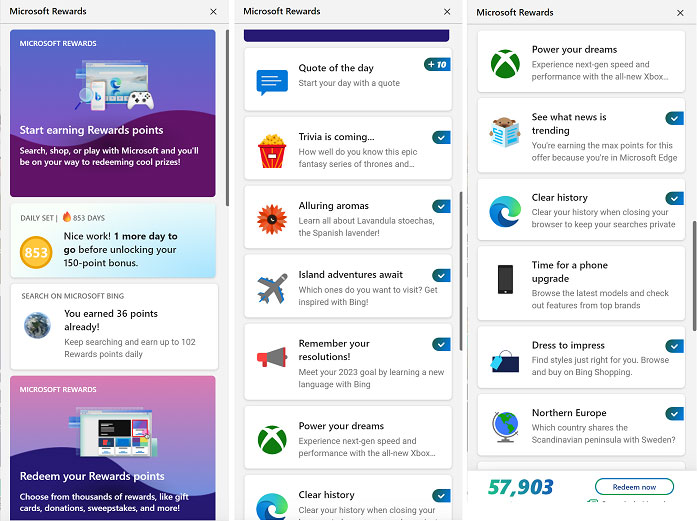 Figure 3. The new-look Rewards menu may be more stylish, but it's harder to navigate. Keep scrolling down to find all the offers.
If you prefer the old-style Rewards menu, which has a plainer design and more useful links, you can get that at msn.com. Just click on the medal logo on the New Tab page in Microsoft Edge (as seen in Figure 1), or by using the Microsoft Rewards browser extension. These may also get updated to the new design in time.
There are three activities a day — usually a link, a quiz, and a poll. They earn extra points (from 10 to 50 points each) and also count as the daily set shown in Figure 2. You don't have to get the quiz answer right the first time in a quiz — you can keep trying answers until you hit the right one. But if it's a "This or That" quiz, you have only one chance to get each answer right, and each answer is worth five points. So it's worth looking them up or finding one of the lists of answers that appear on Reddit. The activities are usually easier on the weekend, offering only links and not quizzes and polls. If you finish a quiz but still see it on the menu or dashboard, open it; you will usually see the most recent question. Just complete that again to collect the points.
Come back and do the daily set every day to get a daily streak that earns you bonus points as well as badges — but they're just for fun rather than for points. After three days, you get a 45-point bonus; after eight and 13 days you get 75 points each; 105 points after 20, 27, and 34 days each; and after 44 days, you get a 150-point bonus. The 150-point bonus repeats every 10 days thereafter. Not all Microsoft Rewards regions around the world have the daily set and daily streak offers; daily sets have only just been introduced in the Philippines, for example.
There's no limit on how many days you can keep going with the daily streak, but the bonuses don't go up after 150 points. If you miss a day, your streak resets and you have to build it up again from the beginning.
Other activities on the menu and the Earn tab also earn points. Usually there are several a day, including tasks you haven't completed from previous days. If you miss a day, the daily quiz will appear here; you can get points for it, but that won't bring your streak back. There are also occasional punch cards such the one in Figure 4 — usually one a month, but sometimes extras for holidays and important anniversaries, They offer links, videos, and quizzes that earn more points. Sometimes you can complete an entire punch card in one day; other times, you must come back to do the next activity 24 hours later.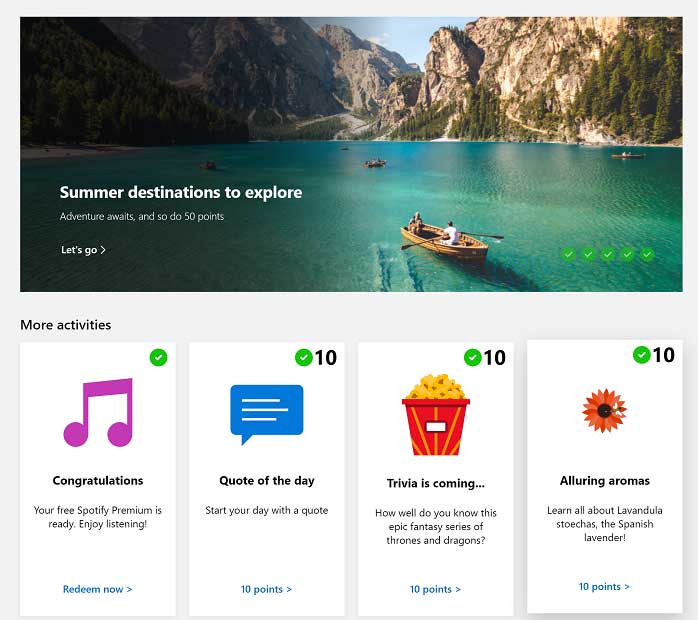 Figure 4. Punch cards like this sometimes show up in the Rewards menu, but sometimes you'll find them only on the dashboard.
Make sure you scroll all the way down the menu or dashboard, because new activities can be listed below tasks you've already completed, as shown in Figure 5.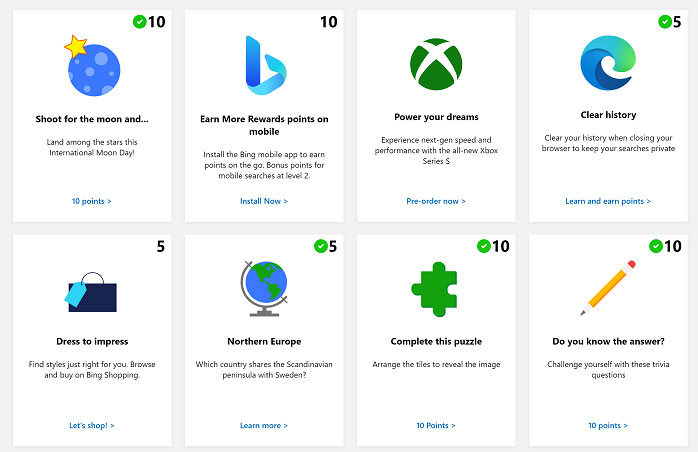 Figure 5. This is a great example of why you need to check the Rewards tasks on a PC. The tasks that are ticked off were already done on the Bing mobile app, so I had to scroll down the dashboard to spot them.
You can see most of these activities in a mobile browser and in the Rewards tile in the mobile Bing and Microsoft Start apps. But some show up only in a desktop browser — for example, the daily quote, a news quiz once or twice a week, and the weekly puzzle. (This used to be marked as the mid-week puzzle and appeared on Wednesday or Thursday, but recently it's been showing up on Monday.) That's an image broken up into squares that you have to shuffle into the right order. But if you're not in the mood, click Skip Puzzle in the top-right corner to get the points, or just close the tab.
Intermittently, you'll see a task to install the Bing mobile app. That appears only in the desktop browser because it opens a webpage with a QR code for you to scan.
Other ways to earn appear on the Rewards menu and in the dashboard from time to time. Recently, there was an option to earn 1,000 points by accumulating puzzle pieces for using Microsoft services such as searching on Bing, but they often aren't available in all regions and don't show up reliably for all users.
US users can sign up for a monthly email newsletter that has extra activities (shown in Figure 6) for earning points — links, quizzes, and sometimes sweepstakes to enter.

Figure 6. The Bing newsletter has some extra ways to earn points; users outside the US used to be able to claim these using a VPN, but now they'd fall afoul of the new travel rules. More on that next time.
You also get 500 points on the anniversary of the day you signed up for Microsoft Rewards, but it's not automatic — you must collect them on that day by clicking the dashboard notification.
Extras with Edge
Even if Edge isn't your normal browser, it's worth using for getting your Rewards points because it provides extra tasks and bonuses. You can earn an extra 20 points per day in the US (12 in the UK) for using Edge to browse and search Bing, either on your desktop or on mobile. When one of the activities is for using a Microsoft service such as checking the weather on MSN or looking at a category in Microsoft Shopping, you get a triple bonus for doing that in Edge: 15 points rather than five in a different browser.
Most days you will find a Microsoft Rewards daily task on the New tab page in Edge. You must have content visible at the bottom of the page, even if it's just the headings (change that by clicking on the Settings cog in the top-right corner of the page). Scroll down the page and choose the Gaming heading. Keep scrolling until you see the daily task (find it among the tabloid headlines in Figure 7), which will earn anywhere from 10 to 50 points. Click on it, and another tab will open — usually the Edge Surf game or a list of e-gaming tournaments; you can close it straightaway.

Figure 7. There are ways to earn points on some of the other headings, but they can come and go.
On the Shopping tab, you can currently play a game (shown in Figure 8) in which you guess which of several products is the cheapest. If you're doing that on a device with a large screen, resize the browser so you can see only three products at once; this gives you better odds than having to choose between the four products you can see when the browser is full-screen. Frustratingly, this game is often unreliable. You must check whether the points you earn are being added to your total. You may need to refresh the tab, close and re-open it, switch to a new browser window, or even close the browser before each game to have them show up. Even then, they may not register correctly.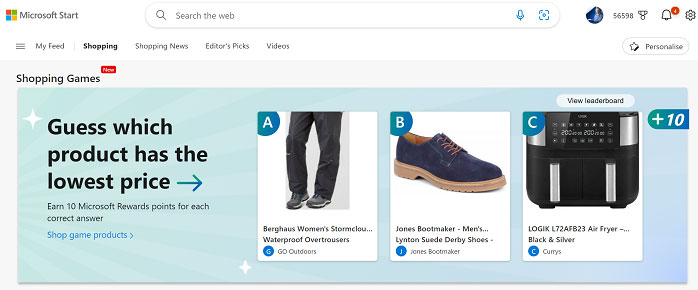 Figure 8. You might feel like a contestant on a daytime quiz show if the Shopping game shows up and gives you the points you've won — which doesn't always happen.
You will sometimes see other Shopping tasks, such as looking at the price history for a product. Occasional promotions give you 30 points for installing the Microsoft Rewards extension for Edge or five points for the mobile Bing app. (Note that when the extension is installed, it is disabled and Edge displays a warning to that effect. The warning stems from the fact that the extension will change the default search engine for Edge to Bing, which may not be your preference.)
Keep an eye out for similar offers in Windows. When Microsoft added a search bar to the Windows desktop, you could earn bonus points for the first three days of searches done that way.
More on mobile
It's worth installing the Bing app or the Microsoft Start app on your smartphone, even though you can do your daily searches in the browser. They provide additional ways to earn points on the Rewards tab. Unfortunately, not all of them appear for all users, and they are sometimes frustratingly unreliable when they do appear.
At the top of the Rewards tab, you may see the Daily check in task shown in Figure 9. Open the app each day, and tap the daily coin icon to earn 5, 10, 15, or 20 points a day (the numbers vary each week and in different regions). When you check in on the seventh day, the "surprise" is that you earn between 20 and 80 points — and then you can start again the next day. Tap the bell icon if you want notifications to remind you to come back. If you find that the app isn't registering your tap, try closing it and then opening it again, or coming back later in the day.

Figure 9. If you're doing daily mobile searches in Bing, do them in the Bing app. You might be able to pick up more points for being a regular.
Below Search to earn, you may see the Read to earn section (also visible in Figure 9), where you can earn 30 points for reading ten news stories. Tap on the News tab at the bottom of the app and then pick a news headline. After a few seconds, you should see a +3 coin icon at either the top or bottom of the screen, as in Figure 10. You might occasionally see a message that you're earning points instead of, or in addition to, the coin.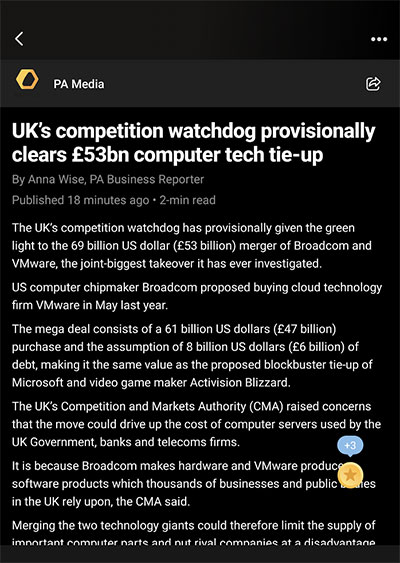 Figure 10. When it works, you can check out the daily news and earn three points per story.
This isn't always reliable. Sometimes you have to scroll to the bottom of the story, and sometimes the coin won't appear at all on stories from some outlets. If you're not getting any coins at all for reading news stories, try closing the app and opening it again. Switch from the Bing app to the Start app (which looks slightly different as you can see in Figure 11) or vice versa. Or just try later in the day.

Figure 11. We haven't worked out why Microsoft has both the Bing and the Start app with a different home page and the same toolbar, but you can get to the Rewards tab and read news stories in the Start app, too.
The Read to earn points option appeared first on Android; more recently, you may see it on iOS as well. If it does work, getting those points is often faster on iOS. However, many users report not being able to earn points on iOS for news stories, even when the message that you're earning points appears.
But wait, there's more! Gamers and shoppers have more options for earning Microsoft Rewards points. Check back next time for details of how to earn without needing an Xbox Game Pass subscription and how not to lose points when traveling.
Join the conversation! Your questions, comments, and feedback
about this topic are always welcome in our forums!
Mary Branscombe has been a technology journalist for nearly three decades, writing for a wide range of publications. She's been using OneNote since the very first beta was announced — when, in her enthusiasm, she trapped the creator of the software in a corner.
---
ADVERTISEMENT
---
Here are the other stories in this week's Plus Newsletter
PUBLIC DEFENDER

How can an e-cigarette know the age of its user?

By Brian Livingston

The dominant e-cigarette manufacturer Juul filed in the US last month an application to sell a new technology that requires age verification and prevents the use of third-party, candy-flavored vaping cartridges.

Juul nearly went bankrupt in November 2022 after agreeing to a $439 million settlement with several US states. The attorneys general of those states successfully argued that the company had marketed fruity flavors specifically to appeal to minors.

MICROSOFT 365

What the &$@!*& is Microsoft Loop?

By Peter Deegan

Should you care?

Microsoft Loop is a new way to collaborate online. A Loop component could pop up in an email, chat, or Word document. I'll explain what they are and how to work with one, so you'll know what to do when Loop appears on your screen.

As usual, there's a lot of Microsoft hype about Loop.

PATCH WATCH

Wrapping up July's updates

By Susan Bradley

We're at the dividing line. We are working on getting July's updates installed and reviewing whether we have Windows 10 22H2 installed. Meanwhile, that window of opportunity for installing updates is closing soon.

But that's just the Windows side of the patching world. On the Apple side, we've had to deal with zero-day patches this month. Not to be left out, Android is doing last-minute beta testing on Android 14 beta 4.1.
---
Know anyone who would benefit from this information? Please share!
Forward the email and encourage them to sign up via the online form — our public newsletter is free!
---
Enjoying the newsletter?

Become a PLUS member and get it all!

Don't miss any of our great content about Windows, Microsoft, Office, 365, PCs, hardware, software, privacy, security, safety, useful and safe freeware, important news, analysis, and Susan Bradley's popular and sought-after patch advice.

PLUS, these exclusive benefits:

Every article, delivered to your inbox
Four bonus issues per year, with original content
MS-DEFCON Alerts, delivered to your inbox
MS-DEFCON Alerts available via TEXT message
Special Plus Alerts, delivered to your inbox
Access to the complete archive of nearly two decades of newsletters
Identification as a Plus member in our popular forums
No ads

We're supported by donations — choose any amount of $6 or more for a one-year membership.
---
The AskWoody Newsletters are published by AskWoody Tech LLC, Fresno, CA USA.
Your subscription:
Microsoft and Windows are registered trademarks of Microsoft Corporation. AskWoody, AskWoody.com, Windows Secrets Newsletter, WindowsSecrets.com, WinFind, Windows Gizmos, Security Baseline, Perimeter Scan, Wacky Web Week, the Windows Secrets Logo Design (W, S or road, and Star), and the slogan Everything Microsoft Forgot to Mention all are trademarks and service marks of AskWoody Tech LLC. All other marks are the trademarks or service marks of their respective owners.
Copyright ©2023 AskWoody Tech LLC. All rights reserved.