ISSUE 20.12.F • 2023-03-20 • Text Alerts! • Gift Certificates
You're reading the FREE newsletter

You'll immediately gain access to the longer, better version of the newsletter if you make a donation and become a Plus Member. You'll receive all the articles shown in the table of contents below, plus access to all our premium content for the next 12 months. And you'll have access to our complete newsletter archive!
Upgrade to Plus membership today and enjoy all the Plus benefits!
In this issue
WINDOWS 11: Making Windows 11 on Arm less obnoxious
FROM THE FORUMS: The forums, and networking
Additional articles in the PLUS issue • Get Plus!
PUBLIC DEFENDER: TPM 2.0, required by Windows 11, is hackable. Upgrade now?
WINDOWS: How to take advantage of the Photos app in Windows
PATCH WATCH: The sky is not falling
---
---
WINDOWS 11
Making Windows 11 on Arm less obnoxious

By Mary Branscombe
If you're running Windows on Arm, you really want to be running Windows 11 rather than Windows 10.
Not only is it the only way to get Windows 11–specific features such as running Android apps or tabs in Notepad, but — crucially for Arm devices — it's the only way to get 64-bit emulation or the native ARM64 .NET Framework. 64-bit emulation was previewed in an Insider build of Win10, but it shipped only in Win11.
If you want to run apps such as the most recent version of Photoshop or Signal on your Arm PC, you need Windows 11 to do it. That's annoying if you find the new Windows 11 user interface as frustrating as I do.
There are multiple tools to give you the Windows 10 interface on Windows 11 PCs, but only one of them really works if you have an Arm processor.
Windows 11 annoyances
There are rumors that a future update to Windows 11 will let you put the taskbar at the top of the screen again, but I care much more about the taskbar controls. I want to be able to mute system volume or change Wi-Fi networks with a single click from the taskbar, not wade through an entire mini control panel when I'm in a hurry.
I rely on Live Tiles in the Start menu for Microsoft To Do and Mail for getting reminders of what I need to pay attention to; seeing a favorite photo on the tile for the Photos app often cheers me up. To get those in Windows 11, I must put up with the major disadvantages of the new Widget bar.
For starters, what should be a really useful widget showing the next meeting in my calendar works only for my personal Hotmail address, not the Microsoft 365 Outlook calendar I use for all my meetings. Infuriatingly, the same goes for the To Do widget. Only tasks from your personal account appear in the widget, and you can pin only one list — not the multiple ones you might have in Windows 10.
But the thing that has had me boycotting Windows 11 until now is the one widget you can't turn off: the News widget that thinks I care about the UK royal family, Premier League soccer, celebrities who call their kids spoiled, or the latest manicure shape for your nails. The best you can do is install enough other widgets to push news headlines off-screen and hope that constantly down-voting the stories you don't want to see actually works (though not very well). Or you can turn off widgets completely and lose the useful ones. Go to Settings | Personalization | Taskbar and set the Widgets slider to off. (The Widgets bar will still open if you accidentally swipe across the left edge of
the screen.)
Banishing widgets
Because virtually all Windows Arm devices are tablets and small laptops, where it's all too easy to accidentally swipe, you may prefer to get rid of the Widget bar completely. If you have Windows 11 Pro, you can do that with Group Policy Editor. You'll find it under Computer Configuration | Administrative Templates | Windows Components | Widgets, where you can set Allow widgets to Disabled. A Windows restart is required to see the change.
If you have Windows 11 Home, you'll need to use the Registry Editor. Navigate to HKLM\SOFTWARE\Policies\Microsoft and look for the Dsh key; if it doesn't exist, create it. Then make a DWORD called AllowNewsAndInterests and set it to 0. Despite the name, this does the same thing as the Group Policy — turns off the Widget bar completely rather than just removing the irritating news headlines. You can see both options in Figure 1.

Figure 1. The policy names are slightly different, but you can completely remove the Widget bar by using Group Policy Editor or the Registry editor.
While you're in Settings | Personalization, you can turn off the Chat button and move the Start button back to the left-hand corner; this prevents losing most of the space on the taskbar by having it in the middle. Scroll down to Taskbar behaviors and change the Taskbar alignment to Left (Figure 2).

Figure 2. Confusingly, moving the Start button back to the left corner is a taskbar option, not a Start menu option.
If you just want to manage the new Start menu, Settings also lets you choose whether you want to see your most-used apps plus apps you've recently installed. It also lets you pick from a list of common folders that you can pin to the Start menu, such as Documents and Downloads — but not specific folders you can choose yourself.
But what if you want to keep your blood pressure at a healthier level and get back more of the Windows 10 interface? The registry key that worked in an early build of Windows 11 was blocked by Microsoft. There are multiple tools that promise to help. How well do they work on Arm devices?
Windows 10 Start options
I started with ExplorerPatcher, a comprehensive free tool that promises to give you the Windows 10 Start menu, taskbar, task switcher, and File Explorer; bring back the volume control and Wi-Fi switcher; and change a lot of other options. That's exactly what I want. Unfortunately, ExplorerPatcher doesn't work for Windows on Arm and — sadly — the developer behind it has no plans to support Arm in the future.
Similarly, Open-Shell-Menu, the fork of Open-Shell that promises a choice of Start menu styles all the way back to Windows 7, installs but doesn't even open on a device running Windows on Arm.
Start11 from Stardock ($6 for one PC or $15 for up to five devices) also does exactly what I want (see Figure 3). When it runs after being installed, Windows pops up a warning from the Program Compatibility Assistant, stating that the software can't run "because it causes security or performance issues on Windows."
After this problem was first raised with Stardock in 2021, the company said it was considering adding Arm support in September 2022. There's been no more news since then, so I don't expect to see Start11 supporting Arm any time soon. If you paid for Start11, only to discover the trial doesn't work on your Arm PC (something Stardock doesn't mention in the system requirements on its website), reach out to the support team for a refund.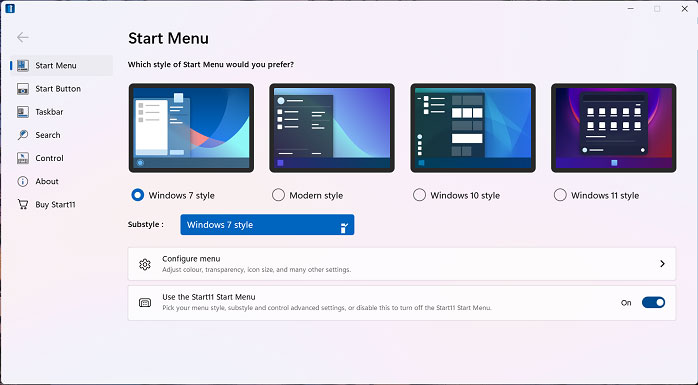 Figure 3. Start11 can give you a real Windows 10 menu, but not for Windows 11 on Arm devices.
Back to Windows 7 Start
Luckily, StartAllBack ($5) does work on Arm. You can even use winget to install it as part of a setup script for customizing new systems.
WARNING: Make sure you get the latest version of this utility (currently v3.6.2) because the March Patch Tuesday update (and the February 2023 nonsecurity preview update) breaks with third-party customization tools such as ExplorerPatcher, Start11 and StartAllBack. You need to have at least v3.5.6 of StartAllBack (which has been available since last December), or you might see repeated crashes of explorer.exe or might not be able to start your PC.
This is the danger with using third-party tools. But if you just aren't productive with the new Windows 11 interface, they're your only option. Microsoft is offering no alternatives of its own.
StartAllBack doesn't check all my boxes. For example, you don't get the Windows 10 Start menu with Live Tiles. There are three options (see Figure 4) with different styling but as you can see in Figure 5, they are all more like the classic Vista and Windows 7 Start menus — but with a list of recent apps and app folders on the left (with pinned apps at the top and a link to All Programs at the bottom) and some handy shortcuts on the right. However, you can customize what you see here extensively.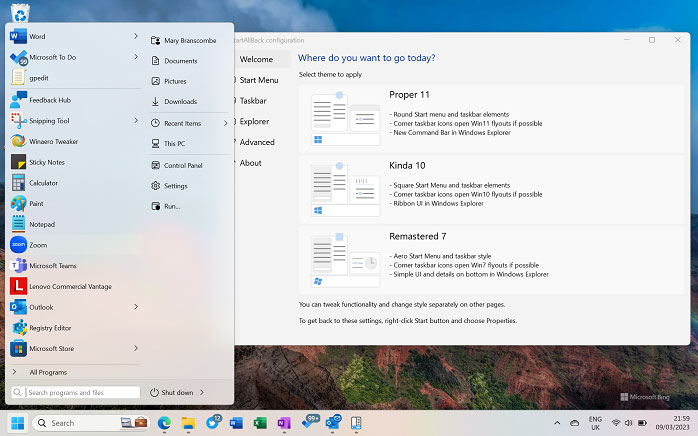 Figure 4. These three options in StartAllBack give you combinations of settings that roughly match different versions of Windows UI, or you can pick and mix.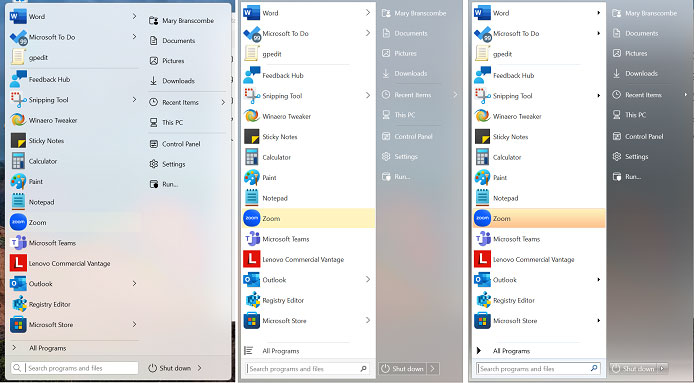 Figure 5. Sadly, none of these looks like the Windows 10 menu with Live Tiles.
You can also turn on a classic toolbar option that restores the power, network, and volume icons in the taskbar back to single-purpose controls. (See Figure 6.) That's one of my pet peeves with Windows 11, as mentioned earlier.

Figure 6. Turn on the classic toolbar, pick Windows 10 popups for the Corner icons, and you can mute or change networks quickly.
You can also get the full ribbon back in File Explorer. This means you don't have to dig into three levels of menus to turn on the preview pane, restore full context menus that don't demote the most useful options to a secondary menu, choose which edge of the screen has the taskbar, and tweak transparency options. (See Figure 7.)

Figure 7. Get the Windows 10 File Explorer ribbon back, as well as full context menus.
I did run into one oddity with the StartAllBack menu. To block the Widget bar using Group Policy Editor, I upgraded a Lenovo Arm PC that came with Windows 11 Home to Windows 11 Pro. After the upgrade, I could open the Group Policy Editor from the Windows 11 Start menu, but I couldn't find it in the StartAllBack menu. I fixed that by going to C:\WindowsSystem32 and pinning gpedit.msc to the Start menu by hand.
If you don't make all the changes you want the first time you run StartAllBack, or you want to experiment with different settings, you won't find the software in the Start menu. Instead, right-click on the Start button and choose Properties to open its interface. (If you've enabled the "enhanced classic taskbar" option, you can also right-click on the taskbar and choose Properties).
Because StartAllBack doesn't give you the Windows 10 Start menu, you can no longer search the Web by pressing Start (nor do quick sums with the calculator that's built into that search tool). Instead, you get results just from your device (and OneDrive) — nicely categorized into files, settings, music, and so on.
But the latest Windows 11 update from March Patch Tuesday also gives you the option of having a text box on the taskbar that you can type your search into (rather than clicking to open the Search pane and having to move your attention down to the taskbar and then back up to the middle of the screen to type in your search). Because hitting the Windows button or clicking Start in Windows 11, and then typing your search, already opens the separate Search pane with those results, this isn't really much more of an interruption — once you get used to it. But I do still miss the Live Tiles on Windows 10 (and loathe the Widget bar).
Tweaks that do and don't work on Arm
Another option is Winaero Tweaker, which is freeware and works on Arm. You can turn on full context menus, change the taskbar size, and even get the classic games from Windows 7 such as Mahjong and Spider.
You can also use Winaero Tweaker to get a not-very-functional version of the Windows 10 taskbar that you can position on the top or sides of the screen, but it's probably more trouble than it's worth. For one thing, the search box, Cortana icon, Task View button, and even the Start button don't work on this taskbar.
Tweaker can remove those and let you restore controls such as the clock, network, and volume control, but it relies on third-party Start menu tools — ones that don't run on Arm — to fix the Start button. But StartAllBack doesn't make the Start button work on this old Windows 10 taskbar so you can get the Start menu only from your keyboard. You also must switch to Dark mode in Windows to be able to see all the icons on this restored taskbar (see that in Figure 8). Also, the Snipping Tool stops working, so it's easier to just use the StartAllBack taskbar.

Figure 8. The Windows 10 taskbar doesn't work well on Windows 11, and you can see it clearly only in dark mode. I wouldn't recommend turning it on with Winaero Tweaker.
If you want to get the File Explorer ribbon back without installing StartAllBack, the WinAero team has a tip that partly works: press Win+R and type "control" into the Run box (or just type it into a File Explorer navigation bar). This opens the old control panel. If you then press Alt+UpArrow (or click on the up-arrow in the navigation bar), you get a new File Explorer window with the ribbon visible. Sometimes it applies to new Explorer windows, too (as in Figure 9) — at least until you restart your PC. But sometimes it works only in the current Explorer window, so you have to repeat this in every new window.

Figure 9. You can get the File Explorer ribbon back in Windows 11 without installing any third-party tools — at least temporarily.
Another warning: Microsoft is continually updating Windows 11, and some of the older tweaks for getting Windows 10 user-interface features back have already stopped working. When Windows 11 was announced, Microsoft told me that enterprises would be able to keep the classic Windows 10 Start menu, but that option was removed before Windows 11 even shipped. Any of these tweaks or tools that aren't in Group Policy might stop working in the future (and Group Policy options can change, although that's less likely).
Microsoft is making minor tweaks to the Windows 11 taskbar and Start menu and may improve the widget options in future. But it's unlikely that the Start menu will ever feel as useful for those of us that liked the Windows 10 Start menu. And for Windows on Arm users, StartAllBack is currently the only game in town.
Join the conversation! Your questions, comments, and feedback
about this topic are always welcome in our forums!
Mary Branscombe has been a technology journalist for nearly three decades, writing for a wide range of publications. She's been using OneNote since the very first beta was announced — when, in her enthusiasm, she trapped the creator of the software in a corner.
---
FROM THE FORUMS
The forums, and networking

Last week, Will wrote a "From the forums" note titled How to participate in the forums. The response to that note was greater than expected, as you can see if you visit its associated forum topic.
Your reaction in the forums has already spurred us to make a change. The site has been updated to include a How to use the forums link in the right sidebar, under "View the Forum." The link takes you to — what else — a forum topic of the same name, written last year by Susan Bradley. It surprised us that many readers were unaware of this comprehensive guide to the forums.
Part of Will's note mentioned our "talk bubbles" box that appears at the end of every article:

We were astonished to learn that many readers did not realize the box contained a direct link to the forum topic associated with the article. Some thought it was simply a graphical device to separate articles, and a few of you thought it was an ad (despite the fact that the Plus edition of the newsletter carries no advertising). The result in both cases was that readers simply skipped right past it.
Several suggestions were made for a rewording of the box with something that would be more obvious. We appreciate those suggestions. As Will noted in the forums, changing the box is more involved than might be apparent, so we'd like to ask for more suggestions for improvement. Hop into the conversation and give us your thoughts.
Networking
Will's article about his encounter with Verizon also resulted in heavy forum activity. The article was about two things — tech support encounters and home networking configurations. Both generated comments, but thoughts about networks for home and small business networks dominated. The comments were interesting and instructive. Check them out.
---
ADVERTISEMENT
---
Here are the other stories in this week's Plus Newsletter
PUBLIC DEFENDER

TPM 2.0, required by Windows 11, is hackable. Upgrade now?

By Brian Livingston

Researchers have discovered flaws in TPM 2.0, a security microcontroller that Microsoft requires on a device (with exceptions) before Windows 11 will install. If your computer is affected, a hacker could bypass TPM's security to read some of your data or overwrite cryptographic keys that the microcontroller is expected to contain safely.

The news isn't all bad. There are many ways you and your devices may be immune.

WINDOWS

How to take advantage of the Photos app in Windows

By Lance Whitney

The Photos app in Windows 10 and 11 will help you view and organize all the photos and videos scattered across your PC and other devices.

After years of shooting photos and videos, you may have thousands of them stored on your phone and your computer. And now you want to be able to access them all, preferably in one single spot.

Designed for Windows 10 and 11, the built-in Photos app is a free and convenient way to manage and view all your photos and videos, no matter where they're located.

PATCH WATCH

The sky is not falling

By Susan Bradley

You may have seen the headlines: Outlook is getting a patch for a zero-day attack that can't be fixed just by turning off the preview pane.

Don't panic. The risk is greatest if you are connecting Outlook to an on-premises Exchange server.

Importantly, the attacks have been seen only in targeted firms. The risk is higher for government agencies. Microsoft has even provided a script to determine whether you are at risk.
---
Know anyone who would benefit from this information? Please share!
Forward the email and encourage them to sign up via the online form — our public newsletter is free!
---
Enjoying the newsletter?

Become a PLUS member and get it all!

Don't miss any of our great content about Windows, Microsoft, Office, 365, PCs, hardware, software, privacy, security, safety, useful and safe freeware, important news, analysis, and Susan Bradley's popular and sought-after patch advice.

PLUS, these exclusive benefits:

Every article, delivered to your inbox
Four bonus issues per year, with original content
MS-DEFCON Alerts, delivered to your inbox
MS-DEFCON Alerts available via TEXT message
Special Plus Alerts, delivered to your inbox
Access to the complete archive of nearly two decades of newsletters
Identification as a Plus member in our popular forums
No ads

We're supported by donations — choose any amount of $6 or more for a one-year membership.
---
The AskWoody Newsletters are published by AskWoody Tech LLC, Fresno, CA USA.
Your subscription:
Microsoft and Windows are registered trademarks of Microsoft Corporation. AskWoody, AskWoody.com, Windows Secrets Newsletter, WindowsSecrets.com, WinFind, Windows Gizmos, Security Baseline, Perimeter Scan, Wacky Web Week, the Windows Secrets Logo Design (W, S or road, and Star), and the slogan Everything Microsoft Forgot to Mention all are trademarks and service marks of AskWoody Tech LLC. All other marks are the trademarks or service marks of their respective owners.
Copyright ©2023 AskWoody Tech LLC. All rights reserved.