ISSUE 18.28.F • 2021-07-26
In this issue
MICROSOFT 365: Microsoft 365 plans revealed!
WINDOWS 11: Update: Where does TPM live?
Additional articles in the PLUS issue
LANGALIST: Untrustworthy OEM updaters cause trouble
PUBLIC DEFENDER: What's up with Firefox 90? Should you go back to version 88?
BEST UTILITIES: Freeware Spotlight — Logyx Pack
ON SECURITY: Microsoft deemphasizes backing up
---
ADVERTISEMENT



The easiest sommelier training
you'll ever do

Thanks to
Bright Cellars, it's never been easier to become a more confident wine drinker — all while trying new wines from around the world tailored to your specific taste palate! Each of our wines come with a handy card to teach you all about the wines you're drinking, and to help you become a wine expert in no time.

Start your wine-tasting experience with
50% off your first order.
---
MICROSOFT 365
Microsoft 365 plans revealed!

By Peter Deegan
Which Microsoft 365 Business plan is best and cheapest for you?
Yes, I said business plans. But wait – don't go away – a business plan might be just the thing for you. Read on.
Microsoft 365 has a bewildering range of what it calls "Business" plans. Let's untangle them in this guide to the best and cheapest choices for individuals, couples, families, and businesses. It'll include some combinations and choices to save you money.
If you already have Office software (Microsoft 365 or Office perpetual license), there are three choices for adding a great mailbox with plenty of storage and features — and without a high price tag (one is "free").
Business plans are for everyone
The Business plans aren't just for businesses; anyone can (and does) sign up. Individuals, couples, and families can take advantage of the cheaper business plans to get a world-class mailbox with large capacity, better configuration tracking, and more Teams features. Think of a Microsoft 365 mailbox as the improved version of Outlook.com or Gmail.
There's nothing new in this. Many years ago, my home had a Windows Server computer running Exchange Server with a single mailbox for me (the world's smallest Exchange Server deployment). That gave me centralized mail, contacts,
and a calendar accessible from any device or Web browser — all commonplace now but almost magic back in the day.
Truly personal email
The big advantage of a Microsoft 365 Business plan is having a mailbox with your own personal domain name. Instead of an @outlook.com, @gmail.com, or ISP-based email (e.g., verizon.net, comcast.net), you can use a truly personal email address (for example, me@peterdeegan.com) or one for the family (Peter@DeeganFam.com). But you will need to acquire the domain name.
A personal domain name costs less than $20 a year in most cases. It's well worth it for the permanent email address that you keep regardless of which mail host you choose.
There are many ways to slice and dice the Microsoft 365 Business plans — with a mailbox or not, with extra security and management — but the main difference is whether the plan includes the Office desktop apps. Here's how that maps out:
Business Basic — an Exchange Online mailbox with no Office desktop software (just Web and mobile apps)
Business Standard — mailbox and Office desktop apps
Business Premium — mailbox, Office desktop apps, plus additional security and management features
Apps for Business — just the Office apps, for organizations that have their own mail system or have staff who don't need email.
Microsoft's product guides get cluttered, mentioning features that are in all their products or have existed for a long time. Here's my own shorter, and more useful, table listing what matters without the hype (Figure 1).

Figure 1. Microsoft 365 Business plans
All the Microsoft 365 plans are cross-platform and work on Windows, Mac, and mobile (iPhone, iPad, and Android). Users can switch among devices using much the same Office apps. The only exceptions are the two Windows-only apps, Access and Publisher.
Business Standard is the "all in one" combination of both an online mailbox and a license for the latest Office 365 apps.
Choose Business Basic to get an excellent mailbox service that can work with your existing Office software (either the Office 365 plan or perpetual Office) or if you do not need the desktop apps.
Mix and match — the cheaper alternative
The Business Basic plan (aka mailbox only) can be combined with whatever Office software you already have. That might be a Microsoft 365 Personal or Family plan, a standalone Office 2016/2019 package, or the upcoming 2021/LTSC perpetual license releases.
That's cheaper than paying $90 more (per user) for the Business Premium plan, while also providing the flexibility to use whatever Office software you like — or none.
Bonus! With Microsoft 365 consumer plans, each user gets 2TB of OneDrive (1TB each from the Business and Family/Personal plans).
True, it's not entirely kosher because you're mixing a non-commercial Office license (Personal, Family, or perpetual) with a commercial Business plan for the mailbox. Never fear, the Microsoft Police aren't going to come knocking on your door.
Business plan bonus goodies
Microsoft 365 Business plans also include other extras that might be useful.
Consumer Office plans don't get any extra Teams features, just the basic "Teams Free." Business plan users have access to meetings up to 24 hours long as well as the ability to record meetings as part of the paid version of Teams.
SharePoint Online is Microsoft's document-management system. Most small businesses will do this in Teams, but it's nice to be able to expand into SharePoint if necessary.
Lists provides synchronized lists or tables within Teams or in separate apps.
Planner (aka Tasks) helps planning big and small projects including parties, vacations, and renovations. It's partway between Microsoft's To Do app and the full-blown Microsoft Project. Planner has a Web interface, iOS and Android mobile apps, and is found within Teams. See Figure 2.

Figure 2. Microsoft 365 Planner
Exchange Online — the mailbox-only option
Tucked away on the Microsoft site is a mailbox-only option for just US$48 a year. Exchange Online (Plan 1) is a "no frills" Exchange Server mailbox without Teams, OneDrive, Office licenses, or anything else!
You get 50GB mailboxes for each account. You must have your own domain name.
Mix the Business plans
A couple, family, or small organization can get a mix of Business plans. There's no requirement that everyone have the same plan. A family could have a Business Basic plan (for Teams access) plus Exchange Online Plan 1 (for the mailbox only), since the others don't need full Teams. Teams Free or guest access is enough.
The even cheaper option — Outlook.com with Microsoft 365
One of the lesser-known benefits of Microsoft 365 Personal or Family will give you some of the mailbox advantages of Business Basic without the annual price tag.
Any Outlook.com (or Hotmail.com, Live.com, or MSN.com) address linked to a Microsoft 365 consumer plan automatically gets 50GB storage (instead of a "mere" 15GB), ad-free Web interface, and encryption options. That combo represents most of the paid Outlook.com Premium service, which was quietly dropped a few years ago. Sadly, the Personalized Email Address feature (in league with GoDaddy) that was a hallmark of the Premium service is no longer available.
Outlook.com uses the same server technology (Exchange Server) as Microsoft 365 Business or Enterprise mailboxes, although with the advanced options removed. That means there's no trouble with device or client compatibility because anything that matters works with Exchange Server's ActiveSync (and there's always the option of POP3 or IMAP if you're desperate).
No setup is necessary to get the 50GB quota. Check your Outlook.com (or other Microsoft account) — go to Settings, Premium, Features, and then Storage (see Figure 3).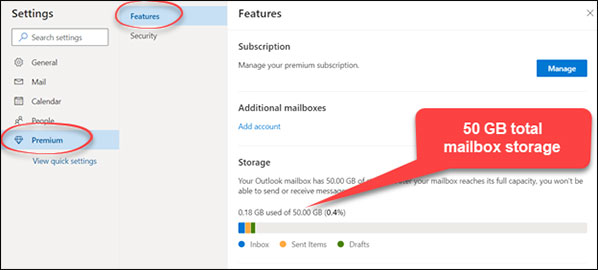 Figure 3. Check Outlook.com's usage and quota.
Email Encryption and Prevent Forwarding features are also available in Outlook.com mailboxes with Microsoft 365 Family or Personal.
Make sure your Microsoft 365 Personal/Family plan account uses the Outlook.com (or Live, Hotmail, or MSN) address. If it doesn't you'll need to change the email address for your Microsoft account. See Microsoft's support article.
Microsoft has (too) many cloud offerings that are confusing. A little mixing and matching of its plans can give you world-class email, contacts, and calendaring that are much better than free email options. Use our table to figure out what's best for you, your family, or your small business, and for a reasonable price.
| | |
| --- | --- |
| | Join the conversation! Your questions, comments, and feedback about this topic are always welcome in the AskWoody Lounge! |
Peter Deegan is the author of Windows 10 for Microsoft Office Users, Microsoft 365 for Windows: Straight Talk, Eye-Catching Signs with Word, Christmas Cheer with Office, and others. He
has been the co-founder and Editor in Chief of the Office Watch site and newsletters since they started in 1996.
---
If you purchase after clicking this ad, AskWoody may receive a small commission.
---
WINDOWS 11
Update: Where does TPM live?

By Will Fastie
Trying to find out where Trusted Platform Module is implemented in Intel-based systems was harder than I thought. Intel finally, and helpfully, gave me some pointers.
The problem is one of terminology.
I pored over Intel's excellent Product Specifications site (aka "ARK" or Automated Relational Knowledgebase), looking for references to TPM. I could not find them.
An Intel representative pointed me to a very important reference document, "Intel Converged Security and Management Engine (Intel CSME)" (PDF). Section three of the chapter "What is Intel CSME?" is titled "Security," and in that section, at the top, is a huge clue.
Intel Platform Trust Technology (Intel PTT) is an integrated TPM (Trusted-Platform Module) compliant with the TCG TPM 2.0 standard.
Once I realized that I needed to be looking for "PTT" instead of "TPM," things became a lot clearer. For example, I found PTT listed under "Advanced Technologies" for the Z590 Chipset (see Figure 1).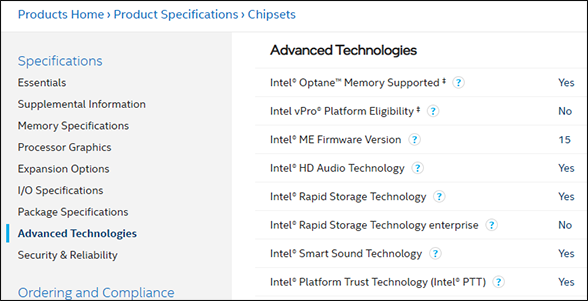 Figure 1. The Advanced Technologies section of the specifications page for Intel's Z590 chipset has an entry for Intel PTT (bottom right). Source: Intel Z590 Chipset Specifications
While that doesn't mention TPM specifically, clicking on the little question mark after the entry pops up an explanation (Figure 2).

Figure 2. The popup for PTT makes clear that it includes Intel's implementation of TPM.
In short, TPM is part of Intel's chipsets, not its processors.
An Intel spokesperson confirmed that PTT has been in Intel's chipsets starting with the Haswell microarchitecture dating back to late 2014 (example: Z97). Not all Haswell or Broadwell components supported PTT, but subsequent microarchitectures did.
I haven't done the research on AMD or Qualcomm technology, but I'm guessing the situation will prove similar.
This leaves unanswered the question of why Microsoft drew its line in the sand with Intel eighth-generation processors for Windows 11. In theory, my own PC with its fourth-generation, 64-bit i5-4690 processor and Z97 chipset should be TPM-capable, but fourth-generation processors are definitely not on the list. We continue to search for an answer to that head-scratcher.
| | |
| --- | --- |
| | Join the conversation! Your questions, comments, and feedback about this topic are always welcome in the AskWoody Lounge! |
Will Fastie is editor in chief of the AskWoody Plus Newsletter.
---
If you purchase after clicking this ad, AskWoody may receive a small commission.
---
LANGALIST

Untrustworthy OEM updaters cause trouble

By Fred Langa

Keeping a PC up to date gets harder as the system ages, especially when OEM and vendor update tools start missing things entirely — or actively making bad suggestions!

Here are several ways to help ensure that your PC's BIOS, hardware drivers, operating system, and software are getting all the updates they need — and not getting any updates they don't!

PUBLIC DEFENDER

What's up with Firefox 90? Should you go back to version 88?

By Brian Livingston

In rapid succession, the Mozilla Foundation recently released versions 89 and 90 of its Firefox browser. Cries of pain immediately arose from users seeking a way to roll back to Firefox 88.

What's the problem?

BEST UTILITIES

Freeware Spotlight — Logyx Pack

By Deanna McElveen

All work and no play makes Jack a dull boy.

ON SECURITY

Microsoft deemphasizes backing up

By Susan Bradley

Got backup?

Many Windows users consider the second Tuesday of every month a bit like Russian roulette. Will their system reboot? Will they have issues and side effects triggered by the update? Will something else go wrong?
---
You're welcome to share! Do you know someone who would benefit from the information in this newsletter? Feel free to forward it to them. And encourage them to subscribe via our online signup form — it's completely free!
---
Like what you see in the
AskWoody FREE newsletter?

Become a PLUS member!

As a Plus member, you'll receive the full newsletter, including all our great content about Windows, Microsoft, Office, 365, PCs, MS-DEFCON Alert notifications, useful and safe freeware, and Susan Bradley's sought-after patch advice. Plus membership also allows continuous access to the complete archive of nearly two decades of Windows Secrets and AskWoody Newsletters.

Naturally, Plus members have all the benefits of free membership, including access to the popular AskWoody forums.

The cost? We're supported by donations — choose any amount for a one-year membership. Every little bit helps.
---
Publisher: AskWoody Tech LLC (sb@askwoody.com); editor: Will Fastie (editor@askwoody.com).
Trademarks: Microsoft and Windows are registered trademarks of Microsoft Corporation. AskWoody, Windows Secrets Newsletter, WindowsSecrets.com, WinFind, Windows Gizmos, Security Baseline, Perimeter Scan, Wacky Web Week, the Windows Secrets Logo Design (W, S or road, and Star), and the slogan Everything Microsoft Forgot to Mention all are trademarks and service marks of AskWoody Tech LLC. All other marks are the trademarks or service marks of their respective owners.
Your subscription:
---
Copyright © 2021 AskWoody Tech LLC, All rights reserved.