ISSUE 18.15.F • 2021-04-26
In this issue
MICROSOFT: New PC? Lost your Microsoft account password?
APPLE NEWS: New M1 devices from Apple
Additional articles in the PLUS issue
LEGAL BRIEF: The coming battle for control of the Internet
LANGALIST: RAID 0 error = Total data loss!
BEST UTILITIES: Freeware Spotlight — Complete Internet Repair 8
PATCH WATCH: Computing should adapt
---
MICROSOFT
New PC? Lost your Microsoft account password?

By Ben Myers
If your dog ate your Microsoft account credentials, Microsoft will welcome you to the tenth circle of hell.
You probably don't want to hear this, because you've been nagged this way before; but make sure you have a safe record of your user credentials for every online account you maintain. Just do it.
For now, we'll assume you've entered the Twilight Zone — you've gotten a new PC, you want to set it up to use your existing Microsoft account, and you've lost the password. Here's how to save yourself.
The first step is to get to a login screen at Microsoft. If that sounds vague, it's because the exact login screen may differ if you have one of Microsoft's various email services, such as live.com, hotmail.com, msn.com, or outlook.com. Each one has an underlying Microsoft account (even if you didn't realize it) and thus will work for the recovery process. If your email account is elsewhere, such as gmail.com, or you set up a Microsoft account directly, then the Microsoft account site is the place to go.
Once at a Microsoft login screen, click Forgot My Password.
You will be asked to enter your last name, first name, birth date, state of residence, and ZIP code and then complete a Captcha. The following screen prompts you for your new password — entered twice, of course. (Write it down. Please.)
Now we come to the painful parts.
You are asked to enter at least three exact email addresses of correspondents to whom you have sent email, plus the exact subjects of at least three emails you have sent. The subjects and the email addresses do not have to be from the same emails.
How do you get this information? Hopefully, you'll still know the credentials for your email account. Log into the email on your old computer, find a few emails, and copy addresses and subjects into a text file. Copy the text file to a flash stick, then insert the flash stick into the new computer. Now you can open the text file and copy/paste this information into Microsoft's dialog box.
Finally, you must answer a security question correctly, a question you established when you set up the Microsoft account way back when. Perhaps it's your spouse's birthplace or your first dog's name.
No, you're not done yet. Microsoft responds that it will validate the information you provided and let you know within 24 hours. Yes, that's right: 24 hours! You mean it can't be done on the spot? That's right!
You can't count on your Microsoft email account to receive this information, so what do you do? I used my own email account as a way station on behalf of my client, copied the link to a text file on a flash stick, then pasted the link from that file into a browser window on the new computer. And, voilà — email's working on the new computer.
Now, wasn't that easy?
Questions or comments? Feedback on this article is always welcome in the AskWoody Lounge!
For over 20 years, Ben Myers has offered "cradle-to-grave" computer services for small businesses and individual computer owners, including building, upgrading, refurbishing, testing, repairing, and recycling of computer and network gear, mostly with Windows, some MacOS, and Linux.
---
APPLE NEWS
New M1 devices from Apple

By Will Fastie
Last week Apple welcomed more models into its family of M1-powered devices, including two new iPads!
I listened to last Tuesday's Apple event announcing a new iMac and the new iPads as well as several other less important products. I have a lot of thoughts not only about the products, but also about how Apple might interact with us in the future. Let's talk about the products of interest first.
M1
In the five months since Apple's blockbuster announcement of the M1 SOC and the first set of products based upon it, most of Apple's claims have been largely validated. Performance is up and power consumption is down. There are still many observers trying to demonstrate that all is not as Apple avers, but in these months I have not seen anything to convince me that Apple is being anything but forthright. Hard for an Apple skeptic like me to admit, but there it is.
The expectation from most observers was that we would see not just new M1 devices but also new versions of the SOC itself, with greater power and performance. That was not the case at this event; the new iMac and iPads are all based on the same M1 SOCs as the three Macs announced in November.
Even though many observers will be disappointed not to see the "M1X" or the "M2," Apple is following through on a theme from November — that M1 would be integrated across the product line as quickly as possible. In November, a two-year timeframe was mentioned, so we are very early in the transition.
Apple CEO Tim Cook said that the response to the original set of M1 Macs had exceeded expectations, but he offered no tangible data to support it.
The new M1 models
First up, the new iMac 24″ —
I was captivated by a shot in the video showing the history of the iMac. It did not include the new model, so I have taken some liberties by adding it on the right, approximately to scale:
Our newsletter format limits graphical impact; watch the event video.
This new model comes in a variety of configurations of CPU, memory, and storage. A single low-end model at $1,299 includes the 8-core, 7-GPU M1 SOC, 8GB of RAM, and a 256GB SSD. Other configurations are a bit confusing to explain (see the specs), but RAM can range up to 16GB and storage to 2TB. The display is 24″ on the diagonal. Seven colors are available (but just four on the entry-level version).
Note that RAM is not upgradable. Apple refers to memory in these devices as "unified memory," which sounds technical but only means that the RAM is "unified" with the processor on the SOC. Choose wisely, because you can't change your mind later.
Next, the new iPad Pro —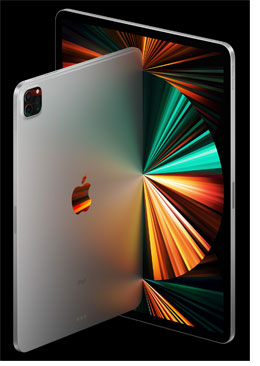 There is no question that the new iMac will be exciting to many, even outside the Apple community. But I think the big news is the addition of the M1 SOC into a new iPad Pro, with two models.
Here the specs are easier to explain because, with one exception, they are identical. The exception is screen size, with a choice of an 11″ or 12.9″ display.
Both have the 8-core, 8-GPU M1.
RAM and storage are tied together. With a storage capacity of 128, 256, or 512GB, RAM is 8GB. With storage of 1TB or 2TB, RAM is 16GB.
Unlike the new iMac, the iPad Pro is not colorful and is offered only in Silver and Space Gray.
The iPad Pro is not a Mac, of course, which means it runs iPadOS 14.
For complete details, see iPad Pro at Apple's website.
This is only the opening salvo. I certainly expect more iPad models to evolve to this new level of Apple silicon.
The future of Apple events
This Apple "event" was another "pandemic" presentation. The first few I watched last year gave me an uneasy feeling because these productions are so different from the in-person events Apple has hosted before and for which the Steve Jobs Theater was built.
"Production" is the important word. The two M1 events, in particular, have been lavishly and excellently produced — Hollywood quality all the way. This time, however, it struck me that these were hour-long ads for recent developments. Without a live audience, without the presenters appearing in person, Apple has incredible latitude in production. Still the Apple skeptic, I admit that last week's production beckoned to me.
And it made me wonder whether this was the future of Apple events, even when lockdowns are lifted and people once again flock to the Theater. Maybe they will come to see a movie instead of a live presentation, with the press treated to hands-on access after the show ends.
Something else struck me: applause, or the lack of it. Applause at the events under Tim Cook's reign has not been as effusive as it once was, which any PR flack will tell you is not a good thing. If you can't get lavish applause, how about a lavish, Oscar-worthy production?
Why should AskWoody care about Apple?
In one sense, we don't. Our audience, 95% of whom use Windows 10, is clearly Microsoft-centric.
But we also believe several things are true. First, we know folks are looking for alternatives to Windows amid growing concerns about security, privacy, and the complexity of updates. Second, 50% of the audience owns an iPhone and is thus already connected to Apple. Third, those using Microsoft's core applications can get most of them, natively, on Mac and iPad.
But don't worry — we're not turning upside down. We just think you should hear about what we consider important developments outside our usual umbrella.
Images courtesy Apple, Inc. Copyright ©2021 by Apple, Inc. Used with permission.
Questions or comments? Feedback on this article is always welcome in the AskWoody Lounge!
Will Fastie is editor in chief of the AskWoody Plus Newsletter and a Web developer specializing in self-service websites for small businesses. Trained in computer science at Johns Hopkins University, he has held positions as a transaction-processing systems programmer, magazine editor, newsletter publisher, Wall Street analyst, CTO, and systems consultant.
LEGAL BRIEF

The coming battle for control of the Internet

By Max Stul Oppenheimer, Esq.

The Supreme Court is not required to explain itself.

It decides cases by majority vote, and it is up to the justices to decide how much or how little information to provide to explain why they voted the way they did.

LANGALIST

RAID 0 error = Total data loss!

By Fred Langa

RAID — Redundant Array of Inexpensive Disks — is an old technology that offers few real benefits on today's standard PCs — but man, does it have drawbacks!

Plus: Quick feedback on touchscreen problems; and a question about power cords.

BEST UTILTIIES

Freeware Spotlight — Complete Internet Repair 8

By Deanna McElveen

In my former life as an elementary school teacher, I was never opposed to kids using calculators to skip some of the basics and get right to more advanced math skills. Your "calculator" for Internet issues is
the amazing, free, and portable tool Complete Internet Repair 8.

PATCH WATCH

Computing should adapt

By Susan Bradley

Even though the 21H1 version of Windows is not yet officially released, Microsoft is already planning on changes for the next feature release.

For example, it's long been reported that some users think the File Save icon looks like a Coca-Cola™ vending machine. But would new icons be the first thing I'd think of changing in the next version of Windows 10? Not really.
---
You're welcome to share! Do you know someone who would benefit from the information in this newsletter? Feel free to forward it to them. And encourage them to subscribe via our online signup form — it's completely free!
---
Like what you see in the
AskWoody FREE newsletter?

Become a PLUS member!

As a Plus member, you'll receive the full newsletter, including all our great content about Windows, Microsoft, Office, 365, PCs, MS-DEFCON Alert notifications, useful and safe freeware, and Susan Bradley's sought-after patch advice. Plus membership also allows continuous access to the complete archive of nearly two decades of Windows Secrets and AskWoody Newsletters.

Naturally, Plus members have all the benefits of free membership, including access to the popular AskWoody forums.

The cost? We're supported by donations — choose any amount for a one-year membership. Every little bit helps.
---
Publisher: AskWoody Tech LLC (sb@askwoody.com); editor: Will Fastie (editor@askwoody.com).
Trademarks: Microsoft and Windows are registered trademarks of Microsoft Corporation. AskWoody, Windows Secrets Newsletter, WindowsSecrets.com, WinFind, Windows Gizmos, Security Baseline, Perimeter Scan, Wacky Web Week, the Windows Secrets Logo Design (W, S or road, and Star), and the slogan Everything Microsoft Forgot to Mention all are trademarks and service marks of AskWoody Tech LLC. All other marks are the trademarks or service marks of their respective owners.
Your subscription:
---
Copyright © 2021 AskWoody Tech LLC, All rights reserved.