In this issue
ONENOTE: Only Microsoft could make getting to one OneNote this confusing
Additional articles in the PLUS issue • Get Plus!
PUBLIC DEFENDER: Why is Bing worse than Google for finding Windows info?
MICROSOFT 365: How to safely migrate to a Microsoft 365 mailbox
APPLE NEWS: Apple's non-event fall event
PATCH WATCH: Dealing with incremental updates, aka "dribbles"
---
ADVERTISEMENT

Emerging Tech Brew

From drones and robotics to the metaverse and augmented reality, Emerging Tech Brew keeps you up-to-date on the technologies that are shaping business and society. Subscribe for free.

Try it!
---
ONENOTE
Only Microsoft could make getting to one OneNote this confusing

By Mary Branscombe
OneNote for Windows 10 isn't gone yet — but things are getting simpler.
Well, maybe a little.
As I've explained before, the OneNote app that came with Windows 10 will be going away; it's getting replaced by an updated version of the desktop OneNote program. Microsoft recently took the next step toward that end by removing the OneNote for Windows 10 app from the Microsoft Store and replacing it with the desktop app, now called simply "OneNote" (with no year or other designation).
That's the same OneNote desktop app you might already have installed as part of Office or on its own; it's just easier to download (as Figure 1 shows). It doesn't have the modern sync engine, but it does have the new Dictate feature — although we didn't see the new Draw tab on the ribbon when we installed it. The new-look user interface is shown in the Store screenshots, but you won't see it in the app yet. However, you can go into File | Options and move the page list to the left.

Figure 1. You can now install the desktop OneNote app from the Microsoft Store, rather than hunting down a webpage with the download, and have it update automatically.
If you have the Windows 11 22H2 update and a digital pen, you can click the button on the end of the pen to open a OneNote Quick Note (or double-click it to open OneNote). There are similar settings already in Windows 10 (see Figure 2), but you have to know where to find the OneNote program file to make them work. The new approach is simpler.

Figure 2. You've been able to use a digital pen to open OneNote for a long time, but Windows 10 lets you set the shortcut button yourself.
Now for some Microsoft fun. The OneNote Windows 10 app has not been removed from the Store! It's just not what comes up when you search for OneNote — that gets you the desktop app. Installing the "new" Store app doesn't remove the Windows 10 app from your PC, and you can still download OneNote for Windows 10 if you want it. You just need this direct link to the app in the Store (see Figure 3), which Microsoft included in last week's blog post announcing the change.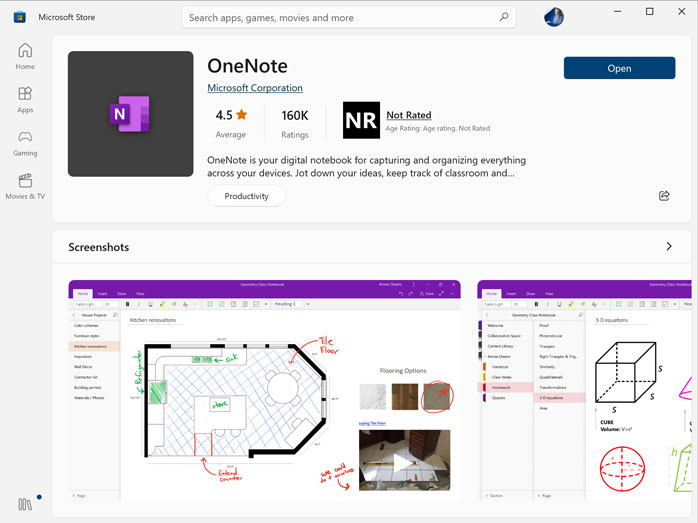 Figure 3. You can keep using OneNote for Windows 10 and even download it from the Store onto new PCs — for now.
That's because Microsoft will support the OneNote Windows 10 app until October 2025. The app won't get new feature updates, but it might still need patches if any security issues are found between now and then. If Microsoft were to remove it from the Store before then, those security fixes could not be distributed. Nonetheless, expect it to go away when support ends.
Don't get confused.
Both apps are called "OneNote" (see Figures 1 and 3).
The icons for both are the same, although the icon for OneNote for Windows (Figure 3) floats on a dark background to show its dark mode.
Neither of them show screenshots that match the most current versions of the apps.
The version you find when searching the Microsoft store is the "new" desktop app.
If you're not sure which OneNote app you're using, look at the ribbon. If you see File on the main menu, that's the desktop OneNote app. If not, start planning to move over.
Join the conversation! Your questions, comments, and feedback
about this topic are always welcome in our forums!
Mary Branscombe has been a technology journalist for nearly three decades, writing for a wide range of publications. She's been using OneNote since the very first beta was announced — when, in her enthusiasm, she trapped the creator of the software in a corner.
---
ADVERTISEMENT
---
Here are the other stories in this week's Plus Newsletter
PUBLIC DEFENDER

Why is Bing worse than Google for finding Windows info?

By Brian Livingston

There are thousands of blogs and newsletters that post every possible factoid about Windows, from the fluffiest corporate press releases to obscure technical features you've never dreamed of.

So what might explain the inadequacy of Redmond's favorite search engine to deliver the Windows info users need to know?

MICROSOFT 365

How to safely migrate to a Microsoft 365 mailbox

By Peter Deegan

There's an official way to migrate mailboxes to Microsoft 365 mailboxes (including Outlook.com) — but there's a better, more prudent method I'll explain in this article.

I'll focus on moving a free Gmail account to Outlook.com. You can use a very similar process to move small numbers of paid Google Workspace accounts to Microsoft 365 Business, or to migrate any mailbox, such as ISP-based email.

APPLE NEWS

Apple's non-event fall event

By Will Fastie

On October 18, Apple announced some new products. This fall announcement, coming as it does just before the Christmas season, is usually one of Apple's Hollywood productions. Not this time. The announcements were so stealthy that I didn't realize anything had happened until two days later.

I found at least one of the new products notable.

PATCH WATCH

Dealing with incremental updates, aka "dribbles"

By Susan Bradley

Last year, Microsoft announced that Windows was moving to an annual release schedule rather than the twice-a-year release cadence.

The impression at that time was that Microsoft would be settling into a nice, boring release schedule with only one disruption per year. But the reality so far has been the exact opposite. Even with the Insider testing program, the timing is such that you can't really test things until they get to the general public.
---
Know anyone who would benefit from this information? Please share!
Forward the email and encourage them to sign up via the online form — our public newsletter is free!
---
Enjoying the newsletter?

Become a PLUS member and get it all!

Don't miss any of our great content about Windows, Microsoft, Office, 365, PCs, hardware, software, privacy, security, safety, useful and safe freeware, important news, analysis, and Susan Bradley's popular and sought-after patch advice.

PLUS, these exclusive benefits:

Every article, delivered to your inbox
MS-DEFCON Alerts, delivered to your inbox
MS-DEFCON Alerts available via TEXT message
Total access to the archive of nearly two decades of newsletters
No ads
Identification as a Plus member in our popular forums

We're supported by donations — choose any amount for a one-year membership.
---
The AskWoody Newsletters are published by AskWoody Tech LLC, Fresno, CA USA.
Your subscription:
Microsoft and Windows are registered trademarks of Microsoft Corporation. AskWoody, AskWoody.com, Windows Secrets Newsletter, WindowsSecrets.com, WinFind, Windows Gizmos, Security Baseline, Perimeter Scan, Wacky Web Week, the Windows Secrets Logo Design (W, S or road, and Star), and the slogan Everything Microsoft Forgot to Mention all are trademarks and service marks of AskWoody Tech LLC. All other marks are the trademarks or service marks of their respective owners.
Copyright ©2022 AskWoody Tech LLC. All rights reserved.