ISSUE 17.34.F • 2020-08-31
The AskWoody Newsletter
FREE EDITION
---
In this issue
Patching survey: Consumer — 2020
BEST OF THE LOUNGE: Windows 7 stops checking for updates
Additional articles in the PLUS issue
PATCH WATCH: August patching: One less thing to worry about
SMALL-BUSINESS WEBSITES: Building your business website: Understanding the options
BEST UTILITIES: Freeware Spotlight — Fawkes
---
Keep AskWoody kickin'

Like what you see in the AskWoody FREE newsletter?

The AskWoody.com technology-news site and companion advice and help forums are 100 percent free, too! We try to answer every tech question, on every topic, without bias.

Stop by AskWoody.com and register for a free account. If you've already registered, simply enter your username and password.

We do things differently at AskWoody, as you'll soon see. No advertising. No tracking. No cookies. No hassles. Instead, we ask for donations to keep the site rolling. Look on the right side of the homepage to learn about our support system — AskWoody Plus members.

Don't hesitate to forward this FREE Newsletter to your friends, and encourage them to sign up. It's an old-fashioned approach to the latest tech help on the web.
---
PATCHING SURVEY
Patching survey: Consumer — 2020

By Susan Bradley
Over 1,400 Windows and Office users contributed to our survey on the state of Microsoft patching.
Consumers' overall impression of keeping Win10 up to date was similar to that of business respondents: Microsoft needs to make the process easier to manage and more reliable. (If you missed last week's article on our survey of IT pros and consultants, see "Patching survey: Business — 2020," AskWoody Plus Newsletter 2020-08-24.)
On the other hand, individual Office users were relatively comfortable with the patching process — among those who use the suite. Surprisingly, almost a third of our consumer respondents use LibreOffice or some other non-Microsoft productivity apps. That's quite a divergence from the business survey, in which almost all of the respondents use some form of MS Office.
(As I noted in the previous article, these two surveys are rather informal — we did not rely on focus groups, we used a self-selecting audience, and our questions were designed to give a top-level view of the Win10 and Office updating process. We kept the survey short and simple.)
As in the business survey, we solicited comments, some of which we include below (edited for clarity). And just as with the business survey, I found the comments provided by consumer users to be as valuable — if not more so — than the raw numbers. Their observations provided additional insight into the shortcomings of the patching process. A big thank you! to everyone who contributed to these surveys.
Without further ado, here's how individual Windows and Office users view the current updating environment.
Windows 10 questions
Once again, we're left with the impression that Microsoft needs to make changes. Consumers were somewhat less critical of Win10 patch quality and frequency than were IT pros, but they had about the same level of overall dissatisfaction with Feature updates.
How satisfied are you with the quality of Microsoft Patching in general?
Of the 1,405 responses, 44 percent of consumers were either satisfied or somewhat satisfied with patching quality overall (see Figure 1). Among IT pros, that number was 34 percent — a full 10 points lower. On the flip side, 39 percent of individual users were unsatisfied at some level with patching overall, while 51 percent of IT pros were more or less unsatisfied.

Figure 1. Overall, consumers had a somewhat higher level of patching satisfaction, but it was still under 50 percent.
The difference between consumers and IT pros isn't surprising. Many, if not most, consumer systems are updated automatically, and those machines often have simpler configurations. It's more difficult to safely patch dozens, hundreds, or thousands of PCs, many running complex and line-of-business applications. Still, 44 percent general satisfaction among consumers is nothing to crow about.
As one commenter noted: "1) Clearly, not fully tested. 2) Rolled out before being tested. 3) Insider feedback is not being used." Another respondent stated: "With every update, it seems that there is something messed up, moved around, or missing that I have to figure out. I guess this can't be helped, but it's a nuisance, it takes up time, and it sometimes keeps me from working at all. Updates are required — but I dread them every month."
This reflects what I've frequently heard and seen: The Insider program might be valuable for getting feedback on potential new features, but it's ill-suited for spotlighting bugs. It's certainly no substitute for thorough patch testing.
Are you satisfied with Windows 10 updates?
Here, too, consumers were somewhat more forgiving than were IT pros. Whereas only eight percent of IT pros were "satisfied" with Win10 updates, consumer satisfaction jumped to 17 percent. But again, fewer than half of consumers were content with Win10 patches (see Figure 2). Among those either unsatisfied or somewhat unsatisfied, the consumer numbers add up to 36 percent — versus 47 percent for professionals.

Figure 2. Satisfaction with Windows 10 updates was not high among consumers, either.
One respondent noted problems with patch-installation timing: "The actual process of updating is getting better — even if the updates themselves are not. This 'daily window' for restarting the system is ridiculous, as my machines run 24/7 doing various things that are important to me. I should be able to schedule a convenient one- or two-hour window for an update restart."
I'm on board with that point of view: this is another tweak that Microsoft should apply to the updating process. I think it would be more useful than the current "active hours" option. Think of it as a "maintenance window" — a time and day setting for installing updates. And it should be offered to both business and consumer customers.
Are Win 10 Feature updates useful for consumers?
As noted in the report on business patching, Microsoft has made the process of adding new Windows 10 features something of a muddle. The early versions of the OS had significant improvements, as Microsoft reacted to user feedback — mostly complaints. More recent "upgrades" seem little more than window dressing, designed to entice users into installing the latest release.
I do give Microsoft credit for providing consumers with a few patch-management improvements, such as the ability to easily put off new patches for a few weeks. But there is obviously lots more to do. This past year, Microsoft used what Woody Leonhard calls a tick-tock system: new features show up in the spring release, and a "service pack" is released in the fall. (See Woody's discussion on changes to Win10 upgrading in the AskWoody Plus Newsletter, 2020-08-10.) Given the aforementioned Windows Insider changelog posts, that might not be the case this year.
Based on the two surveys, consumers find no more value in Feature updates than do IT pros. Only three percent of respondents found them "extremely useful" (see Figure 3), while almost half thought of the updates as rarely, if ever, useful. It's clear that Microsoft needs to give consumers a truly compelling reason to install new releases. This is especially the case for consumers, who might never be offered some under-the-hood changes, such as enhanced security features.

Figure 3. The vast majority of Win10 consumers find little value in major Feature releases.
For many Windows users, seemingly random changes in the OS interface are especially annoying. As one respondent put it: "I usually don't notice new features — except when they change an interface screen in a way that is much harder to use. Or Microsoft insists that a feature isn't needed because X performs the same function. But X is rarely as user-friendly as the feature that was killed off!"
Reports that the coming Win10 fall release (development-name 20H2) will make more changes to Control Panel and Settings isn't going to please a lot of folks — especially those who still prefer the Win7-style tweaking and who are annoyed by changes in Win10. (You can see some of the coming changes in the Microsoft Windows Insider changelog. (If you can't load that page in Edge, it might be because you're not signed into a Microsoft account.)
I'll discuss those changes in future reports. I think Microsoft relies too heavily on input from members of the Insider program who want change for change's sake, whereas most of us just want technology that works predictably and reliably.
How often should Win10 be upgraded?
There's a slight contradiction between the usefulness of Feature updates and their frequency. Consumers were relatively comfortable with any update cadence — as long as it was not more often than twice a year (see Figure 4). Many had no opinion, and the majority were comfortable with either once- or twice-a-year releases. A significant number would even prefer updates every two years.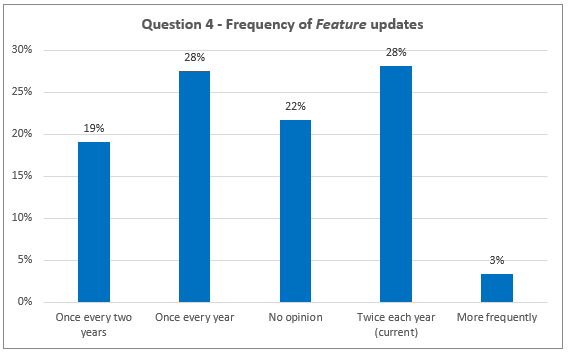 Figure 4. The only consensus on Feature-update frequency was that they not appear more than twice a year.
There's a precedent for that view: the user interface and basic features in Windows XP and 7 were virtually unchanged for years — although they received continuous updates for security and other fixes.
A common sentiment from the comments was that a slower release schedule would give Microsoft more time to work out the kinks before releasing a new version "into the wild." True enough, but given the diversity of Windows hardware, Microsoft might believe it's better to roll out a new release — and then look for compatibility issues over the ensuing months. If so, that tactic won't diminish the feeling among many Windows users that we're all unpaid beta testers.
Does Win10 meet the needs of consumers?
Reponses to this question should please Microsoft. As with IT pros, the vast majority (82 percent) of individual Windows users agree that Windows 10 fulfills their computing needs (Figure 5). (Among professionals, the approval rating was just four points lower.)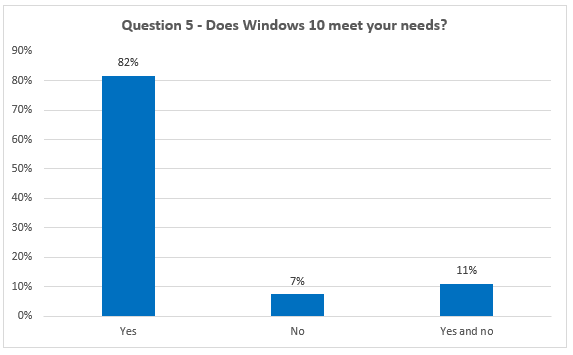 Figure 5. Most surveyed consumers feel that Windows 10 meets computing expectations.
Those respondents who could not definitively answer yes or no to this question were asked to explain why. There was a diverse range of comments. Some folks preferred another OS but used Windows because they had to. Here's an example: "I've migrated to a dual-boot system. I now use Windows only for those tasks I can't do in Linux. At this stage, I boot Windows for photo editing (completely non-Adobe, because I don't like hostage-ware) and gaming — though more and more games are now playable under Linux."
That 11 percent "yes and no" group might be a bit higher than for the general population of PC users. Many AskWoody readers/posters are what I call computer "tinkerers" — and they often like to try out other operating systems. Moreover, with the growing trend toward computing on mobile devices such as Android, iPhone, and iOS, many Windows users are booting up a PC only when they must. (Even Microsoft is offering an expanding list of non-OS apps for Android and Apple platforms.)
What would you change in Win10?
The results of this open-ended question were, not surprisingly, a mixed bag. But there was a strong sentiment to return to the relative simplicity and stability of Windows 7. One interesting comment suggested a way to make Win10 seem less bloated. "Do not tie apps such as Cortana, Edge, Connect, and so forth to the OS. Let the user have control over what is shown on the start menu."
Many of the comments mentioned keeping Win10 patched. For example: "Give users better control over updates, without having to use a sledgehammer."
Overall, these comments again reflect the feeling that Microsoft is too focused on change for the sake of change.
Office questions
Based on the results of our Office-updating questions, it appears that Microsoft is doing an acceptable job of maintaining its suite of productivity apps -— at least among those who use MS Office.
How do you patch Office?
It was a bit surprising that 31 percent of the survey respondents don't use Office (Figure 6). In contrast, only five percent of the IT pros replied that they don't manage Microsoft's suite. It was also interesting that 34 percent of consumer users use Click-to-Run (CtR) patching — and 23 percent are still using the legacy MSI system of individual updates. (12 percent of respondents were unsure how their copy of Office was updated.)

Figure 6. Most consumers are using the Click-to-Run Office — or some other productivity suite.
How's the quality of the Office updates?
Relatively few Office users had a strong opinion on this question. Nearly half were neither satisfied nor unsatisfied to any level (Figure 7). Add in somewhat unsatisfied and somewhat satisfied, and the number bumps up to 73 percent. Fortunately for Microsoft, the number of "unsatisfied" users was a mere six percent.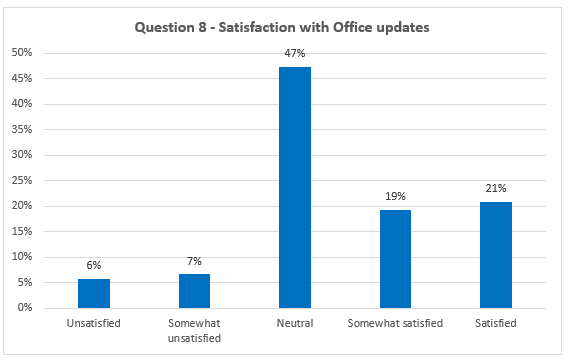 Figure 7. Few Office users have an issue with Office updating.
As with business patchers, consumer dissatisfaction was often not centered on the patching process. Most often, it was directed at unexpected — and usually unwanted — changes. For example, a common complaint was Microsoft's decision to move the search box in Outlook. Here's are two examples:
"Microsoft takes away useful features and adds new and useless changes. Pushing the search box to the top of Outlook was insane." And, "I'd be more satisfied if Microsoft quit moving or removing features I use from the ribbon — or substituting new 'features' that I have to waste time learning."
As I noted in the business survey, I assume most of the complaints come from Microsoft 365 users who are on the Current/Monthly CtR patching channel. Keeping up with the monthly "improvements" can be daunting.
Do you understand the Office channel-naming conventions?
Unlike IT pros, the average consumer Office user likely has no idea what an update channel is — much less its name. That's reflected in the 78 percent "Neutral" score (Figure 8). I assume that number would be even higher if we surveyed non-AskWoody members. Nevertheless, we asked the question in this survey because it's a topic we've covered in the AskWoody Plus newsletter.
Whether you're a consumer or an IT pro, the roulette wheel of Microsoft product and service names can be confusing. One respondent stated: "It's annoying that old things keep getting renamed, especially when the new names are not that descriptive or meaningful. Microsoft seems to like change for the sake of change." (Where have we heard that before?)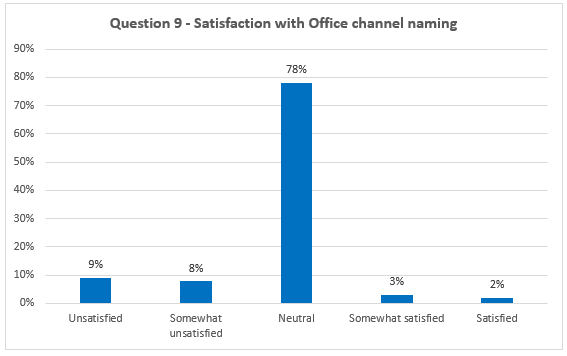 Figure 8. Office patch channel-naming is not on most consumers' radar.
How would you make Office better for consumers?
In this open-ended question, a common criticism concerned subscriptions. One example: "I understand the reason for Office 365, but the subscription system doesn't work well for someone who's on a limited budget. I think Microsoft could do a better job of supporting those of us who are getting older and living on a fixed income. Also, accessibility could be improved for the growing number of aging computer geeks (including myself)."
The final survey question was a request for comments on product updating in general. For consumers, one reply stood out: "When it comes to patching, there appears to be a battle over who really owns a computer: the person who put down hard-earned cash to purchase the machine or Microsoft, who is responsible for fixing flaws that constantly crop up. The company has taken a straightforward patching system in Win7 and Win8.1 and made it as difficult as possible to stay up with all the changes. Their arrogant attitude on pushing out corrupt patches leaves much to be desired. If a competitor came out with a reliable OS that would run Windows apps, I'd change in a snap!"
As I recommended with the business survey, take a bit of time to review the comments. On some, we can agree to disagree. I have to assume that Microsoft believes that the changes it has implemented in Windows and Office are good for consumers — and some are. But the company has done a poor job of communicating with users; instead, coming across as heavy-handed (case in point: the recent Outlook search-box change).
I've included the entire array of survey responses for your review. Let us know your thoughts on the state of Microsoft patching by using the link below.
Questions or comments? Feedback on this article is always welcome in the AskWoody Lounge!
In real life, Susan Bradley is a Microsoft Security MVP and IT wrangler at a California accounting firm, where she manages a fleet of servers, virtual machines, workstations, iPhones, and other digital devices. She also does forensic investigations of computer systems for the firm.
---
Best of the Lounge
Windows 7 stops checking for updates
One of the problems of trying to maintain an essentially obsolete OS is that troubleshooting gets more difficult. Plus member Charlie was expecting patches, but Win7 was no longer receiving them. Clicking "Check for updates" resulted in error messages. Charlie naturally turned to the Lounge for help.
Numerous suggestions were offered, and some were tried. Eventually, it was GoneToPlaid who came up with the answer.
---
EMAIL
Long-time Thunderbird user WSBernadine is using the popular email client to manage and store Gmail messages locally. Then, out of the blue, TBird lost connections to both Gmail and its local folders — containing years of messages. With patient help from fellow Lounger PaulK, WSBernadine is slowly working toward a solution. Can you add something to the discussion?
---
TROUBLESHOOTING
Even the best of us can run afoul of Windows and Office. In this case, Da Boss woody suddenly discovered that none of his Office apps would launch. Forum members provided potential solutions, but they proved fruitless. Ultimately, the solution was rebooting the system — twice! Microsoft products work in mysterious ways.
---
OFF TOPIC?
What does the inestimable Andy Rooney have to do with online subscription fees? Plus member Mr. Natural knows — and so do some of the other forum members who read the post. Along with a brief history of famous reporters, the discussion delves into ads and ad-blocking.
---
MAINTENANCE
Lounge discussions often transcend the originally posed question. That's the case with a simple request for a capable Win10 backup utility. This is one of those topics on which Lounge denizens have strong opinions — and helpful suggestions.
---
CATEGORY
Plus member Kathy Stevens is looking for a new tablet. Simple enough — except she would prefer a model that's water-resistant. "Military-grade" might be overkill. Do you have a suggestion?
---
PATCHING
Windows 10 makes it easy to defer future updates — but not to see what's being offered before installation. Plus member krism is new to Win10 and asked whether you have to blindly accept new patches. Fellow Loungers provided information and third-party utilities for revealing what's coming down the pipe.
---
If you're not already a Lounge member, use the quick registration form to sign up for free.
PATCH WATCH

August patching: One less thing to worry about

By Susan Bradley

We may have numerous events keeping us awake at night — COVID-19, fires, hurricanes, elections, and more — but August patching isn't one of them.

The Windows and Office updates I installed on my business and personal systems were well mannered: no printing issues, no blue screens of death, no major hiccups! It's nice to have a break from month after month of patching issues.

Microsoft decided that enterprises need a break, too. It's once again pushing off Windows 10 1803's end of life (more info). The final security updates for business editions of Version 1803 will now be released on May 11, 2021 — not November 10, 2020.

---

SMALL-BUSINESS WEBSITES

Building your business website: Understanding the options

By Will Fastie

Your company website is the centerpiece for your online presence. It should be welcoming, attractive, and effective.

"Well, duh!" you might retort. But it's amazing how many small-business sites fail at that simple task.

So before you (or your consultant) lay down a single line of code for your new site, spend some time to consider its look and function. Done? Now you're ready to dig into the mechanics of website development. Here are your options.

---

Best Utilities

Freeware Spotlight — Fawkes

By Deanna McElveen

Here's a little experiment that's both interesting and terrifying.

Google "facebook facial recognition" or simply "facial recognition." Those of us who've been around a while have been warned about transgressions of this particular technology in … oh … a dozen or more movies!

But we can fight back in our own small way, and it won't cost us a dime — or a bitcoin!

The University of Chicago's Security, Algorithms, Networks and Data (SAND) lab has created an amazing anti-facial-recognition program appropriately called Fawkes (as in Guy Fawkes). The app is designed to modify common images in order to defeat unauthorized facial-recognition activities.
---
Publisher: AskWoody LLC (woody@askwoody.com); editor: Tracey Capen (editor@askwoody.com).
Trademarks: Microsoft and Windows are registered trademarks of Microsoft Corporation. AskWoody, Windows Secrets Newsletter, WindowsSecrets.com, WinFind, Windows Gizmos, Security Baseline, Perimeter Scan, Wacky Web Week, the Windows Secrets Logo Design (W, S or road, and Star), and the slogan Everything Microsoft Forgot to Mention all are trademarks and service marks of AskWoody LLC. All other marks are the trademarks or service marks of their respective owners.
Your subscription:
---
Copyright © 2020 AskWoody LLC, All rights reserved.