ISSUE 19.11.F • 2022-03-14
In this issue
FREEWARE SPOTLIGHT: Ratool — Because firewalls can't stop everything
Additional articles in the PLUS issue
LANGALIST: Salvaging a fatally hacked PC
PROFILES: Roberta Scholz: Editing in the mind's eye
APPLE NEWS: The M1 Ultra debuts
PATCH WATCH: The madness of releases
---
---
FREEWARE SPOTLIGHT
Ratool — Because firewalls can't stop everything

By Deanna McElveen
Everyone is walking around with the storage of a 1990s supercomputer in their pockets. Jingling around with the pennies and nickels, flash drives are an old-school data thief's best friend.
Remember those first computer-hacker movies where the thief, spy, or 14-year-old had only a few minutes to copy a file from a computer before being caught red-handed? Oh, the suspense of watching that file-copy window slowly progress as the floppy drive ground away.
Well, today — with our ultra-fast USB ports and flash drives — that kid has got time to spare after stealing your entire email database file, your unencrypted text file of passwords, or your secret plans for world domination. It also provides a quick way for a user to accidentally or purposely introduce malicious software to a computer.
Sordum.org has a great, free tool called Ratool that is just the thing you need to prevent external storage devices from being used on your Windows computer. Not just on your computer, but on any computer for which you are responsible. And, unlike most of these types of programs, Ratool will let you decide which storage devices are okay.
"But Deanna, there are hundreds of these free USB-blocking programs out there." Yes, there are; but the problem with those is that they all block in the same way. If you block your USB ports with one program, someone else can just use another program to unblock them. Ratool does it differently. Only Ratool can disable Ratool.
Hop over to OlderGeeks.com, grab a copy of Ratool, and let's take it for a spin!
The download is a zip file, so right-click it and choose to extract it. There are two .exe files. Ratool_x64.exe is what most of you will be using. (Ratool.exe is for a 32-bit operating system.) Run the file, and allow the usual Microsoft warnings. The program is portable — no install needed.
The first window (see Figure 1) displays the "nuclear options": Allow Read & Write for all external storage devices, Allow Read Only, or Block all of them. If you are in charge of a public-use computer, such as in a library, this first Window may be all you need if you just want to block every device.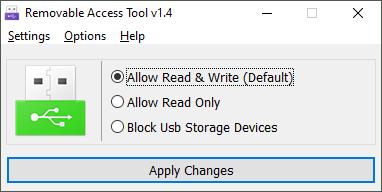 Figure 1. The first window is just a quick way to block all devices.
Once you pick an option and click Apply Changes, you will be prompted to either restart the computer or unplug any USB storage devices and then reinsert them (see Figure 2).
Obviously, if you choose to block all USB storage devices, the ones you are reinserting won't work now.

Figure 2. After making your choice, either restart the computer or replug in the devices.
Now that you have blocked what you need to block, go to the Settings drop-down menu and click Change Password (see Figure 3). There is no password by default, so the first time you do this, you are creating your password. Revisit this in the future to change your password.

Figure 3. None of this matters if you don't password-protect the settings.
In the latest version of Ratool, the authors made the password encryption very secure. Neither you nor anyone else will be hacking this password, so don't forget it. That said, check the Show Password checkbox (see Figure 4) to be sure you are typing the password you want. Also, create a Password Hint so that if you do misplace the password, the hint might ignite your brain into remembering it.
One more time — DO NOT FORGET THE PASSWORD!

Figure 4. Don't forget to include a hint that only you will understand.
Now that we are through the simple use of Ratool, let's look under the hood and see what it can really do.
Click the Options drop-down menu (see Figure 5) to access the bells and whistles.

Figure 5. The Options drop-down menu is where the extra abilities live.
Starting from the top:
Allow Access to All Removable Drives – This differs a bit from what was on the main window. The main window enables or disables blocking, using any custom settings you have chosen under Options. This option will allow the program to ignore those settings and allow access to everything.
Deny Access to All Removable Drives – This is the same as number one, but instead it blocks all devices, regardless of your custom settings.
CD-DVD devices – Ratool doesn't just block USB devices. This selection gives you the ability to allow, make read-only, or block access to optical drives (see Figure 6).
Floppy Devices – Same as number three, but applies to floppy drives. (Someone explain to the young readers what a floppy drive is.)
Tape Devices – No reason anyone needs to be snooping among the backup tapes.
WPD Devices – Now, this is cool. The setting allows you to block access to WPDs (Windows Portable Devices) such as plugged-in smartphones. I didn't test it, but I'm assuming this will also block card readers and USB ports on WPD-enabled printers.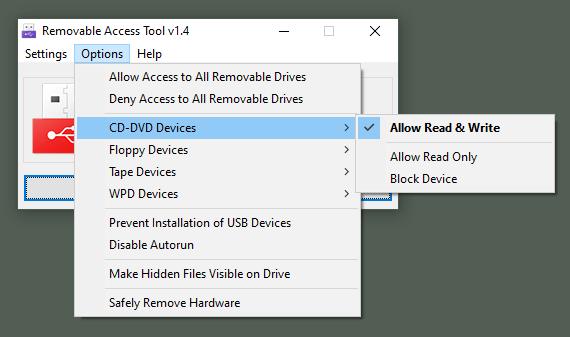 Figure 6. You can also block optical, floppy, and tape drives. Even WPD devices!
Prevent Installation of USB Devices – This selection does more than the name implies. It should really be called "whitelist" — meaning that if you have one or more USB devices already plugged in, enabling this will block all newly plugged-in devices. However, it will allow the ones you have plugged in. In other words, it's a whitelist of allowed devices.
Disable Autorun – This allows you to disable Windows' Autorun feature for all devices.
Make Hidden Files Visible on Drive – This is pretty nifty if you want to see the hidden files on select USB devices.
Safely Remove Hardware – This is a quick, direct way to safely eject any devices you select, so as to avoid file corruption.
One more thing I want to mention — this program is free. The authors could have just said, "Welp, it's done. I hope everyone reads our language." But they didn't (see Figure 7). They translated Ratool into 31 languages! I just think that is awesome.

Figure 7. When you care about your craft enough to translate it into 31 languages
And that is Ratool. Even if you don't need it now, grab a copy so you won't forget where you found it!
Bonus Software!
Want a super easy, free, and portable way to make files and programs start when your computer starts? Auto Start Tool (also from Sordum.org) is just the tool you need (see Figure 8). It gives you three ways to do this — using a scheduled task, adding to the Startup Folder, or using the Run Registry key.
Get it on your flash drive. You will appreciate it later. Download Auto Start Tool from OlderGeeks.com

Figure 8. Auto Start Tool makes adding startup items as easy as pie.
Happy computing!
| | |
| --- | --- |
| | Our entire philosophy at OlderGeeks is built on being a safe download site offering software you can trust. We use every program we consider, checking it carefully for bundleware or other sneaky stuff. Every downloadable is checked with VirusTotal and Malwarebytes. If a program is updated, we do the same checks again. We reject more programs than we accept, always stressing quality and safety over padding our collection. Every program mentioned in this article meets our rigorous standards. We're as trustworthy as Grandma's apple pie! |
Join the conversation! Your questions, comments, and feedback
about this topic are always welcome in our forums!
Deanna and Randy McElveen are celebrating more than a decade of running OlderGeeks.com, over two decades in the computer business, and even more than that putting up with each other. Their computer store is in a small town in the Missouri Ozarks. Believing that happy customers are always the best advertisement, they hope to squeeze in a couple more decades doing the same.
---
ADVERTISEMENT

---
LANGALIST

Salvaging a fatally hacked PC

By Fred Langa

A subscriber's PC was commandeered by malware; even the administrator's account is now inaccessible! How can this PC be safely returned to service, especially now that Windows 11 is closing some of the old back-door admin-access workarounds?

Plus: Is Google's Remote Desktop just another way for Google to snoop on us? Does using Remote Desktop create new privacy vulnerabilities?

And: A question about analog versus digital audio in portable devices, and their relative effects on battery life.

PROFILES

Roberta Scholz: Editing in the mind's eye

By Chris Husted

Everyone needs that mental space to better appreciate whatever they are doing at that point in time, whether it be working on a project or assignment, organizing their day, or even writing an email.

It's that mental step back to understand exactly what they are doing and the impact it will have on other people, and feel empowered to make changes for the better.

Roberta Scholz, the woman behind the editing of all the AskWoody articles that you read, has this skill down to a fine art.

APPLE NEWS

The M1 Ultra debuts

By Will Fastie

Keeping to schedule, Apple drops the next shoe in its master plan to get all its products running on its own, proprietary, silicon.

It's been about 18 months since Apple announced the original M1 system on a chip (SOC), introduced several products based on it, and laid out its plan to transition to its own silicon in roughly two years.

PATCH WATCH

The madness of releases

By Susan Bradley

This month's security updates for Windows 11 include some major changes. Alas, they don't include one major wish item that everyone wants back: thumbnail views on folder contents.

Microsoft does appear to have heard that feedback; starting with Windows 11 Build 22557, Microsoft is testing folder thumbnails again. But even in the March release of Build 22000.556, it is already moving items around.
You're welcome to share! Do you know someone who would benefit from the information in this newsletter? Feel free to forward it to them. And encourage them to subscribe via our online signup form — it's completely free!
---
Enjoying the AskWoody newsletter?

Become a PLUS member and get it all!

Don't miss any of our great content about Windows, Microsoft, Office, 365, PCs, hardware, software, privacy, security, safety, useful and safe freeware, and Susan Bradley's popular and sought-after patch advice. PLUS, these exclusive benefits:

Every article, delivered to your inbox
MS-DEFCON Alerts, delivered to your inbox
Access to MS-DEFCON text alerts delivered to your phone
Total access to the archive of nearly two decades of newsletters
No ads
Identification as a Plus member in our popular forums

We're supported by donations — choose any amount for a one-year membership.
---
The AskWoody Newsletters are published by AskWoody Tech LLC, Fresno, CA USA.
Your subscription:
Microsoft and Windows are registered trademarks of Microsoft Corporation. AskWoody, AskWoody.com, Windows Secrets Newsletter, WindowsSecrets.com, WinFind, Windows Gizmos, Security Baseline, Perimeter Scan, Wacky Web Week, the Windows Secrets Logo Design (W, S or road, and Star), and the slogan Everything Microsoft Forgot to Mention all are trademarks and service marks of AskWoody Tech LLC. All other marks are the trademarks or service marks of their respective owners.
Copyright ©2022 AskWoody Tech LLC. All rights reserved.