ISSUE 18.36.F • 2021-09-20
In this issue
MS-DEFCON: Real-time MS-DEFCON alerts debut!
PROFILES: Older Geeks: Keeping it clean
APPLE NEWS: Apple gives privacy one minute
Additional articles in the PLUS issue
LANGALIST: Reader wants the deets on failed Home v. Pro test
PUBLIC DEFENDER: Sanas makes emerging-market English sound American or British
BEST UTILITIES: Freeware Spotlight — SageThumbs
PATCH WATCH: Back to school, back to patching
Not a Plus Member yet? Join today!
---
ADVERTISEMENT
We fix technology. It's that simple.

Get same-day computer repair solutions from My Computer Works.
---
MS-DEFCON
Real-time MS-DEFCON alerts debut!

By Susan Bradley
The new AskWoody SMS alert system is now available for Plus members.
The MS-DEFCON system has been a staple of the AskWoody site for many years now. You know it as a visual system of numbers and colors that provides a quick indicator of the relative safety of applying updates (patching) to Windows and other Microsoft apps and services.
Woody modeled it after the US Armed Forces DEFCON system — the smaller the number, the higher the risk. MS-DEFCON level 1 means "absolutely don't patch"; MS-DEFCON level 5 means "all clear."
I usually change the DEFCON level twice a month — once before the Microsoft updates are released, and once a few weeks later — when I determine it's safe enough to install updates. I will also send "emergency" alerts when issues with updates require immediate attention and I think you should stop deploying updates, or when an emergency passes and a more normal level is appropriate. We send out an alert email to all Plus members when the level changes, but anyone can visit our prominent MS-DEFCON banner on every page of the site.
The goal is to ensure you are aware of the risk of updating so you can balance those risks against doing nothing. We are gratified that so many in the AskWoody audience value this service.
New alerts!
We have added two more ways you can keep up with the MS-DEFCON status.
The first way is to follow our new MS-DEFCON Twitter account. Once you follow the account, set up notifications so you will be alerted when the account tweets. (Don't forget: We have the regular AskWoody Twitter account, too.)
The second way is SMS — text alerts directly to your cell phone. This is a paid service available exclusively to PLUS members as an add-on to their subscriptions. I wish we could make this free to everyone, but the costs associated with providing the service (having those chipmunks on wheels powering the servers) force our hand. In keeping with our donation-based model, we ask a minimum of $1 per month and would greatly appreciate any extra amount you can throw in the tip jar. Click here to sign up.
We hope these new options will increase the value of the MS-DEFCON system, and we appreciate your continued support.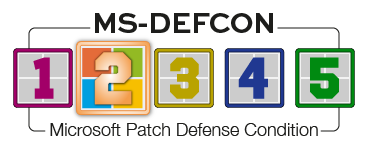 | | |
| --- | --- |
| | Join the conversation! Your questions, comments, and feedback about this topic are always welcome in the AskWoody Lounge! |
Susan Bradley is the publisher of the AskWoody Plus Newsletter.
---
If you purchase after clicking this ad, AskWoody may receive a small commission.
---
PROFILES
Older Geeks: Keeping it clean

By Chris Husted
Hidden away in a small town of 5,000 in the Missouri Ozarks is a small computer-repair shop run by a pair of self-confessed "super nerds" who over more than a decade have amassed some 4,000 freeware programs that all satisfy one steadfast credo: "No ads, no crapware, no b.s."
Regular readers of AskWoody know these two as Deanna and Randy McElveen. To the rest of the world, they are known as "The Older Geeks." Each week, Randy and Deanna add to their collection and, via AskWoody, deliver a rundown of their pick of week — complete with a walk-through of the selected freeware's functions and settings to make sure the average Joe knows how to get the best use out of the program.
The collection runs the gamut from essential anti-malware and antivirus cleaners to system info and tweaking utilities to handy little programs that just make life easier, or more fun. Video editors, flight simulators, hard-drive rescue utilities, registry editors — you name it: it's there, free to download, safe and secure. Each one is checked to ensure it's clean.
The Older Geeks' fanbase has also grown over the years, with people from across the country supporting the donations-based efforts by Randy and Deanna. Some supporters hail from further afield, with one thank-you last week coming from as far away as Patagonia, Argentina.
"We started Older Geeks in 2008 with the goal of having a safe haven to get free software. There was never a time when that was not our focus. The website was originally created for our local customers to have a safe place to get our recommended free software. It quickly bloomed to Internet popularity," Deanna explains.
Yet becoming Older Geeks was not the original plan. "Randy was an art major in college in the '80s. In a design class, they were using Doodle! on Commodore 64s, and he just thought that was pretty nifty. He says that was the beginning of his fascination with computers. From there, he just went from computer hobbyist to computer guru," Deanna recalls.
"In 1999, he turned our garage into a computer-repair shop. I was an elementary-school teacher at the time, but since he was doing so well, we opened an actual store, and I ended my teaching career and became office manager. Twenty-two years later, we have both become super nerds," she laughs.

Home Computer Repair & Games Over Games, Mt. Vernon, MO
"Our computer store sits on the historic courthouse square in our Ozarks town of about 5,000 residents. We provide IT services to most of the businesses in the area, and we're a good old-fashioned 'break/fix' computer shop for most people in a 50-mile radius," she adds.
Over the years, as more and more customers came to have their computers fixed, a common theme started presenting itself: systems compromised by malware often inadvertently — or unknowingly — downloaded by the customers themselves. The worst among them has typically not been a single app, but rather a group of apps. "Point-to-point file sharing apps," Deanna says matter-of-factly.
"Many of them not only had/have malicious ads and automatically installed other crapware, they also allowed the user to download infected, pirated software. We used to say at our shop, if you see LimeWire or FrostWire on a customer's computer, you'd better run a virus scan," she warns.
A frightening and growing trend has been malware carrying more than just malicious code: code with true criminal intent. "The worst impact would be ransomware," Deanna notes. "Although most ransomware comes from emails, we've seen infected software that will try to scam users into downloading remote software with fake virus warnings. From there, bad actors can easily install ransomware."
Asked what the most important thing was that people can do to protect themselves from malware/crapware, Deanna keeps it simple: "We'll just give them a plug, since they're awesome. We rarely see infected computers running Malwarebytes. We often see infected computers running Norton, McAfee, and other expensive, bloated antivirus programs. No brand loyalty here, we just know what we see on a daily basis.
"Our favorites are Malwarebytes AdwCleaner, Malwarebytes (Free or Premium) and SUPERAntiSpyware. By running all three of these, you can, 90% of the time, remove all malware and crapware from your computer."
But when it comes to protecting yourself from harmful apps, Deanna has one piece of advice for anyone thinking of downloading anything from a non-trusted site: "If you see fake download buttons and other trickery on a download site, why would you trust them to not host files with malware?"
| | |
| --- | --- |
| | Join the conversation! Your questions, comments, and feedback about this topic are always welcome in the AskWoody Lounge! |
Chris Husted, who once upon a time was a junior computer column writer, is currently Executive Editor at The Phuket News. He has spent 20 years working in news in Phuket, with a one-year hiatus as a staff editor for a small national newspaper on Borneo.
---
If you purchase after clicking this ad, AskWoody may receive a small commission.
---
APPLE NEWS
Apple gives privacy one minute

By Silvia Eckert
"California streaming" ducks the controversial CSAM issue at last week's annual iPhone event.
As reported by Brian Livingston in his column Apple plans to break its end-to-end encryption (AskWoody 2021-08-30), Apple announced about a month ago an initiative to limit the distribution of Child Sexual Abuse Material (CSAM) by looking for inappropriate imagery on its customers' devices and reporting occurrences to the National Center for Missing and Exploited Children. But because the technology represented what amounted to surveillance that could be applied to virtually anything, an enormous amount of backlash against the initiative occurred.
In a matter of days, Apple deferred the initiative, saying it would take more time to assess it.
There weren't many expectations that Apple would address this issue in its latest event (called "California streaming"). In fact, it addressed privacy for less than one minute (at minute 53 of the 78-minute show). If it was a nod to the CSAM debacle, it was barely perceptible. The three items mentioned were:
Siri now processes requests directly on your phone;
Your IP address doesn't get passed on to trackers (Cloud Private Relay);
Mail-privacy protection hides your IP address.
The first item may be a matter of concern with respect to privacy. The key phrase Apple uses in its press release is "on-device intelligence":
iOS 15 enhances the iPhone experience with new ways to stay connected, and powerful features that help users focus, explore, and do more with on-device intelligence.
On-device intelligence means the use of AI-powered machine learning on the iPhone. Examples already in use include facial recognition in the Photos app and notifications arranged by priority.
The new, higher-performance A15 Bionic chip and its 16-core neural engine allow more on-device processing for machine learning. This means more privacy for the consumer because the cloud does not need to be consulted, thus reducing exposure of sensitive data. A recent Wired article quotes Michael Veale, a digital-rights lecturer at University College of London, who says:
If you're a big tech company and manage to reframe privacy as only confidentiality of data, that allows you to continue business as normal and gives you license to operate.
For now, Apple is still concerned with privacy and is standing up for its users by improving the on-device capabilities and giving the users control over their online exposure.
Historically, Apple has insisted that it treasures its customers' privacy and security, which makes the one minute it spent on the topic somewhat disingenuous. I'm curious how Apple will handle CSAM and whether it will tone down future privacy claims.
On a positive note, Apple's new iPad Mini 6, replacing the Mini 5, was the most exciting product announced. For any AskWoody reader interested in a small, secondary device, it's worth a look. There's certainly nothing else like it that runs Windows.
| | |
| --- | --- |
| | Join the conversation! Your questions, comments, and feedback about this topic are always welcome in the AskWoody Lounge! |
Silvia Eckert has over 15 years' experience in Web development and project management. Her blog untilsuburbia.com uncovers interesting adventures in the San Francisco Bay Area. She lives in a household full of Apple products in the heart of Silicon Valley.
---
LANGALIST

Reader wants the deets on failed Home v. Pro test

By Fred Langa

OK, this is embarrassing: A reader called me out after my planned side-by-side Home/Pro test drive fell apart. ("Crashed and burned" might be more descriptive.)

So, with a deep gulp to swallow my pride, here's where things went really, really wrong — and why.

PUBLIC DEFENDER

Sanas makes emerging-market English sound American or British

By Brian Livingston

A tiny tech startup says its software can almost instantly convert the accent of an ESL (English as a Second Language) speaker into a stream of audio that sounds almost exactly like an American or a British native speaker.

BEST UTILITIES

Freeware Spotlight — SageThumbs

By Deanna McElveen

Some of the most common things I get asked about at our computer store are how to email a picture and how to make it smaller. Or, how to make a picture my desktop background image.

To us geeks, these tasks are pretty straightforward because we have done them hundreds of times; but to a novice who is just learning to use a computer, it can seem rather confusing.

PATCH WATCH

Back to school, back to patching

By Susan Bradley

September is a month of change. From going back to school here in the United States to seasons changing all over the world, one thing remains constant: we have to patch. No matter what technology we have or use, it seems like this month, we're patching it.
---
You're welcome to share! Do you know someone who would benefit from the information in this newsletter? Feel free to forward it to them. And encourage them to subscribe via our online signup form — it's completely free!
---
Like what you see in the
AskWoody FREE newsletter?

Become a PLUS member!

As a Plus member, you'll receive the full newsletter, including all our great content about Windows, Microsoft, Office, 365, PCs, MS-DEFCON Alert notifications, useful and safe freeware, and Susan Bradley's sought-after patch advice. Plus membership also allows continuous access to the complete archive of nearly two decades of Windows Secrets and AskWoody Newsletters.

Naturally, Plus members have all the benefits of free membership, including access to the popular AskWoody forums.

The cost? We're supported by donations — choose any amount for a one-year membership. Every little bit helps.
---
Publisher: AskWoody Tech LLC (sb@askwoody.com); editor: Will Fastie (editor@askwoody.com).
Trademarks: Microsoft and Windows are registered trademarks of Microsoft Corporation. AskWoody, Windows Secrets Newsletter, WindowsSecrets.com, WinFind, Windows Gizmos, Security Baseline, Perimeter Scan, Wacky Web Week, the Windows Secrets Logo Design (W, S or road, and Star), and the slogan Everything Microsoft Forgot to Mention all are trademarks and service marks of AskWoody Tech LLC. All other marks are the trademarks or service marks of their respective owners.
Your subscription:
---
Copyright © 2021 AskWoody Tech LLC. All rights reserved.