ISSUE 17.32.F • 2020-08-17
The AskWoody Newsletter
FREE EDITION
---
In this issue
LANGALIST: Recovering from 'Unknown driver' issues
BEST OF THE LOUNGE: Fine-tuning laptop thermals with liquid metal and undervolting
Additional articles in the PLUS issue
PATCH WATCH: A new threat to the Wjndows print spooler
BEST UTILITIES: Freeware Spotlight — SwitchPowerScheme
Choosing a web-hosting service: The ins and outs
---
Join AskWoody Plus

Like what you see in the AskWoody FREE newsletter?

The AskWoody.com tech news site and its companion advice and help forums are 100 percent free, too!

But we need your help to keep AskWoody alive and free. Make a donation and become a Plus Member — it's easy, and you decide how much to contribute. Stop by AskWoody.com and register for a free account. If you've already registered, simply enter your user name and password. When you're signed in, click the Donate button in your member information box.

Back when the newsletter was Windows Secrets, a subscription would have cost USD $39 to $59. But we've done away with all that. As a Plus Member, you'll receive the full weekly newsletter plus news alerts and access to Susan Bradley's renowned Master Patch List. And you'll feel good about supporting independent journalism.

Join today — and help spread the word. We're 100 percent donor supported and proud of it.
---
LANGALIST
Recovering from 'Unknown driver' issues

By Fred Langa
Operating-system upgrades and resets sometimes leave behind nonworking, obsolete, or redundant device drivers that can open the door to future malfunctions.
Here's how to easily remove any troublesome drivers cluttering up your Windows machine's setup.
Plus: An AskWoody subscriber tries the "put the dead drive in the fridge" trick!
Unknown device drivers appear after Win10 reset
Salve Polinar's Windows 10 fix didn't go as planned:
"I used the Reset option on my Dell Win10 laptop. So why do I now have unknown device drivers installed? What's the trick for tracking and removing unknown drivers?"
I'm guessing you used the Reset/Keep my files option or the similar Fresh Start to reinstall/restore Windows 10. Alas, neither of those tools gives Windows a truly "clean slate" — both retain user files and some Windows settings.
I suspect a previously installed device driver was mishandled during the reset, leaving behind a nonworking, obsolete, or redundant driver.
This should be easy to fix. But for future reference, note that the Reset/Remove everything option usually avoids this kind of problem by setting up Windows with absolutely no leftover baggage from previous installations. For information and cautions on all three Win10 reset options — Fresh Start, Keep my files, and Remove everything — see "Removing bloatware and OEM mods from new machines," AskWoody Plus Newsletter, 2019-12-09.
I'll further assume that you've made sure your system is fully updated via Windows Update and your hardware vendor's driver update/support site (e.g., https://www.dell.com/support/). And I'll assume that your post-reset PC is functioning normally in all regards — i.e., nothing is broken or malfunctioning. If those assumptions are correct, the unknown device drivers are truly not needed, and you can safely remove them.
On the other hand, if Windows Update or your hardware vendors' sites say you're missing updates or drivers, install them! Likewise, if some PC component or peripheral isn't working as it should, visit that device's support site and fix the problem before making further changes.
When you're sure one or more unknown drivers are superfluous, you're ready to weed them out. But first, make a just-in-case system backup. Now you're ready to dig in! Here's how:
Start by opening Device Manager. Enter "device manager" into the Windows search box and select Device Manager when it's offered.
In the Device Manager window, select the View menu in the upper toolbar and then click on Show hidden devices (see Figure 1). This will ensure that Device Manager shows you everything — including currently inactive devices that would otherwise not be displayed.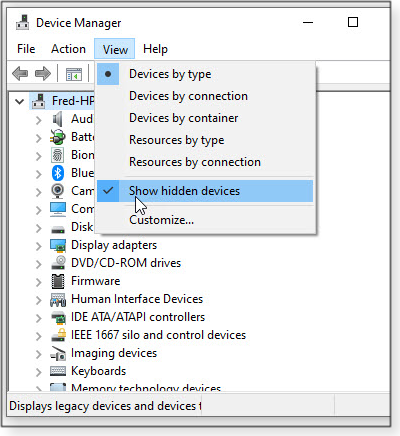 Figure 1. Clicking Show hidden devices will let you view all driver-related items, including inactive ones.
Unknown device drivers are easy to find. Look for an entry literally labeled Unknown device, usually located within a generic Other devices heading (see Figure 2).

Figure 2. Typically, Device Manager clearly labels unknown devices.
If you don't immediately see an "Unknown device" or "Other devices" label, poke around inside the other headings, expanding each listed device in turn — "Unknown device" should be in there somewhere.
If you still can't find the unwanted device driver, look for entries flagged with a Windows error symbol: i.e., an X in a red circle, an exclamation point in a yellow triangle, or a question mark in a white circle. They can all indicate malfunctioning or potentially problematic devices and drivers.
When you find a troublesome device in the list, right-click it and select Properties. Next, select the Driver tab and then click the Driver Details button. You'll see a list of the device's drivers and their exact locations on the hard drive.
Device Manager might be able to delete the unwanted drivers for you. Under the Driver tab, select Disable Device (if it's available) and then click Uninstall Device. If Windows can, it'll remove all associated software drivers and settings for that device. Reboot your system, and the bad driver should be gone!
If that didn't work, try manual deletion. In File Manager, navigate to the drivers' locations, as given in Driver Details, and delete them.
In some instances, the driver files can't be deleted because they're in use or locked. Reboot Windows into Safe Mode and try deleting the files again. Safe Mode automatically disables third-party and non-essential drivers, making them inert and removable. (See the Microsoft Support page "Start your PC in safe mode in Windows 10.")
Once the bad drivers are gone, they should be gone for good — never to clutter your setup again!
Here are some additional resources that can help in this and similar situations:
"Freezing hard drive; need response quickly … "
That was the subject line of Neil Michaels's urgent-sounding email, which was sent shortly after the LangaList item "An old-school way to revive a dead drive" (AskWoody Plus Newsletter, 2020-08-03) was published. That item discussed a last-ditch method for trying to revive a dead spinning-platter HDD — by putting it in a refrigerator or freezer!
"Hi! I would like to try putting a nonfunctional hard drive in a cold environment, but your article says to put in the freezer — then it says refrigerator. Two totally different temperatures.

"Kindly let me know the proper temperature so I can try it.

"Please respond quickly, as I need to get into the drive ASAP. Thank you.
I wrote back:
"Hi, Neil. You can use either, but I think this is the best way.

"If your hard drive is well and truly dead, and you have nothing left to lose, wrap the drive tightly in airtight plastic (to keep moisture/condensation out) and set it in a little-used part of your fridge for several hours — until you think it's chilled all the way through.

"Take it out of the fridge, unwrap it only enough to access the sockets, and reconnect it to a PC as an external drive. If it spins and starts, copy the data off the dying drive — RIGHT NOW! — because it's already on its way out.

"If the drive still won't start, rewrap it and let it fully warm up to room temperature on its own. When it's at room temp and the plastic wrap is dry (no condensation), unwrap the drive and try again. If it works, you've bought a little time. Again, get the data off immediately.

"Good luck!"
A short while later, I received this:
"Dear Fred. It worked!

"It was an external WD Passport drive that I use for backups. When I got to the last file the drive died! Thank you so much for clarifying the procedure.

"Happy fan, Neil Michaels"
Glad it worked! Sometimes, the old ways really are still good!
Send your questions and topic suggestions to Fred at fred@askwoody.com. Feedback on this article is always welcome in the AskWoody Lounge!
Fred Langa has been writing about tech — and, specifically, about personal computing — for as long as there have been PCs. And he is one of the founding members of the original Windows Secrets newsletter. Check out Langa.com for all of Fred's current projects.
---
Best of the Lounge
Fine-tuning laptop thermals with liquid metal and undervolting
Everyone likes to get the best speed out of their PCs, but some really like to push the envelope. Heat is one of the major causes of system throttling, even in high-end laptops. Fortunately, making adjustments here and there can keep a machine running at its top performance. But in the posts listed below, Ascaris describes specialized techniques for cooling a gaming laptop. Are you willing to fly into the danger zone?
---
Windows 10
Have you ever rushed through a Windows installation and then discovered a mistake you thought was now set in stone? Plus member Towson_Steve accidentally registered Win10 with an e-mail address that was supposed to be a spam trap. And that less-than-suitable address became the name for the PC. There are several ways to solve that problem, but MVP Rick Corbett offered a solution that's simple and elegant!
---
Windows 7
You've just clean-installed Win7 on that new SSD drive, connected to the Internet, and let the machine update itself. SOP — except that MVP abboddi86 informs us that soon, Windows Update will no longer work as expected. The discussion that follows gets into the nitty-gritty of must-have patches. If you're still on Win7, check out this post.
---
Windows 10
Many of us have at one time or another asked: "Am I missing something here, or is this how Windows 10 is supposed to be?" That was Plus member blueboy714's question to the Lounge, regarding the Win10 Start menu. The list of frequently used apps was fine, but items were missing in the all-apps list.
Sometimes the best solution is to go outside Windows. Da Boss PKCano recommended using the third-party tools Open-Shell or Stardock Start10. But ultimately, blueboy714 found the fix in Windows' property settings.
---
History
Da Boss Woody triggered a flood of nostalgia with just one picture — of the venerable TRS-80! This pioneer personal computer held a whopping 48K of RAM. Its state-of-the-art storage was an external cassette tape deck. And it once had the largest selection of software available in the microcomputer market. Take a look at one of the earliest mass-produced, mass-marketed, personal computers … and be grateful for the progress we've made over the past four decades!
---
If you're not already a Lounge member, use the quick registration form to sign up for free.
PATCH WATCH

A new threat to the Windows print spooler

By Susan Bradley

The 2020 virtual Black Hat USA 2020 and DEF CON 28 security conferences are now history.

These were two for the books: totally virtual conferences. Instead of masses of hackers, hacker wannabees, security researchers, and government employees gathering in hot Las Vegas, everyone was online and watching from home.

One of the highlights of these shows is the development and unveiling of new exploits — by security researchers, not malicious hackers. Typically companies such as Microsoft scramble to patch the vulnerabilities revealed at these two conferences.

---

BEST UTILITIES

Freeware Spotlight — SwitchPowerScheme

By Deanna McElveen

If it were up to me, Windows' desktop context menu — the right-click pop-up menu — would take up two full screens!

Then I'd have quick access to everything with just a mouse-click! … And that would give birth to a whole new generation of utilities to shrink Deanna's context menu back to a manageable size.

That wishful thinking probably explains my excitement at discovering Sordum.org's SwitchPowerScheme.

---

SMALL-BUSINESS WEBSITES

Choosing a web-hosting service: The ins and outs

By Will Fastie

The heart of the Web consists of millions of web servers, constantly streaming out trillions of webpages.

Relatively speaking, web servers are simple affairs — but choosing whose servers will host your website … not so much.

Years ago, a brilliant programmer I know once quipped that he could build a web server with just 12 lines of code. He was probably correct: for an exceptionally simple website, one containing nothing but text-based HTML, serving up pages is nothing more than requesting a file from the server and rendering it in a web browser.

Today's websites are, of course, far more complex.
---
Publisher: AskWoody LLC (woody@askwoody.com); editor: Tracey Capen (editor@askwoody.com).
Trademarks: Microsoft and Windows are registered trademarks of Microsoft Corporation. AskWoody, Windows Secrets Newsletter, WindowsSecrets.com, WinFind, Windows Gizmos, Security Baseline, Perimeter Scan, Wacky Web Week, the Windows Secrets Logo Design (W, S or road, and Star), and the slogan Everything Microsoft Forgot to Mention all are trademarks and service marks of AskWoody LLC. All other marks are the trademarks or service marks of their respective owners.
Your subscription:
---
Copyright © 2020 AskWoody LLC, All rights reserved.